This banana zucchini bread is the perfect way to use overly ripe bananas. Hearty and healthy, it's packed with produce and makes for the perfect on-the-go breakfast.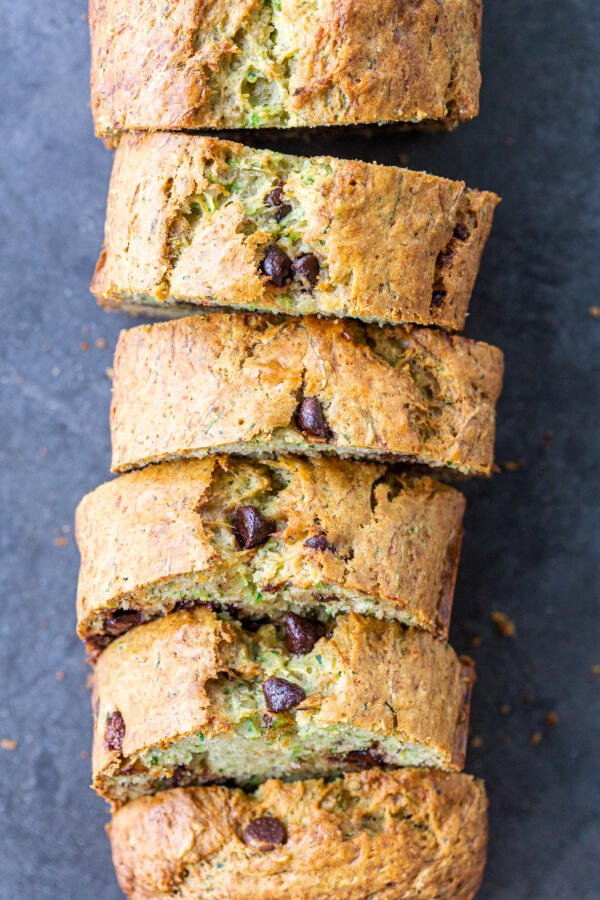 You know the story – you have a bunch of bananas going brown on your counter and you need to do something with them…and quick! Nothing is worse than watching good fruit go to waste, but I'm here to tell you that there's a great solution: banana zucchini bread.
This recipe for banana zucchini bread is a great way to prevent food waste, while also creating a delicious and wholesome treat for your family. Packed with grated zucchini, smashed bananas, and a healthy dose of chocolate chips, it tastes like a treat but has a substantial serving of fruit and veggies hidden in all its deliciousness. You can truly have your Banana Zucchini Bread and eat it too!
What is Banana Zucchini Bread?
Banana zucchini bread is a loaf cake that is made with a batter of grated zucchini, smashed bananas, and chocolate chips. Below, find a rundown of the flavor, texture, and cooking time.
Flavor: The flavor of this banana zucchini bread is similar to that of a chocolate-covered banana with a bit of spice.
Texture: While the bread itself is moist and easy to chew, you'll get the occasional pocket of melted chocolate chips. Yum!
Time: From prep to table, this banana zucchini bread takes just over an hour to make.
Did you know? Loaf-style bread have a longer shelf life than other baked goods and naturally retain a ton of internal moisture. Why? Because they are less exposed to oxygen (which leads to drying out). Instead of pre-slicing your loaf, only slice pieces when you are ready to eat them. If you pre-slice the loaf, you expose each piece to more oxygen, causing it to go stale faster.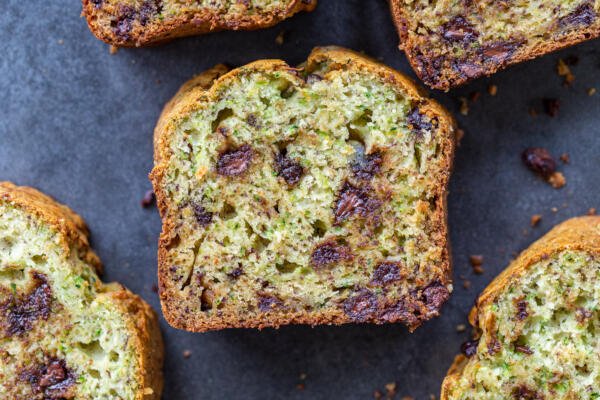 How to Make Banana Zucchini Bread
Making banana zucchini bread only requires a few simple steps and a handful of wholesome ingredients. Below, find a brief overview of the recipe.
Combine the Dry Ingredients: Combine flour, baking powder, baking soda, salt, cinnamon, and sugar in a large bowl.
Grate Zucchini: Grate zucchini on the smaller side of the grater. Using a kitchen towel, squeeze any excess water out of your grated zucchini.
Combine the Wet Ingredients: In a separate bowl, beat eggs, smashed bananas, oil, and vanilla extract until well combined.
Combine Wet and Dry Ingredients: Combine the wet ingredients with the dry ingredients. Stir in the grated zucchini and chocolate chips.
Bake the Banana Zucchini Bread: Grease a loaf pan with butter or oil. Pour the batter inside. Bake at 350°F for about 45 minutes. Enjoy!
Tips for Making the Best Banana Zucchini Bread
Below, find a couple of tips and tricks to yield the best banana zucchini bread ever!
Use ultra-ripe bananas. Let your bananas turn almost completely brown before making this bread. The browner they are, the sweeter and moister they will make the cake!
Use semi-sweet chocolate chips. The cake will already be sweet enough, so opt for semi-sweet chocolate chips of milk chocolate chips.
Grate your zucchini versus shredding it. Finely grated zucchini will make the bread more moist.
Sift the dry ingredients. Remove any lumps from the dry ingredients by using a flour sifter.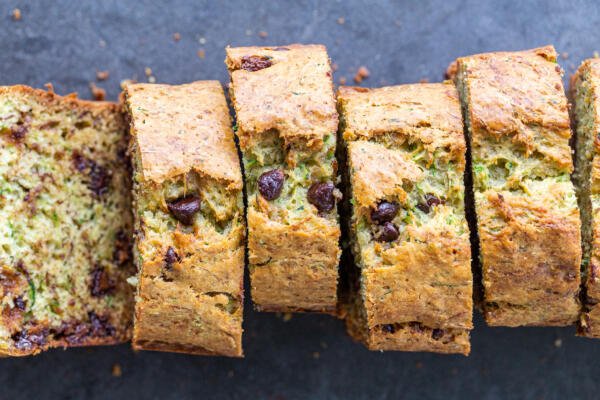 Other Ingredients to Add to Banana Zucchini Bread
There are so many ways to customize banana zucchini bread with additional ingredients. Don't be afraid to stray away from the recipe and add in some of your favorite morsels. Want to add more protein? Throw in some nuts. Like it extra sweet? Throw in your favorite dried fruit.
The following are great (and healthy!) additions that you can play around with:
Walnuts
Cranberries
Sunflower seeds
Pumpkin seeds
Raisins
Dried Apricots
Dried berries (goji berries, blueberries, etc.)
Dried coconut
Dried Figs
Banana Zucchini Muffin Hack: If you are really in the market for an on-the-go breakfast, bake this Zucchini Banana Bread muffin style! This is a great method if you are a bit pressed for time or if you like to be in control of your portion sizes. Preheat your oven to 350°F and bake the muffins for about 20 minutes, or until you can pull a toothpick out of the center of each one and it comes out clean. Store the muffins in an airtight container in the fridge for an easy grab-and-go breakfast option.
Storing Banana Zucchini Bread
Room Temperature: Store the banana zucchini bread in an airtight container at room temperature. It should stay fresh for 2-3 days.
Refrigerator: To retain maximum moisture, keep banana zucchini bread in an airtight container in the refrigerator. It will keep for 5 to 7 days. Reheat individual slices in the microwave for 30 to 45 seconds.
Freezer: Wrap completely cooled down zucchini bread in plastic wrap. Then wrap it in aluminum foil and store it in the freezer for up to two months. When you are ready, let it defrost at room temperature for about 3-4 hours.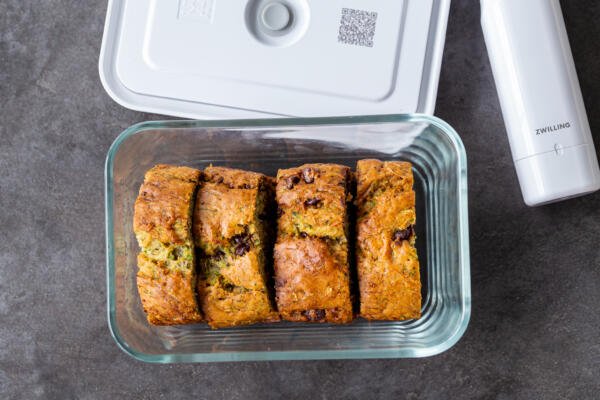 FAQ
Should I take the skin off the zucchini before grating it?
There's no need to take the skin off the zucchini bread. It will soften up as it bakes and adds a nice bit of fiber to your diet. You won't even notice it.
Should I squeeze excess water out of the grated zucchini?
Yes, you should squeeze any excess water out of your grated zucchini. Do so by draining it in a colander first. Then, place grated zucchini in a kitchen towel. Twist the top of the towel to secure it inside and ring out the moisture with your hands.
What makes banana zucchini bread moist?
The smashed bananas and grated zucchini make the bread moist, as well as the oil. Typically, baked goods made with oil versus butter tend to come out more moist.
Should you refrigerate banana bread?
You should refrigerate banana bread if you know you'll have leftovers for up to a week. If you plan to eat the bread within 2-3 days, storing it in an airtight container on the counter works just fine.
Other Banana Bread Recipes
Recipe
This banana zucchini bread is the perfect way to use overly ripe bananas. It makes for an ideal on-the-go breakfast.
Nutrition Facts
Banana Zucchini Bread (with Chocolate)
Amount Per Serving
Calories 453
Calories from Fat 225
% Daily Value*
Fat 25g38%
Cholesterol 44mg15%
Sodium 337mg14%
Potassium 276mg8%
Carbohydrates 53g18%
Protein 6g12%
Vitamin A 168IU3%
Vitamin C 6mg7%
Calcium 82mg8%
Iron 2mg11%
* Percent Daily Values are based on a 2000 calorie diet.