This Banana Zucchini Bread will blow your mind away. It's moist, fluffy and a perfect marriage with a cup of coffee! Eat it fresh out-of-the-oven with a pat of butter, or leave it on the counter and sneak a bite every time you walk by.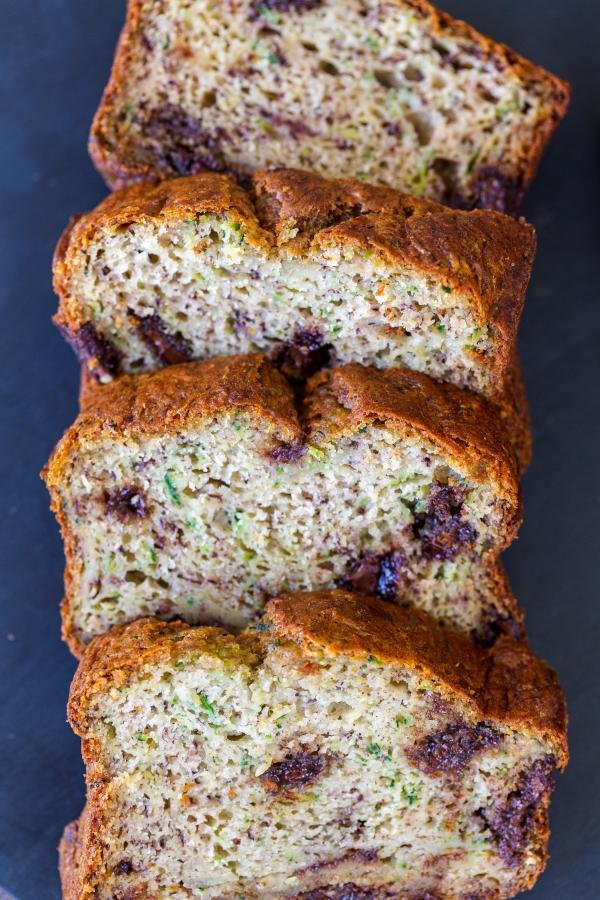 Zucchini, banana and a healthy dose of chocolate chips come together to create an awesome texture and flavor. The kicker? This treat actually has substantial servings of fruit and veggies hidden in all its yumminess. You can truly have your Banana Zucchini Bread and eat it too!
With the new school year approaching, this recipe is awesome to have on hand for a quick weekday breakfast. Bake it on the weekend so your kids can grab a slice as they are heading out the door on Monday.
Zucchini Banana Bread
You know the story – you have a bunch of bananas going brown on your counter and you need to do something with them! Nothing is worse than watching good fruit go to waste. I'm here to tell you that you're in luck! Since this recipe calls for mashed bananas, using overly ripe ones is the way to go.
Brown bananas provide a good dose of natural sweetness and they are easy to incorporate into your batter. That being said, baking Zucchini Banana Bread is a great way to prevent food waste, while also creating a delicious and wholesome treat for your family!
Loaf-style breads have a longer shelf life than other baked goods and naturally retain a ton of internal moisture. Why? This is simply due to the fact that they are less exposed to oxygen (which leads to drying out). Instead of pre-slicing your loaf, only slice pieces when you are ready to eat them. If you pre-slice the loaf, you expose each piece to more oxygen, causing it to go stale faster.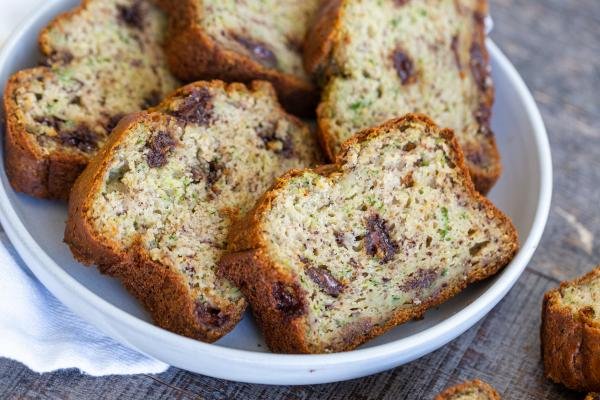 Other Ingredients to Add to Zucchini Bread
Zucchini Bread is so versatile! Don't be afraid to stray away from the recipe and add in some of your favorite morsels. Want to add more protein? Throw in some nuts! Like it extra sweet? Throw in your favorite dried fruit!
The following are great (and healthy!) additions that you can play with:
Walnuts
Cranberries
Sunflower seeds
Pumpkin seeds
Raisins
Dried Apricots
Dried berries (goji berries, blueberries, etc.)
Dried coconut
Dried Figs
Zucchini Banana Muffins
If you are really in the market for an on-the-go breakfast, bake this Zucchini Banana Bread muffin style! This is a great method if you are a bit pressed for time or if you like to be in control of your portion sizes. Preheat your oven to 350 °F and bake the muffins for about 20 minutes, or until you can pull a toothpick out of the center of each one and it comes out clean. Store the muffins in an airtight container in the fridge for an easy grab-and-go breakfast option.
Refrigerating Banana Zucchini Bread
If you store Banana Zucchini Bread at room temperature, the bread will stay fresh for 2 to 3 days. But, if you want it to retain maximum moisture, keep it in the refrigerator. It will keep for 5 to 7 days. Reheat individual slices in the microwave for 30 to 45 seconds. Don't forget to enjoy it with a fresh cup of coffee!
Freezing Banana Zucchini Bread
You know that I am the queen of freezing homemade baked goods! I love having a loaf or two in the freezer. Wrap completely cooled down zucchini bread in plastic wrap. Then wrap it in aluminum foil (or plastic freezer wrap) and store in the freezer for up to two months. When you are ready, let it defrost at room temperature for about 3-4 hours.
Other Banana Bread Recipes:
Recipe
This banana zucchini bread is the perfect way to use overly ripe bananas. Hearty and healthy, it's packed with produce and makes for the perfect on-the-go breakfast.
Nutrition Facts
Banana Zucchini Bread (with Chocolate)
Amount Per Serving
Calories 453
Calories from Fat 225
% Daily Value*
Fat 25g38%
Cholesterol 44mg15%
Sodium 337mg14%
Potassium 276mg8%
Carbohydrates 53g18%
Protein 6g12%
Vitamin A 168IU3%
Vitamin C 6mg7%
Calcium 82mg8%
Iron 2mg11%
* Percent Daily Values are based on a 2000 calorie diet.