All you need for this banana bread is a few ripe bananas and a handful of pantry staples. You'll be wishing for more overripe bananas to make this bread again soon!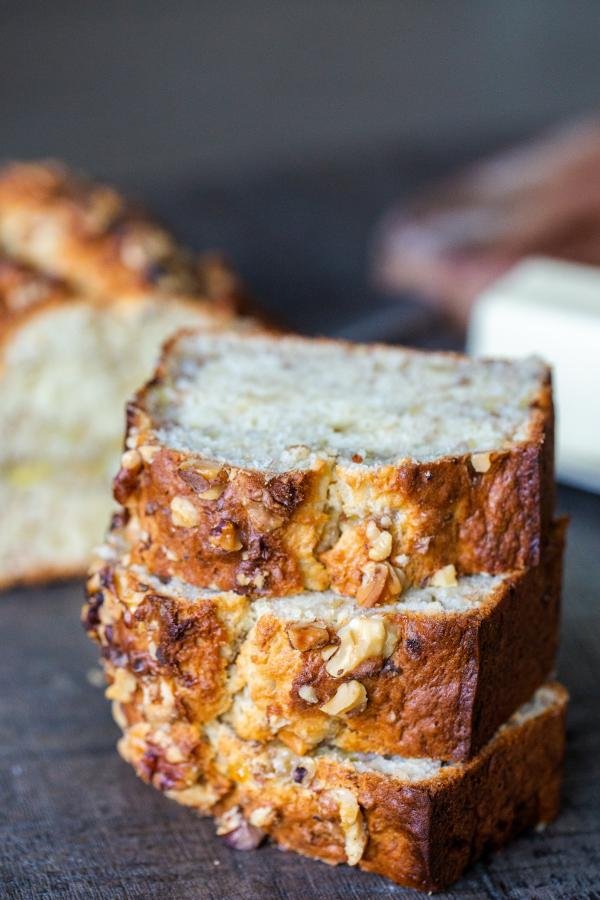 Do yourself a favor and don't limit yourself to banana bread only during the holidays. Make a loaf today and have it on hand for a grab-and-go breakfast, lunchbox surprise, or a snack with a pat of good-quality butter. C'mon, you deserve it!
How to Make Banana Bread Video
How To Make Banana Bread
This moist banana bread recipe yields a bread that is melt-in-your-mouth moist, packed with rich flavor, & encased in a silky crumb. You'll be surprised how easy it is to make a bread this delicious.
Make the wet and dry mixtures: Whisk the eggs together with the sugar in a medium bowl. You can use a mixer or whisk by hand. In a separate bowl, combine the all purpose flour, baking powder, cinnamon, and salt.
Mash the bananas: In a small bowl, mash the bananas. Add the mashed bananas, vanilla extract, and oil into the egg mixture.
Combine the dry and wet ingredients: Using a spatula, slowly stir the dry ingredients into the banana mixture.
Oil a baking pan: Apply oil to the sides of a baking sheet or loaf pan. Pour the batter in and bake at 350°F for about 50 minutes. Check for doneness by inserting a toothpick.
Hot tip: To quickly ripen bananas, break them apart and place them into a brown paper bag overnight. The bag blocks oxygen, which allows the bananas to release a chemical that speeds up ripening.
Tips for Making Banana Bread
Banana bread is crazy easy to make,- but to taste the difference between "good" banana bread and "great" banana bread, follow these tips.
Allow the bananas to turn completely black: If possible, allow your overripe bananas to turn black before using. The darker the skin, the sweeter the banana pulp.
Avoid completely pureeing the bananas: Instead of pureeing the bananas, break them down with a fork. This way there will be tasty chunks of banana in the bread.
Add fun toppings/add-ins: Feel free to get creative and add in other ingredients like nuts (pecans, walnuts, almonds), sunflower seeds, and/or dried fruit (cranberries, blueberries, raisins). For chocolate chip banana bread, pour in your favorite white or brown chocolate chips!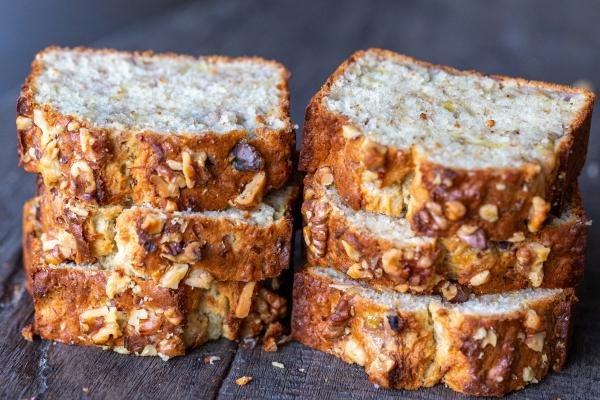 Troubleshooting Your Bread
Did your bread not come out like you imagined? Here are the top three issues seen most frequently by bakers. Next time, your banana bread will come out just like you want it to!
Sunken banana bread: If your bread sunk in the middle after it cooled, the culprit is likely using more bananas than the recipe calls for or the batter was overmixed. It is tempting to use up all those overripe bananas, but trust me, it weighs the bread down.
Dry banana bread: Many banana bread recipes use butter, but through trial and error, I've found that banana bread made with oil makes and keeps the bread WAY more moist. On top of adding a better texture, oil also allows the banana flavor to shine through better. We use vegetable oil, but a light olive oil works well, too.
Dense banana bread: The top reason for a dense banana bread is due to over-mixing the batter. As the batter is mixed, gluten forms. When the batter is mixed too much, more gluten forms, which leads to a more dense bread. Avoid using a stand or hand mixer to mix the batter — instead, use a hand whisk or spatula instead.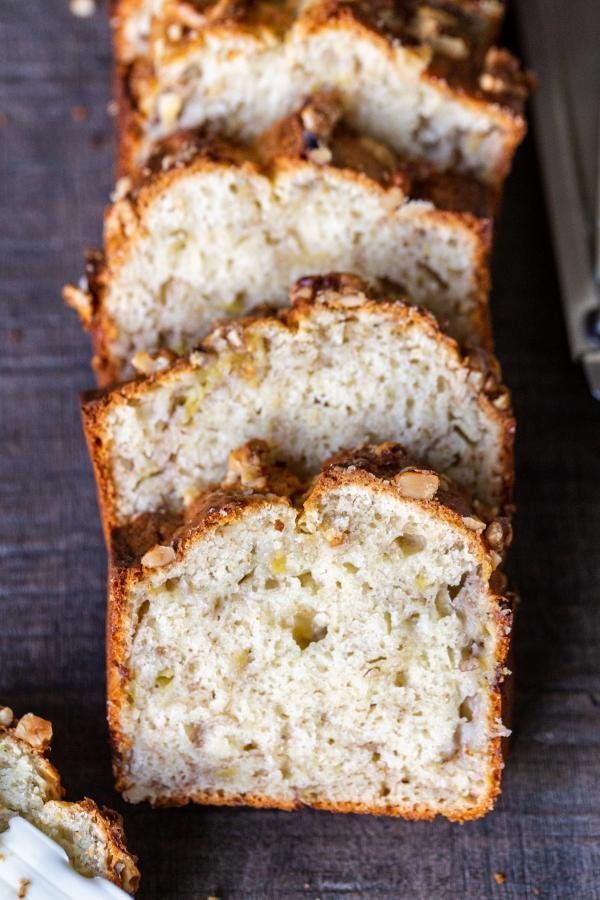 How to Carefully Remove and Cut the Banana Bread
Nothing is worse than trying to remove your banana bread from the pan and having it fall apart — or cutting into it and it falling apart as you cut. Sidestep these blunders by following these steps.
Cool the bread: Take the banana bread out of the oven and allow it to cool in the pan for 15-20 minutes.
Invert the pan: Using pot holders (the pan will still be pretty hot at this point!), invert the pan and slowly guide the banana bread out. If it doesn't want to budge, allow it to sit a bit longer. If it is still being stubborn, take a knife or spatula and guide it around the outer edges of the loaf to loosen it.
Place onto a wire rack: Place the banana bread onto a wire rack to cool further. If you don't have one, a cutting board also does the trick.
Allow to cool to room temperature: Allow the bread to reach room temperature before slicing it.
Storing Banana Bread
If you have even more ripe bananas than the recipe calls for, make a few more loaves of banana bread! Store them in the fridge or freezer for yourself, or be a great neighbor/friend and share your wealth!
Room temperature: Store the bread in an airtight container on the counter for up to four days.
Refrigerator: Store the bread in the fridge for up to 7-10 days. Wrap it in plastic wrap or place into an airtight container.
Freezer: To store for up to four months, freeze the bread in slices or as a whole loaf. If freezing in slices, wrap each piece in a few layers of plastic wrap then in a layer of aluminum foil. Place all wrapped slices into a ziplock bag or airtight container and freeze. If freezing the whole loaf, wrap the loaf in a few layers of plastic wrap and do the same. Thaw in the fridge or on the counter when ready to enjoy again!
Hot tip: Before storing (whichever method you choose), always let the banana bread cool completely. Storing bread that is still warm/hot negatively affects the texture and composition of the banana bread.
FAQ
Why did my banana bread crack on top?
Banana bread often cracks on top because the exterior of the bread bakes faster than the interior. As the interior bakes, it releases moisture that cracks through the outer shell. A crack on top is completely normal for banana bread.
Why did my banana bread sink in the middle?
Banana bread may sink in the middle if too many bananas were used than the recipe calls for. Or, the batter may have been over-mixed.
How long should I cool banana bread before slicing?
It is best to cool banana bread for at least 15 minutes before cutting. Cutting into hot bread risks a gummy bread instead of light and airy. As the bread cools, it becomes softer.
What happens if I add an extra egg to banana bread?
If an extra egg is added to the banana bread batter, the consistency of the baked bread may change into a dense and rubbery texture.
More Sweet Bread Recipes
Recipe
All you need for this banana bread is a few ripe bananas and a handful of pantry staples. You'll be wishing for more overripe bananas to make this bread again soon!
Nutrition Facts
Banana Bread Recipe
Amount Per Serving
Calories 293
Calories from Fat 18
% Daily Value*
Fat 2g3%
Cholesterol 41mg14%
Sodium 313mg13%
Potassium 513mg15%
Carbohydrates 67g22%
Protein 6g12%
Vitamin A 98IU2%
Vitamin C 6mg7%
Calcium 85mg9%
Iron 2mg11%
* Percent Daily Values are based on a 2000 calorie diet.