Melt-in-your-mouth moist, packed with rich flavor, & encased in a silky crumb, this banana bread recipe is a knock-out. The best way to use up overripe bananas!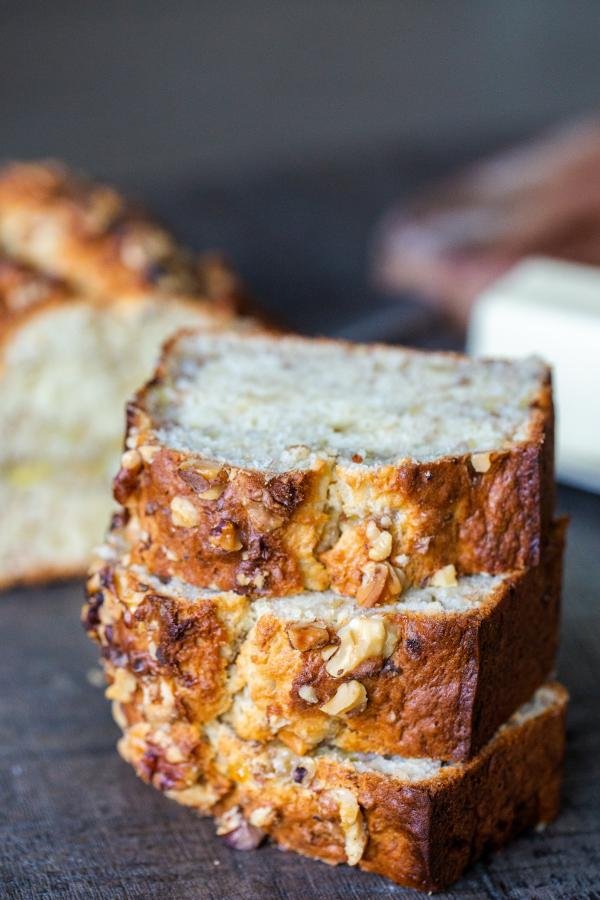 Do yourself a favor and don't limit yourself to banana bread only during the holidays. Make a loaf today and have it on hand for a grab-and-go breakfast, lunchbox surprise or a snack with a pat of good-quality butter. C'mon, you deserve it.
How to Make Banana Bread Video
How do You Keep Banana Bread Moist?
You will see a lot of banana bread recipes out there using butter. Through trial and error, I have found that using vegetable oil makes and keeps the bread WAY more moist. On top of adding a better texture, I find using oil allows the banana flavor to better shine through.
How do you Cool Banana Bread?
Nothing is worse than trying to remove your banana bread from the pan and having it fall apart! Sidestep this blunder by following these steps:
Take your banana bread out of the oven and allow it to cool in the pan for 15-20 minutes.
Using pot holders (the pan will still be pretty hot at this point!), invert the pan and slowly guide the banana bread out. If it doesn't want to budge, allow it to sit a bit longer. If it is still being stubborn, take a knife/spatula and guide it around the outer edges of the loaf to loosen it.
Place the banana bread on a wire rack to cool. If you don't have one, a cutting board will do the trick.
Allow the bread to reach room temperature before attempting to slice it.
Store the bread in an airtight container on your counter for up to a week.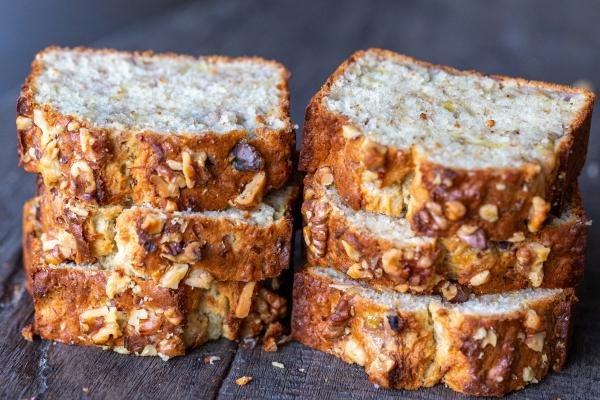 How to Freeze Banana Bread
Freezing banana bread is a no-brainer. Here are the steps:
Let your banana bread cool down completely. Don't skimp on this step, as it could really affect the texture and composition of your banana bread.
Cut your loaf into slices. Wrap each individual slice in several layers of plastic wrap. Put all your wrapped slices into a plastic storage bag or an airtight container and pop it in the freezer.
Ready to chow down on a slice? Take a slice out of the freezer and allow it to thaw in the refrigerator or on the counter. Thawing takes about an hour-and-a-half, so time your craving accordingly!
Some folks like to freeze the entire loaf instead of individual slices, which is totally fine. I, however, like to freeze individual slices so that my boys can easily grab a piece when they want it. It's also an easy way to monitor portion control.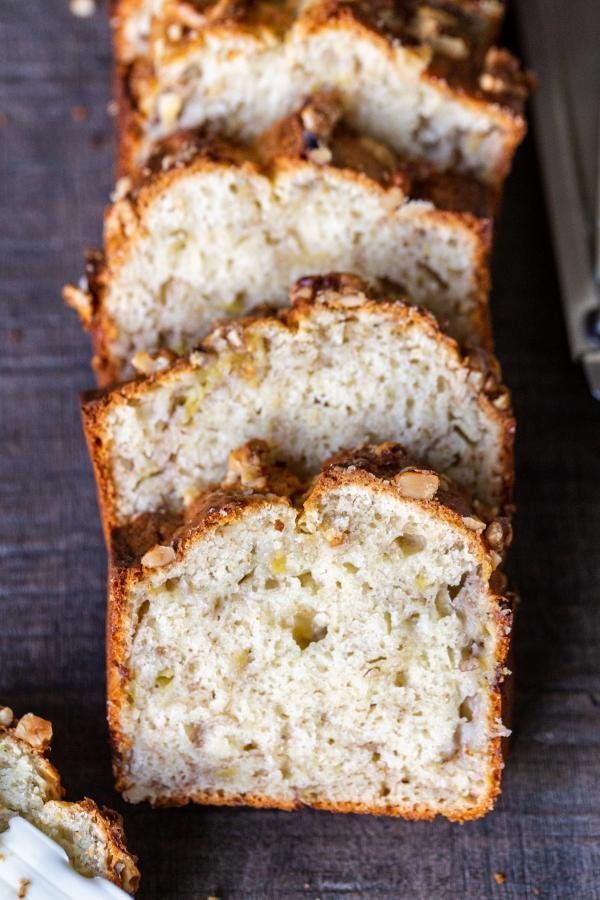 Tips for Making Banana Bread
Let your bananas get COMPLETELY black on the outside if you can wait. The darker the skin, the sweeter the banana pulp will be.
Get creative and add some fun toppings to the mix. I like to add walnuts, sunflower seeds, raisins, dried cranberries or chocolate chips.
Avoid completely pureeing the bananas. Instead, break them down with a fork, that way you'll have chunks of banana in the banana bread.
Why Did my Banana Bread Sink in the Middle?
You may have baked banana bread before and been disappointed to find that it had sunk in the middle after it cooled. But, why? The main culprit in this classic mistake is adding more bananas than the recipe called for. It may be tempting to use up all those overripe bananas you have, but trust me, it will only weigh your bread down.
Do you love Banana Bread Recipes? You have to try these!
Recipe
Melt-in-your-mouth moist, packed with rich banana flavor and encased in a silky crumb, my banana bread recipe is a quick and easy knock-out. Let's get started and put those overripe bananas on your counter to work!
Nutrition Facts
Banana Bread Recipe
Amount Per Serving
Calories 412
Calories from Fat 135
% Daily Value*
Fat 15g23%
Cholesterol 41mg14%
Sodium 313mg13%
Potassium 511mg15%
Carbohydrates 67g22%
Protein 6g12%
Vitamin A 97IU2%
Vitamin C 6mg7%
Calcium 85mg9%
Iron 2mg11%
* Percent Daily Values are based on a 2000 calorie diet.