This 3-ingredient banana oatmeal cookie is an ideal breakfast snack. The combination of bananas, rolled oats, and chocolate provide the perfect balance between nutrition and sweetness.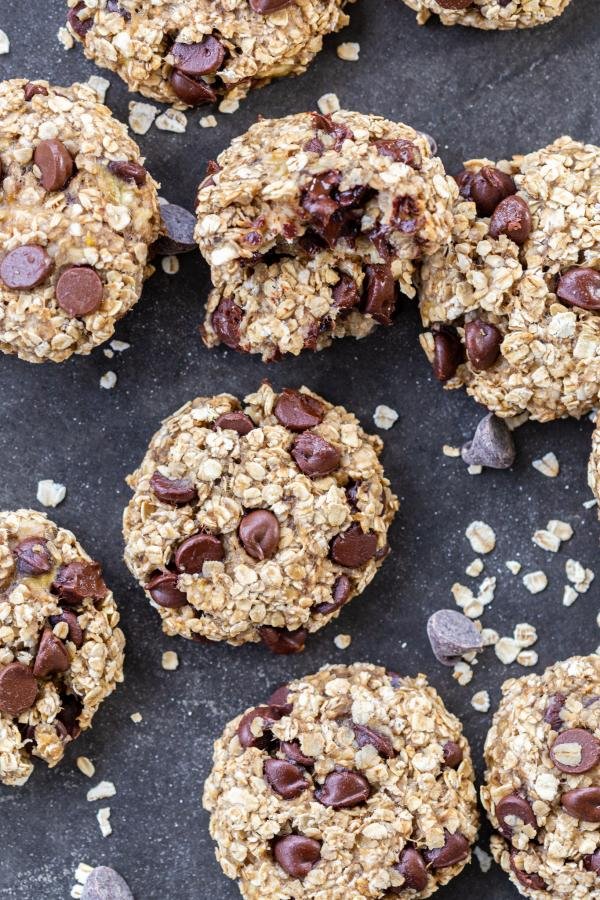 What Makes Banana Oatmeal Cookies So Special?
Banana oatmeal cookies are remarkable because even though they are "cookies", they are much healthier than an average cookie, much like our healthy oatmeal raisin cookies. Instead of being loaded with extra sugar, the sweetness comes from the natural sugars in the ripe bananas (and a little from the chocolate chips). Compared to normal sugar cookies, banana oatmeal cookies have more fiber and a less calorie content, making it a guilt-free snack!
How To Make Banana Oatmeal Cookies
This dish requires only three ingredients and a little bit of mixing. Then, lo and behold — it's ready!
Mash the bananas: Mash ripe bananas with a fork in a large bowl. Preheat the oven to 350°F.
Stir all the ingredients: Combine the rolled oats and chocolate chips with the mashed bananas.
Shape the cookie: Line a baking sheet with parchment paper or a silicone mat. Scoop cookies into 1 1/2 tablespoon-sized balls, or use a medium sized cookie scoop. Shape by hand as needed, then place cookies onto the baking sheet.
Bake: Bake for 13-15 minutes or until cookies are lightly golden brown. Cool on a wire rack. Dig in!
Quick Tips for the Best Cookie
We want you to have the best banana oatmeal cookie you've ever had. Here are some tips to ensure that happens.
Mash very ripe bananas: The more ripe, the sweeter the banana (and great for baking!). Use two medium bananas (about 1 1/3 cup when mashed). Avoid using too much banana as this can make the cookies heavy and damp.
Avoid substituting the rolled oats: Rolled oats yield a softer cookie than quick oats, therefore avoid substituting this important ingredient.
Shape the cookies to preference: These cookies do not spread like typical butter cookies, shape them to your preference. We like to round them in our hands, then press down on the top with a spoon to slightly flatten the tops.
Use your favorite chocolate chips: Regular sized, mini sized, or white/dark/milk chocolate chips are all great varieties of chocolate chips to use.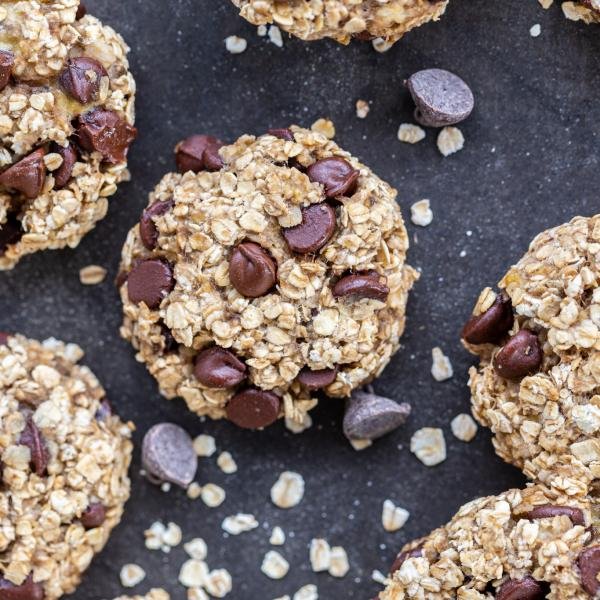 Our Favorite Mix-ins
Add a little more personality to your banana oatmeal cookie with these simple add-ins.
Crunchy nuts: Almonds, walnuts, pecans, or any other nut are great choices. They will add a nice crunch plus protein to your breakfast cookie!
Fruits: Add a few raisins or dried cranberries for some fruity chewiness! Or, sprinkle coconut flakes for more flavor and texture!
Spices: A teaspoon or two of cinnamon or nutmeg will give the cookies a slightly spicy, fall-like taste.
Flavor: Further change up the flavor by adding peanut butter and/or vanilla extract to the mix. You won't regret it!
Storing Your Cookies
Banana oatmeal cookies are the best when they are warm and gooey from the oven, but that doesn't mean they can't be enjoyed later, too!
Room-temperature: To store for up to four days, keep the cookies on the counter in an airtight container.
Freezer: To store for up to three months, wrap individual cookies in plastic wrap and freeze. Keep the cookies together in a large ziploc bag. Thaw in the fridge overnight before enjoying them!
Hot tip: To warm up the cookie and make it soft and fresh again, microwave it for a few seconds or place a batch in the oven for a few minutes. Easy-peasy!
FAQ
Are banana oatmeal cookies sweet?
These banana oatmeal cookies are sweet despite not having added sugar. The sweetness comes from the ripe bananas (the more ripe, the sweeter the taste) and the chocolate chips.
How do I moisten dry banana oatmeal cookies?
If a leftover cookie becomes dry, cover it in a wet paper towel and warm it up in the microwave for a few seconds. This will add moisture and make the cookie warm and fresh again.
When are banana oatmeal cookies done baking?
Banana oatmeal cookies are fully baked when they turn a golden-brown color and the center is set (not jiggly or raw).
More Banana Recipes
Recipe
Crumbly chewy banana oatmeal cookies only require mashed bananas, rolled oats, and chocolate chips. They're simultaneously crazy simple and good!
Ingredients
2

medium bananas

(about 1 1/3 cup mashed)

1 1/2

cup

rolled oats

1/2

cup

mini chocolate chips
Nutrition Facts
Banana Oatmeal Cookies (Only 3 Ingredients)
Amount Per Serving
Calories 94
Calories from Fat 18
% Daily Value*
Fat 2g3%
Cholesterol 1mg0%
Sodium 6mg0%
Potassium 107mg3%
Carbohydrates 16g5%
Protein 2g4%
Vitamin A 29IU1%
Vitamin C 2mg2%
Calcium 15mg2%
Iron 1mg6%
* Percent Daily Values are based on a 2000 calorie diet.