This super moist whole wheat banana bread is hearty and decadent at the same time. Perfect for dessert or a quick breakfast on the go!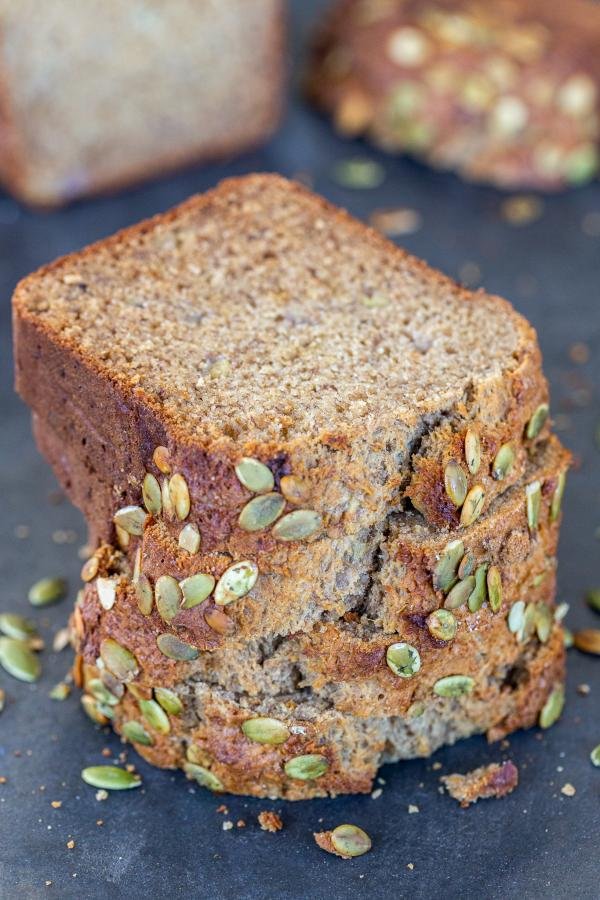 If you love banana bread but are trying to keep it healthy, this whole wheat banana bread recipe is exactly what you're looking for. It's the perfect balance of hearty grains, sweet banana, and plump raisins. One of the best ways you can use those overripe bananas hanging out on your counter!
Is Banana Bread Actually Good for You?
Not all banana breads are created equal. Some are so sweet and packed with butter, they likely have the same nutritional value as a cupcake. In this recipe, there's absolutely no added sugar or butter – making it perfectly acceptable to have a slice for either breakfast or dessert. What's better? The fiber from the whole wheat flour will keep you full for hours!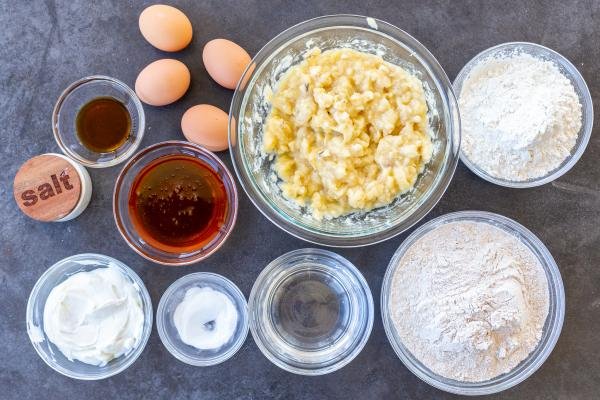 How to Make Whole Wheat Banana Bread
To make this banana bread, all you need is a spatula, whisk, a couple of bowls, and 20 mins of prep time. No electric mixer required!
Preheat the Oven: While you prepare the batter, preheat the oven to 350°F.
Mix the Wet Ingredients: Next, whisk the eggs and honey together in a large bowl. Add in the mashed banana, melted coconut oil, yogurt, and vanilla extract.
Mix the Dry Ingredients: In a separate medium bowl, combine the dry ingredients (all-purpose flour, baking soda, and salt).
Fold in the Dry ingredients: In small portions, use a spatula to fold the flour mixture into the egg mixture. Mix in the raisins.
Bake the Banana Bread: Pour the batter into a 9×5 inch loaf pan and bake the bread for about 50 minutes. Enjoy!
Make banana muffins instead! Pour the batter into a muffin pan instead and sprinkle some brown sugar on top to create a nice crust during baking.
Tips for the Best Whole Wheat Banana Bread
These quickhitter tips will help you get the tastiest banana bread on the planet.
Use ripe bananas. Don't throw away those brown bananas on your counter! They are full of natural sugar and make for the moistest banana bread. They're also much easier to mash.
Sift the dry ingredients. Has your flour and baking soda been sitting in the cupboard for some time? If so, they've likely developed some lumps. For the best texture, send them through a fine mesh sieve.
Employ the "toothpick test". Check the doneness by inserting a toothpick into the center of the bread. If it comes out clean, it's ready!
Hot Tip: Line the loaf pan with a sheet of parchment paper or give it a good coating of cooking spray to prevent sticking.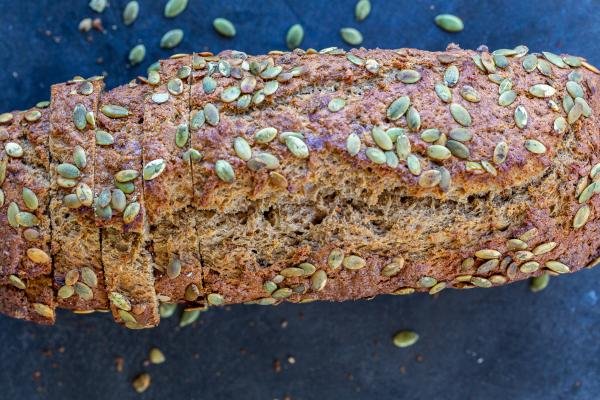 Different Add-Ins for Whole Wheat Banana Bread
Consider this recipe the perfect foundation to tweak to your particular cravings. Below, find a handful of add-ins to kickstart your creative process.
Seeds: Pumpkin seeds, sunflower seeds, poppy seeds, or flax seeds
Nuts: Almonds, walnuts, hazelnuts, or pistachios
Dried Fruit: Cranberries, blueberries, apricots, or dates
Spices: Cinnamon, nutmeg, or pumpkin pie spice
Chocolate Chips: Dark, semi-sweet, or milk chocolate chips
Storing, Freezing, & Reheating
This banana bread is perfect for meal prepping and making ahead. Below, find all the details on how to keep it fresh as long as possible.
Storing: To keep your banana bread fresh for up to 3 days, store it in an airtight container on the counter. To extend the shelf life to a week, store it in an airtight container in the fridge.
Freezing: To have banana bread on hand for up to a month, freeze it in slices or in a whole loaf. To do so, wrap it tightly in plastic wrap and pop it in a freezer-safe bag. To thaw, place a couple slices in the fridge overnight or leave it on the counter for a couple hours.
Reheating: Warm up your banana bread in the microwave or oven with a little pat of butter to rehydrate it.
FAQ
Can you substitute white whole wheat flour for wheat flour?
Yes, you can use whole wheat white flour instead. However, the texture will be a bit less hearty.
Why is my bread hard and dense?
Your bread is likely hard and dense if you overcooked the bread or didn't use super ripe bananas.
How many calories are in a slice of homemade banana bread?
There are around 200 calories per slice.
What size loaf pan do you need for this recipe?
A 9×5 inch loaf pan works best, but feel free to use your favorite pan and adjust the cooking time accordingly.
Other Banana Treats to Try
Recipe
This whole wheat banana bread is packed with ripe bananas, plump raisins, and fiber. The perfect breakfast on the go or afternoon snack!
Nutrition Facts
Whole Wheat Banana Bread Recipe
Amount Per Serving
Calories 424
Calories from Fat 135
% Daily Value*
Fat 15g23%
Cholesterol 55mg18%
Sodium 262mg11%
Potassium 534mg15%
Carbohydrates 71g24%
Protein 9g18%
Vitamin A 120IU2%
Vitamin C 6mg7%
Calcium 44mg4%
Iron 2mg11%
* Percent Daily Values are based on a 2000 calorie diet.