This recipe for banana apple bread represents everything great about baking. The combination of ripe bananas, chopped nuts, and sweet apples is to die for!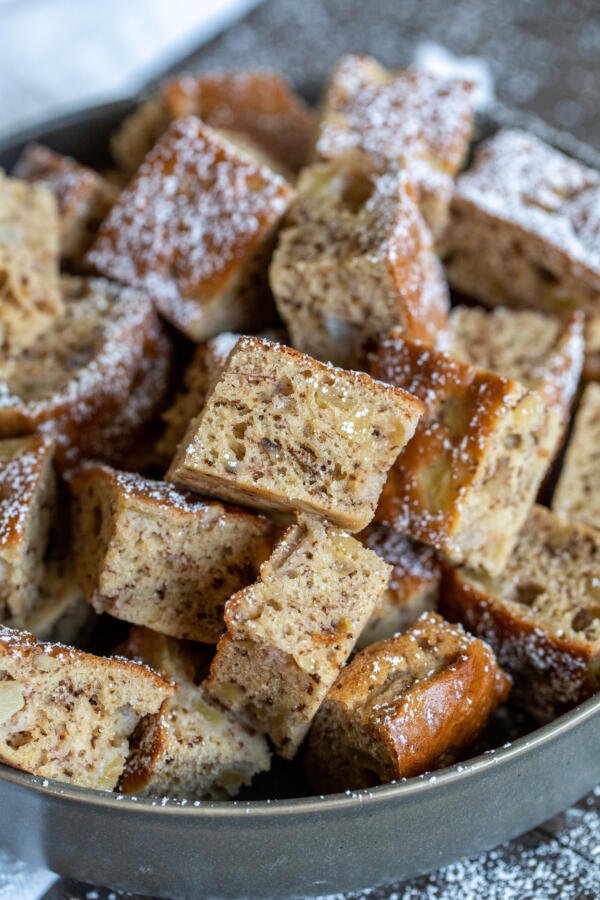 Banana apple bread with walnuts reminds me of my mother's Apple Sharlotka Cake. Inspired by mom's cake, this recipe ups the ante by adding in bananas, walnuts and greek yogurt. The end result is a bread that is ultra-creamy and the perfect compliment to a nice cup of coffee. Don't forget to slather it in some high-quality butter…
How Do You Keep the Banana Bread Moist?
There's two key reasons this banana bread recipes gets so ridiculously moist.
Greek Yogurt: What makes this bread so special is the use of greek yogurt in the batter. This makes the bread ultra-decadent and helps it stay moist past the first day it is baked. Not to get too science-y, but greek yogurt also helps activate the baking soda in the batter. This process creates a nice, fluffy bread that doesn't skimp on moisture!
Super Ripe Bananas: Using overripe bananas also lends to the moistness of this cake. Make sure your bananas are nearly or all black before you use them for this cake. The darker the skin, the sweeter the banana pulp will be. Trust us, it makes all the difference!
How to Make Homemade Banana Apple Bread
This 10 ingredient banana apple bread recipe comes together in 20 minutes of prep time and a 40 minute bake in the oven.
Mix the Dry Ingredients: In a large bowl, combine the flour and baking soda.
Mix the Wet Ingredients: In a medium bowl, mash the bananas, followed by the eggs, granulated sugar, brown sugar, vanilla extract, and Greek yogurt. Whisk until smooth.
Add in the Apples & Nuts: Next, add in the chopped apples and walnuts.
Combine the Dry & Wet Ingredients: Fold the dry ingredients into the wet ingredients and stir with a rubber spatula to combine.
Bake the Banana Bread: Spray a 9in.x13in. baking sheet with cooking oil and spread the batter over it evenly. Bake the banana apple bread at 350°F for about 30 minutes and allow it to cool completely. Enjoy!
Hot Tip: Swap the baking sheet out for traditional loaf pans if you'd like.
3 Tips for Perfect Banana Apple Bread
At Momsdish, we love a good banana bread. Here's our top tricks to ensure your bread is perfectly fluffy and moist.
Don't over mix the batter. When combining the wet and dry ingredients, be careful not to over mix the batter. If you do, it will cause the bread to come out dense.
Sift the dry ingredients. If your flour and baking soda have been sitting around in your pantry for awhile, they likely have developed some lumps and clumps. To ensure your bread doesn't turn out dense, sift the ingredients through a fine mesh sieve.
Use the toothpick test. To ensure the center of the bread is cooked through, insert a toothpick into the center. If it comes out clean, the bread is ready!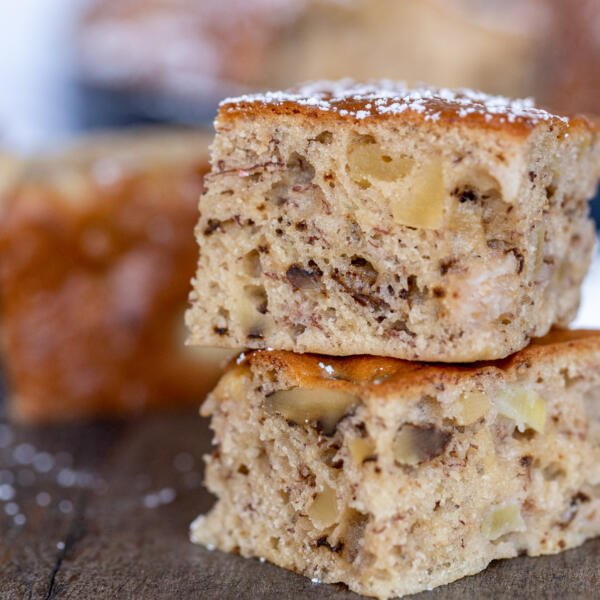 Other Ingredients to Add
You can play around with the different ingredients you add to this bread and make it your very own. Here, find a couple of different ingredients to inspire you.
Use different dairy. Swap out the greek yogurt for sour cream, mayonnaise or creme fraiche. The key here is tanginess and the latter fit the bill and add their own unique flavor to the bread.
Pop in dried fruits. Add in a scoop of raisins or dried cranberries for a pop of sweetness.
Add in some spices. Put a tablespoon of cinnamon, ground cloves, or nutmeg in the batter to make the bread more coffee cake-like.
Swap in pears. Exchange apples for pears – any variety will work well!
Use your favorite nuts. Use chopped pecans or almonds instead of walnuts.
Add more fresh fruit. Like it extra fruity? Add a handful of fresh blueberries or raspberries to your batter.
Storage Best Practices
Banana bread is the perfect make-ahead treat. It stores so well and is even great to keep on hand in the freezer. Here's all you need to know…
Storing: To keep the banana apple bread fresh for up to two weeks, store it in an airtight container in the refrigerator. To keep it fresh for a week, store it on the counter in an airtight container. This will prevent it from drying out!
Freezing: If you have a good amount of bread leftover, freeze it! Wrap individual pieces or the entire remaining loaf of the cake in two layers of plastic wrap. Then, place the wrapped pieces/loaf into a freezer safe storage bag. The bread will keep up to 4 months in the freezer. Defrost the bread in the fridge when you are ready to chow down.
FAQ
Why did my banana bread come out so dense?
One of the main reasons banana bread comes out dense is the lack of a leavening agent such as baking soda. It's a key ingredient to make banana bread fluff up!
Why is the center of my banana bread not cooking?
The center of your banana bread is not cooking if you didn't give it enough time to bake in the oven. It can also be credited to there being a disproportionate amount of wet ingredients to dry ingredients or if you used too much mashed banana.
Why does my banana bread have a bitter taste?
There are several reasons your banana bread can out bitter – 1) the bananas weren't ripe enough, 2) your baking soda is expired or you added too much, and 3) there were clumps of flour that weren't mixed in well enough.
Does banana bread rise much?
Banana bread should lift a bit in the center as it bakes. This creates that signature loaf shape and can be credited to both the bananas and the baking soda.
When are bananas ripe enough for banana bread?
While there isn't a perfect science to gauging the ripeness of bananas for banana bread, the general rule of thumb is the browner the better. The more ripe they are, the sweeter the bread will be.
More Easy Banana Recipes
Recipe
This banana apple bread recipe takes just 20 minutes to put together. The combo of all the fruits & nuts will have you coming back for slice after slice!
Nutrition Facts
Banana Walnut Apple Bread Recipe
Amount Per Serving
Calories 176
Calories from Fat 54
% Daily Value*
Fat 6g9%
Cholesterol 22mg7%
Sodium 66mg3%
Potassium 138mg4%
Carbohydrates 28g9%
Protein 4g8%
Vitamin A 50IU1%
Vitamin C 2mg2%
Calcium 21mg2%
Iron 1mg6%
* Percent Daily Values are based on a 2000 calorie diet.