Banana Walnut Apple Bread represents everything that is great about the fall season. Prepared using only one bowl, it has never been easier to fill your house with a fresh-baked aroma.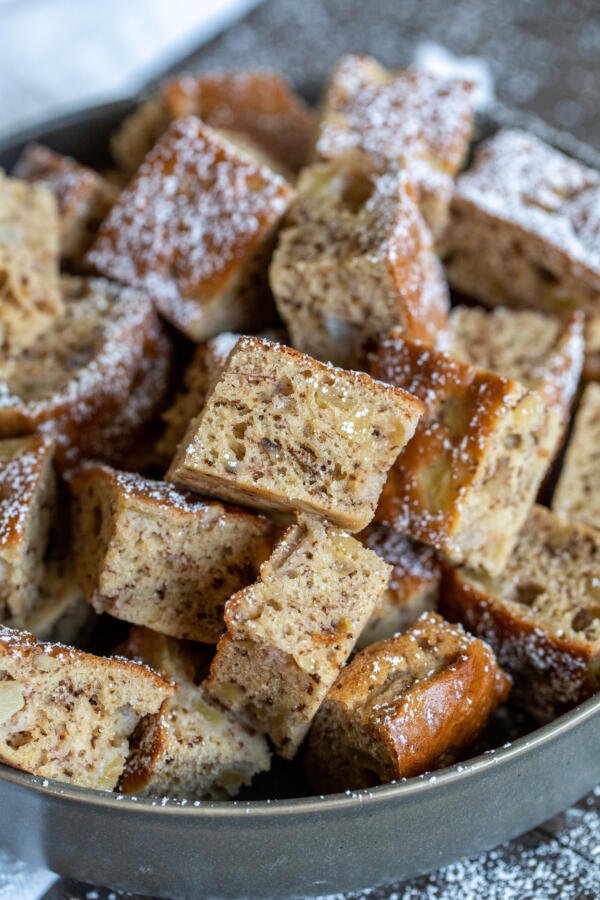 Banana Walnut Apple Bread reminds me of my mother's Apple Sharlotka Cake. Simple and satisfying, she made it often and my siblings and I gobbled it up. Inspired by mom's cake, this recipe ups the ante by adding in bananas, walnuts and greek yogurt. The end result is a bread that is ultra-creamy and the perfect compliment to a nice cup of coffee.
When I have family or friends in town during the Autumn months, I love to have them wake up to this treat baking in the oven. But, it is also perfect to have on hand during the week for a quick breakfast, my kids' lunches or a yummy snack on the go.
How Do You Keep the Banana Bread Moist?
What makes this bread so special is the use of greek yogurt in the batter. This makes the bread ultra-decadent and helps it stay moist past the first day it is baked. Not to get too science-y, but greek yogurt also helps activate the baking soda in the batter. This process creates a nice, fluffy bread that doesn't skimp on moisture!
Using overripe bananas also lends to the moistness of this cake. Make sure your bananas are nearly or all black before you use them for this cake. The darker the skin, the sweeter the banana pulp will be. Trust me, it makes all the difference!
How Long is the Banana Nut Bread Good For?
Stored in an airtight container in the fridge, this bread will stay good for up to a week.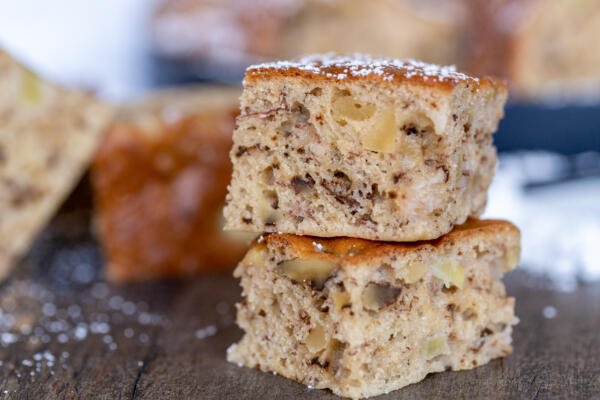 Can you Freeze the Banana Bread?
If you have a good amount of bread leftover, freeze it! Wrap individual pieces or the entire remaining loaf of the cake in two layers of plastic wrap. Then, place the wrapped pieces/loaf into a freezer safe storage bag. The bread will keep up to 4 months in the freezer. Defrost the bread in the fridge when you are ready to chow down.
Other Ingredients to Add to the Banana Bread
Just like my other recipe for Banana Bread, you can play around with the different ingredients you add to this bread. Here are a couple of ideas:
Swap out the greek yogurt for sour cream, mayonnaise or creme fraiche. The key here is tanginess and the latter fit the bill and add their own unique flavor to the bread.
Add in a scoop of raisins or dried cranberries for a pop of sweetness.
Put a tablespoon of cinnamon in the batter to make the bread more coffee cake-like.
Exchange apples for pears.
Use chopped pecans or almonds instead of walnuts.
Like it extra fruity? Add a handful of fresh blueberries or raspberries to your batter.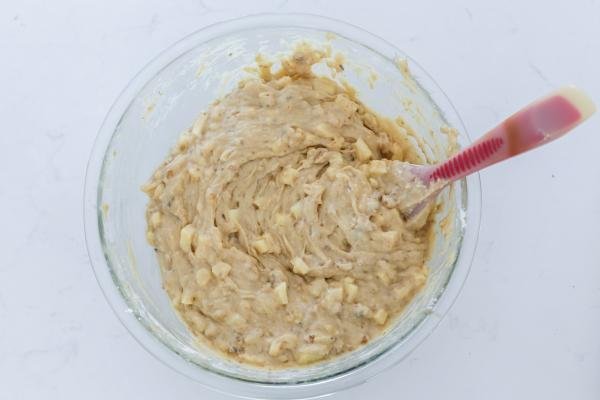 More Easy Bread Recipes
Recipe
This banana apple bread recipe takes just 20 minutes to put together. The combo of all the fruits & nuts will have you coming back for slice after slice!
Nutrition Facts
Banana Walnut Apple Bread Recipe
Amount Per Serving
Calories 176
Calories from Fat 54
% Daily Value*
Fat 6g9%
Cholesterol 22mg7%
Sodium 74mg3%
Potassium 137mg4%
Carbohydrates 28g9%
Protein 4g8%
Vitamin A 50IU1%
Vitamin C 2.1mg3%
Calcium 21mg2%
Iron 1.1mg6%
* Percent Daily Values are based on a 2000 calorie diet.