This super easy recipe for seafood stuffed mushrooms features tender crab meat, tons of cheese, and garlic. Baked to bubbly perfection and super addicting!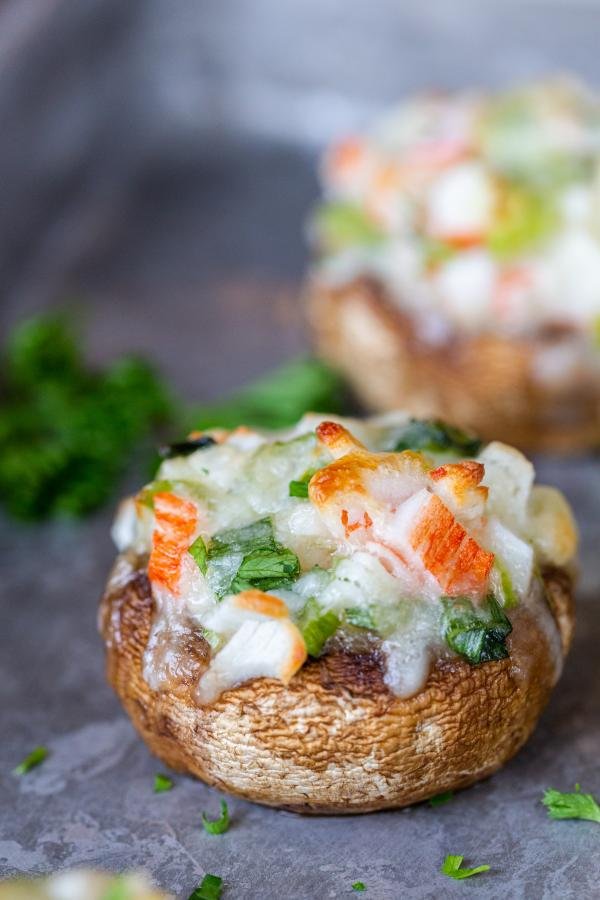 These crab stuffed mushrooms have remained one of my most reliable recipes for years. They always garner a bunch of compliments and I have witnessed them turn "mushroom-haters" into "mushroom-believers". Whether you are preparing food for a holiday gathering or bringing a dish to a potluck, these crab stuffed mushrooms are sure to please.
Ingredients for Seafood Stuffed Mushrooms
​All you need to make this recipe is 6 simple ingredients. Here's the lowdown on each component and a couple of helpful notes.
White Mushrooms – While you can use any mushroom that has a nice cap for stuffing, we prefer to use white mushrooms for their flavor and shape.
Crab Meat – You can find precooked crab meat in the seafood aisle at most grocery stores. It typically comes in an airtight pouch.
Garlic Cloves – Opt for fresh garlic over garlic powder for maximum flavor. Mince the garlic as finely as you can to avoid large chunks.
Green Onions – Green onions add a pop of color and zest to the stuffing.
Mexican Cheese – We like to use a Mexican blend cheese, but mozzarella works great as well. If you have a bit of parmesan on hand, add it to the mix for a nice nutty flavor. You could also use cream cheese to make the filling more creamy.
Mayonnaise – Any jarred mayonnaise will do the trick here. We are obsessed with the mayo at Trader Joe's.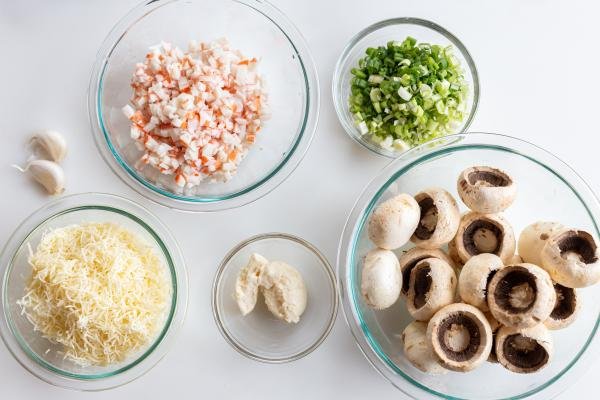 How to Make Seafood Stuffed Mushrooms
You will need to clean your mushrooms first. To do so, simply use a damp paper towel to do this, as submerging the mushrooms can lead to them being too wet and mushy later.
Clean the Mushrooms: First, wipe the mushrooms clean and remove the stems.
Prepare the Filling: Next, dice the onion and crab meat into tiny pieces. Press the garlic and grate the cheese. Toss everything in a large bowl with the mayo and stir until well-combined.
Stuff the Mushrooms: Using a spoon, stuff the mushrooms with the filling mixture and place them on a baking sheet.
Bake the Mushrooms: Next, bake the mushrooms in the oven at 350°F for about 20 minutes, or until the topping turns golden brown.
3 Tips for the Tastiest Seafood Stuffed Mushrooms
These 3 handy tips will help you make the most decadent seafood stuffed mushrooms.
Use precooked lump crab meat. To make your life easier, snag precooked crab meat instead of having to cook fresh crab meat.
Avoid overstuffing the mushrooms. Resist the urge to pack the mushrooms to the gills. You want them to be full, but not so overstuffed that the filling seeps out during the baking process.
Give the stuffed mushrooms enough space. Assemble the stuffed mushrooms on a baking sheet with enough space in between. You don't want to overcrowd them so much that they don't get any heat on the sides.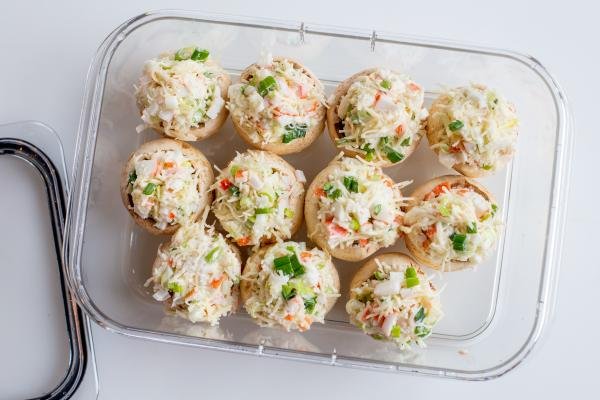 Variations to Seafood Stuffed Mushrooms
Use different mushrooms. Large portobello mushroom caps make for a great entree-sized stuffed mushroom. You can also use cremini mushrooms or baby bella mushrooms.
Use lobster or shrimp instead. Swap out the crabmeat for lobster or shrimp instead. You could even use a combination of several different seafoods.
Top the mushrooms with fresh herbs. For a pop of color and flavor, top the mushrooms with minced fresh parsley or dill when they come out of the oven.
Use different cheese combinations. Swap the mozzarella cheese or Mexican cheese out for parmesan cheese or gouda.
Tweak the seasonings. Add in Old Bay Seasoning, lemon juice, or cracked black pepper if you'd like.
Storing & Freezing Hot Tips
Crab stuffed mushrooms can be made ahead of time to make your life easier. Here are some tips on how to store and reheat them:
Uncooked Stuffed Mushrooms: Prepare the mushrooms a day ahead of time to save on day-of prep. Just make sure you keep the stuffing stored in a separate airtight container from the mushrooms until you are ready to bake them. This will prevent them from becoming soggy.
Freezing Stuffed Mushrooms: These mushrooms are not the best candidate for the freezer. The texture will become mushy when you reheat them and it will be hard to get that top layer of crispiness.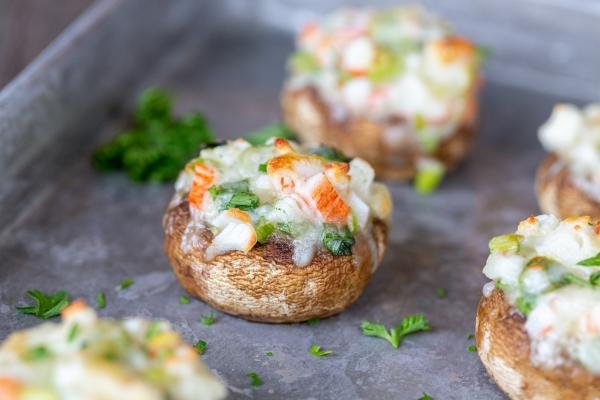 FAQ
How do you keep stuffed mushrooms from getting soggy?
To prevent your stuffed mushrooms from getting super soggy, avoid soaking or rinsing the mushrooms under cold water at all costs. Instead, clean the mushrooms with a damp paper towel as they are prone to soaking up a ton of liquid.
Can stuffed mushrooms be overcooked?
Yes, it is possible to overcook seafood stuffed mushrooms. If you leave them in the oven for too long, the mushrooms will dry out and start to shrivel. About 20 minutes of cook time is sufficient for most mushroom recipes.
Can stuffed mushrooms be made ahead of time?
You can assemble seafood stuffed mushrooms a day in advance. Make sure to cover them tightly with plastic wrap or store them in an airtight container in the meantime.
Can you freeze seafood stuffed mushrooms?
It's not a good idea to freeze seafood stuffed mushrooms. Mushrooms contain a ton of moisture and tend to get soggy upon thawing.
Other Similar Recipes to Try
Recipe
These yummy seafood stuffed mushrooms are packed with crab meat, cheese and diced onions. Super savory, bite-sized morsels, perfect for your next party!
Ingredients
30

large white mushrooms

1

lb

crab meat

5

garlic cloves

1/2

cup

green onions

1

lb

grated cheese

mozzarella or Mexican cheese

2

tbsp

mayonnaise
Nutrition Facts
Seafood Stuffed Mushrooms (So Good!)
Amount Per Serving
Calories 237
Calories from Fat 135
% Daily Value*
Fat 15g23%
Cholesterol 63mg21%
Sodium 716mg30%
Potassium 344mg10%
Carbohydrates 3g1%
Protein 21g42%
Vitamin A 360IU7%
Vitamin C 6mg7%
Calcium 329mg33%
Iron 0.9mg5%
* Percent Daily Values are based on a 2000 calorie diet.