This broccoli crab salad consists of crunchy veggies, sweet crab, and a creamy dressing with a delicious kick of citrus. Great for potlucks!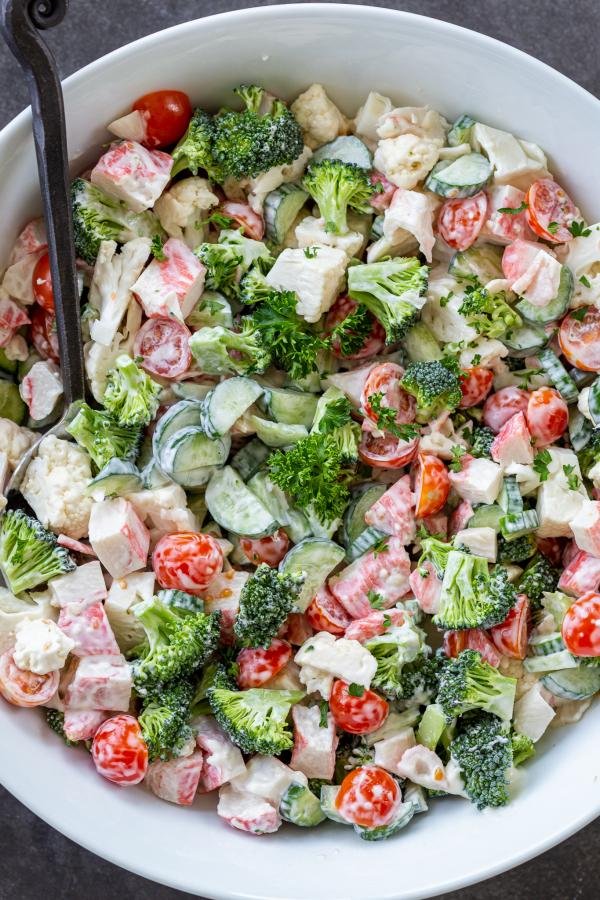 When I'm craving something fresh but want a boost of fiber and something more filling than salad greens, this broccoli crab salad is first on my list. It's packed with protein and has so many different textures and colors. Even the most seafood-adverse palate will swoon over the balance of sweet and salty flavors! Add it to your regular rotation of summer recipes or serve it in the dead of winter – you can't go wrong!
The Best Kitchen Tool for Broccoli Crab Salad
If you're a big fan of salads, especially ones that air more on the side of slaws, you need to invest in a veggie cutter. This handy tool makes dicing and slicing all your favorite produce a no-brainer. It also works wonders for consistency. My all-time favorite slice is this one from Mueller.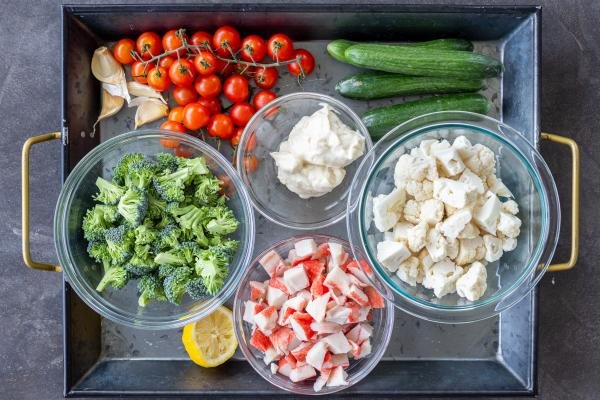 How to Prepare Broccoli Crab Salad
Before you get started, rinse all your veggies under cold water in a colander.
Dice the Veggies: Next, use a sharp knife or veggie slicer to chop the fresh broccoli, cauliflower florets, and cucumber into similar-sized chunks. Cut the tomatoes into quarters.
Dice the Crab Meat: To keep the texture consistent, dice the crab meat into similar-sized pieces as the veggies. Pop the veggies and crab into a large bowl.
Make the Salad Dressing: In a small bowl, whisk the mayo, pressed garlic, and lemon juice together.
Toss the Salad; Lastly, toss the dressing into the salad until well-combined. Serve immediately and enjoy!
A Couple of Tips for the Best Broccoli Crab Salad
This salad is so simple, you can hardly call it a recipe. That said, a few tips will help you nail it and make it your own.
Swap in your favorite ingredients. Play around with whatever ingredients you're craving most – this salad is super versatile! Feel free to add in diced red pepper or green pepper, red onion, snap peas, or any other crunchy veggie hanging out in your fridge. Or, if you're not.a fan of crab, swap in shrimp.
Make the dressing the night before. Whip up the mayonnaise-based dressing the night before and allow it to marinate in the fridge to develop its flavor. This will also help you cut down on day-of prep!
Toss the salad right before serving. This salad is best served fresh and crunchy, so only toss in the dressing right before you plan to serve it.
Crab Pasta Salad Hack: Craving a more carby salad? Boil your favorite pasta to al dente, drain it, allow the noodles to cool, and toss them right in.
Different Ways to Serve Broccoli Crab Salad
While this salad is filling enough to be eaten as a meal all on it's own, it also makes for the perfect side dish. Serve it anywhere you would pasta salads or potato salads. Pair it with a nice cast iron ribeye or alongside grilled chicken.
Best Practices for Storage
Once tossed, this salad is best served straight away. If you're trying to prep ahead, dice all the veggies and whip up the dressing, but keep the two stored in their own separate airtight containers. When you're ready, toss the salad right before you plan to serve it.
FAQ
What exactly is imitation crab meat?
Imitation crab meat isn't actually crab at all. It consists of pulverized fish that's shaped and dyed to look like crab meat.
Is this salad gluten-free?
Yes, this broccoli crab salad is naturally gluten-free.
Can you swap the mayo-based dressing out for anything else?
While creamy dressing works best, you can make this salad with Italian dressing if you want to keep it a bit lighter.
How many calories are in a serving of this salad?
There's about 300 calories in each serving of this salad.
More Crunchy Salads to Try
Recipe
This broccoli crab salad is texture on overload. From crunchy broccoli and cauliflower to tender, sweet crab, it has it all!
Ingredients
1

medium cauliflower head

1

medium broccoli head

1

lb

cherry tomatoes

1

lb

cucumbers

1

lb

crab meat

1

cup

mayonnaise

4

garlic cloves

pressed

2

tbsp

lemon juice

1/2

tbsp

salt

adjust to taste
Instructions
Dice all the vegetables into similar-sized, small cubes (if you have a vegetable dices, it will come in handy). Dice the tomatoes into quarters. Dice the crab meat into similar-sized pieces as the veggies.
Nutrition Facts
Broccoli Crab Salad Recipe (Crazy Good)
Amount Per Serving
Calories 302
Calories from Fat 198
% Daily Value*
Fat 22g34%
Cholesterol 36mg12%
Sodium 1142mg48%
Potassium 787mg22%
Carbohydrates 13g4%
Protein 15g30%
Vitamin A 824IU16%
Vitamin C 123mg149%
Calcium 97mg10%
Iron 2mg11%
* Percent Daily Values are based on a 2000 calorie diet.