These crab puffs are filled with cream cheese and juicy crab meat. Perfect for your next Chinese "take-in" night or appetizer spread!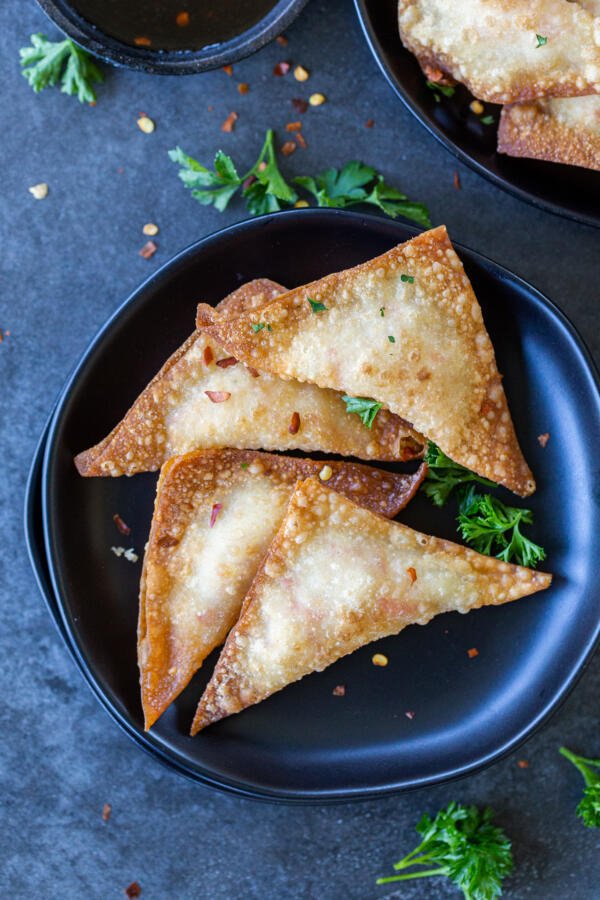 Crab puffs, also referred to as "crab rangoons", are the perfect combination of sweet crab meat and salty cream cheese. If you're anything like me, you have to at least put in one order when you're snagging takeout from your favorite Chinese restaurant. Did you know that they are ridiculously simple to make at home?
Whether you're hosting a party and need a few, unique appetizers or you're recreating your favorite Chinese takeout dishes at home, these puffs are always a crowd-pleaser.
Love Asian-style dumplings and wontons? You must try our easy gyoza and wonton soup recipes!
What is a Crab Puff (Crab Rangoon)?
Crab puffs, aka crab rangoons, are a staple at most casual Chinese restaurants. They are made of crispy wonton wrappers stuffed with juicy crab meat and cream cheese. Although they aren't super authentic, they have become a popular appetizer to tack on alongside chow mein, broccoli beef, and other take-out favorites.
Flavor: Sweet crab meat is perfectly complemented by salty cream cheese and a hint of garlic.
Texture: The crispy, golden brown wonton wrapper is contrasted by a creamy, crab-filled center.
Time: From prep to table, these puffs take just under an hour to whip up.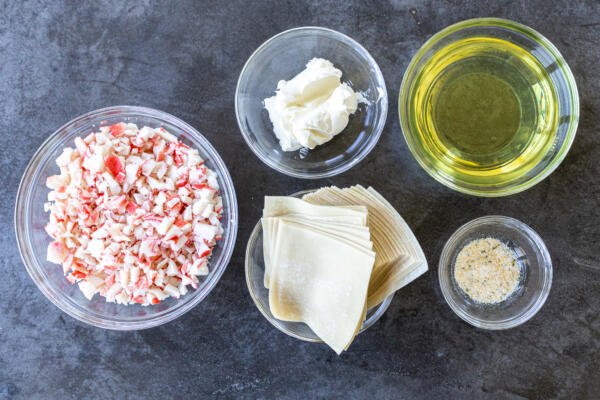 How to Make Crab Puffs
Making crab puffs only requires some easy assembling and a quick deep fry. Below, find an overview of the recipe before you dive in.
Make the Filling: In a large mixing bowl, combine the crab meat with cream cheese and season with a big of garlic salt.
Shape the Puffs: Place a spoonful of the crab mixture into the center of each wonton wrapper. Using a pastry brush, wet the edges of each wrapper. With your fingers, tightly seal the edges into a triangle shape.
Fry the Puffs: In a large saucepan, heat the oil until it sizzles. Fry the puffs in small batches until they turn golden brown. Remove them and place them on a plate lined with paper towels or a wire rack. Serve alongside sweet and sour sauce and enjoy!
Tips for Making the Best Crab Puffs
Below, find a handful of pro tips to help you make the best crab puffs.
Add green onions or chives to the filling. If you want to add a little zest and a pretty pop of color, add some minced green onions or chives to the filling.
Shape and freeze the puffs for later. If you're a meal prepping guru, assemble the puffs and freeze them raw or fried for later use.
Add chili flakes or sriracha. If you like a little heat, add a couple of shakes of chili flakes or a squirt of sriracha.
Don't overcrowd the oil. To give the puffs enough space to get crispy, avoid overcrowding them in the hot oil. Fry them in batches if you must!
Serving Crab Puffs
Serve puffs alongside a homemade or store-bought sweet and sour sauce for dipping. You can pair them with a cabbage slaw for a light lunch or add them to your next appetizer tray. If you want to make a full-blown Chinese takeout feast, pair them with beef and broccoli, shrimp lo mein, and Hunan beef.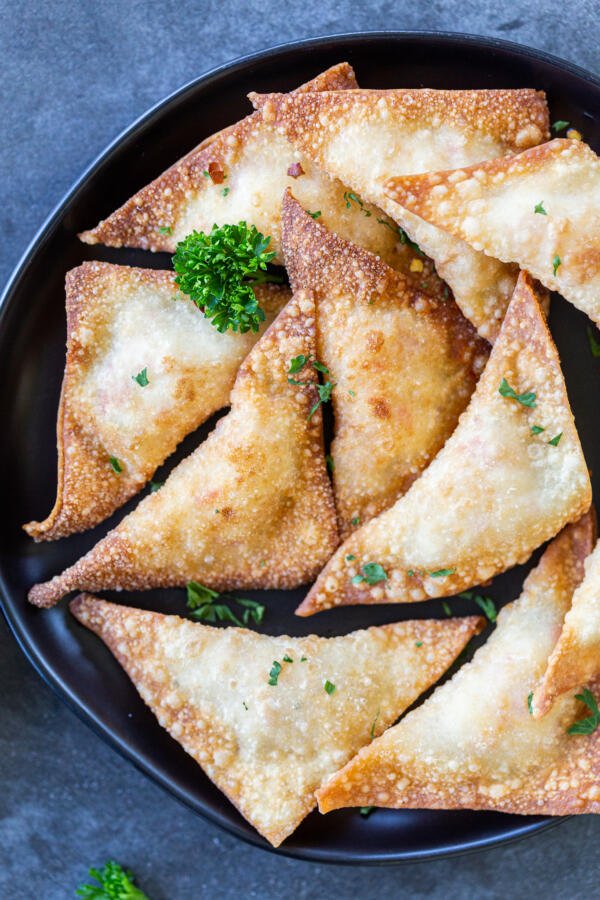 Storing Crab Puffs
Refrigerator: Store leftovers in an airtight container in the fridge. They will keep for up to 3 days.
Freezer (Raw or Fried): To freeze puffs, first let them cool down completely. Next, place them in a single layer on a baking sheet lined with parchment paper. Pop the baking sheet in the freezer for a couple of hours, or until the puffs are completely frozen. Transfer to a freezer-safe bag and store them for up to 3 months.
Reheating Tip: The best way to reheat crab puffs is in an air fryer or conventional oven. Avoid microwaving them, as they will turn limp and soggy.
FAQ
What are crab puffs made of?
Crab puffs are made of a simple mixture of cream cheese and crab meat stuffed in a crispy, deep-fried wonton wrapper.
Are crab puffs and crab rangoons the same thing?
Yes, crab puffs and crab rangoons are the same things.
How long are crab puffs good for?
Crab puffs will stay fresh for up to 3 days. However, it's best to eat them day-of and fresh out of the frying oil.
Can I eat day-old crab puffs?
Yes, you can eat day-old crab puffs. While they are better to eat day-of, you can reheat them using an air fryer or conventional oven to return them to their crispy texture.
How do you wrap crab puffs?
The easiest way to wrap crab puffs is to simply fold the wonton wrapper over into a triangle shape. You can also pinch them in the middle from both sides to create an "X" shape if you want to be a bit fancier.
More of Seafood Appetizers
Recipe
These crab puffs are filled with cream cheese and juicy crab meat. Perfect for your next Chinese "take-in" night or appetizer spread!
Ingredients
1

lb

crabmeat

chopped

8

oz

cream cheese

softened

2

tsp

Garlic Parley Salt

12

oz

small wonton wrappers

2

cup

oil

deep frying
Nutrition Facts
Easy Crab Puffs Recipe (Crab Rangoon)
Amount Per Serving
Calories 305
Calories from Fat 243
% Daily Value*
Fat 27g42%
Cholesterol 24mg8%
Sodium 556mg23%
Potassium 76mg2%
Carbohydrates 10g3%
Protein 6g12%
Vitamin A 160IU3%
Vitamin C 2mg2%
Calcium 30mg3%
Iron 1mg6%
* Percent Daily Values are based on a 2000 calorie diet.