These tasty mushroom canapés feature sliced bread topped with garlicky cream cheese and sautéed mushrooms, bell peppers, & onions. Hello, perfect bite!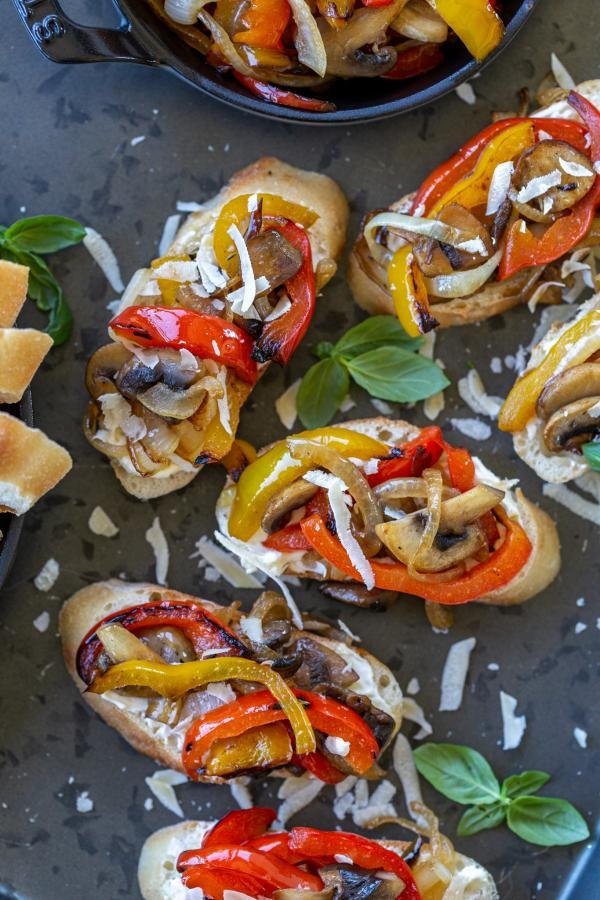 Canapés make for a great dinner snack, especially when you're hosting a party. It's nearly impossible to stop at the first or the second one, but at the same time, they are pretty much guilt-free. The best part? You can double up on the recipe, and keep the little snacking toasts refrigerated until you start craving again.
What are Canapés?
A canapé is a type of hors d'oeuvre that consists of bread, crackers, or some other carb that's topped with a variety of protein, cheese, and veggies. They can be served hot or cold and make for great appetizer trays. They can also be eaten for a light lunch, which is typical in Scandinavian and European countries.
Make Homemade Baguette for Canapés
Take your canapés to the next level by preparing a homemade baguette instead of opting for the store-bought stuff (although this is perfectly acceptable if you're on a time crunch). Use our recipes for a whole wheat baguette or traditional white baguette to help guide you along the way.
How to Prepare These Easy Mushroom Canapés
The key to taking these canapés to the next level is making sure you sauté the veggies in heats so none of them over or undercook.
Cook the Mushrooms: Dice the mushrooms into small pieces and sauté them on a hot skillet until they soften. Season them with salt and set them aside.
Sauté the Bell Peppers: Slice bell peppers into half rings and sauté them on the hot skillet until they are softened. Remove them from the skillet and set them aside.
Prepare the Onion: Cut the onion into half rings and sauté them in the same skillet until softened. Add the other veggies back into the skillet and season them to taste with salt.
Slice the Baguette: Slice the baguette about 1/3 of an inch thick.
Make the Garlicky Cream Cheese: In a small bowl, combine the softened cream cheese with pressed garlic.
Assemble the Canapés: Spread a bit of cream cheese onto each slice of bread and top it with the veggie mixture. Garnish with parmesan cheese and serve cold or warm. Bon appetite!
3 Tips & Tricks for the Tastiest Mushroom Canapés
Canapés are crazy easy to make, but these three pointers will help you to master this creamy mushroom toast.
Toast the bread or keep it soft. We like to keep the bread untoasted most of the time, but every once in a while toasting the baguette hits the spot. To do so, melt butter in the microwave and spread it atop each slice. Pop the baguette in the oven on a baking sheet under low broil until the tops are golden brown.
Prepare the cream cheese the day before. If you have the time, prepare the garlicky cream cheese the day before and let it marinate in an airtight container overnight. This will help it develop even more flavor.
Add your favorite ingredients. Up-level the canapés by adding a little sliced avocado onto the baguette slices or a couple of pieces of hard-boiled eggs. You can even add fresh herbs to the cream cheese, such as dill, green onion, or chives.
Serving Suggestions
If you're serving the canapés as a light lunch, pair them with a homemade caesar salad or a steaming bowl of tomato basil soup. If you're preparing them for a party, serve them alongside other tasty finger food. Our favorites include grape jelly meatballs, pumpernickel bread and charcuterie, canned salmon dip and sourdough crackers, and giardiniera.
Storing Mushroom Canapés
To keep the canapés fresh for up to 2 days, store them in an airtight container in the fridge. This will keep the bread from drying out. When you're ready to snack, eat them cold or broil them under low heat until warmed through. If you want to keep them on hand for even longer, store the veggies and cream cheese in separate airtight containers and simply assemble the toasts whenever a craving hits.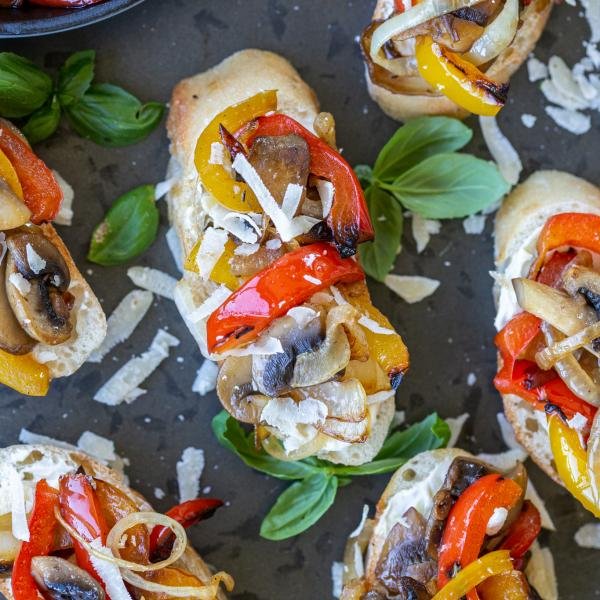 FAQ
What is the difference between a canapé and an hors d'oeuvre?
There is no difference between a canapé and an hors d'oeuvre. A canapé is just a type of hors d'oeuvre and is perfect for serving parties or enjoying a light lunch.
Is a mushroom canapé an appetizer?
Yes, mushroom canapés are a kind of appetizer. You can also pair them with a side dish and serve them for a meal.
What are the main ingredients of canapé?
Typically, canapés feature some combination of sliced bread, cheese, and toppings. The toppings can range from sautéed or fresh veggies to slices of smoked salmon, roast beef, or other proteins. The possibilities and combinations are endless!
What kind of mushrooms should you use for mushroom canapés?
You can use any kind of mushroom you love best for mushroom canapés. There are no rules, so feel free to use cremini, portobello, white button, chanterelles, or whatever combination of a few different kinds.
What kind of bread should you use for mushroom canapés?
The best kind of bread to use for canapés is baguette – preferably sourdough. That said, you can use pretty much any kind of bread you like best. Just make sure to slice it into bite-sized pieces for easy snacking.
More Tasty Canapés Recipes
Recipe
Whether you're looking for a party appetizer or just a light lunch, these delicious mushroom canapés are the perfect morsel. So easy & great hot or cold!
Nutrition Facts
Mushroom Bell Pepper Canapés
Amount Per Serving
Calories 160
Calories from Fat 54
% Daily Value*
Fat 6g9%
Cholesterol 15mg5%
Sodium 241mg10%
Potassium 316mg9%
Carbohydrates 21g7%
Protein 5g10%
Vitamin A 710IU14%
Vitamin C 33.5mg41%
Calcium 47mg5%
Iron 1.4mg8%
* Percent Daily Values are based on a 2000 calorie diet.