These crab canapés are topped with a juicy crab meat spread of cream cheese, mozzarella, green onions, and mayo. Perfect as finger food for your next get-together!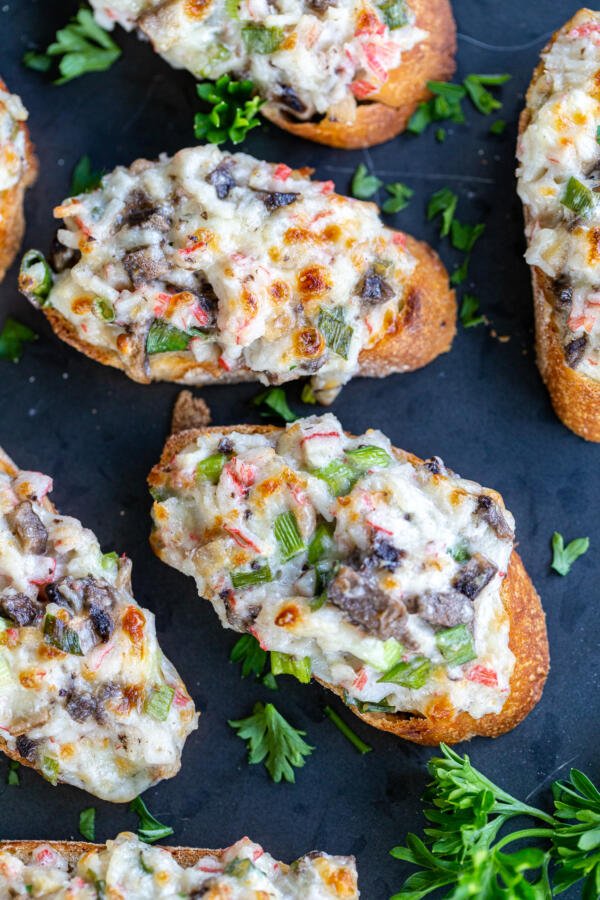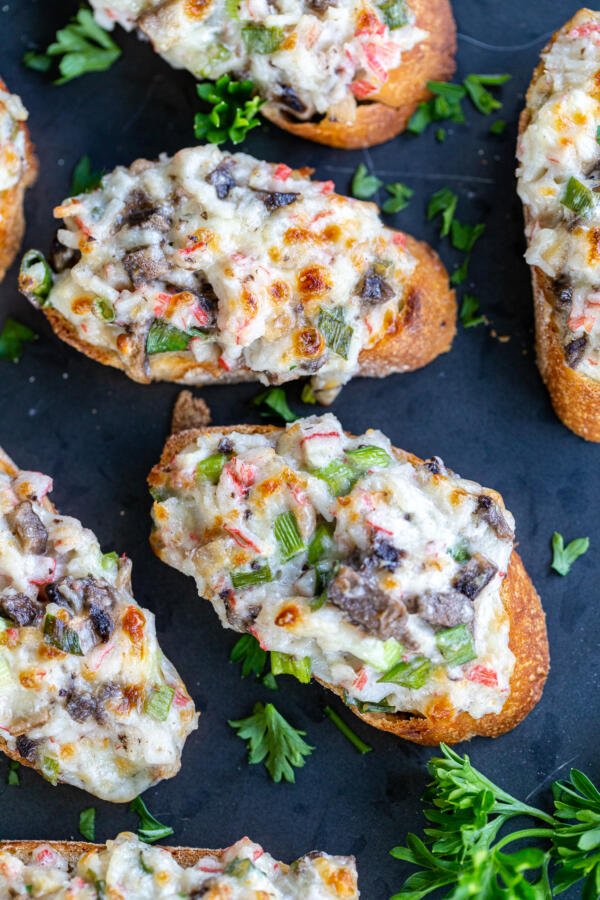 Piping hot crab mushroom canapés are always such a hit at a dinner party. I love having a huge tray out when guests arrive so they don't have to grit through small talk with grumbling stomachs. The way the toasty slices of bread hold up the creamy crab mixture and melty cheese tops is just to die for.
If you're on the hunt for the perfect appetizer spread for your next cocktail party or pot luck, look no further. These crab canapés are not only addicting, but they are also super simple to prepare. You can whip the crab mixture up in advance and assemble them right before serving so you can spend more time enjoying the party and less time fussing over the food.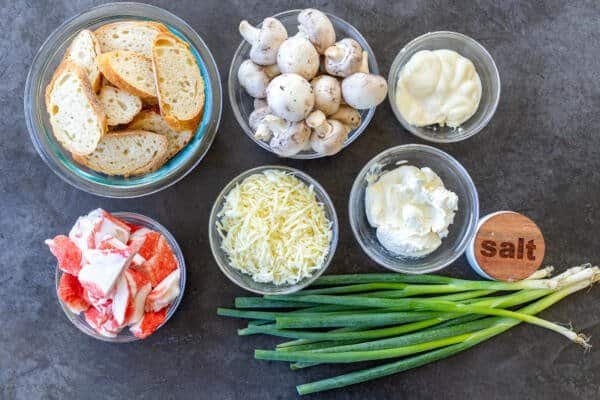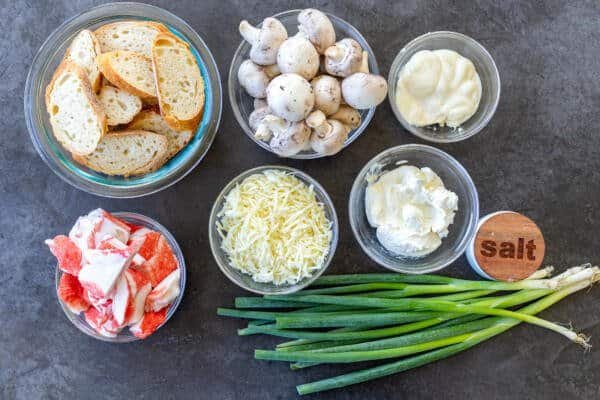 What's the Difference Between Canapés and Hors D'Oeuvres?
Canapés are characterized as appetizers made up of sliced bread or crackers topped with a spread, meat and cheese, or any other combination of goodies. On the other hand, hors d'oeuvres is a blanket term that refers to a variety of finger foods including canapés, kebabs, crudités, antipasto, and beyond. While all canapés are hors d'oeuvres, not all hors d'oeuvres are canapés. Now that you have the fancy lingo down, let's get to cooking!
How to Make Crab Mushroom Canapés
Making crab canapés only requires a little mixing, assembling, and a low broil. Below, find a quick hitter overview of this foolproof appetizer recipe before you dive in.
Chop the Crab & Veggies: Using a sharp knife, dice up the crab meat, green onions, and mushrooms. Toss the ingredients into a large bowl with the grated mozzarella cheese.
Mix in Cream Cheese & Mayo: Mix in the cream cheese and mayo until the mixture is creamy and well-combined.
Assemble the Canapés: Apply a spoonful of the crab mixture on top of the sliced baguette and assemble the pieces on a baking sheet.
Toast the Canapés: Toast the canapés on a low broil until the cheese is bubbly. Enjoy straight out of the oven!
Tips & Tricks
Below, find a handful of pro tips and tricks to help you make the best crab canapés.
Allow the cream cheese to soften at room temperature. The cream cheese will be so much easier to incorporate into the crab mixture if you let it soften first. Leave it on the counter for 30 minutes to an hour and you'll be golden.
Slice the bread into even-sized pieces. The more uniform your baguette slices, the more evenly they will toast in the oven. This will also make for a prettier presentation!
Don't overdo the topping. Although tempting, you'll want to refrain from going overboard with the crab topping. Put just a spoonful on each slice so it doesn't melt off the sides or make for too big of a bite.
Prepare canapés just before you plan to serve them. These morsels are best eaten straight out of the oven. If you let them sit out too long, they will harden and turn stale.
Serving Crab Canapés
Canapés are best served alongside other hors d'oeuvres at a get-together, dinner party, or potluck. If you can't get enough of these tiny, little sandwiches, make a huge tray with different variations. Some other great ideas include eggs and sprats, hummus and eggplant, mushroom and bell peppers, and chicken and bacon.
Storing Crab Canapés
Toasty canapés should always be served right away! However, if you want to prep them ahead of time, simply whip up the crab mixture and cover it with plastic wrap in the fridge. When you're ready to serve, quickly assemble the canapés and pop them in the oven.
FAQ
How many canapés should I make per person?
As a general rule of thumb, plan to prepare 4-6 canapés per guest.
What kind of bread should I use?
Baguette is the best kind of bread to use for canapés.
How can I prep canapés ahead of time?
Prep canapés ahead of time by whipping up the crab mixture and popping it in the fridge until you're ready to assemble and bake them.
How long will canapés keep for?
Canapés will only stay good for about 30 minutes before they start to turn stale and harden. You'll want to serve them right away and encourage your guests to gobble them up!
If my oven doesn't have a low broil setting, what heat should I set it at?
If you don't have a low broil setting, cook the canapés at 375°F for about 15 minutes.
Other Crab Recipes
Recipe
These crab canapés are topped with a juicy crab meat spread of cream cheese, mozzarella, green onions, and mayo. Perfect as finger food for your next get-together!
Ingredients
1

lb

crab meat

1

baguette

2

cups

mozzarella cheese

1

lb

mushrooms

1/4

cup

green onions

4

oz

cream cheese

softened at room temperature

2/3

cup

mayonnaise

1/2

tsp

salt

adjust to taste
Nutrition Facts
Crab Mushroom Canapés
Amount Per Serving
Calories 232
Calories from Fat 135
% Daily Value*
Fat 15g23%
Cholesterol 40mg13%
Sodium 659mg27%
Potassium 219mg6%
Carbohydrates 11g4%
Protein 13g26%
Vitamin A 249IU5%
Vitamin C 3mg4%
Calcium 121mg12%
Iron 1mg6%
* Percent Daily Values are based on a 2000 calorie diet.