Caramelized mushrooms are loaded onto toasted garlic bread, then topped with Parmesan and fragrant thyme. This mushroom bruschetta is the perfect appetizer!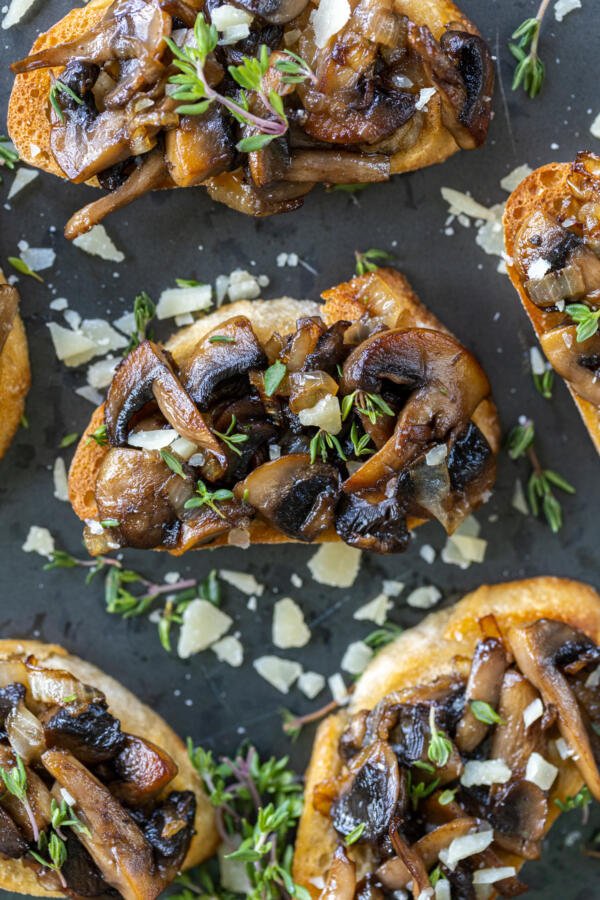 What Is Mushroom Bruschetta?
Mushroom bruschetta is an Italian appetizer consisting of toasted bread slices and a sautéed mushroom topping. The word bruschetta is derived from "bruscare", which means "to roast over fire" in Italian. The bread is crunchy on the outside and soft on the inside, adding a textural contrast to the juicy veggies. This appetizer has a rich umami flavor from the mushrooms and a hint of freshness from the thyme.
How To Make Mushroom Bruschetta
Mushroom bruschetta comes together so quickly with minimal effort. Start by preparing the toasts and cooking the topping, then it's assembly time!
Preheat the oven: Preheat the oven on the broiler setting.
Make the toast: Cut the baguette into 1/2 inch thick slices using a bread knife and place the slices on a baking sheet. Drizzle olive oil over them, then bake for three minutes on each side (or until golden brown). Rub the garlic cloves over the toasted slices, then set aside.
Chop the veggies: Cut the onion into quarter rings, then slice the mushrooms into bitesized pieces.
Cook the veggies: Add butter to a large skillet and preheat over medium-high heat. Add the chopped onions and mushrooms to the pan and sauté until they are lightly golden.
Assemble the bruschetta: Top each slice of bread with the mushroom mixture, grated Parmesan, and a sprinkle of thyme. Enjoy!
Picking the Right Mushrooms
Have you ever been dumbfounded at all the varieties of mushrooms? Here's a simple guide to break down our favorite 'shrooms for this bruschetta.
Cremini: Fun fact — Cremini, button, and portobello mushrooms are actually the same plant but at different stages of life! We love any of these options for bruschetta — they have a rich flavor and meaty texture that holds up well through cooking.
Shiitake: Shiitake mushrooms are similar to meat, with a smoky, umami flavor and firm texture. They are also highly nutritious!
Oyster: True to their name, oyster mushrooms have a slight seafood-y flavor. They are a wild variety with a briny taste and velvety texture.
Ingredient Variations
Mushroom bruschetta is a canvas for creativity. Whether it's adding new flavors or tweaking the texture, make any of these changes to customize your bruschetta to your liking.
Bread: Instead of a baguette, go with a classic ciabatta base — it's crusty, sturdy, and flavorful. Or, use your leftover sourdough for a tangy taste or focaccia for a bubbly, light texture.
Cheese: Goat cheese is an acquired taste, but it's one of the most tasty pairings with mushrooms. For a different cheese with a salty, sharp bite, crumble fresh feta over your bruschetta. Rich Gruyere or sweet, nutty fontina are also tasty options.
Seasonings: Not enough garlic? Sprinkle a teaspoon of garlic powder into the veggie mixture to infuse savory flavor. For a spicy kick, stir in red pepper flakes or freshly ground black pepper.
Herbs: Thyme is arguably the best herb to complement mushrooms, but fresh rosemary, sage, and oregano also bring an amazing peppery flavor.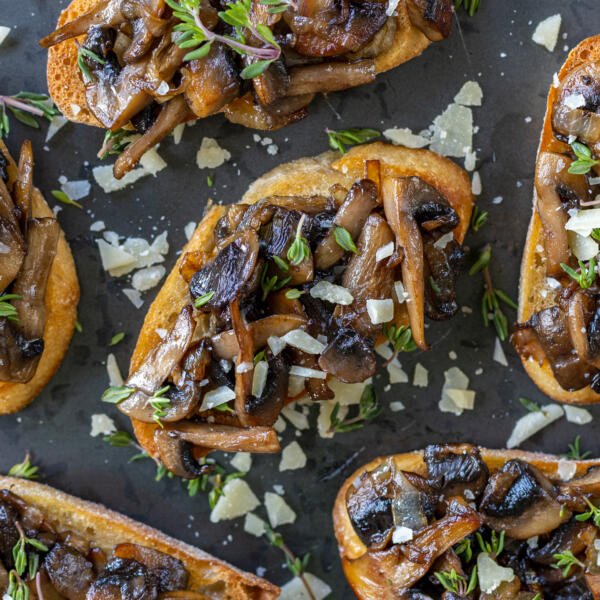 Tips From the Kitchen
This recipe doesn't leave mush-room for error. To ensure your mushroom bruschetta turns out perfect though, listen to the following tips!
Use thick slices of bread: To prevent bruschetta from becoming soggy, cut the bread into at least one inch thick slices. This allows for a crispy toasted outside and a soft middle that holds up to the moisture of the topping.
Rub a garlic clove over the toast: This is our secret hack for infusing delicious garlic flavor into our bruschetta. As soon as the bread comes out of the oven, rub a whole garlic clove over each slice until it's aromatic.
Wipe your mushrooms clean: Wipe the mushrooms with a paper towel or clean cloth. Avoid washing the mushrooms, so that they don't end up having a mushy texture.
Serve the bruschetta hot: Mushroom bruschetta is the most flavorful and has the best texture when it is served right away. As it sits, the bread becomes soggy and the toppings get cold.
Ways To Serve
Hand-held and flavorful, mushroom bruschetta is an ideal appetizer for your next dinner party. Serve it hot and fresh with a drizzle of balsamic vinegar on top, then follow up with more veggie side dishes like eggplant roll-ups and beet and goat cheese arugula salad. Are you ready for the main course? Bring out spinach stuffed shells, parmesan crusted chicken, or braised beef short ribs to create a hearty and satisfying table spread. Another option would be serving alongside a parmesan risotto entree!
Making Ahead & Storing
Mushroom bruschetta is easy and quick to make ahead of time. Follow these instructions for proper assembly and storage.
Making ahead: To save time later on, make the garlic toasts and cook the veggies, then store the two separately. Assemble the bruschetta when you are ready to serve.
Storing: For the best texture, store the topping and bread separately. Transfer the cooked veggies to an airtight container and refrigerate for up to three days. Keep the bread at room temperature in a sealed bag.
Hot tip: To make the leftover bread crispy again, pop it under the broiler for 1-2 minutes.
FAQ
Is bruschetta supposed to be served warm or cold?
Bruschetta can be served warm or cold. Typically, the bread is warm and the topping is cold.
How do you keep bruschetta from getting soggy?
To keep bruschetta from getting soggy, cut the bread into thick slices and only add the topping when you are ready to serve.
What course is bruschetta?
Bruschetta is considered antipasto: the Italian word for an appetizer.
Should bruschetta be refrigerated?
The topping for bruschetta should be refrigerated, but store the bread separately at room temperature.
Other Mushroom Recipes
Recipe
Caramelized mushrooms are loaded onto toasted garlic bread, then topped with Parmesan and fragrant thyme. This mushroom bruschetta is the perfect appetizer!
Nutrition Facts
Mushroom Bruschetta Recipe
Amount Per Serving
Calories 183
Calories from Fat 90
% Daily Value*
Fat 10g15%
Cholesterol 18mg6%
Sodium 555mg23%
Potassium 253mg7%
Carbohydrates 19g6%
Protein 7g14%
Vitamin A 249IU5%
Vitamin C 4mg5%
Calcium 94mg9%
Iron 2mg11%
* Percent Daily Values are based on a 2000 calorie diet.