This decadent cheesy baked tiger shrimp recipe is perfect for hosting and the most wonderful appetizer to gather around. Perfect, garlicky & cheesy goodness!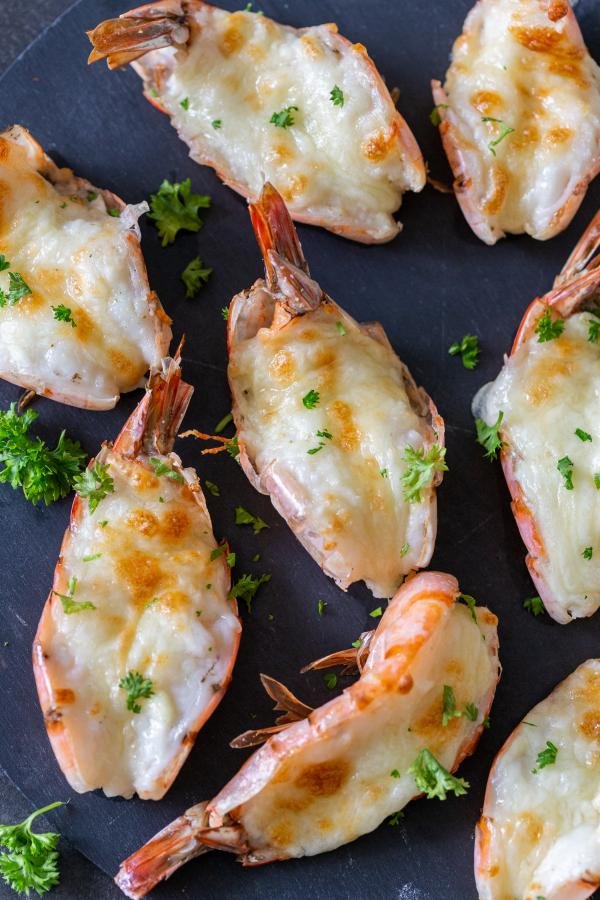 Are you looking for an appetizer that will "wow" and impress your guests? Look no further than these cheesy baked tiger shrimps. Bust out a beautiful platter and be prepared to watch them get gobbled up!
What are tiger prawns? Tiger shrimp are large prawns that are marked with dark bands. They are also super fleshy, making them perfect for smothering with cheese!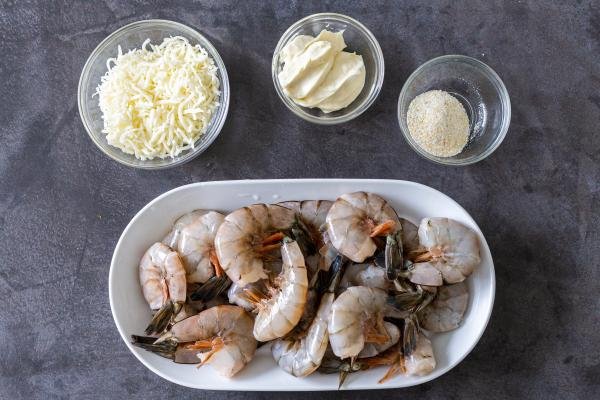 How to Butterfly Shrimp
For this recipe you will need to butterfly the shrimp. But what does that actually mean? Follow these simple instructions:
Peel the Shrimp: Remove the shell from the shrimp without removing the tail.
Slice the Shrimp: Insert the knife three-quarters of the way into the shrimp near the head and cut nearly all the way down the shrimp's back just before the tail. Remove the vein with your knife if you didn't opt for pre-deveined shrimp.
Open the Shrimp: Using your hands, open the shrimp flesh until it lays flat. Bam – you've butterflied your shrimp!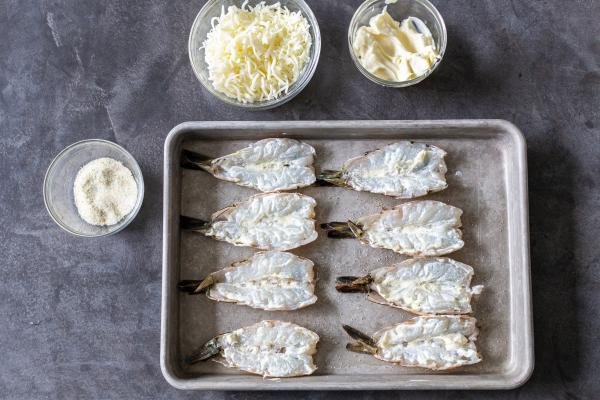 Preparing this Cheesy Baked Tiger Shrimp Recipe
After you get the butterfly technique down, this easy app only requires some light assembly and 4 simple ingredients.
Wash & Butterly the Shrimp: First, wash the shrimps under cold water and pat them dry with a paper towel. Next, butterfly the shrimp and place them on a baking sheet, shallow dish, or a broiler pan.
Top the Shrimp: Spread a thin layer of mayo on top of the shrimp, followed by a sprinkle of garlic parsley salt. Top each shrimp with a handful of shredded cheese.
Bake the Shrimp: Finally, bake the shrimp at 400°F for about 12 minutes. Enjoy!
Hot Tip: Season the mayo with the garlic parsley salt in a small bowl and pop it in the fridge overnight. This will give the aioli maximum flavor for next-day assembly!
Helpful Tips & Tricks
A couple of helpful tips and tricks will help you get perfectly cooked, tender shrimp and maximally melty cheese.
Make sure your shrimp are patted completely dry first. Before you top the shrimp with aioli and cheese, make sure to pat the cleaned shrimp down with a paper towel first. This will help it to cook more evenly, while also helping the cheese "stick" better.
If you're using frozen shrimp, make sure to thaw it first. If you only have frozen shrimp on hand, make sure to thaw them completely first. To thaw shrimp, place them in the refrigerator for a couple of hours. Or, if you're in a rush, place them in a resealable plastic bag in a cold water bath in the sink for 15-20 minutes.
Switch up the seasoning. Add a little fresh cilantro, horseradish, black pepper, lemon juice, or fresh garlic on top of the mayo spread as you please.
Like a smokier flavor? Grill the cheesy tiger shrimp on a gas grill or charcoal grill instead! To do so, thread them on bamboo skewers and place them directly on the grill rack. Once pink, they're ready!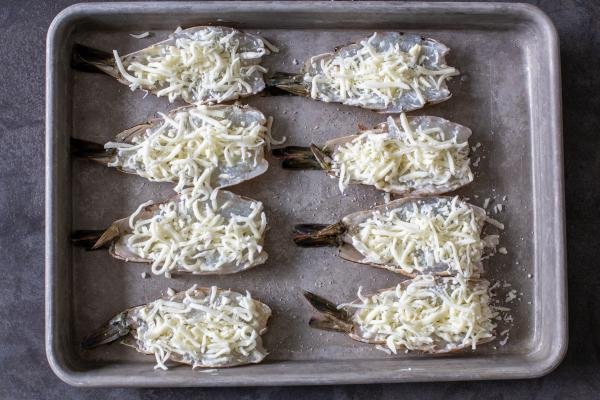 Serving this Cheesy Tiger Shrimp Recipe
Cheesy baked tiger shrimp are the perfect appetizer to a grilled ribeye steak dinner with creamy mashed potatoes and air fryer asparagus. Hello, surf and turf! They're also a great addition to any seafood appetizer spread alongside crispy crab puffs, spring rolls with salmon, and crab mushroom canapés.
Storage Best Practices
To keep the cheesy tiger shrimp on hand for up to 2-3 days, store your leftovers in an airtight container in the fridge. To reheat them, place them in the oven covered with foil (you don't want the shrimps to overcook!) or pop them in the air fryer just until the cheese is melted.
FAQ
What kind of cheese should you use for a cheesy baked tiger shrimp recipe?
For this recipe, I typically use a mozzarella cheese blend. However, feel free to use whatever cheese you fancy most. I have experimented with everything from cheddar, Mexican cheese, goat cheese to bleu cheese and beyond!
What's the difference between tiger shrimp and regular shrimp?
While similar in taste, tiger shrimp and regular shrimp have stark differences when it comes to appearance. Tiger shrimp are much larger and tend to be milder in taste than traditional shrimp.
Can you prepare cheese baked tiger shrimp in an air fryer instead?
Yes! You can air fryer cheese baked tiger shrimp instead of baking them in the oven. To do so, assemble them in a single layer, set the air fryer to 400°F, and air fry the shrimp for 5 minutes.
Can you freeze cheesy baked tiger shrimps?
It's not a good idea to freeze cheesy baked tiger shrimp. It's always best to bake them from fresh, as the frozen shrimp will release too much moisture and the cheese will have a hard time crisping up.
Other Seafood Favorites
Recipe
This tasty cheesy tiger shrimp recipe features plump shrimp topped with garlicky aioli & melty cheese. Baked to perfection & great for at-home dinner parties!
Nutrition Facts
Cheesy Baked Tiger Shrimp Recipe
Amount Per Serving
Calories 248
Calories from Fat 135
% Daily Value*
Fat 15g23%
Cholesterol 213mg71%
Sodium 5689mg237%
Potassium 188mg5%
Carbohydrates 2g1%
Protein 25g50%
Vitamin A 467IU9%
Calcium 218mg22%
Iron 1mg6%
* Percent Daily Values are based on a 2000 calorie diet.