If you've been eating Easter European cakes, you will notice that layered cakes are quite popular. I love eating cakes with very thin layers because they come more creamy.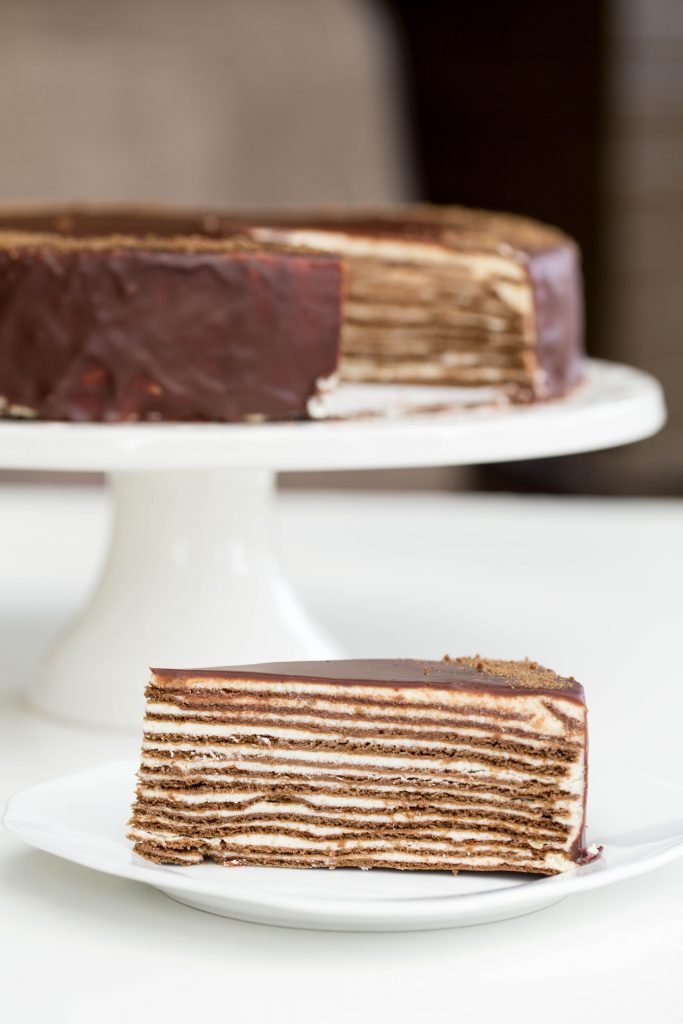 This cake has extra thin layers, with a good balance of cream in between. Yes, the cake does take a little more effort and the steps may seem never-ending, but it's pretty simple if you follow the steps. I would say that even if you're not a typical baker, you should be able to nail this one.
This recipe is a very original traditional recipe for a Russian cake, called Spartak. If you grew up in a Slavic community, you've probably had this cake more than once.
Other Russian Cake Recipes
Recipe
Instructions
Spartak Cake Cream
Pour milk into a heavy sauce-pot, add in egg mixture, vanilla and sugar. Cook on low-medium heat, stirring/whisking entire time until the mixture resembles condensed milk in texture. Don't forget to stir/whisk, otherwise the cream can burn. Remove from heat, letting it completely cool to a room temperature.
Cake Assembly
Using 80% of the cream, distribute it evenly between all cake layers. Spread cream evenly and stack them on top of each other. Use the remainder of the cream to cover the top of the cake.
Nutrition Facts
Chocolate Layer Cake (aka Spartak Cake)
Amount Per Serving
Calories 491
Calories from Fat 297
% Daily Value*
Fat 33g51%
Cholesterol 129mg43%
Sodium 129mg5%
Potassium 94mg3%
Carbohydrates 46g15%
Protein 5g10%
Vitamin A 1040IU21%
Calcium 61mg6%
Iron 1.1mg6%
* Percent Daily Values are based on a 2000 calorie diet.