Anthill cake is the definition of Slavic childhood comfort food! It features buttery cake crumbs soaked in dulce de leche and shaped into a festive "anthill".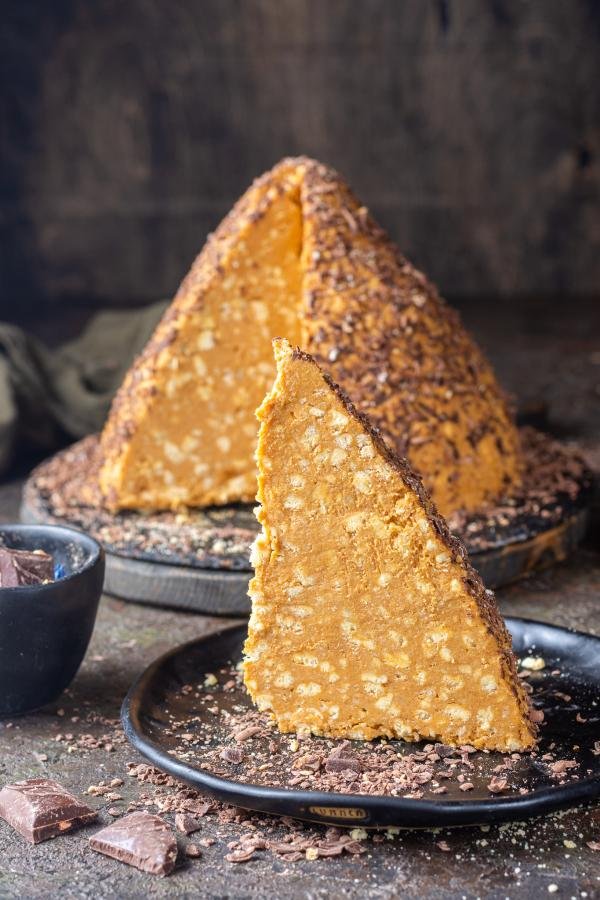 Muraveinik is the childhood cake of most Slavic kids and a slice is sure to bring back warm memories. From birthday parties to special occasions, it's a fun and festive staple that always hits the spot. What's better? It's super easy to throw together and is the perfect candidate for a make-ahead dessert.
A Little Background on Muraveinik
Muraveiunik, or "anthill cake", gets its name from how most people shape the caramel cake dough. Typically, you'll find it formed into a mound to resemble an anthill and covered in cocoa powder or chocolate ganache to mimic dirt and ants. Made with minimal, affordable, and simple ingredients, it was a popular cake to serve during hard times in the Soviet-era. Today, it's a comforting staple that remains one of the most tried-and-true Russian recipes.
A Step-by-Step on Making Anthill Cake
The most interesting part of oddity of a cake is the need for a meat grinder. You'll use it to shape the dough into long, thin strips that form the "anthill" texture.
Make the Cake Batter: Place the all-purpose flour into a large bowl with sugar. Next, use a fork to stir in the soft butter and sour cream. In a small bowl, whisk the baking soda and vinegar together and add it into the flour mixture. Pop the dough into the refrigerator for an hour.
Grind the Dough: Next, pass handfuls of the dough through a meat grinder to create long, thin strips. Spread the ground dough pieces on a prepared baking sheet and bake them in the oven for about 10 minutes at 350°F.
Make the Cake Base: Break the dough pieces into tiny pieces. Combine the softened butter and dulce de leche until creamy. Add the dough pieces into the caramely mixture and give it a quick stir with a spatula.
Form the Cake: Shape the caramely cake crumble into a mound on a serving plate or pop it into a lined bread pan – it's up to you! Allow it to set in the refrigerator overnight. Enjoy!
5 Handy Tips & Tricks for a Perfect Anthill Cake
From our kitchen to yours, check out 5 essential tips and tricks for nailing this Slavic staple.
Allow the unsalted butter to soften at room temperature. The butter will be so much easier to incorporate into dough and cake cream if it's been softened at room temperature. Pull it out of the fridge 30 minutes before you start baking and you'll be golden.
If the dough is too dry, add one or two tablespoons of water. If the cake dough is a little too dry and crumbly to handle, add in 1-2 tablespoons of water to hydrate it.
Mix in your favorite odds and ends. Experiment with the flavors of this classic cake by mixing in your favorite ingredients. Walnuts, hazelnuts, chocolate sprinkles, and poppy seeds are all great additions.
Allow the cake to set overnight. This killer cake is a thousand times more tasty when you allow it to set overnight and fully develop all its flavors. A chill overnight also makes for easy slicing. Don't skip this step!
Make your own dulce de leche from scratch. You can always buy dulce de leche store bought, making it homemade is super simple. Check out our recipe for Instant Pot Dulce de Leche for all you need to know.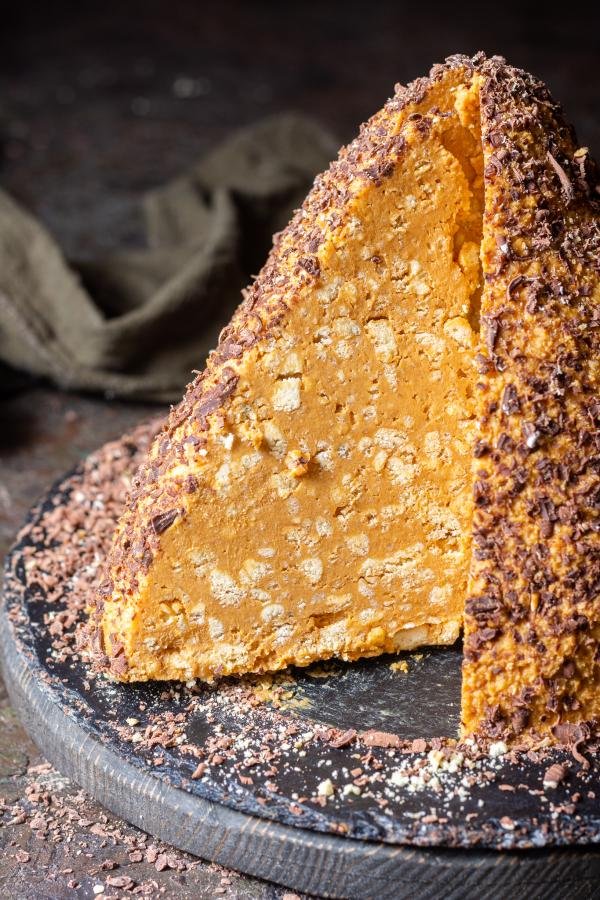 Make-Ahead & Storage Tips
Anthill cake is great for making ahead and can be assembled up to 3 days in advance. To keep it fresh, cover it tightly in plastic wrap on a large plate or store it in an airtight cake container (just make sure you don't build your mound so high that it doesn't fit!). When stored properly, this cake should keep fresh for up to a week.
FAQ
Could you use almond flour instead of all-purpose flour?
Unfortunately, the texture just wouldn't be the same. Stick with all-purpose flour for the best results.
Can you use something else besides a meat grinder?
Leave the dough in the freezer for a bit to harden and use a large side of the cheese grater. It will work just as good!
If you form the cake in a loaf pan, what size should it be?
We use 12in. x 18in., but you can use whatever size you have on hand. This recipe is very forgiving!
Can you use a white chocolate drizzle instead?
Yes!, you can! It will add a nice creaminess to the cake.
Other Russian Cake Recipes
Recipe
This recipe for anthill cake features crumbly cake dough covered in a caramel cream. A beloved Slavic childhood staple and a must-try for sugar addicts!
Ingredients
Dulce de Leche Cake Cream
Instructions
Adding Cream to the Cake
Combine the softened butter with the dulce de leche until smooth and creamy. Combine the butter and dulce de leche mixture in a bowl.
Nutrition Facts
Anthill Cake (aka Muraveinik)
Amount Per Serving
Calories 392
Calories from Fat 243
% Daily Value*
Fat 27g42%
Cholesterol 70mg23%
Sodium 189mg8%
Potassium 57mg2%
Carbohydrates 35g12%
Protein 4g8%
Vitamin A 813IU16%
Vitamin C 1mg1%
Calcium 22mg2%
Iron 2mg11%
* Percent Daily Values are based on a 2000 calorie diet.