This Russian honey cake recipe, aka medovik, is a gravity-defying layered cake with notes of honey & dulce de leche. It is decadent, beautiful & absolutely delicious.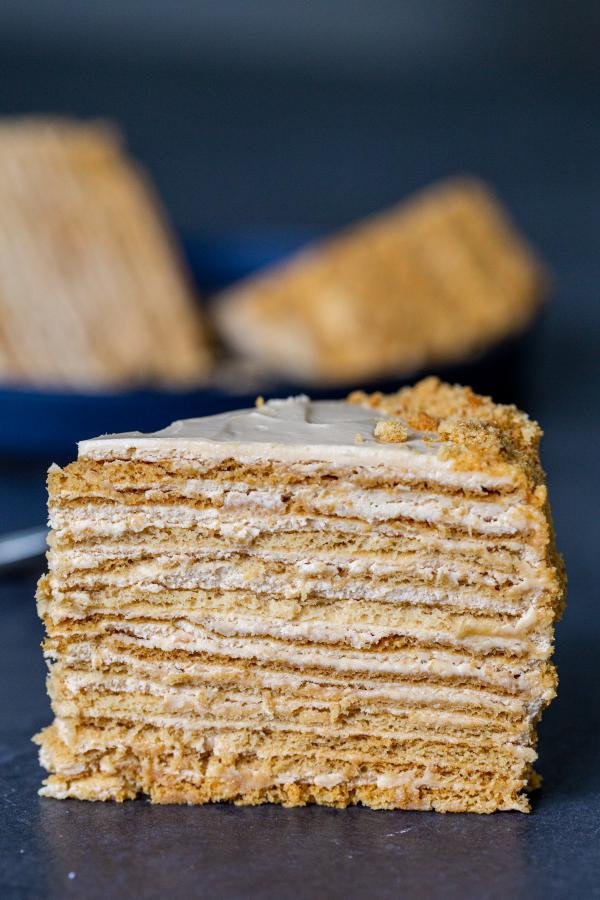 Honey cake is made up of crispy and thin cake layers that are separated by a thick cream cheese and dulce de leche frosting. The end result is an eye-catching dessert that is sure to impress. Whip it up for your next get-together and watch your guests' eyes widen as you slice in!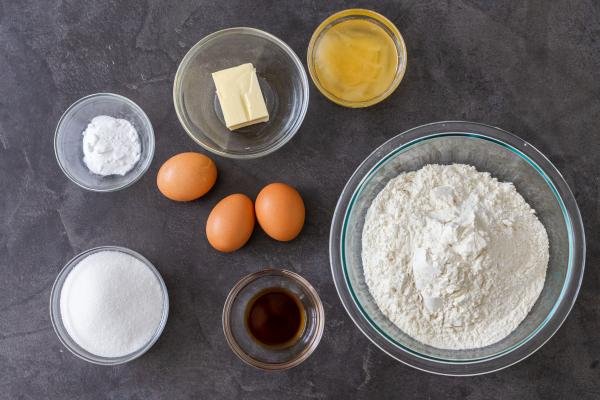 What is Russian Honey Cake (Medovik)?
Medovik hails straight from Russia and translates directly into "honey". It is a popular dessert throughout all Slavic countries and it's reserved for special occasions. Here you'll find an overview of the flavor, texture, and time it takes to whip up our version.
Flavor: The flavor of this cake is sweet overload! It doesn't hold back at all and features strong notes of honey and dulce de leche.
Texture: The crispy, thin cake layers are soaked in the cake cream overnight, making each slice ridiculously moist.
Time: Reserve a little patience for this cake, as it takes about 3 hours to make. Trust us, it's well worth the wait!
Making Honey Cake Recipe from Scratch
The most tedious part about making medovik is baking each individual layer separately. After that, all you need to do is some simple assembly!
Make the Cake Layers
Create a Steam Bath: First, bring a pot of water to boil and place a heat-safe bowl on top.
Make the Cake Batter: Next, pour the butter, honey and sugar inside the bowl over the steam bath and allow them to melt. In a separate bowl, beat the eggs and baking soda until smooth. Slowly add in the egg mixture, stirring until well-combined.
Cook the Batter: Allow the batter to cook for around 30 minutes over the steam bath. Remove it from heat and add in the teaspoon vanilla extract and all-purpose flour.
Shape the Cake Layers: Next, preheat the oven and line a baking sheet with parchment paper. On a floured work surface, divide the dough into 12-14 even pieces and roll out one of them into a thin, flat disc.
Bake & Trim the Cake Layers: Bake a single cake layer for 5-7 minutes, or until golden brown. Using a plate, cut out a perfect circle from the cake layer. Repeat the process until all you layers are baked, trimmed, and cooled to room temperature (note: save the cake trimmings for decorating!).
Make the Cake Cream & Assemble the Cake
Make the Cake Cream: In the bowl of a stand mixer or with a large mixing bowl and a hand mixer, beat the butter, cream cheese, and dulce de leche together. Add in the heavy whipping cream and whip until you get stiff peaks.
Assemble the Cake: Next, frost a cake layer with the cake cream and stack a layer on top. Repeat until the cake is fully assembled. Frost the outside of the cake with the remaining cake cream.
Decorate the Cake: Blend the leftover cake pieces and use the crumbs to decorate the sides of the cake:
Refrigerate the Cake: Allow the cake to set in the fridge overnight to develop its flavors. Before serving, let it sit at room temperature for a couple of hours. Bon appetit!
5 Tips for Making the Best Honey Cake
A couple of handy tips will help you make the best honey cake recipe possible.
Make the layers in advance. This cake is awesome because you can make the layers up to a week in advance. Just make sure to cover them tightly with plastic wrap and store them in a plastic bag until you are ready to assemble.
Use room temperature butter and cream cheese and extra cold heavy whipping cream. Bring your butter and cream cheese to room temperature and keep your heavy cream very cold. This makes the whipping process much easier, while also creating an awesome texture.
Don't over mix the cake cream. Once you add the heavy cream to your cream cheese and butter, pay extra mind to not over mix your frosting. Over mixing the heavy cream can cause it to curdle and turn into butter. Once you see stiff peaks begin to form, immediately stop mixing the frosting.
Give the cake time to set. After you assemble your cake, allow it to set it in the fridge for at least 12 hours. This will not only help with the cake's overall stability, but it will also make it much more moist and flavorful.
Tailor the cake cream to your taste buds. If you want to skip out on the cream cheese or butter, feel free. If you remove the butter, compensate by adding more cream cheese and vice versa.
Storing & Freezing this Honey Cake Recipe
Whether you're prepping your cake ahead of time or need to store some leftover slices, find all you need to know here.
Refrigerate: Keep your cake in a sealed cake container for up to a week. This cake tends to absorb the smells of the fridge, so you want to make sure it's stored airtight!
Freezing: You can make this cake in advance and freeze it for up to a month. Fresh cake is always supreme, but this definitely is a viable option. Pull out the cake from the freezer and allow it to thaw overnight.
FAQ
Can you make honey cake with just sugar?
It's best to use honey for traditional honey cake instead of just pure sugar. The deep, earthy honey flavor is the signature ingredients for the cake and really make it what it is.
Is cooked condensed milk the same thing as dulce de leche?
Yes, cooked sweetened condense milk is the same exact thing as dulce de leche. You can easily make it yourself or just buy a premade can of dulce de leche.
What kind of flour should you use to make honey cake?
Regular, old-fashioned all-purpose flour is all you need to make a traditional medovik cake. You want to stay away from cake flours, as they are much too fine to yield the crispy cake layers.
How far in advance can you prepare the cake layers for honey cake?
You can prepare the cake layers for medovik cake up to 5 days in advance and store them in the refrigerator. If you want them to last even longer, freeze them for up to a month.
A Few More Russian Cakes to Try
Recipe
This Russian honey cake recipe, aka medovik, features beautiful layers of cake alternated with a super sweet honey and dulce de leche cake cream. YUM!
Ingredients
Cake Cream
200

g

Unsalted Butter

8

oz

cream cheese

room temperature

16

oz

heavy whipping cream

12

oz

dulce de leche
Instructions
Making the Cake Cream & Assembling the Cake
Whip the butter with the cream cheese and dulce de leche until smooth in consistency. Add in the heavy whipping cream and whip until you get stiff peaks (note: don't over mix, or the heavy whipping cream will turn into butter).

Frost a cake layer and stack another on top. Repeat the process until all the layers are stacked. Frost the outside of the cake with the remaining cake cream.
Nutrition Facts
Russian Honey Cake
Amount Per Serving
Calories 562
Calories from Fat 360
% Daily Value*
Fat 40g62%
Cholesterol 162mg54%
Sodium 410mg17%
Potassium 107mg3%
Carbohydrates 45g15%
Protein 7g14%
Vitamin A 1431IU29%
Vitamin C 1mg1%
Calcium 59mg6%
Iron 2mg11%
* Percent Daily Values are based on a 2000 calorie diet.