Russian Honey Cake is a gravity-defying layered cake with notes of honey and caramel. It is decadent, beautiful and absolutely delicious.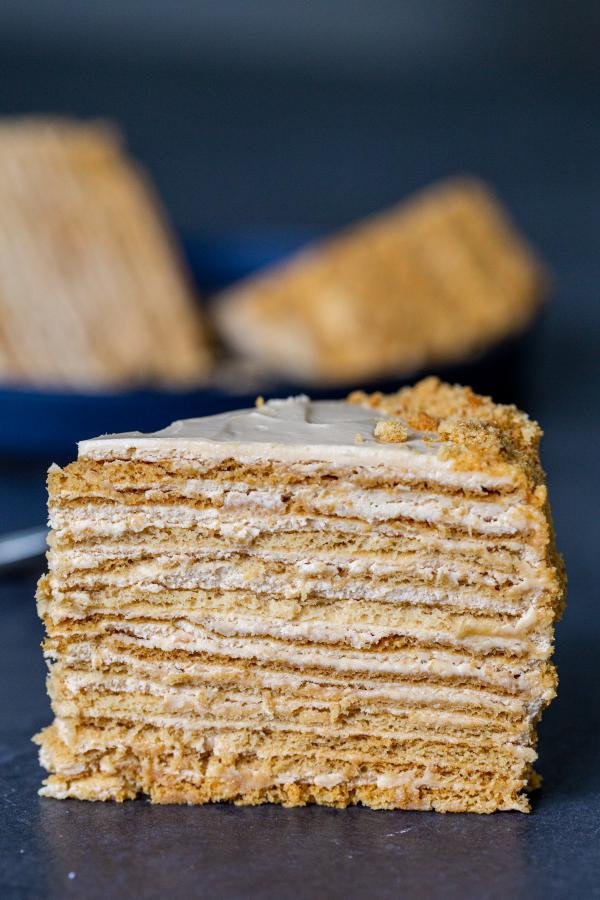 Honey cake is made up of crispy and thin cake layers that are separated by a thick cream cheese frosting. The end result is an eye-catching dessert that is sure to impress.
Honey cake hails straight from Russia. Medovik, which translates to "honey" in Russian, is a popular dessert that is reserved for only the most special of occasions.
Are you obsessed with honey cake? Try your hand at making another Momsdish favorite — Honey Sponge Cake.
Tips for Making the Best Russian Honey Cake
Make the Layers in Advance: This cake is awesome because you can make the layers a week in advance. Just make sure to cover them tightly with plastic wrap and store them in a plastic bag until you are ready to assemble.
Cream: Bring your butter and cream cheese to room temperature and keep your heavy cream very cold. This makes the whipping process much easier, while also creating an awesome texture.
Don't Overmix the Cream: Once you add the heavy cream to your cream cheese and butter, pay extra mind to not overmix your frosting. Overmixing the heavy cream can cause it to curdle. Once you see stiff peaks begin to form, immediately stop mixing the frosting.
Give it Time to Set: After you assemble your cake, allow it to set it in the fridge for at least 12 hours. This will not only help with the cake's overall stability, it will also make it much more moist.
Tailor the Cream to Your Taste Buds: If you want to skip out on the cream cheese or butter, feel free. If you remove the butter, compensate by adding more cream cheese and vice versa.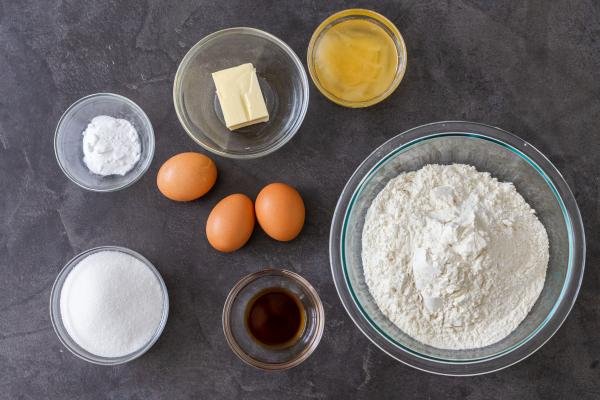 Making Honey Cake From Scratch
Start a steam bath. In a glass bowl, add your honey, butter and sugar. Place the bowl on top of your steam bath and stir until combined and melted.
In a separate bowl, beat eggs and baking soda together. Slowly add the egg mixture to your honey, butter and sugar mixture, stirring continuously.
Once ingredients are fully incorporated, cook for an additional 30 to 40 minutes over the steam bath until the color becomes a rich caramel brown. Remove from the steam bath and add the vanilla extract and flour.
Preheat the oven and flour your working surface generously. Separate your dough into even sized balls. With a rolling pin, roll out each ball into a thin layer. To make your life easier, roll the dough out directly onto your baking sheet.
Bake each cake layer until golden brown (about 7-8 minutes). To make your layer a perfect circle, take the dough out and cut a perfect circle by using a plate as a stencil. Save your scraps for decorating.
Allow your cake layers to completely cool before you begin assembling.
Whip your cream together.
Assemble your cake by frosting each layer with equal amounts of cream.
Decorate the outside as you please! I like to food process the cake scraps into a crumbly topping that I spread on the top and sides of the cake for a pretty effect. Allow the cake to set in the fridge overnight. Pull it out of the fridge 30 minutes before you plan to serve.
How do you Store Honey Cake?
Refrigerate: Keep your cake in a sealed cake container. This cake tends to absorb the smells of the fridge, so you want to make sure it's stored airtight!
Freezing: You can make this cake in advance and freeze it for up to a month. Fresh cake is always supreme, but this definitely is a viable option. Pull out the cake from the freezer and allow it to thaw overnight.
A Few More Russian Cakes
Dulce De Leche Cake -This is the king of caramel cakes. Sweetened condensed milk makes this treat so luscious.
Sharlotka Cake – This easy apple cake brings me right back to my childhood.
Spartak Cake – Thin, chocolate cake layers are separated by a thick cream in this Eastern European classic.
Chocolate Honey Cake – Irish creme liqueur makes this cake extra-moist. Little speckles of chocolate are scattered throughout each layer, giving this cake an awesome texture.
Recipe
Russian Honey Cake is a gravity-defying layered cake with notes of honey and caramel. It is decadent, beautiful and absolutely delicious.
Ingredients
Cream
200

g

Butter

8

oz

Cream Cheese (room temperature)

16

oz

Heavy Whipping Cream

12

oz

Cooked Condensed Milk
Instructions
Finalizing Cake
Whip butter together with cream cheese and condensed milk. Once they are well mixed together, add whipping cream. Whip until you get stiff peaks. (note: don't overmix the cream, it can curdle up)

Divide all cream evenly between each layer of the cake. Form the cake by stacking the layers of cake.
Nutrition Facts
Russian Honey Cake
Amount Per Serving
Calories 562
Calories from Fat 360
% Daily Value*
Fat 40g62%
Cholesterol 162mg54%
Sodium 410mg17%
Potassium 107mg3%
Carbohydrates 45g15%
Protein 7g14%
Vitamin A 1431IU29%
Vitamin C 1mg1%
Calcium 59mg6%
Iron 2mg11%
* Percent Daily Values are based on a 2000 calorie diet.