Traditional Russian vinaigrette salad, aka Russian beet salad, is made with root vegetables and dressed with sunflower oil. It's healthy, guilt-free, and perfect year-round, although it's typically served during the holidays.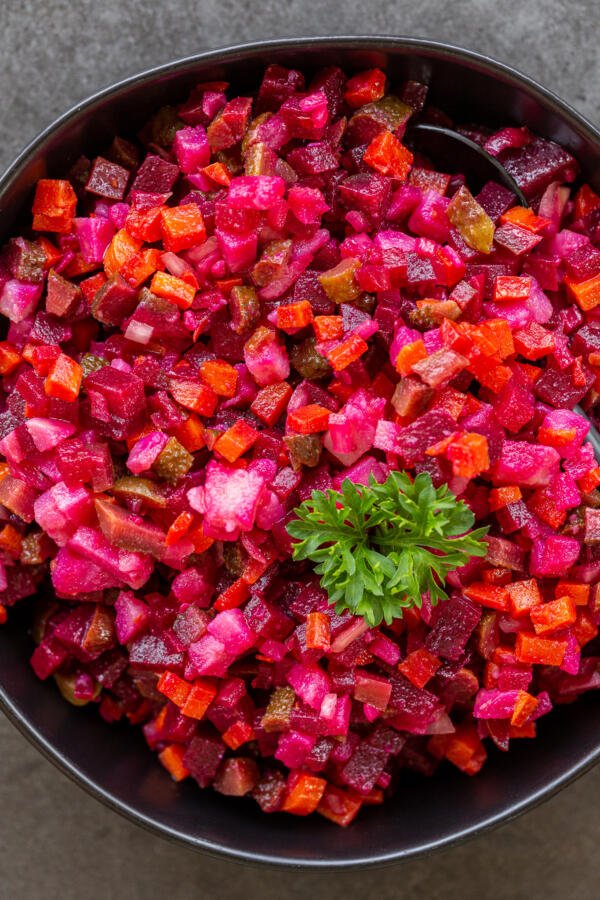 Vinaigrette salad is a festive, bright, and healthy beet salad and an absolute staple in Russian cuisine. You'd be hard-pressed to find a Slavic person who hasn't made or eaten it at least once in their lifetime. It's truly hard to communicate just how much Slavic people love beets…
Although typically served during the holiday or all season, this salad is delicious year-round. We love serving it as a cold and refreshing side dish to BBQ or alongside a cold-cut sandwich. Wherever you would serve coleslaw or potato salad, you could easily substitute Russian vinaigrette salad. It's just that versatile.
What's better? It's so healthy for you. Packed with nutrients and only requiring a bit of oil, you'll be surprised at how something so wholesome and simple can be so addicting.
What is Vinaigrette Salad?
Russian vinaigrette salad is a traditional Russian beet salad made with potatoes, carrots, sunflower oil, and salt. Below, find an overview of the flavor, texture, and cooking time for this recipe.
Flavor: The flavor of this salad rides on the natural flavors of the veggies and the earthiness of the sunflower oil. It's delicious in its simplicity and so addicting!
Texture: Russian vinaigrette salad is chunky, yet easy to chew.
Time: From prep to table, this recipe takes an hour to make.
How To Make Vinaigrette Salad
This beet salad only requires a few simple steps and a handful of wholesome ingredients to make. Below, find a rundown of the recipe before you dive in.
Boil and Cool the Veggies: In a large pot, boil the carrots, potatoes, and beets for about 30 minutes, or until the veggies are easily pierced with a knife. Drain them in a colander and set them aside to cool at room temperature.
Instant Pot Hack: Boil the veggies in the Instant Pot to speed up the cooking process. Just make sure you don't overcook them! You want the salad to have a bite, not turn to mush.
Tips for Making the Best Vinaigrette Salad
Below, find a collection of tips and tricks to help you make the best beet salad.
Prepare the salad a day ahead of time. If you can, prepare the salad a day in advance and let all the flavors meld together in the fridge. It will come out that much more flavorful!
Add some sauerkraut. If you like an extra bit of tang and crunch, add some sauerkraut.
Use a vegetable chopper to speed up the process. Cut down on the manual labor of chopping the veggies into fine cubes by using a veggie chopper.
Use sunflower oil. Sunflower oil makes this dish authentic.
Short on time? Use canned beets instead of raw. Just make sure to rinse them thoroughly in a colander to remove the canning juices.
Serving Russian Vinaigrette Salad
Vinaigrette salad can be served as a side dish at your next BBQ, pot luck, or family get-together. It is super easy to scale and batch cook and tastes even better if you make it a day ahead of time. All in all, it goes great with most grilled meats (hello, summer cooking!). Try pairing it with some chicken kabobs or a juicy ribeye steak. For an authentic Russian meal, serve it alongside Russian pork kabobs (shashlik), buckwheat patties, or pelmeni.
Storing Russian Vinaigrette Salad
Refrigerator: Store the beet salad in an airtight container in the refrigerator for 3-5 days. The flavors will continue to develop as the salad marinates in itself, making for some awesome leftovers.
Freezer: Not recommended. Cooked potatoes and beets do not freeze nor defrost well. They will turn to mush.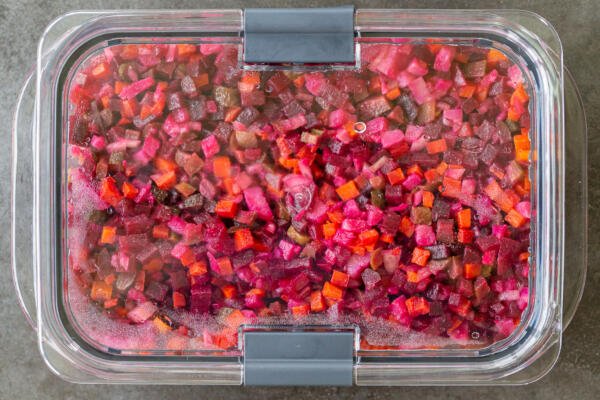 FAQ
Can I substitute the sunflower oil for a different oil?
Sunflower oil is the most authentic oil to use for this salad. It's highly recommended you don't swap it out. If you must, use high-quality olive oil.
Can I keep the skin on the potatoes and beets?
It's best not to keep the skin on the potatoes and beets for this recipe. The texture is meant to be smooth.
Can Russian vinaigrette salad be served hot and cold?
Russian vinaigrette salad is best served cold. Allowing it to marinate in the fridge for a couple of hours (overnight preferred) brings out all the wonderful flavors.
Other Russian Salad Recipes
Recipe
Traditional Russian vinaigrette salad, aka Russian beet salad, is made with root vegetables and dressed with sunflower oil.
Ingredients
3

large carrots

2

large potatoes

2

beets

6

large pickles

1

onion

purple, yellow or white

2

tbsp

sunflower oil

1

tbsp

salt

adjust to taste
Nutrition Facts
Russian Vinaigrette Salad
Amount Per Serving
Calories 60
Calories from Fat 36
% Daily Value*
Fat 4g6%
Sodium 1331mg55%
Potassium 205mg6%
Carbohydrates 7g2%
Protein 1g2%
Vitamin A 3918IU78%
Vitamin C 4mg5%
Calcium 35mg4%
Iron 1mg6%
* Percent Daily Values are based on a 2000 calorie diet.