Pork kabobs are a dish of skewered and grilled meat. From prep to table, this recipe takes only 45 minutes and is perfect for your next BBQ.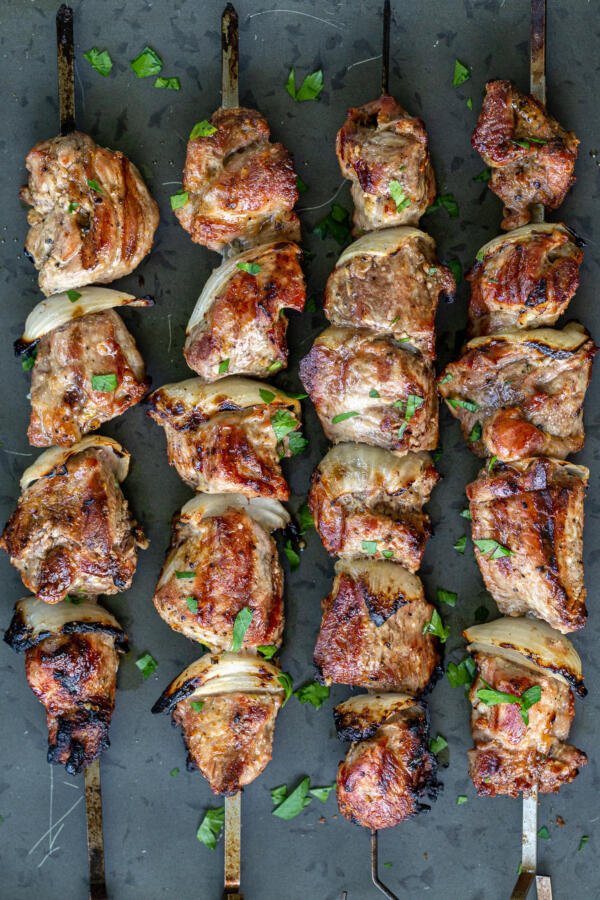 This is by far the most simple pork kabobs recipe on the planet. With just a few, simple ingredients and a handful of skewers, you'll create an entree that is as fun to eat and it is to make.
These kabobs are called "shashlik" in Russian and are made with a marinade of mayonnaise, sliced onions, garlic, salt, and black pepper. The first origins of this dish popped up in Asia and the Middle East, but as the popularity grew, it spread throughout Russia and Eastern Europe. Today, many cultures enjoy some version of a kabob (also commonly referred to as a "shish kebab").
How to Make Pork Kabobs
Making pork kabobs requires minimal labor and ingredients. Check out an overview of the recipe below before diving in.
Prepare your ingredients. Cut pork shoulder into medium-sized pieces (about 1-inch long), slice your onions, and grate the garlic.
Marinate meat overnight. In a glass bowl, combine all your ingredients until each piece of pork is evenly coated. Cover with plastic wrap and allow pork to marinate overnight.
Metal vs. Wooden Skewers. If you're an avid griller, invest in a set of metal skewers to reduce waste and prep time. Why? Wooden skewers must be soaked in water for at least 30 minutes before you grill to prevent burning.
Tips for the Best Pork Kabobs
Below, find a couple of tips that will help you make the best possible pork kabobs.
Remove the extra fat. Remove any excess fat from your pork to prevent burning. There's nothing worse than fat melting and dripping into the open flames and scorching your meat.
Give pork ample time to marinate. Letting your pork marinate in the mayonnaise mixture overnight allows it to reach peak tenderness. Don't skip this step, especially if you're using a tougher cut.
Don't overcook the pork. Prevent overcooking pork at all costs, or else it will turn out rubbery. Invest in a meat thermometer to take the guesswork out of gauging doneness. (Note: Pork is cooked and safe to eat when the internal temperature is 145°F.)
Cut veggies and pork into equal-sized pieces. To promote even cooking, cut your veggies and pork into as equal-sized pieces as possible.
Mix and match veggies. Branch out beyond onions and use zucchini, mushrooms, and/or bell peppers as well. Nothing like adding a nice pop of color to your skewers!
Always soak wooden skewers. Prevent your wooden skewers and meat from burning by soaking your wooden skewers in water for at least 30 minutes before grilling.
Serving Pork Kabobs
Serve pork kabobs with a side of rice and tzatziki sauce for a Middle Eastern-style meal. You could also remove the pork pieces and use them as a caesar salad topping. At the end of the day, these kabobs go great with just about any side dish due to their neutral seasoning.
Making Them in Advance
Refrigerating: Store kabobs in an airtight container in the refrigerator. When stored properly, they should stay fresh for up to a week.
Freezing: Freeze kabobs by placing them in a single layer on a baking sheet. Pop the sheet in the freezer. Once completely frozen, transfer to a freezer-safe plastic bag.
Tips for Reheating: Reheat kabobs in a conventional oven or air fryer to keep them nice and crispy. You could also zap them in the microwave for a minute or two. Just be mindful to cover them with a paper towel to prevent popping.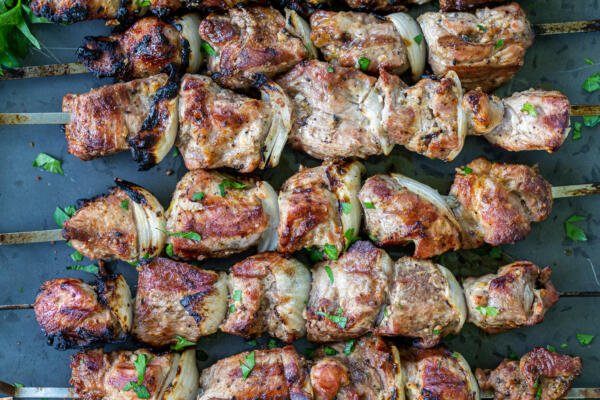 FAQ
What cut of pork is best for kabobs?
The best pork for kabobs is pork shoulder. You can use leaner meat for these kabobs since you'll be marinating them overnight. In a pinch, you could also use pork tenderloin.
How long should I marinate pork?
Marinate pork overnight for the best results. Pork tends to be lean and needs some extra TLC for it not to dry out.
How do you keep shish kabobs from drying out?
Marinating your kabobs in mayonnaise helps to prevent them from drying out. The oil and acidity lock in moisture and helps it to better stand up to the high heat of the grill.
What is the difference between kebab and shashlik?
The difference between a kebab and shashlik is that kebabs can be any kind of skewered meat, veggie, or fish, while shashlik is always made with cubes of pork.
Where does the term shashlik come from?
Shashlik first originated in Asia and the Middle East, but was soon adopted by Eastern Europe as a staple.
More Kabob Recipes
Recipe
Pork kabobs are a dish of skewered and grilled meat. From prep to table, this recipe takes only 45 minutes and is perfect for your next BBQ.
Nutrition Facts
Pork Kabobs (Shashlik)
Amount Per Serving
Calories 280
Calories from Fat 90
% Daily Value*
Fat 10g15%
Cholesterol 121mg40%
Sodium 697mg29%
Potassium 733mg21%
Carbohydrates 2g1%
Protein 43g86%
Vitamin A 5IU0%
Vitamin C 1mg1%
Calcium 17mg2%
Iron 1mg6%
* Percent Daily Values are based on a 2000 calorie diet.