Homemade sauerkraut is much easier to make than you think! This quick overnight method will easily keep fresh kraut in your fridge for whenever the craving beckons.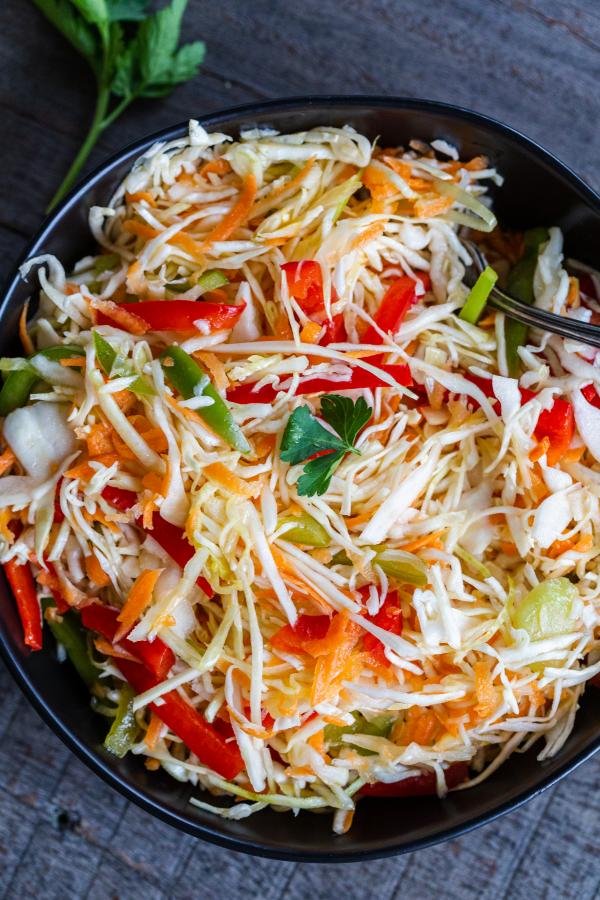 Sauerkraut is finely sliced raw cabbage that has been fermented to crunchy, vinegary perfection. It goes perfectly on top of sausages, but also makes for great soups. A side dish or condiment, sauerkraut is super versatile and always tasty.
The great part about this recipe is that you can change up the ingredients you use to make your perfect variation. Like it spicy? Add some jalapenos. Like it garlicky? Add extra garlic cloves. Make it fresh, make it yours and make it often!
Let's also not forget about how healthy kraut is! The process of fermentation creates so many beneficial bacteria for your gut. Kraut is also extremely low in calories. Basically, you can eat as much of it as you want with little repercussions. Oh, yeah…
How Long Does it Take to Make Homemade Sauerkraut?
There are many different ways to make sauerkraut. Some are long and tedious, while others are quick and easy. If you're anything like me, you prefer the quick and easy route that doesn't skimp on flavor! For this recipe, you will get bomb-tasting sauerkraut in just 24 hours!
The traditional process of making sauerkraut is much more time consuming. It is rooted in the days when many Eastern Europeans lived farming lifestyles. Farmers would produce a ton of cabbage and had to figure out how to store it so it didn't go to waste before they got around to eating it. Thus, the fermentation process was born! Families would spend days slicing cabbage, preparing it to be fermented (a process that can take weeks depending on the size of the harvest) and canning it for use throughout the year.
Today, most of us just need enough kraut to fix a craving. We also have access to cabbage year around, making the longer, tedious process less of a necessity. All hail 24-hour kraut!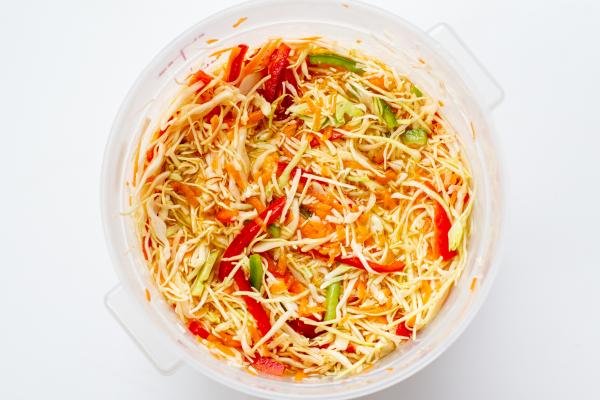 How to Make Overnight Kraut
Overnight kraut is quick and simple. You basically give it a little love and leave it.
Remove the tough outer edges from your cabbage heads. Shred your cabbage (and other veggies) thinly.
Combine all your ingredients together for your marinade (sea salt, caraway seeds, bay leaves, etc.) and bring to a boil.
Using a large bowl, pour your marinade over your sliced cabbage, carrots and bell peppers. Stir everything together until well combined.
Allow the cabbage and marinade to cool in the bowl. Cover the cabbage and weigh down the mixture by placing something heavy on top, such as a plate with a bowl of water.
Transfer the cooled sauerkraut and leftover juices to a sealable glass jar. Allow sauerkraut to sit in the fridge for 24 hours.
Keep Your Sauerkraut Refrigerated
The difference between overnight sauerkraut and the canned version is that you will need to keep your kraut refrigerated. Unless you can it, you need to make sure it stays in the fridge. It will stay fresh for up to 2 weeks.
Using the traditional method, you can create kraut that will stay fresh for up to a year! This is due to a longer fermentation process that preserves the kraut and makes it safe to eat for longer durations of time. If you have the patience (and a ton of cabbage!), you should try your hand at making kraut the old-school way and canning it. Otherwise, read on and learn how to make kraut at the speed of light…kinda. 🙂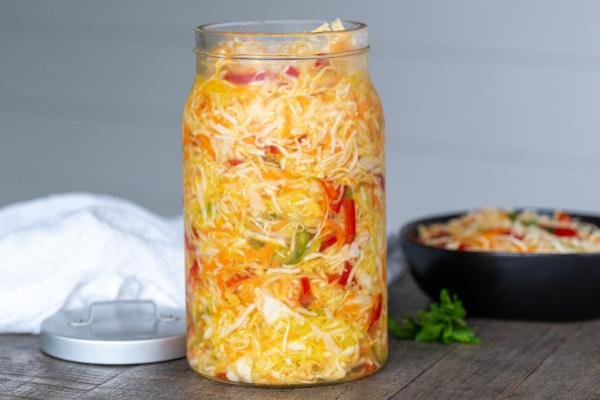 Kielbasa & Sauerkraut
Milk and cookies, cheese and wine, beer and burgers — these combinations are all the definition of winning! Similarly, kielbasa and sauerkraut are a match made in heaven. The sour flavor of kraut compliments the rich savoriness of kielbasa like no other. Make my homemade kielbasa alongside this kraut and have yourself the perfect Eastern European meal!
Recipe
Homemade sauerkraut is much easier to make than you think! This quick overnight method will easily keep fresh kraut in your fridge for whenever the craving beckons.
Ingredients
2

medium cabbage heads

shredded

3

large carrots

grated

5

medium red bell peppers

cut into long sticks

1

qt

water

1

cup

oil

4

tbsp

salt

1

cup

sugar

2 1/2

cup

vinegar

5% acidity

1

tsp

pepper corns
Nutrition Facts
Quick Overnight Sauerkraut
Amount Per Serving
Calories 399
Calories from Fat 45
% Daily Value*
Fat 5g8%
Sodium 5689mg237%
Potassium 986mg28%
Carbohydrates 82g27%
Protein 6g12%
Vitamin A 10195IU204%
Vitamin C 287mg348%
Calcium 183mg18%
Iron 2.4mg13%
* Percent Daily Values are based on a 2000 calorie diet.