Air Fryer French Fries only take 15 minutes to prepare. They will satisfy your craving for fries without all the greasy oil.
If you love this air fryer recipe, try our Easy Air Fryer Baked Potato.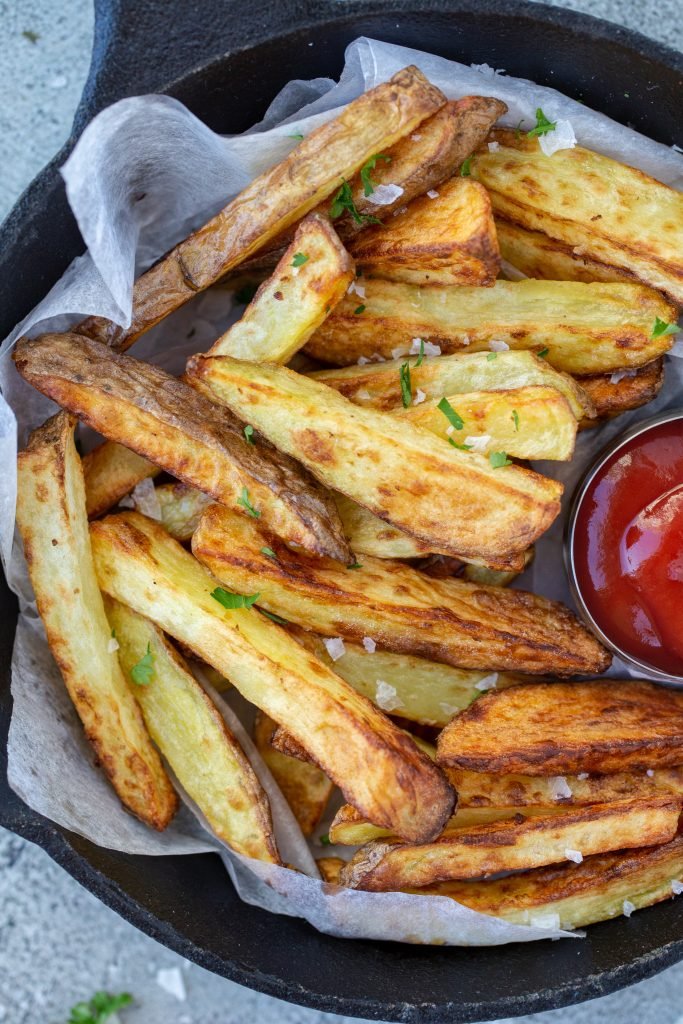 Air Fryer French Fries are playing on repeat in our home. They're so easy to prepare that in the time I pick up the boys from the school bus and come back home, we walk through the front door and are greeted by the smell of fresh french fries.
With this simple, air fryer recipe, you'll never be subjected to eating soggy fries again. In just 15 minutes, you'll be noshing on perfectly crispy fries that rival any restaurant. Grab a bottle of ketchup (you're going to need it soon) and let's get started…
How to Make Air Fryer French Fries
Making air fryer fries couldn't be any easier. What's better? You won't have to deal with popping frying oil and all the mess that comes with it.
Cut & Soak – First, you need to crank up your air fryer and get it preheated. In the meantime, cut your potatoes into your desired thickness. Now it's time to soak your fries in cold water to remove excess starch. Drain fries in a colander and pat them dry with a paper towel or kitchen cloth.
Season – Using a tablespoon of your favorite cooking oil (yes, that's just one tablespoon!), coat fries and season liberally with salt.
Air Fry – Pop fries in the air fryer in a single layer, flipping them every five minutes to ensure even cooking. Immediately after you remove your fries from the air fryer chamber, toss them once more in salt. Serve straight away with an assortment of dipping sauces.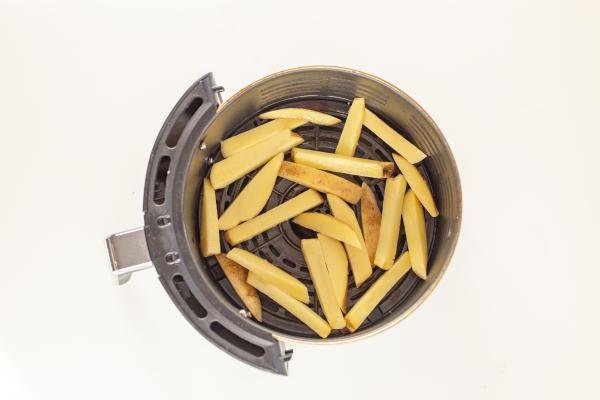 Tips For the Best Air Fryer French Fries
This has to be one of the least complicated recipes out there, but that doesn't mean a few tips and tricks won't go a long way. Soon enough, they will be second nature.
Cut similar-sized fries. To prevent chomping into raw or overcooked fries, make certain you're cutting similar-sized pieces.
Soak raw fries in cold water. I can't stress the importance of this step enough. Soaking raw fries in cold water removes excess starch from potatoes and results in the most optimal crispiness. It also prevents sticking during the cooking process.
Air fry in batches. It might be tempting to try and shove all of your fries in the air fryer at once. Beware: this will result in uneven cooking. Laying out your fries in a single layer will allow the ultra-hot, circulating air in the chamber to hit as much surface area as possible.
Toss to cook evenly. Flipping your fries every 5 minutes will ensure no one side of the fry gets more direct heat than another.
Remedying soggy fries. If your fries are limp and soggy after 15 minutes, give them a couple more 5 minute rounds of heat. Just be careful to watch them closely so they don't burn.
Adjusting your cooking time. Depending on the model of your air fryer or the size of the fries, you may need to adjust your cooking time accordingly. The rule of thumb is thicker fries need more time and thinner fries need less. The first time you prepare this recipe, keep a watchful eye on your fries to see if you need to increase or decrease the cooking time.
Hot Tip: Avoid layering your fries in the air fryer tray. The air fryer operates by circulating hot air around your food. If you jam a bunch of fries into the chamber, the air won't be able to hit each and every single fry. The end result will be a mish-mash combination of raw and overcooked fries.
Different Seasoning Variations
Now for the fun part: seasoning. There's nothing wrong with sticking with a good, old-fashioned seasoning of salt, but if you're a lover of maximum flavor, check out a couple of different seasoning variations below.
Garlic and Parsley. Immediately when fries come out of the air fryer, toss them with minced marinated garlic or garlic powder. Add salt to taste and top with roughly chopped parsley.
Cajun Style. Like a bit of sweet heat? Grab a pre-made Cajun seasoning like Tony Chachere's and season fries liberally.
Truffle. Drizzle on a tablespoon of truffle oil to your hot fries and toss. Add a couple of cracks of fresh pepper and a sprinkling of parmesan cheese. Season with salt to taste. This variation is perfect for your next fancy burger night.
Italian Style. Toss fries in your favorite Italian seasoning. Sprinkle with parmesan or asiago cheese, and season with salt to taste.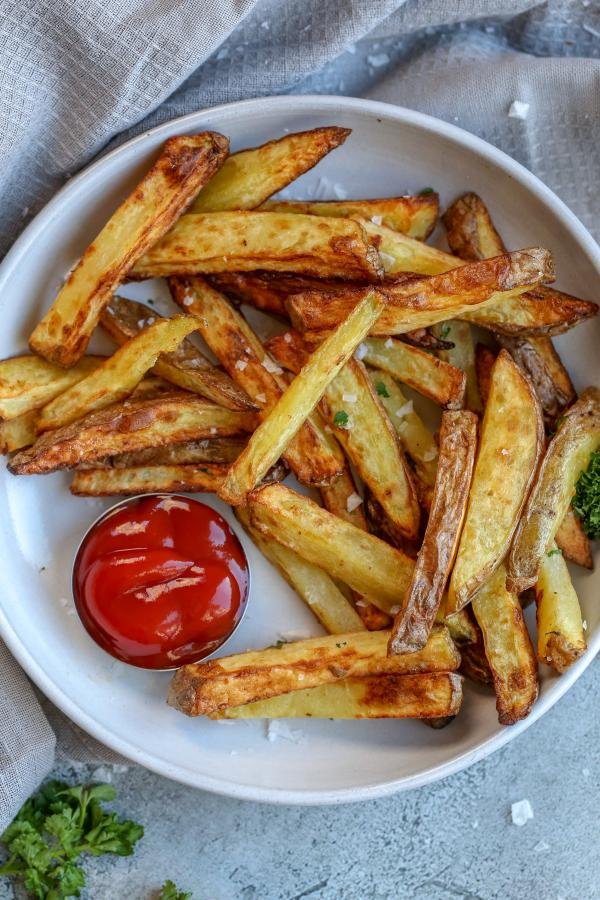 Serving Air Fryer French Fries
French fries don't have to always be a hamburger's sidekick. But if that's your mood, pair them with our cheeseburger sliders. For another heavenly pairing, serve with shaved steak sandwiches. If you're feeling Parisian, whip up a ribeye for a healthier spin on steak frites. If you're hosting a slumber party or looking to serve up a hearty appetizer on game day, smother your fries with instant pot chili and sharp cheddar.
Oh, and don't forget to make a batch of light ranch or creamy tomatillo dressing for dipping.
FAQ
How do you cook frozen fries in an air fryer?
Frozen fries cook wonderfully in an air fryer. Spray the air fryer basket with cooking oil and place fries into the basket. Cook fries at 400°F for 17-20 minutes (cooking time will depend on the size of your fries and the model of your air fryer). Shake fries a few times during the cooking process to prevent them from sticking together.
Are air fryer french fries healthy?
French fries are generally not regarded as a healthy food. By using the air fryer, you nix the need for a ton of oil, making this option much less fattening.
What are the best potatoes for french fries?
Hands down russets are the best potatoes for making french fries. They have the highest starch content while also boasting the least amount of moisture. This results in fries that are irresistibly crispy.
What's the best way to cut fries?
Hold your potato horizontally on your cutting board. With a firm grip, slice off one of the round edges to create a flat base. Base side down, cut your potato into slices that mirror your desired thickness. Cut each slice into individual fries.
Why should you soak raw fries in cold water before air frying?
Soaking raw fries in cold water pulls out excess potato starch. This results in a crispier fry and prevents sticking during the cooking process.
How much oil do you need for air fryer fries?
Only one single tablespoon of oil is necessary for each batch of fries you make in a mid-sized air fryer.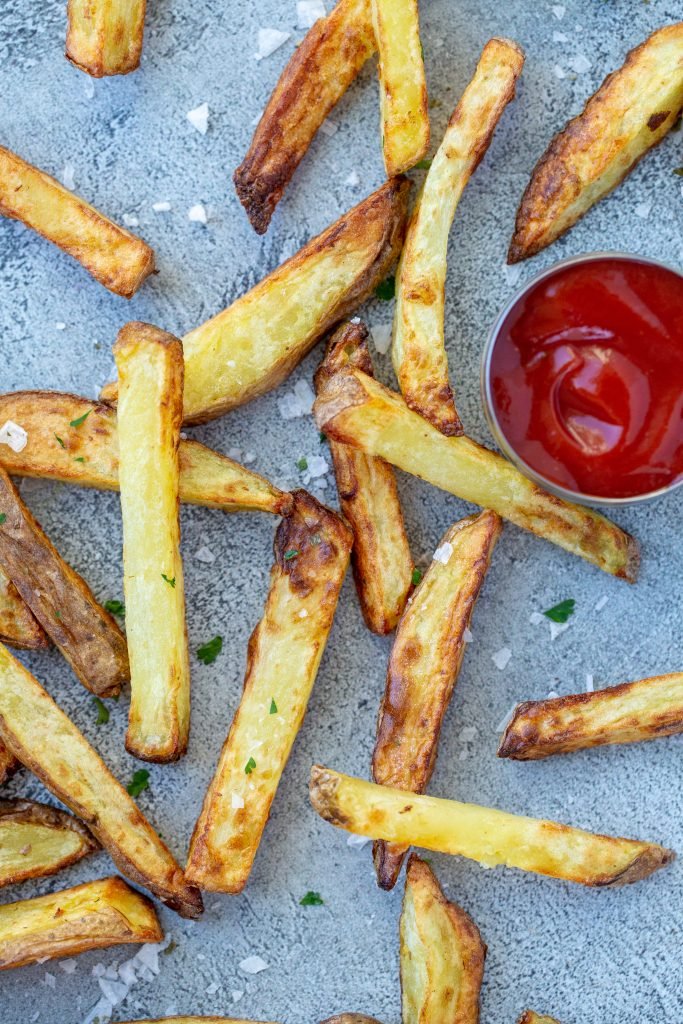 Storing Air Fryer French Fries
French fries are best served fresh out of the air fryer, but if you have some leftovers or want to freeze a batch for later use, follow the simple steps below.
Refrigerating Leftovers: Place leftover fries in an airtight container and store them in the fridge for up to a week.
Freezing: Freeze leftover fries by placing them in a single layer on a lined baking sheet. Pop in the freezer. Once completely frozen, transfer them to a freezer-safe plastic bag.
Reheating Tip: Whether you're reheating refrigerated or frozen fries, nothing compares to using the air fryer to return them to a crispy state. Never, ever use a microwave. Your fries will always turn out soggy and inedible.
Other Air Fryer Recipes to Try
Air Fryer Recommendations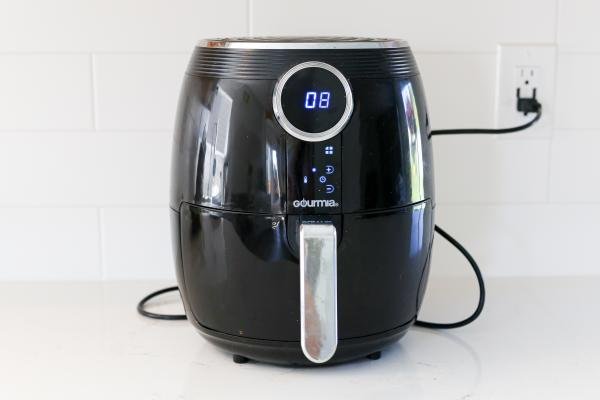 For this recipe we used the Gourmia Digital Air Fryer, but more recently we switched to Cosori Air Fryer and loving it!
Recipe
Air Fryer French Fries only take 15 minutes to prepare. They will satisfy your craving for fries without all the greasy oil.
Instructions
Preheat the air fryer to 400°F. Soak French fries in cold water for at least 20 minutes. Drain off the water and pat dry with a paper towel. Toss fries with a bit of oil and salt.

Spray the air fryer basket with cooking oil. Place the french fries inside the air fryer tray and cook for 15 minutes at 400°F. Every 5 minutes, open the air fryer and toss fries.
Nutrition Facts
15- Minute Air Fryer French Fries
Amount Per Serving
Calories 31
Calories from Fat 36
% Daily Value*
Fat 4g6%
Sodium 581mg24%
Potassium 1mg0%
Calcium 1mg0%
Iron 1mg6%
* Percent Daily Values are based on a 2000 calorie diet.