Grilled corn on the cob screams summertime. This recipe keeps it simple and makes for the perfect side dish for your next BBQ. Fire up the grill and let's get started!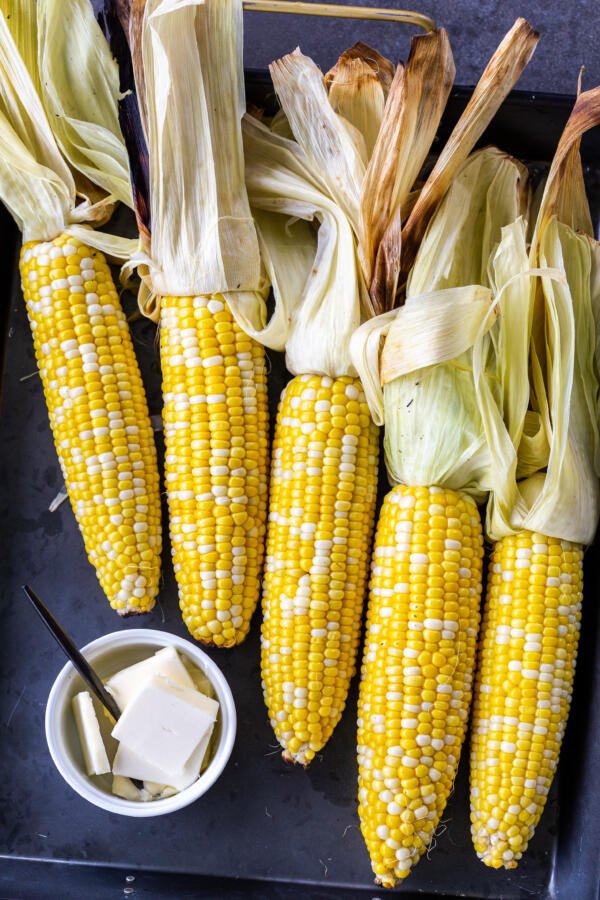 I bet you've made corn on the cob a million times. Over the years, we've learned some tips and tricks to make this super simple dish that much more delicious. Once you get the process down, you'll wonder why you ever did it any other way. Warning: You may need to have floss at the ready.
How to Grill Corn on the Cob
Grilling corn is so simple. Once you get the technique down, you'll be set for life. Read on for a simple how-to guide to nail this recipe each and every time:
Soak corn in water.
Preheat grill to medium-heat.
Peel off some of the thicker, green layers of the husk. Cut off the extra silk at the ends. Place directly on the grill. Rotate to ensure each side grills.
Once the corn feels soft to the touch, remove it from the grill. Peel off the husk, slather it with butter, and sprinkle on some salt.
Tips for The Best Grilled Corn
Yes, grilling corn is easy. However, there are some fundamental tips and tricks to make the end result that much better.
Buy Fresh Corn: Snag the freshest corn you can get your hands on and use it quickly. The longer corn sits around, the more it loses it's sweet, nutty flavor.
Soak Corn in Water: To prevent corn from burning, soak it in water for at least 20 minutes. Moisturizing the husks before grilling creates a steaming effect that will really elevate the texture. Whatever you do, do not skip this crucial step!
Make it Golden: Nicely roasted corn has an unbeatable flavor. To up the ante, remove the husks (be careful not to burn you fingers!) once your corn is 90 percent finished. Quickly sear the exposed corn on the grill if you like an extra char.
Use Foil: If you buy corn without a husk, wrap each cob in foil to limit the amount of direct heat.
Serving Grilled Corn
You already know that grilled corn is great for a BBQ, but what do you do with the leftovers? Use a sharp knife and run it down the side of the cob, releasing the individual kernels. Stow these away for salads or soups later in the week. We love adding grilled corn kernels to our Corn Tomato Avocado Salad or our Black Bean and Corn Salsa. Talk about the gift that keeps on giving!
Feeling creative? Go Elote style. This Mexican style street corn is a favorite at farmer's markets, street fairs, and festivals. Why not make it in the comfort of your own home? Once you take your corn off the grill, brush it with a layer of mayonnaise and sprinkle with chili powder, cotija, and cilantro. Serve alongside a couple of lime wedges.
FAQ
Are you supposed to boil corn before grilling?
If your corn is on the tougher side, there's nothing wrong with boiling it for a couple of minutes to speed up the grilling process. However, this is not a requirement. In the thick of summer, corn is at it's best and can be popped directly onto the grill.
How long do your grill corn?
Typically, corn takes about 15-20 minutes on the grill. Just be sure to flip it every 3-5 minutes to ensure it doesn't overcook or burn on any one side.
How to season corn on the cob?
Whether you like a simple combination of salt and butter, or a healthy dose of hot sauce there's no right or wrong way to enjoy grilled corn. Sprinkle on some of your favorite seasoning salt or even drizzle it with chimichurri if you're feeling adventurous.
How do I get beautiful grill marks?
The key to perfect grill marks is not getting antsy or impatient. Place the corn directly on the flame and let it sit for 45 seconds before flipping. The more you move it around, the more inconsistent your grill marks.
How do I grill corn using tin foil?
Consider the husk and the foil one in the same and follow the recipe no matter which method you are using. The whole point is to prevent direct heat from burning your corn before it gets tender and juicy on the inside.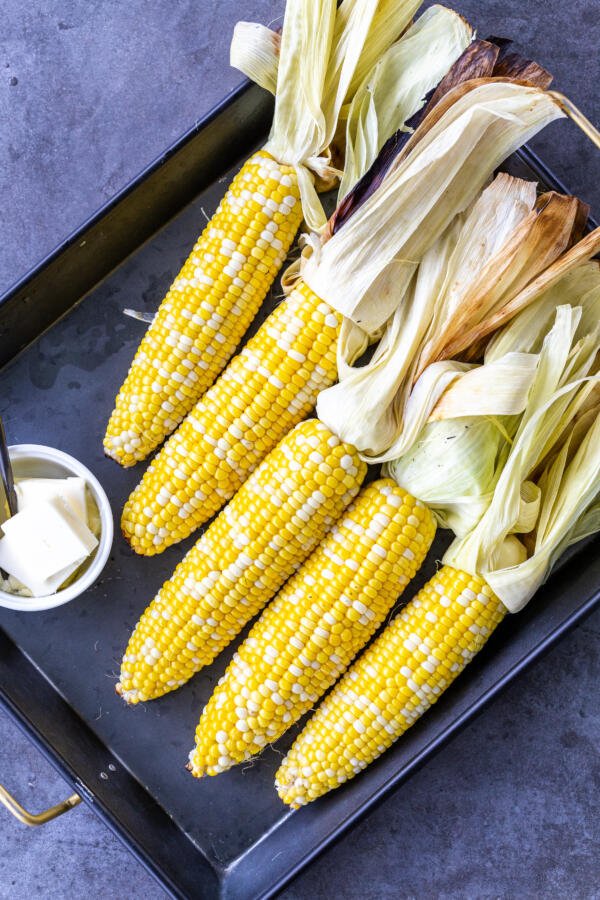 More Grilling Recipes
Recipe
Grilled corn on the cob screams summertime. This recipe keeps it simple and makes for the perfect side dish for your next BBQ. Fire up the grill and let's get started!
Instructions
Preheat grill to medium heat. Peel off few layers of corn leaves and remove corn silk. Chop off the hard, dry ends. Place husked corn directly on the grill, turning it every couple of minutes to ensure each side cooks evenly.
Nutrition Facts
Grilled Corn on the Cob (Extra Easy)
Amount Per Serving
Calories 118
Calories from Fat 54
% Daily Value*
Fat 6g9%
Cholesterol 12mg4%
Sodium 1449mg60%
Potassium 245mg7%
Carbohydrates 17g6%
Protein 3g6%
Vitamin A 308IU6%
Vitamin C 6mg7%
Calcium 4mg0%
Iron 1mg6%
* Percent Daily Values are based on a 2000 calorie diet.