Grilled tilapia is the perfect excuse to fire up your outdoor grill. This recipe is super easy and packed full of great flavor. Made in just 15 minutes!
If you are a fan of seafood dinners, you will love our cod recipe.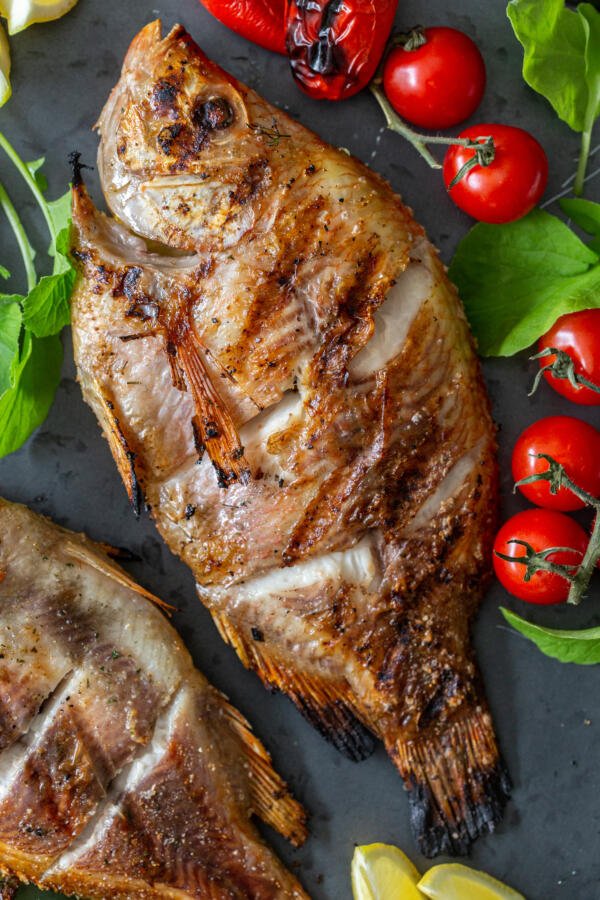 Grilled tilapia is one of the healthiest dinners in my rotation. In just 15 minutes, you'll have a fish that flakes easily with a fork and has a nice, smoky flavor.
Grilled tilapia is a family favorite. We like to purchase a whole fish from Costco and grill it right up. If you're a fan of whole-fish recipes, our lemon-herb baked trout is also a must! Since the whole fish has a lot of bones, it takes us quite some time to pick them out. This means we have even more time around the table to chat a catch up!
How to Grill Tilapia
Our best suggestion when grilling tilapia is to opt for the whole fish. It's not only fun to pick it apart, it also comes out much more moist than butchered filets.
Make small incisions on the outside of the fish.
Season it generously with garlic salt.
On the inside place slices of butter and lemon.
Grill at 450 °F heat for about 5 minutes on each side. Depending on the size of the fish you may need to grill it a bit longer.
Hot Tip: Fully cooked fish should have an internal temperature of 145 ℉. Use a meat thermometer to take the guesswork out of preparing your fish safely.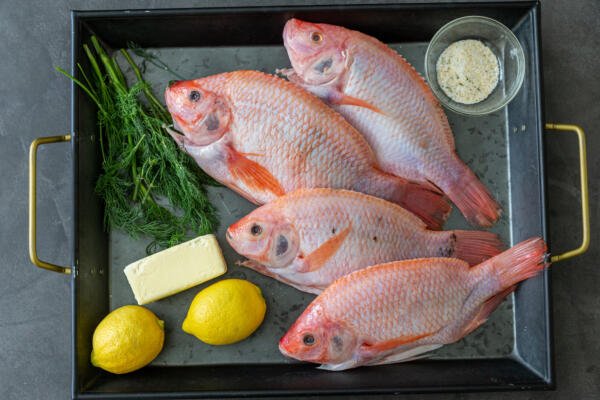 How To Grill Tilapia Without it Falling Apart
Another reason I recommend that you use whole fish is that it stays together better when grilled. If you choose to use filets, you will want to make sure that the grill is very hot to create a good crust. Use foil or a fish tray to prevent the filet from falling apart and sticking to the grates.
I also recommend that you grease the grill grates with a high-heat oil. My favorites are grapeseed and peanut oil. But, be careful because oil does tend to flare up over an open flame!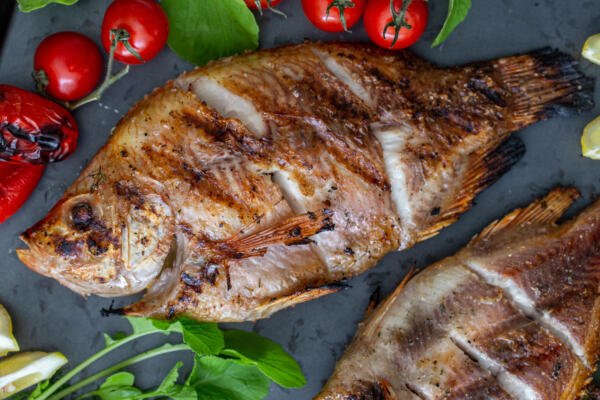 Cooking Tilapia in Foil
Cooking tilapia in foil is the best method when you are cooking fillets. You can use the same exact recipe of seasoning and stuffing the fish with lemon and butter. I also like to add a few pieces of lemon and butter on top for good measure. Wrap the tilapia in foil and grill for about 5 minutes on each side. While you won't get the same crispy outer layer, the fish will be moist and juicy on the inside.
You will not have the same crispy outside later but it will be moist and juicy.
Serving Grilled Tilapia
Grilled tilapia is so versatile. Pair it with creamy cauliflower rice or creamy herbed potatoes.You can also make a homemade caesar salad or a purple cabbage slaw. Whatever you do, keep your side light and delicious and try to eat outside! Fish is just meant to be enjoyed on a patio…
Other Fish Dishes You'll Love
I didn't used to love seafood, but once I moved to Seattle and got access to the best and tastiest fish, shrimp, clams and more, I simply fell in love. Here are some of my favorite seafood dishes:
Recipe
Grilled tilapia is the perfect excuse to fire up your outdoor grill. This recipe is super easy and packed full of great flavor.
Instructions
Nutrition Facts
Grilled Tilapia
Amount Per Serving
Calories 281
Calories from Fat 135
% Daily Value*
Fat 15g23%
Cholesterol 116mg39%
Sodium 3679mg153%
Potassium 588mg17%
Carbohydrates 5g2%
Protein 35g70%
Vitamin A 355IU7%
Vitamin C 29mg35%
Calcium 34mg3%
Iron 1mg6%
* Percent Daily Values are based on a 2000 calorie diet.