This recipe for Instant Pot ribs makes the most fall-off-the-bone ribs imaginable. With just 30-minutes of cook time, you can finally have ribs on demand.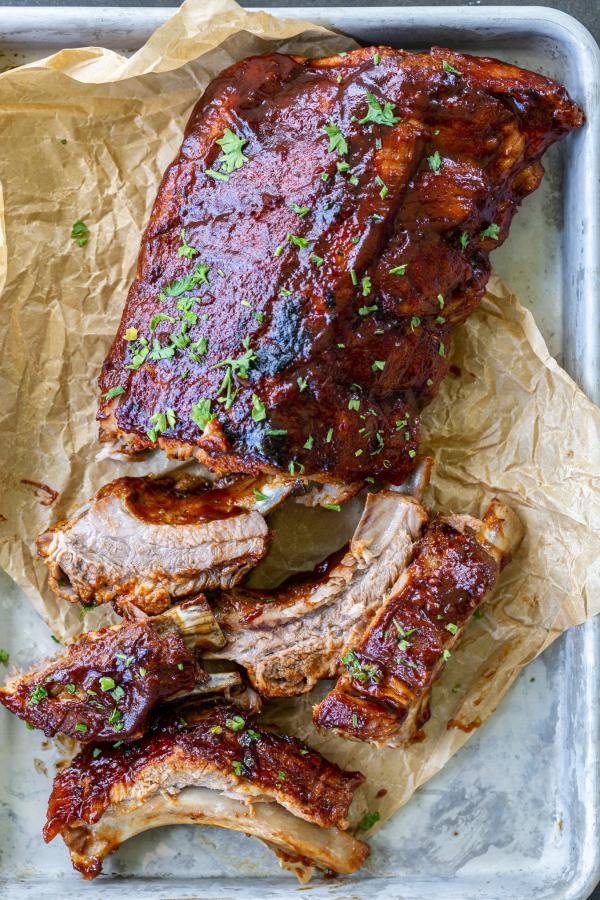 If you have 30 minutes on your hands, why not turn them into some extra juicy ribs? Using the pressurized power of the Instant Pot, you can do just that. In this recipe, we'll teach you everything you need to know about how to supercharge the rib-making process without skimping on juiciness or that perfect crispy, crust (hint: you'll finish with a quick broil).
Heads Up on Barbecue Sauce: For this recipe, you'll need BBQ sauce. You can pick up your favorite variety from the store or make our homemade BBQ sauce recipe from scratch.
Removing the Membrane from Ribs in 4 Steps
Racks typically come with a thick, semitransparent membrane on the underside of the ribs. If you want tender, fall-of-the-bone ribs, you must remove it. Here's how…
Wedge the Knife Underneath: First, slide a butter knife underneath the membrane and over the bone.
Life & Loosen the Membrane: Then, wiggle the knife around to lift and loosen the membrane until it tears.
Pull the Membrane Off: Next, use a paper towel to pull the slippery membrane off.
Do a Final Check: Lastly, check to see if any of the membrane was left behind and needs to be removed – this happens a lot, as it's hard to get a clean tear.
Making Extra Juicy Instant Pot Ribs
The Instant Pot will do most of the heavy-lifting in this recipe. Otherwise, all you need to do is whip up a quick dry rub and finish the ribs in the oven for extra crispiness.
Prepare the Instant Pot: First, pour the apple juice into the Instant Pot and place the trivet inside.
Make the Spice Rub: Next, whisk the garlic powder, onion powder, chili powder, brown sugar, salt, and ground black pepper together in a small bowl.
Rub the Ribs: Then, rub the ribs with the dry rub, getting every little nook and cranny.
Pressure Cook the Ribs: Curl the ribs and tuck them into the Instant Pot, set the valve into the sealing position, and set the pressure to manual for 20 minutes. Allow the pressure to release naturally and remove the ribs.
Brush & Broil the Ribs: Next, brush the slab of ribs with BBQ sauce, place them on a baking sheet lined with aluminum foil, and pop them in the broiler on high for 5 minutes. Serve and enjoy.
5 Tips for Fall-Off-the-Bone Instant Pot Ribs
If it's your first time making ribs in the pressure cooker, these 5 pointers will help guide you to fall-off-the-bone glory.
Opt for baby back ribs. Baby back ribs are the best for cooking in the Instant Pot because they are shorter and curved (this helps them fit snugly into the Pot), while also containing a ton of meat.
Pat the ribs dry before seasoning them. First, pat the ribs dry with a paper towel before coating them in seasoning.
Allow for a natural pressure release. The natural release is what takes the ribs from tender to fall-off-the-bone. Whatever you do, don't rush and open up the lid prematurely.
Don't skip the broil. To give the ribs a bit of extra texture, you are going to want to give them 5 minutes in the broiler to crisp up and develop a nice crust after slathering them in the sauce. You're gonna love the crispy glaze that forms…trust me.
Swap out the apple juice for your favorite broth. If you don't have apple juice on hand, swap it out for beef broth or any of your favorite broths.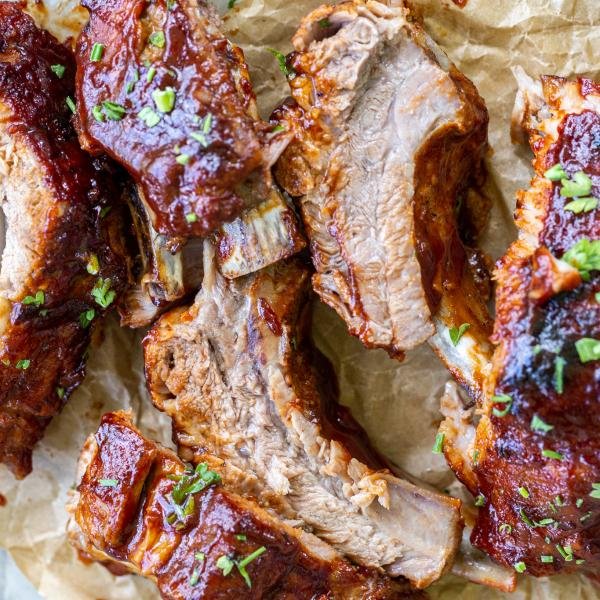 What to Serve Alongside Instant Pot Ribs
For a complete meal, serve your rack of ribs alongside boiled corn on the cob or grilled corn on the cob, Olivier potato salad, and some overnight sauerkraut. If you want to keep it simple, pair them with a caesar salad or a Fritos chili cheese salad. If you're feeling like a sandwich, remove the meat from the ribs and sandwich it between a brioche buns with coleslaw and homemade sweet and spicy pickles.
Hot Tip: Serve your ribs with a side of BBQ sauce for dipping. Why? Because you can never have enough sauce.
Storing, Make-Ahead, & Reheating Best Practices
This rib recipe is awesome for meal prep and can also be made a day or two ahead of time if you're hosting a party. Here's everything you need to know…
Storing: To keep your ribs on hand for up to a week, store them in an airtight container in the fridge. This will prevent the ribs from drying out.
Make-Ahead: If you want to prep the ribs a day or two in advance, pressure cook them and store them in an airtight container. Right before you're ready to serve them, brush them with BBQ sauce and finish them in the broiler.
Reheating Tip: To reheat the ribs, pop them in a baking dish covered with aluminum foil and bake them for 10 minutes at 350°F.
FAQ
Why did your Instant Pot ribs turn out tough?
Your Instant Pot ribs likely turned out tough if there wasn't enough liquid in the chamber while they were cooking. Another big reason is that you didn't allow for a natural release of the pressure – this is crucial if you want tender ribs.
Can you overcook Instant Pot ribs?
Yes, you can overcook ribs in the Instant Pot. If they are given any more than 20 minutes of cooking time with a natural release, they will become a bit mushy and rubbery.
How much liquid do you need to cook Instant Pot ribs?
You need about 1 cup of liquid to cook Instant Pot ribs. This can be apple juice, apple cider vinegar, or any broth that you like best.
Do Instant Pot ribs get more tender the longer they cook?
Because of the high pressure used to cook food in the Instant Pot, ribs will only continue to get tender for a certain amount of time. About 20 minutes of cook time and a natural release is the sweet spot. However, this can vary depending on the size and thickness of your rack.
Can you stack ribs in the Instant Pot?
It's best not to stack ribs in the Instant Pot, but to curl an entire rack of ribs into itself and line it against the sides of the pot. If you stack the ribs, they will likely stick to one another and cause a bit of mess when it's time to remove them.
More Tasty Rib Recipes to Try
Recipe
This recipe for Instant Pot ribs is fall-off-the-bone delicious. If you've never made ribs in the pressure cooker before, you're in for quite the treat.
Nutrition Facts
30-Minute Instant Pot Ribs (Extra Juicy)
Amount Per Serving
Calories 535
Calories from Fat 288
% Daily Value*
Fat 32g49%
Cholesterol 131mg44%
Sodium 1052mg44%
Potassium 644mg18%
Carbohydrates 26g9%
Protein 37g74%
Vitamin A 250IU5%
Vitamin C 1mg1%
Calcium 83mg8%
Iron 2mg11%
* Percent Daily Values are based on a 2000 calorie diet.