Quick Tzatziki sauce is as creamy and refreshing as it gets! This thick yogurt sauce is the perfect cool companion to BBQ meat.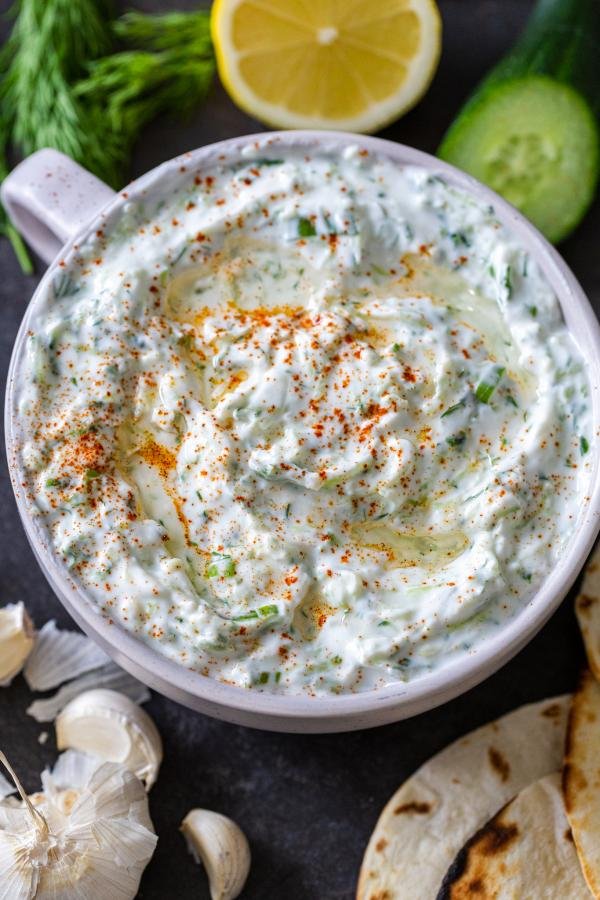 Tzatziki is an authentic Greek dipping sauce made with yogurt. From flatbread to grilled chicken to crunchy veggies, it goes well with just about everything!
If you haven't tried this savory yogurt dip before, get prepared to be addicted! It's guaranteed tzatziki will become a regular member of your summer BBQ spread.
What is Tzatziki Sauce Made Of?
Tzatziki is so awesome because it uses the freshest of fresh ingredients. It's absolutely healthy, while tasting so sinful.
Greek Yogurt: Get the full-fat variety for optimum creaminess. If you can, look for double-strained Greek yogurt. This is the best for dips, as it is super thick. But, if you can't, no worries, regular Greek yogurt works great too!
English Cucumber: There are so many cucumbers out there, but not all are created equal when it comes to making tzatziki. The best variety to use is English because of their subtle flavor. They make for a great sauce because the peel isn't too bitter, thick or overpowering.
Green Onions: Mince your onions up as finely as possible to prevent biting into large raw bits.
Dill: Dill adds the most amazing, fresh pop of flavor to the dish! Do not use the dried stuff. It HAS to be fresh.
Lemon: Make sure to squeeze as much juice out of your lemon as possible. The tanginess elevates the dip to pure awesomeness. Just make sure no seeds sneak in!
Garlic Cloves: Raw garlic needs to be minced up as finely as possible. Just like green onions, you don't don't want to chomp down on a big raw bit.
Salt and Pepper: Season liberally and season to taste!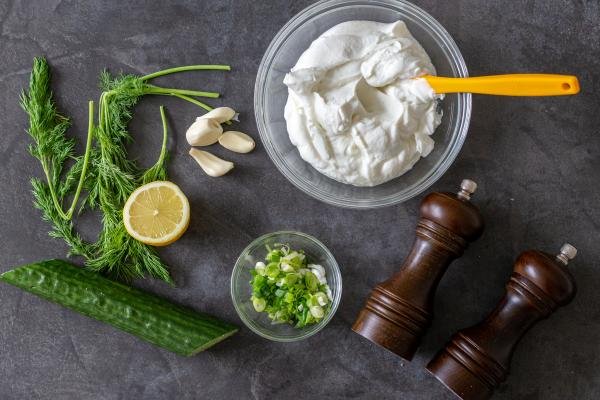 Tip for the Best Tzatziki Sauce
Cucumbers hold a TON of moisture. To make sure your tzatziki isn't too watery, squeeze out as much of the juices as you can. Do this by placing the cucumber in a paper towel and using good old-fashioned hand squeezing.
Make sure to refrigerate the sauce before serving. The flavors come together beautifully when they are allowed to marinate in the refrigerator for at least 30 minutes! But, feel free to make the dip the day before and let the process take place overnight — DOUBLE YUM!
The texture is key here when it comes to your cucumbers. Use the medium or large slats on your box grater to ensure you get big enough chunks. You could also use a food processor to speed up the process, but take extra care to only pulse a few times or your cucumbers will turn to pulp!
Store in a glass airtight container for up to 3 days, or until your cucumbers start to get too soggy.
Use fresh garlic and dill! It makes all the difference and the dish is truly not the same when made with the powdered stuff.
Tzatziki is delicious…AND Good for You!
Tzatziki is actually healthy for you! Unlike most creamy spreads, such as ranch or mayonnaise, this dip is high in protein and low in fat. If you want your dip to be even healthier, opt for non-fat or low-fat Greek yogurt in lieu of the full fat stuff.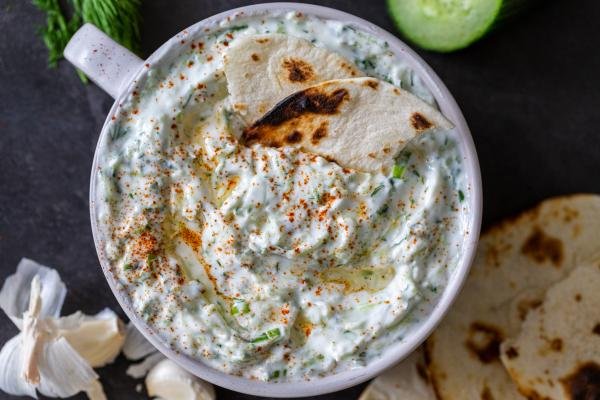 Ways to Use Tzatziki
Okay, so here is the absolutely fun part. Let's talk about all the delicious ways you can get to dippin'. At authentic Greek restaurants, you will often find tzatziki dipped in naan bread, grilled chicken or lamb kabobs. Although not traditional, tzatziki is also wonderful on top of an air fryer baked potato. It's a healthier, yet decadent, spin on a classic!
Recipe
Quick Tzatziki sauce is as creamy and refreshing as it gets! This thick yogurt sauce is the perfect cool companion to BBQ meat.
Ingredients
2

cup

Greek Yogurt

1/2

English Cucumber

4

Green Onions

1/2

Lemon

1

tbsp

diced Dill

4

Garlic Cloves

Salt & Pepper

to taste
Instructions
Prepare ingredients for the recipe. Shred cucumber. Using a cheese cloth, squeeze out all the juices from the cucumber.

In a large bowl combine together, Greek yogurt, dill, cucumber, pressed garlic and juice from the lemon. Stir to combine together, season to taste.
Nutrition Facts
Quick Tzatziki Sauce
Amount Per Serving
Calories 38
Calories from Fat 9
% Daily Value*
Fat 1g2%
Cholesterol 3mg1%
Sodium 20mg1%
Potassium 130mg4%
Carbohydrates 4g1%
Protein 5g10%
Vitamin A 80IU2%
Vitamin C 6mg7%
Calcium 67mg7%
Iron 1mg6%
* Percent Daily Values are based on a 2000 calorie diet.