This recipe for easy apple pastry yields the most delicious mouth-watering apple turnovers. Using a store-bought puff pastry shortcut, they're crazy easy!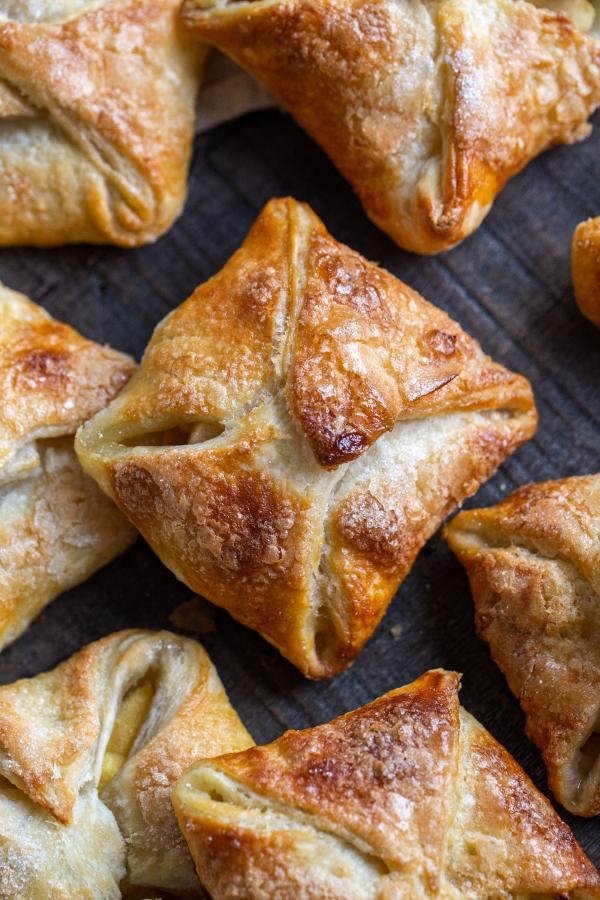 I love to keep a batch or two of my homemade puff pastry dough on hand so that I can make these quick apple turnovers whenever the craving arises. They always come out so flaky, buttery, and airy. The perfect brunch appetizer or snack to pack away in a school lunch!
Note: If you don't want to make homemade puff pastry, snag some premade puff pastry sheets from the freezer aisle of the grocery store.
Best Apples for Apple Pies or Apple Pastry
There are tons of different types of apples out there but not all are created equal when it comes to making turnovers. Granny Smith apples (the light green, tart apples) are my favorite type to use for this recipe. Slightly sour and hard to the touch, they stand up well during the baking process and give the pastries a nice bite. Other great options are fuji, honeycrisp, and gala apples. You can even use a combination of a few!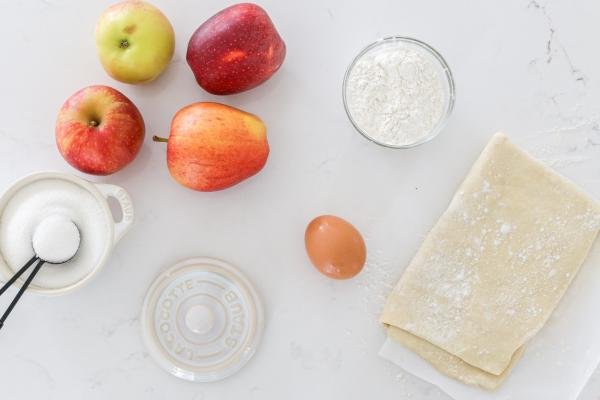 Apple Turnovers Video
How to Prepare this Easy Apple Pastry Recipe
Preparing these 4 ingredient apple turnovers only requires 10 minutes of prep time and a quick 15 minutes of bake time.
Prepare the Apples: First, peel and slice the apples into thin pieces and set them aside.
Roll Out the Pastry Dough: Next, roll out the pastry dough on a floured surface with a rolling pin and slice it into 8 equal squares.
Assemble the Pastries: Place 4-5 apple slices into the center of each pastry square and top with a spoonful of cinnamon sugar. Fold the sides over to create a tiny pocket and seal them by pinching the edges with your fingers. Assemble the pastries on a baking sheet lined with parchment paper.
Brush the Pastries: Next, whisk the eggs in a small bowl and brush the tops of the turnovers with the egg wash. Sprinkle more sugar on top of the pastries.
Bake the Pastries: Bake the pies at 415°F for about 15 minutes or until golden brown. Enjoy right away!
Dessert Hack: Transform these apple pastry tarts into the perfect dessert by topping them with a scoop of vanilla ice cream and a drizzle of caramel sauce. YUM!
5 Tips for Making a Perfect Apple Pastry
While this apple dessert is almost too easy to be called a recipe, a couple of tricks of the trade will help you knock it out of the park.
Don't pre-cook the apples. There's no need to pre-cook your apples. Just be sure to cut them into thin, uniform slices – this will yield the best texture!
Use extra cold puff pastry. Make sure the puff pastry dough is really cold when you are shaping your turnovers. The colder the puff pastry is, the more slowly the butter inside the dough will melt in the oven. This process creates the signature light and fluffy layering of the puff pastry.
Work on a floured surface. Make sure to flour the surface you are going to work with your puff pastry on. You don't want the dough to stick!
Prep the pastries ahead of time. If you need to wait to bake them, refrigerate turnovers until you are ready to pop them in the oven. They will keep it for 24 hours!
Create a bakery-worthy pastry sheen. Brush the tops of apple turnovers with whisked eggs to achieve that beautiful golden color on top. Don't skip this simple step!
Hot Tip: Swap the white sugar for brown sugar for a deeper flavor and perfect Fall treat.
Storing & Reheating Tips
To keep the turnovers on hand for 3 days, store them in an airtight container on the counter. If you want to keep them on hand for a week, store them in the fridge instead. The best way to reheat apple turnovers is in the oven or an air fryer (not the microwave – they'll just get soggy!) at 350°F for 3-5 minutes. This will help them return to their perfectly crispy, fresh-out-of-the-oven texture.
Freezer Tip: You can also freeze the raw pastries for up to 2 months and bake them straight from frozen for a quick dessert!
FAQ
Should you bake apples before using them from apple pastry?
No, you should not bake the apples before using them for apple pastry unless you prefer a more applesauce-like texture. Baking apples fresh allows them to soften, while also keeping a nice subtle texture to them.
Is puff pastry the same as a pie crust?
No, puff pastry and pie crust are not the same. Pie crust is more dense, buttery, and cake-like, while puff pastry is light, buttery, and flakey.
Why did the puff pastry of your apple pastry get soggy?
The crust of the apple pastry gets soggy if you use a moist apple pie filling. This is why it's best to bake fresh fruit on top instead of pie filling. The crust will also turn out soggy if you don't bake it long enough.
Can you use frozen apples for apple pastry?
It's best to not use frozen apples for apple pastry. As they bake, they will release moisture and cause the pastry to turn soggy and limp.
More Tasty Apple Recipes to Try
Recipe
If you're looking for a foolproof apple pastry recipe, you're in the right place. All you need is store bought puff pastry, sliced apples, sugar & egg wash!
Ingredients
5

medium apples

1

lb

puff pastry

1

cup

sugar

(you can also use cinnamon sugar)

1

egg
Note: You can use an egg wash to help seal filled apple turn overs.
Nutrition Facts
Quick Apple Turnovers (4 Ingredients)
Amount Per Serving
Calories 476
Calories from Fat 198
% Daily Value*
Fat 22g34%
Cholesterol 20mg7%
Sodium 150mg6%
Potassium 164mg5%
Carbohydrates 66g22%
Protein 5g10%
Vitamin A 92IU2%
Vitamin C 5mg6%
Calcium 16mg2%
Iron 2mg11%
* Percent Daily Values are based on a 2000 calorie diet.