Breakfast quiche is the answer to all your breakfast prayers! This savory breakfast pie is sure to become a staple in your home.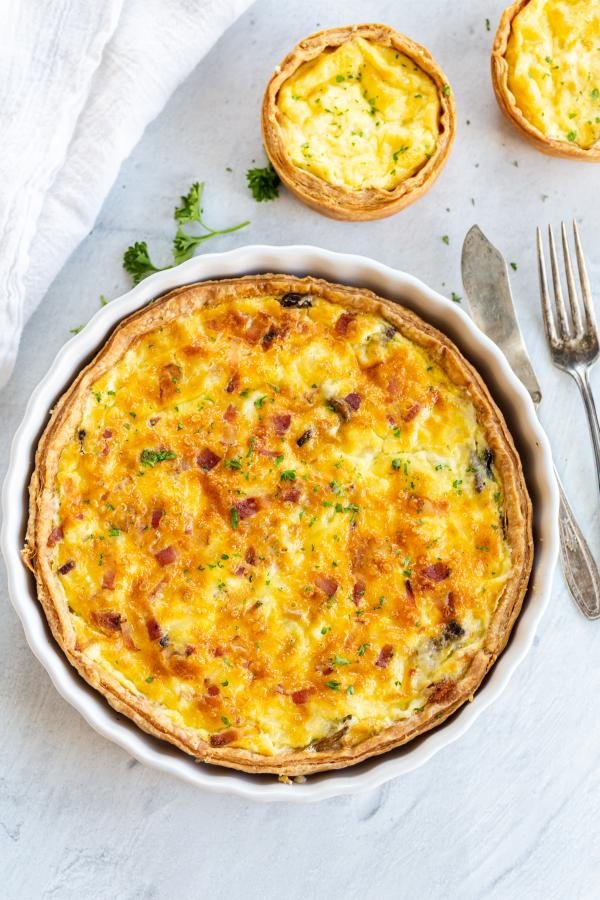 Breakfast quiche is the perfect make-ahead food. It reheats amazingly and you can play around with the ingredients you use to find the combination that you love!
Whether you are hosting a brunch at your house or meal prepping for the week, you will find that breakfast quiche is perfect for breakfast, lunch, dinner or a snack! Serve a slice with potatoes for breakfast or a nice side salad for lunch or dinner.
If you are as obsessed with quiche as I am, try this fun recipe for Freestyle Quiche I posted a while back. These pastry pockets are perfect to bring to a brunch potluck!
What is Quiche?
Never had quiche before? Well, you're in for a treat. Simply put, quiche is a savory egg pie that is typically served at brunch or breakfast. There are so many different variations of quiche and new flavor combinations are being created every day! But, the version you have probably came across is Quiche Lorraine, which consists of bacon bits, onion and gruyere cheese. For this recipe, we will use my favorite combination — mushrooms, cherry tomatoes, sausage and mozzarella!
Oftentimes, quiche gets confused with a frittata. What's the difference? Quiche uses a pie crust, while frittatas are simply egg pancakes.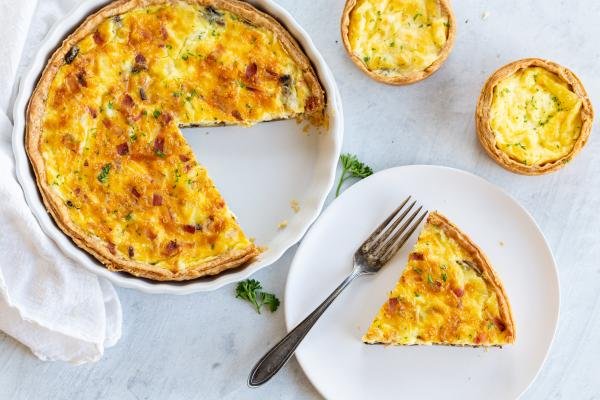 How to Make Quiche in a Few Simple Steps
Make my recipe for the Perfect Pie Crust. If you don't have time to make it from scratch, grab a premade refrigerated pie crust at the grocery store!
Place your sautéed veggies, pre-cooked bacon and cheese in your pie crust. Whisk together your eggs with heavy cream and pour the mixture over your filling.
Bake your quiche in the oven for 30-40 minutes at 375 °F. You will know when the quiche is ready when you can insert a knife into the center and it comes out clean!
What Goes Well with Quiche for Breakfast?
Pretty much any breakfast food goes great with quiche. I listed potatoes above, but here are a couple of my other favorite sides:
Make a veggie tray! Cut up a bunch of fresh and dippable veggies (like carrots, bell peppers and snap peas) and set out a nice avocado hummus. This is definitely one of my go-tos for hosting a brunch.
Pancakes are a must for sure! These Russian-style pancakes are made with buttermilk and turn out oh-so creamy.
Waffles spread with jam or topped with syrup are a great option as well. Plus, they will offset the savoriness of your quiche with some welcome sweetness.
Can you Make Quiche the Night Before?
If you are expecting a lot of guests and planning on making a ton of different dishes for your brunch get together, feel free to prebake your crust ahead of time and chop all the ingredients to make it easy on yourself in the morning.
Do you Have to Bake the Crust First for a Quiche?
You are definitely going to want to bake your crust first. This prevents your from getting a soggy crust. But, if you opted for a pre-baked crust from the grocery store, you will be able to pop the quiche straight in the oven!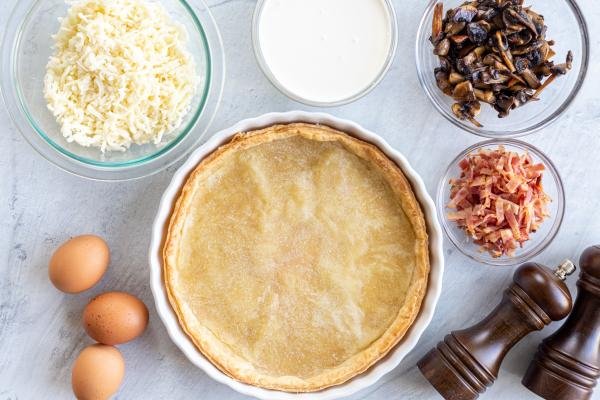 Tips for Freezing Quiche
You have two options here: you can freeze your entire quiche or you can cut it into wedges and freeze each piece individually. Whatever you do, make sure to wrap the quiche tightly in plastic wrap. To reheat, thaw the quiche in the refrigerator overnight and warm it up in the oven, air fryer or microwave.
Other Breakfast Recipes
Recipe
Breakfast quiche is the answer to all your breakfast prayers! This savory breakfast pie is sure to become a staple in your home.
Ingredients
1

cup

mushrooms

sauteed

1

cup

bacon

pre-cooked, chopped

1

cup

Mozzarella cheese

shredded

3

eggs

1

cup

heavy cream

1

tsp

salt

adjust to taste

1/2

tsp

black pepper

adjust to taste
Nutrition Facts
Breakfast Quiche
Amount Per Serving
Calories 377
Calories from Fat 270
% Daily Value*
Fat 30g46%
Cholesterol 154mg51%
Sodium 699mg29%
Potassium 162mg5%
Carbohydrates 16g5%
Protein 11g22%
Vitamin A 828IU17%
Vitamin C 1mg1%
Calcium 138mg14%
Iron 1mg6%
* Percent Daily Values are based on a 2000 calorie diet.