This recipe for spinach quiche is packed to the gills with mozzarella and gruyere cheese. Whip it up for weekend brunch or quick weekday breakfasts.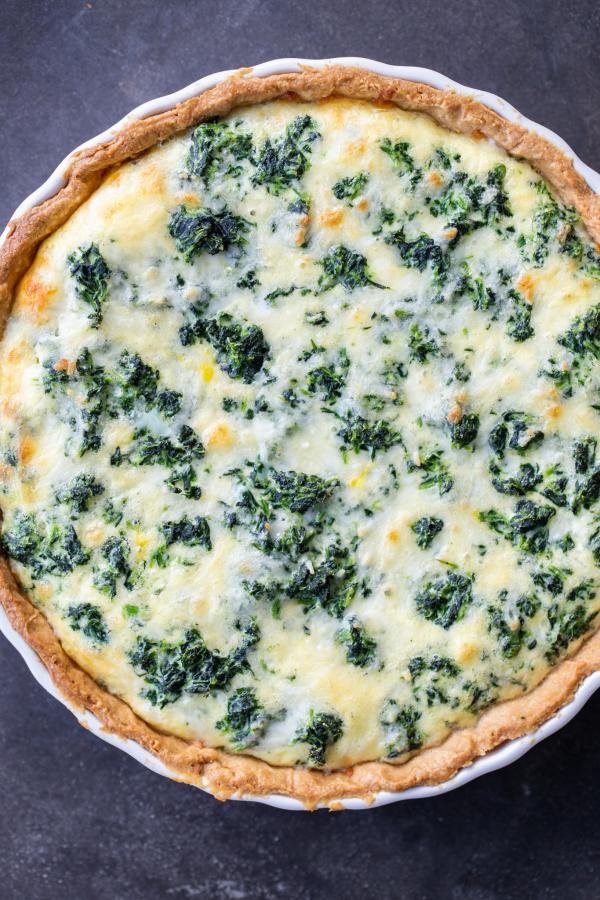 Calling all brunch lovers! This recipe for spinach quiche deserves a spot in your rotation. To supercharge the cooking process, feel free to use your favorite store-bought pie crust or go the extra mile and make one homemade using our flaky pie crust recipe.
Hot Kitchen Tool Recommendation: We love our Staub pie dish for making quiche. It's sturdy, has nice scalloped edges, and makes for such a nice presentation.
The Secret to a Perfect Quiche
The secret to a perfect quiche lies in the proportion of eggs to heavy whipping cream. As a general rule of thumb, you need about 1/3 cup of heavy cream for every egg you use. This might seem like a lot, but it's what creates that fluffy, custard-like texture known to all great quiche. From there, consider the egg base as a blank slate for you to fill with your favorite vegetable, protein, and cheese add-ins. Crazy easy, right?
Whipping Up this Spinach Quiche
Aside from nailing the proportion of cream to eggs, whipping up the perfect quiche requires you to pre-bake a pie crust to ensure it stays ultra-flakey through the cooking process.
Prepare the Pie Crust: First, place the pie crust into your pie pan and trim off the excess edges. Next, lay down parchment paper on top of it and weigh down the crust with peas, dried beans, or pie weights. Bake it at 350°F for 25 minutes or until golden brown.
Top the Crust with Add-Ins: After the crust is pre-baked, spread the drained spinach and cheese evenly across the top.
Prepare the Egg Mixture: Next, whisk the eggs, heavy whipping cream, and salt together in a separate dish.
Bake the Quiche: Pour the egg mixture into the pie crust and bake the quiche at 400°F for 20 minutes or until the center is fully set. Dig in and enjoy with friends and family.
Hot Tip: For extra depth of flavor, saute onions and garlic in a skillet with butter, salt, and pepper. Allow the mixture to cool down and add it directly with the cheese and spinach!
5 Tips & Tricks for Nailing a Spinach Quiche
Nailing a spinach quiche means getting a perfectly flakey crust, a fully-cooked and fluffy egg mixture, and the perfect flavor profile. These 5 pointers will help guide you in the right direction.
Opt for frozen spinach – but drain it! To make your life easier, opt for frozen spinach so you don't have to cook down a ton of it. That said, you must thaw and drain frozen spinach of any excess moisture so it doesn't turn your quiche soggy.
Experiment with different cheeses. We love using mozzarella and gruyere, but feel free to use any combination of cheeses that you love best. Swiss cheese, cheddar cheese, goat cheese, and feta cheese are just a few great options.
Pre-bake the pie crust for maximum flakiness. The cardinal sin of quiche-making is getting a soggy, lifeless crust. To prevent this from happening to you, don't skip the pre-bake. This is what sets the crust and prepares it to withstand the moisture from the creamy egg mixture.
Evenly spread the spinach over the pie crust. To avoid some slices having more add-ins than others, make sure to spread the spinach and cheese evenly across the pie crust before you pour the egg mixture on top.
Watch "the jiggle" to gauge doneness. You'll know that your quiche is ready when the center no longer jiggles. Pull it out immediately to prevent the eggs from overcooking.
Ways to Serve Spinach Quiche
For a complete breakfast, serve the quiche alongside a potato mushroom breakfast casserole and sourdough toast with butter. If you're preparing a more elaborate brunch spread, whip up air fryer bacon, potato pancakes with sour cream and dill, and strawberry scones. For lunch, pair the quiche with an ultimate garden salad.
Storing, Freezing, & Reheating 101
In general, quiche is a wonderful candidate for storing and freezing. Frozen and leftover quiche reheats so well and is a meal-preppers dream come true.
Storing: To keep the quiche on hand for up to a week, store it in the fridge in an airtight container or wrapped tightly with plastic wrap. This will keep the eggs from going stale and the crust from turning soggy.
Freezing: If you're prepping a couple of quiches to stow away in the freezer, bake them according to the recipe instructions and let them cool down completely. Wrap the quiche in plastic wrap and tuck it into a plastic storage bag for up to 3 months.
Reheating Tips: To reheat quiche, pop it back in the oven at 350°F covered with aluminum foil. If it's refrigerated, it should warmed through in 10-15 minutes. If frozen, it will take 30-45 minutes.
FAQ
Should spinach be cooked before adding to spinach quiche?
Yes, spinach should be cooked before adding it to a quiche. For ease, opt for using frozen spinach – make sure to thaw and drain it thoroughly – so you don't have to batch cook a ton of raw spinach.
What kind of cheese is best for spinach quiche?
The sky is the limit when it comes to picking the right kind of cheese for spinach quiche. As a general rule of thumb, it's best to pair a more neutral cheese (think: mozzarella) with a stronger, more full-bodied cheese (think: gruyere, goat cheese, or feta) for a nice balance of flavor.
Why is my spinach quiche watery?
There are two main reasons your spinach cheese likely turned out watery: 1) you didn't pre-bake the pie crust and 2) you used frozen spinach and didn't drain it of excess water. Ensuring neither of the latter happens is crucial to ensuring your quiche has a perfectly flakey crust and fluffy egg center.
What can you replace with the heavy cream for spinach quiche?
While heavy whipping cream works best for spinach quiche, the next two best options are half-and-half or whole milk. You must use full-fat dairy to get the right texture.
How do you make spinach quiche fluffy?
The key to making a fluffy spinach quiche is baking it at a high temperature for a short amount of time. The less time it has to overcook and dry out in the oven, the fluffier it will turn out.
More Eggcelent Recipes to Try
Recipe
This spinach quiche is delicious in its simplicity. The bright green, earthy spinach, gruyere, and mozzarella cheese are truly a trifecta made in heaven.
Nutrition Facts
The Classic Spinach Quiche Recipe
Amount Per Serving
Calories 411
Calories from Fat 288
% Daily Value*
Fat 32g49%
Cholesterol 154mg51%
Sodium 582mg24%
Potassium 282mg8%
Carbohydrates 17g6%
Protein 15g30%
Vitamin A 6473IU129%
Vitamin C 3mg4%
Calcium 310mg31%
Iron 2mg11%
* Percent Daily Values are based on a 2000 calorie diet.