These fall sugar cookies are cut into beautiful maple leaf shapes and are perfectly chewy. Wonderful served throughout the season with coffee or for Thanksgiving!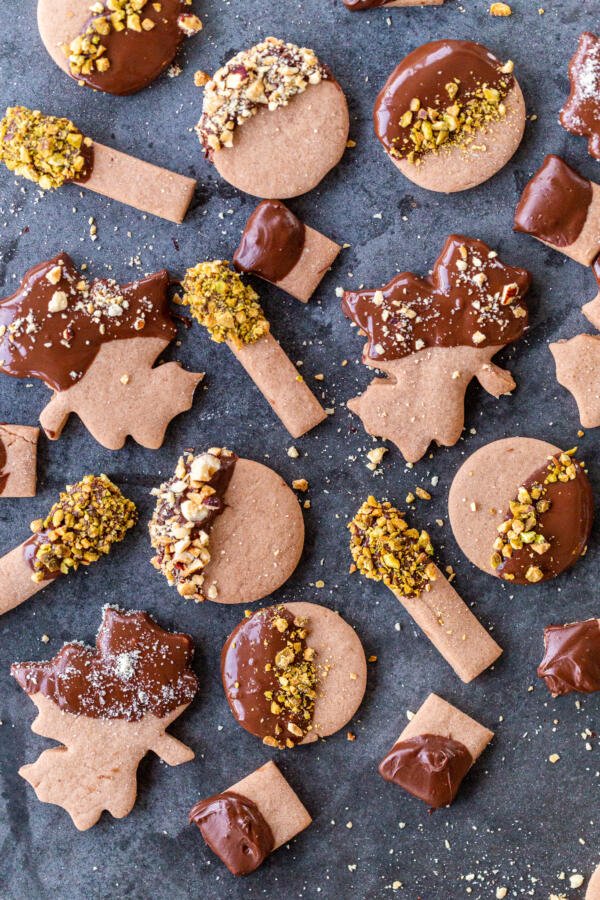 These fall sugar cookies always make our Thanksgiving Day spread. Not only are the pretty maple leaves easy on the eyes, the texture is out of this world chewy. Additionally, I love that I can prepare the dough days in advance, freeze it, and only have to focus on rolling out the dough and cutting the shapes on the big day.
In this recipe, you'll learn all you need to know to not only make perfect fall sugar cookies, but also how to properly store it for later use. Who doesn't love having a log of cookie dough in their freezer for a rainy day?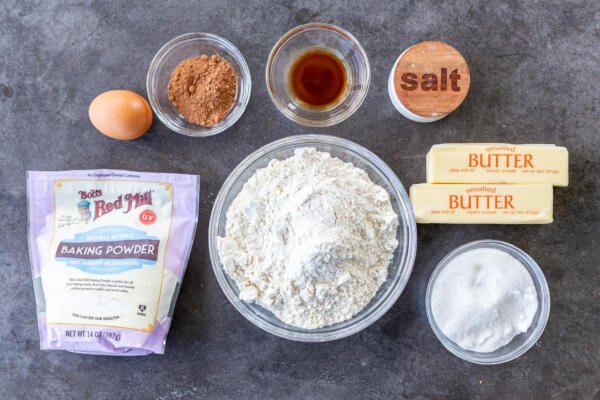 How to Make Fall Leaves Sugar Cookies
You only need a handful of ingredients to make these impressive fall sugar cookies. The kicker? You likely already have all the ingredients hanging out in your fridge and pantry.
Mix the Dry Ingredients: Sift or stir the flour, cacao powder, baking powder, and salt together in a medium bowl and set it aside.
Mix the Wet Ingredients: With a stand mixer or hand mixer, beat the butter, sugar, vanilla extract, and egg together until smooth and creamy.
Combine the Dry and Wet Ingredients: Slowly, combine the dry ingredients with the wet, being extra careful not to over mix the dough.
Chill the Dough: Cover the bowl of dough with plastic wrap and allow it to chill in the refrigerator for 30 minutes.
Shape the Cookies: Preheat the oven to 350°F. While it's heating up, roll the dough out with a rolling pin until it's 1/4-inch thick. Cut out the cookies and place them on a baking sheet lined with parchment paper.
What is the Trick to Perfect Sugar Cookies?
Below, find a couple pro tips and tricks to help you make the perfect fall-inspired sugar cookies. What's better? These rules apply to all sugar cookie recipes!
Don't over mix the batter. To prevent your cookies from turning out tough, refrain from over mixing the dry ingredients into the wet. Once the ingredients are combined, power off the mixer and let the dough be!
Opt for pure vanilla extract. To get the best hint of vanilla flavor, use a pure vanilla extract versus a blend. It's worth the couple extra dollars!
Measure your flour correctly. Did you know most people don't know how to measure flour correctly? Oftentimes, people think they are supposed to pack the measuring cup as tightly as possibly and end up with dry baked goods. On the contrary, you should use a spoon to loosely fill the measuring cup with flour just until it's full.
Allow the dough to chill. Allowing the dough to chill for 30 minutes before you roll it out and shape it makes it easier to work with and also promotes a nice, chewy texture.
Storing Sugar Cookies
Room Temperature: Store leftover fall sugar cookies in an airtight container on the counter. They should keep fresh for up to a week before they start to turn stale.
Freezer (Dough): To freeze raw sugar cookie dough, roll it into a log. Next, tightly wrap it in a few layers of plastic wrap. To thaw it, place it in the refrigerator overnight. Roll it out, cut out the cookie shapes, and bake the cookies as directed.
Freezer (Cookies): To freeze baked cookies, first allow them to cool down completely. Next, place the cookies on a baking sheet lined with parchment paper and pop the sheet into the freezer. Once completely frozen, transfer the cookies to a freezer-safe bag and store for up to 3 months. When you're ready to eat them, thaw them in the refrigerator for a couple hours.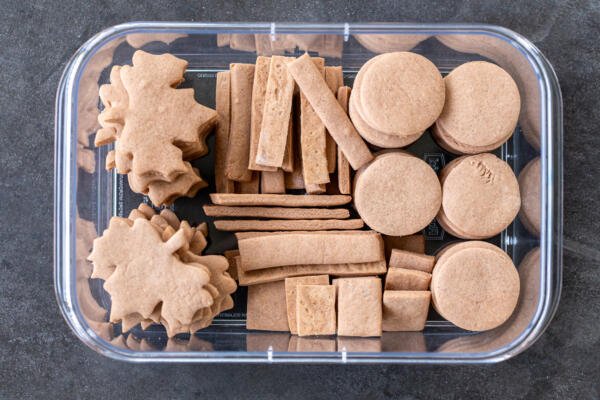 FAQ
Are sugar cookies soft or crunchy?
Sugar cookies should be soft on the inside with a very light crunch on the outside. To achieve this texture, make sure you don't over mix the batter.
What is the difference between butter cookies and sugar cookies?
Sugar cookies tend to call for less butter and more flour than butter cookies. As a result, the texture of sugar cookies tends to be chewier, while butter cookies tend to air more on the side of a biscuit.
Why are my sugar cookies hard?
Your cookies likely turned out hard if you baked them too long or didn't keep them stored in an airtight container.
How thick should I roll out my sugar cookie dough?
You should roll out your dough to 1/4-inch thick to get a chewy inside and a nice outer crunch.
How do you get the perfect sugar cookie shape?
To get the perfect sugar cookie shape, always use a cookie cutter. You can also use the rim of a glass cup.
Other Tasty Cookie Recipes
Recipe
These fall sugar cookies are cut into beautiful maple leaf shapes and are perfectly chewy. Wonderful served throughout the season with coffee or for Thanksgiving!
Nutrition Facts
Fall Leaves Sugar Cookies
Amount Per Serving
Calories 69
Calories from Fat 36
% Daily Value*
Fat 4g6%
Cholesterol 13mg4%
Sodium 60mg3%
Potassium 23mg1%
Carbohydrates 8g3%
Protein 1g2%
Vitamin A 111IU2%
Calcium 7mg1%
Iron 1mg6%
* Percent Daily Values are based on a 2000 calorie diet.