These M&M cookies are chewy and soft, yet hold an irresistible crunch from small M&M candies. Save a few for yourself, because there won't be any left over.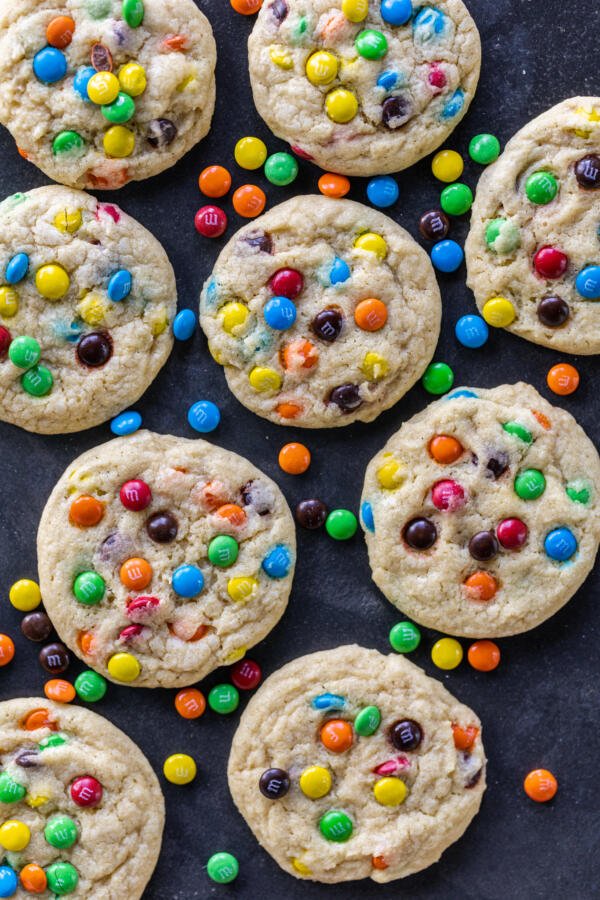 How To Make the Cookies
Don't procrastinate with making these cookies — they only take 15 minutes of prep time! To make it even quicker, take the butter out ahead of time to soften.
Combine the sugars: Combine and beat the butter with the granulated and brown sugar until fluffy. I like to use a stand mixer for this step.
Add the egg mixture: Add in the egg, vanilla, and a pinch of salt. Beat to combine.
Mix in flour mixture: In a separate bowl, combine flour with the remaining dry ingredients. Slowly stir into the wet ingredients. Mix on low speed.
Pour in the M&Ms: Add half of the M&Ms into the dough.
Shape the cookies: Using a cookie scoop, form the cookies into same-size cookie dough balls. Place them on a lined baking sheet. Add the remaining M&Ms to the tops of the cookies.
Bake: Bake the cookies at 350°F for 7-11 minutes, depending on the size.
Hot tip: Make "chocolate chip" M&M cookies for more chocolate flavor. Add a cup of milk chocolate or dark chocolate chips to the dough for an even more chocolatey cookie.
The Top Cookie-Making Tips
Are you a cookie enthusiast? You won't want to miss out on these tips on making these cookies the very best.
Add in extra M&Ms: Who doesn't love more M&Ms? Add extra candies to the top of the cookies for even more crunch!
Avoid overbaking: Avoid overbaking the cookies, or they will be crispy and dry. It is best to take out the cookies from the oven when they still look a little soft. They will harden as they cool.
Use soft butter: Make sure to use soft, room temperature butter to create a smooth dough texture.
Line the baking sheet: Bake the cookies on a lined baking sheet to prevent them from sticking.
Change up the M&M sizes: M&Ms come in different sizes, so feel free to change it up each time. Try the mega, regular, or mini M&M sizes.
Let the cookies cool: Remove the cookies from the oven and let them cool on the baking sheet for about 2-3 minutes, then transfer to a wire rack to further cool.
Hot tip: Choose the colors of M&M's to match the season or the event; red and green are great for Christmas, while orange and red are perfect for fall. Display your cookies in this domed cake stand for an eye-catching dessert!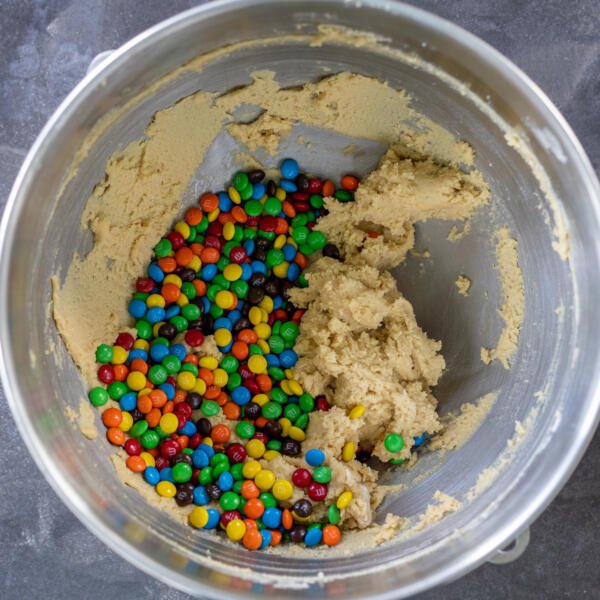 Common Cookie Issues
Occasionally cookies don't come out exactly as expected — either they're flat, too spread out, or too crispy. Here are ways to prevent these issues the next time you bake.
Flat cookie (no rise): To prevent a flat cookie, work quickly with the dough. Avoid letting the dough sit out on the counter for too long. Alternatively, refrigerate the dough for one hour before baking.
Spread out: If the cookie is too spread out, the butter may have been too soft. Use butter that is softened, but not melted.
Crispy/not soft: If your cookies are too crispy, dry, or lack a soft interior, they've been overbaked. Remove cookies from the oven when they still appear a little soft. They will harden as they cool.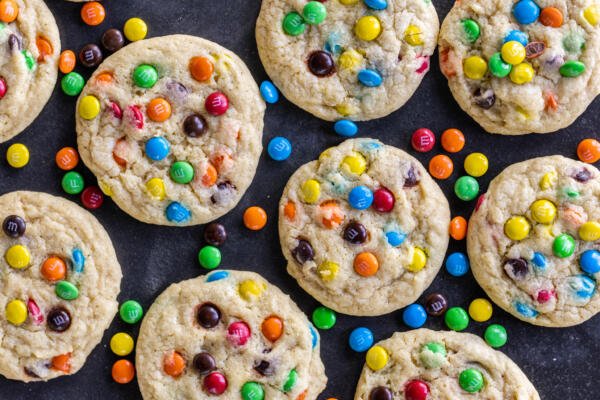 Ways to Serve
Cookies are meant to be served with a beverage, more cookies, fruit, and good company. Bring out that glass of milk, coffee, or tea and get to chatting with friends and family over a spread of baked goodness including these M&M cookies, healthy oatmeal raisin cookies, and four-ingredient nutella cookies. To add a little bit of non-cookie diversity, serve your favorite fruits on a fruit charcuterie board.
Storage Options
Isn't it disappointing when you make a batch of the best M&M cookies and then they're all gone in only a day? Don't let that happen again — double or triple the recipe for more cookies to enjoy!
Baked Cookies
If you have tons of leftover baked cookies, follow these storage tips to enjoy them for as long as possible!
Counter: To store for up to a week, place baked cookies in an airtight container on the counter.
Refrigerator: To store for up to two weeks, refrigerate the cookies in an airtight container. Keep in mind, they may harden a bit due to the cold, but will soften slightly when warmed.
Freezer: To store cookies for up to 2-3 months, place cooled cookies in an airtight freezer bag.
Cookie Dough
Instead of buying cookie dough from the grocery store, make it yourself! With ready-to-go dough, you'll have cookies ready in only 10 minutes!
Refrigerator: To store dough for 2-3 days, put it into the fridge in an airtight container.
Freezer: To store for up to two months, roll the dough into a log and wrap it in parchment paper. Place it in a ziploc bag and freeze. When ready to use, take a knife and slice the log into 1/2 inch thick pieces. Bake right away, allowing a few more minutes to bake since the dough is frozen.
FAQ
Why are my M&M cookies flat?
The cookies may fall flat if not enough flour was used. Make sure to properly measure the ingredients when preparing the dough.
Will the M&Ms in the cookies melt while baking?
The M&Ms will not melt while the cookie is baking because their outer shell prevents them from melting.
What do baking soda and baking powder do in cookies?
Baking soda helps to create a soft, fluffy cookie whereas baking powder makes the cookie thicker by rising.
More Cookie Recipes
Recipe
These M&M cookies are chewy and soft, yet hold an irresistible crunch from small M&M candies. Save a few for yourself, because there won't be any left over.
Nutrition Facts
M&M Cookies (Soft & Chewy)
Amount Per Serving
Calories 132
Calories from Fat 54
% Daily Value*
Fat 6g9%
Cholesterol 18mg6%
Sodium 32mg1%
Potassium 32mg1%
Carbohydrates 18g6%
Protein 1g2%
Vitamin A 142IU3%
Vitamin C 0.1mg0%
Calcium 22mg2%
Iron 1mg6%
* Percent Daily Values are based on a 2000 calorie diet.