Meringue Napoleon cake is the perfect dessert for your next special party or celebration. This decadent, Eastern European cake will make your guests drool!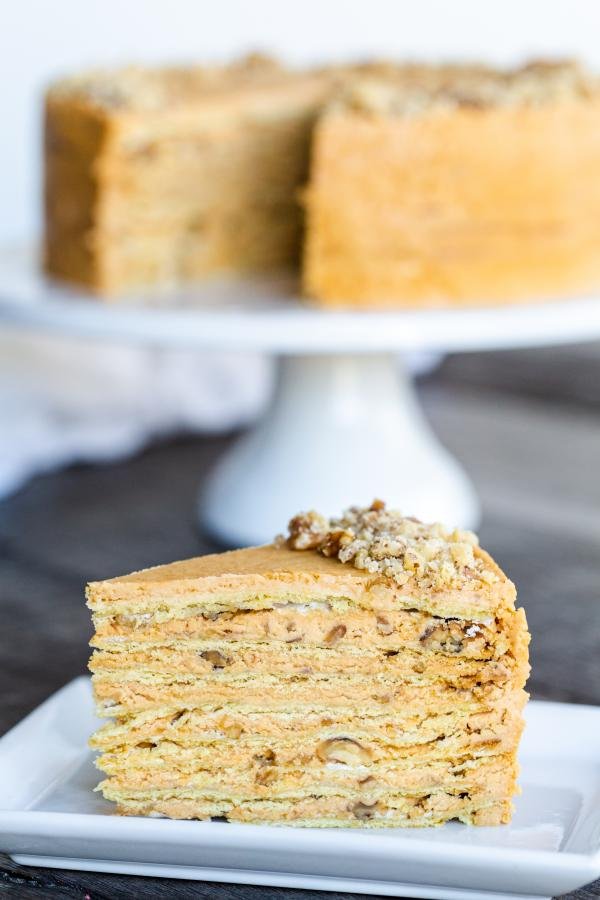 Meringue Napoleon Cake consists of three components: flaky layers, meringue and dulce de leche cream. There's also the added crunchiness from toasted walnuts. Despite its extravagant look, it's actually not that difficult to make. All it requires is a bit of time and patience. Other than that, you will look like an expert pastry chef to your friends and family!
Napoleon Cake 101
Napoleon Cake is a beloved dessert in Russia. Often served during New Years, this treat is an every once-and-awhile dessert. But, where did it come from? The Napoleon cake as we know it today was inspired by the French cake "mille-feuille". The first version of this cake was created in 1912 to celebrate the 100th anniversary of the defeat of Napoleon and his troops.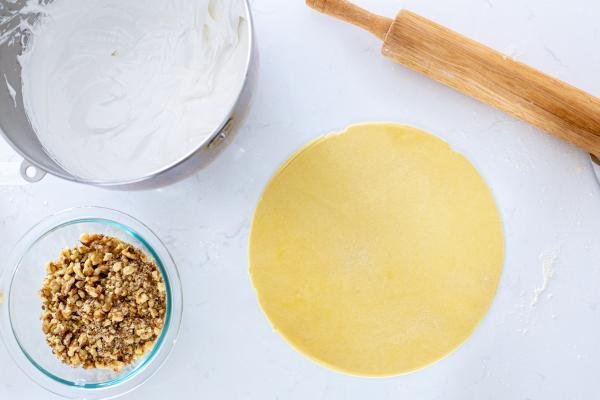 How to Prepare Napoleon Cake from Scratch
Making Napoleon cake requires a little technique and patience to individually bake all 8 of the delicate cake layers.
Make the Dough: First, place the flour, butter and margarine into a large bowl. Mix everything together, until the mixture resembles small crumbles. Next, mix in the sour cream, baking soda and egg yolks.
Make the Meringue: Next, whip the egg whites and sugar together until thick.
Divide the Dough: Divide the dough into 8 equal pieces, roll each piece out with a rolling pin, and slice it into a circle with a stencil. Pop it onto a baking sheet, spread meringue on top and sprinkle it with nuts.
Bake the Cake Layers: Next, bake each cake layer at 350°F for about 10 minutes or until golden brown.
Make the Cake Cream: In the bowl of a stand mixer, beat the cold heavy whipping cream until you get soft peaks. In a separate bowl, whip the room temperature butter with the dulce de leche. Next. fold the heavy whipping cream into the dulce de leche mixture.
Assemble the Cake: Next, apply a small amount of cream onto your serving plate. Place a cake layer down and frost it with more cake cream. Stack another cake layer on and repeat the process. Frost the outside of the cake and enjoy!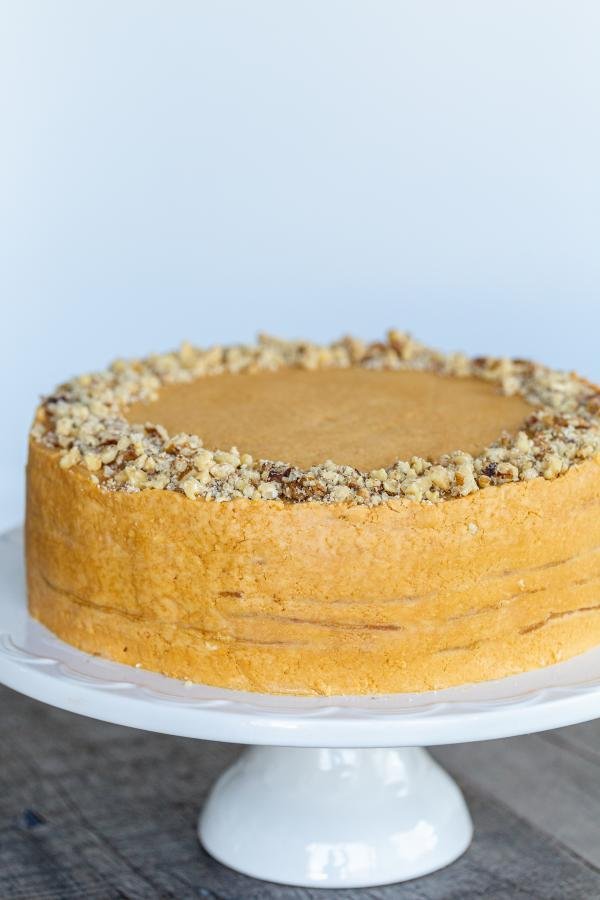 4 Tips for Making a Perfect Napoleon Cake
Making Napoleon Meringue Cake may seem like a challenge, but trust me, if you follow all the steps you will be sitting pretty (and your cake will be too!).
Use room temperature butter. Using room temperature butter is the way to go. It is the easiest to incorporate and makes for the most even of baking for your cake layers.
Prep a cake layer while one is baking. While you have a cake layerbaking, roll out the next and get it prepped. It will save you time when baking several layers for this cake.
Allow the cake layers to cool completely. Before you attempt to frost or stack your layers, make sure that they are completely cooled. This will prevent sticking and melting, which can ruin all the hard work you have done to make this delicate cake!
Make cake layers in advance. If you want to save some time, feel free to make your cake layers in advance. Make sure to store them in an airtight container in the fridge. They will last 2-3 days before you need to assemble and frost them.
Storing Napoleon Cake
Keep Napoleon Cake refrigerated for up to 2-3 days before serving. Make sure its sealed it an airtight container (preferably a cake container) so it doesn't absorb the smells and flavors of other foods in your refrigerator.
Hot Tip: Only allow the cake to sit at room temperature for 1 hour before serving. This will allow the cream to soften. If you allow it to sit out any longer, it will melt and become flimsy.
FAQ
What is Napoleon cake made of?
Napoleon cake is made of flaky cake layers, cake cream and toasted nuts. However, there are many different variations to this cake and they come in all sizes, shapes, and flavors.
Is Napoleon cake Russian or French?
Napoleon cake originated in Russia and has been around for a really long time. Despite it being created in Russia, the baking style is very similar to cakes you'd find in Italy or France.
What is the difference between Mille-Feuille and Napoleon?
Mille-feuille and Napoleon cake have many similarities, but also a few stark differences. The main difference between the two desserts is that a Napoleon is made with thin, crispy cake layers while traditional mille-feuille is made with layers of puff pastry.
Can you freeze Napoleon Cake?
It's not a good idea to freeze Napoleon cake, as it doesn't tend to thaw very well. The cake layers lose their crispiness and the cream tends to fall flat. It's best to eat this cake fresh and within a couple of days!
More Cake Recipes to Try
Recipe
This tasty meringue Napoleon cake contains layers of cake alternated with dulce de leche cake cream & toasted nuts. An Eastern European classic & must-try!
Ingredients
Meringue Napoleon Cake Layers
150

g

Unsalted Butter

150

g

margarine

3

cup

flour

3

tbsp

sour cream

3

egg yolks

1

tsp

baking soda

6

egg whites

2

cups

sugar
Meringue Napoleon Cake Cream
28

oz

Dulce de Leche

1

lb

room temperature butter

2

cup

toasted walnuts

crushed

1

cup

heavy whipping cream

very cold
Instructions
Cream for Napoleon
Finalizing Napoleopn Cake
To form the cake, apply small amount of cream to the plate and put the first cake layer down. Apply the cake cream in between each layer.
Nutrition Facts
Meringue Napoleon Cake
Amount Per Serving
Calories 786
Calories from Fat 567
% Daily Value*
Fat 63g97%
Cholesterol 159mg53%
Sodium 520mg22%
Potassium 159mg5%
Carbohydrates 52g17%
Protein 8g16%
Vitamin A 1782IU36%
Vitamin C 1mg1%
Calcium 54mg5%
Iron 2mg11%
* Percent Daily Values are based on a 2000 calorie diet.