Meringue Napoleon Cake is the perfect dessert for your next special occasion or celebration. This decadent, Eastern European cake will have your guests drooling!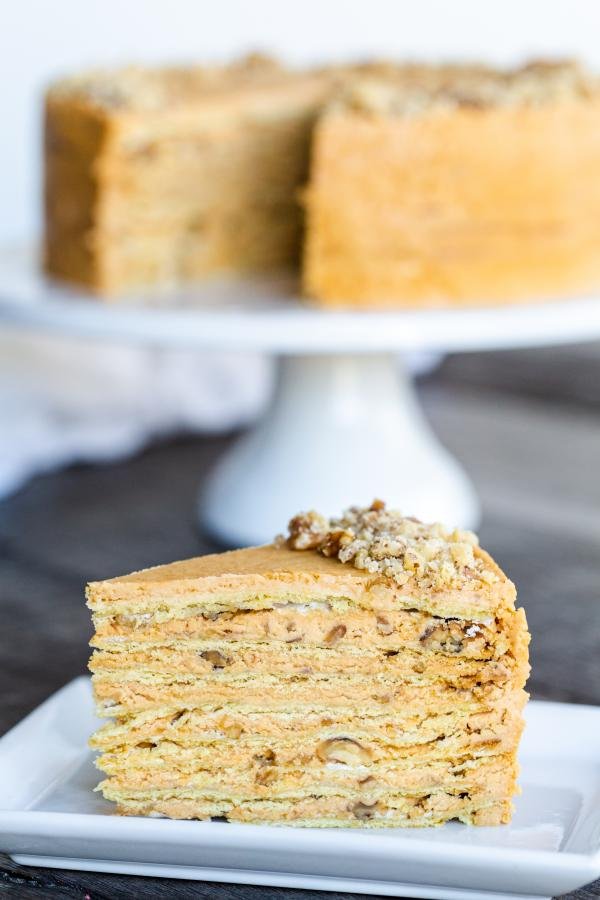 Meringue Napoleon Cake consists of three layers: crispy cake, meringue and dulce de leche cream! Oh, and did I forget to mention the added crunchiness from toasted walnuts? That's right, this cake isn't skimping on flavor!
Despite its extravagant look, this cake is actually not that difficult to make. All it requires is a bit of time and patience. Other than that, you will look like an expert pastry chef to your friends and family!
Napoleon Cake
Napoleon Cake has become a beloved dessert in Russia. Often served during New Years, this treat is an every once-and-awhile dessert. But, where did it come from? The Napoleon cake as we know it today was inspired by the French cake "mille-feuille". The first version of this cake was created in 1912 to celebrate the 100th anniversary of the defeat of Napoleon and his troops.
Since then, the cake has underwent many changes and iterations. Including this one! I put a spin on the classic recipe by adding chopped nuts to the layers and a tangy meringue. Like with most revered treats, you will see chefs taking liberties with the recipes and making them their own. I'm excited to share my creation with you!
What is Napoleon Cake Made of?
So how does this layered cake actually come together? Well, first you are going to make your cake flour. The dough is infused with sour cream and rolled out thin. The kicker? You will top each cake layer with meringue and nuts before baking them in the oven! After your cake layers cool, you will spread your dulce de leche cream between each one, giving the cake a sort of "glue" to keep together. The final step is frosting the entire outside of the cake, decorating it with nuts and allowing it to set in the refrigerator overnight.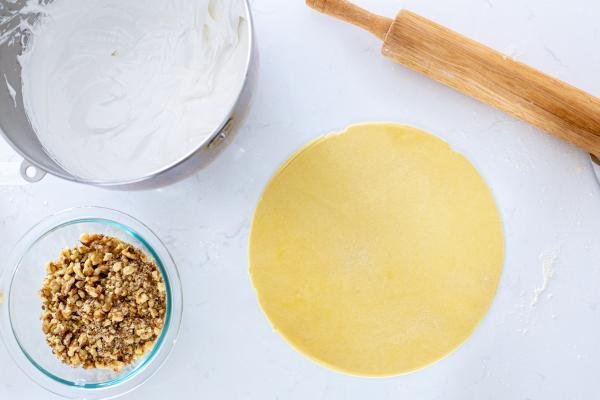 Tips for Making Meringue Napoleon Cake
Making Napoleon Meringue Cake may seem like a challenge, but trust me, if you follow all the steps you will be sitting pretty (and your cake will be too!).
Use Room Temperature Butter
Using room temperature butter is the way to go. It is the easiest to incorporate and makes for the most even of baking for your cake layers.
Save Some Time
While you have a batch of cake layers baking, roll out the next and get it prepped. It will save you time when baking several layers for this cake.
Allow Cake Layers to Cool Completely
Before you attempt to frost or stack your layers, make sure that they are completely cooled. This will prevent sticking and melting, which can ruin all the hard work you have done to make this delicate cake!
Make Napoleon Cake Layers In Advance
If you want to save some time, feel free to make your cake layers in advance. Make sure to store them in an airtight container in the fridge. They will last 2-3 days before you need to assemble and frost them.
Make Napoleon Cake in Advance
This cake must have at least 24 hours to set in the fridge before serving. However, you can make it 2-3 days in advance and still preserve the flavor. Remember, the longer it sets, the better it keeps its shape and tastes!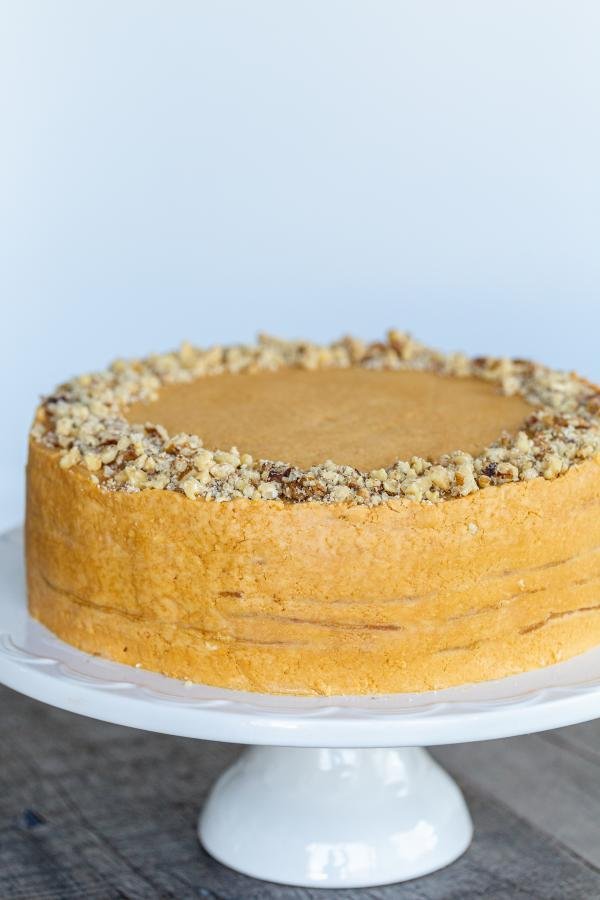 Storing Napoleon Cake
Keeping Unrefrigerated Napoleon Cake
Only allow the cake to sit at room temperature for 1 hour before serving. This will allow the cream to soften. If you allow it to sit out any longer, it will melt and become flimsy.
Refrigerate Napoleon
Keep Napoleon Cake refrigerated for up to 2-3 days before serving. Make sure its sealed it an airtight container so it doesn't absorb the smells and flavors of other foods in your refrigerator.
Cake Recipes to Try:
Recipe
Meringue Napoleon Cake is the perfect dessert for your next special occasion or celebration. This decadent, Eastern European cake will have your guests drooling!
Ingredients
Meringue Napoleon Cake Layers
Meringue Napoleon Cake Cream
28

oz

Dulce De Leche

1

lb

room temperature butter

2

cup

toasted walnuts

crushed

1

cup

heavy whipping cream

very cold
Instructions
Cream for Napoleon
Finalizing Napoleopn Cake
To form the cake, apply small amount of cream to the plate and put a first layer on it, you don't want for the cake to slide around. Apply cream in between each layer, flat sides are easier to apply cream to.
Nutrition Facts
Meringue Napoleon Cake
Amount Per Serving
Calories 786
Calories from Fat 567
% Daily Value*
Fat 63g97%
Cholesterol 159mg53%
Sodium 520mg22%
Potassium 159mg5%
Carbohydrates 52g17%
Protein 8g16%
Vitamin A 1782IU36%
Vitamin C 1mg1%
Calcium 54mg5%
Iron 2mg11%
* Percent Daily Values are based on a 2000 calorie diet.