Eton mess is an English dessert that's super similar to strawberry pavlova. Crazy easy to put together and the perfect spring and summertime treat!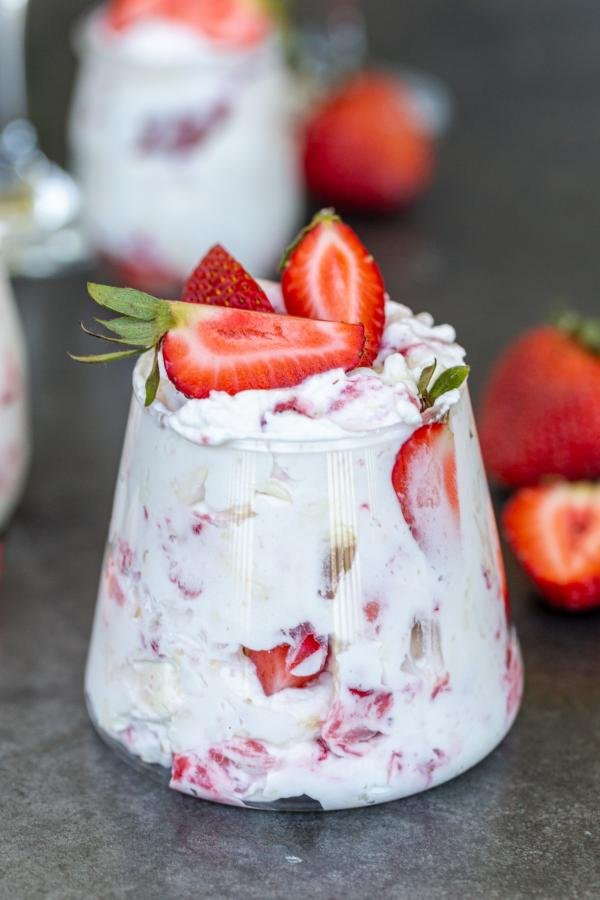 There's nothing like a dessert that requires absolutely no baking and minimal prep – especially in those hotter months when turning the oven on is the last thing you want to do. This recipe for English Eton mess is just that – super simple, refreshing and made with a store bought meringue cookie hack.
What is Eton Mess?
If you're ever traveling through the United Kingdom during the summer months, you'll be sure to stumble upon Eton mess. A simple, no-bake dessert, it's made with fresh fruit, whipped cream and crushed meringue cookies.
Flavor: The flavor of this dessert is sweetness from top to bottom. The sugary cookies, fresh strawberries and whipped cream all complement each other so well and are finished with an extra sprinkle of sugar for good measure.
Texture: When it comes to texture, it's the perfect combination of juicy berries, light whipped cream and the occasional crunch of a meringue cookie.
Time: From start to finish, it only takes 15 minutes to prepare this crazy easy dessert.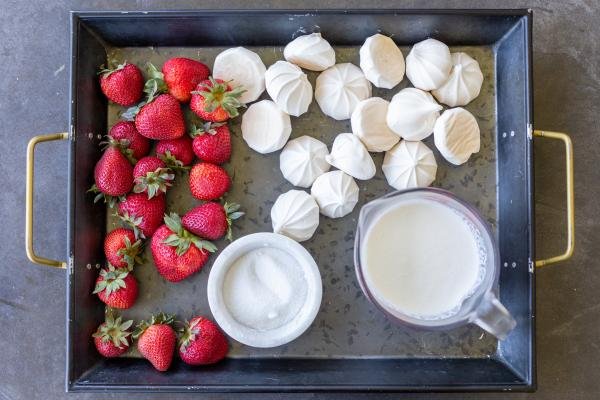 Making this Crazy Easy Eton Mess Recipe
If you can crush cookies, slice strawberries and make whipped cream, you've already got this dessert figured out. It's that simple!
Make the Whipped Cream: Using a stand mixer with a whisk attachment or hand mixer and a large bowl, beat the heavy whipping cream to stiff peaks.
Crush the Cookies: Next, break up the meringue cookies into pieces and fold them into the whipped cream.
Slice the Berries: Slice the strawberries and set half aside. Mix the other half into the cookie and cream mixture.
Assemble the Eton Mess: In individual cups or a large serving dish, spoon in the cream, cookie, and strawberry mixture. Top with the remaining chopped strawberries and a sprinkle of sugar. Bon appetit!
3 Tips for the Best Eton Mess
Eton mess is meant to be a no-fuss kind of dessert, but a few simple tips will help you nail it like a British chef would.
Don't try to be perfect with the cookie crumbs. When breaking the meringue cookies, don't waste any crumbs or try to make them similar in size. The cookies will break into uneven shapes and that's totally fine.
Use extra cold heavy cream and don't over mix it. For the fluffiest whipped cream, opt for extra cold heavy whipping cream. If you have to, stick it in the freezer for 10-15 minutes before whipping it. Also be sure not to over mix the cream past stiff peaks or whip it on high speed, as it will turn to butter.
Swap in whatever berries you like best. If you aren't a fan of strawberries or they are out of season, feel free to use any berry you like best. Raspberries, blueberries and blackberries works great.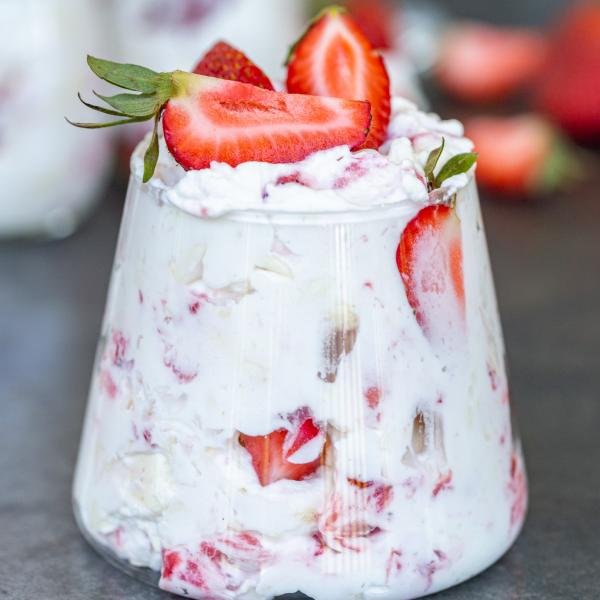 Eton Mess is Best Made Fresh
Typically, we like to share storage tips but this dessert is one of those desserts that should be prepped right before it's served. If the dish sits for more than 15-30 minutes, the delicate meringue cookies begin to dissolve and turn into mush. You definitely want them to have a nice crunch for that added texture!
FAQ
What's the difference between pavlova and Eton Mess?
The difference between pavlova and Eton mess is that pavlova features one large meringue cake topped with cream and berries. On the other hand, Eton mess features crumbled meringue cookies mixed with whipped cream and berries.
How did Eton Mess get its name?
Eton mess reportedly got it's name after a cricket match in Eton college in Windsor. Rumor has it that there was a strawberry pavlova in a picnic basket and a dog ran across it and squashed it. Thus you have deconstructed pavlova, aka Eton mess!
What are the key ingredients in Eton mess?
The three key ingredients in all Eton mess desserts is fresh fruit, whipped cream and meringue cookies. The fruit and cream are often customized and the meringue cookies can be store bought or homemade.
Can Eton mess be frozen?
It is not a good idea to freeze Eton mess. The delicate whipped cream and meringue cookies do not thaw well and the dessert will turn into a mess.
More Refreshing Dessert Recipes to Try
Recipe
This recipe for eton mess features whipped cream, strawberries and crushed meringue cookies. A refreshing treat for the spring and summertime!
Ingredients
1 1/2

cups

heavy whipping cream

very cold

2

tbsp

sugar

2

cups

store bought meringue cookies

3

cups

strawberries
Nutrition Facts
Classic English Eton Mess Recipe
Amount Per Serving
Calories 240
Calories from Fat 189
% Daily Value*
Fat 21g32%
Cholesterol 65mg22%
Sodium 16mg1%
Potassium 187mg5%
Carbohydrates 13g4%
Protein 2g4%
Vitamin A 850IU17%
Vitamin C 51mg62%
Calcium 52mg5%
Iron 1mg6%
* Percent Daily Values are based on a 2000 calorie diet.