Dulce de Leche Cake will be the "golden key" to your heart! Moist layers of caramel soaked sponge cake are separated by caramel cream and finished with a sprinkling of hazelnuts. YUM.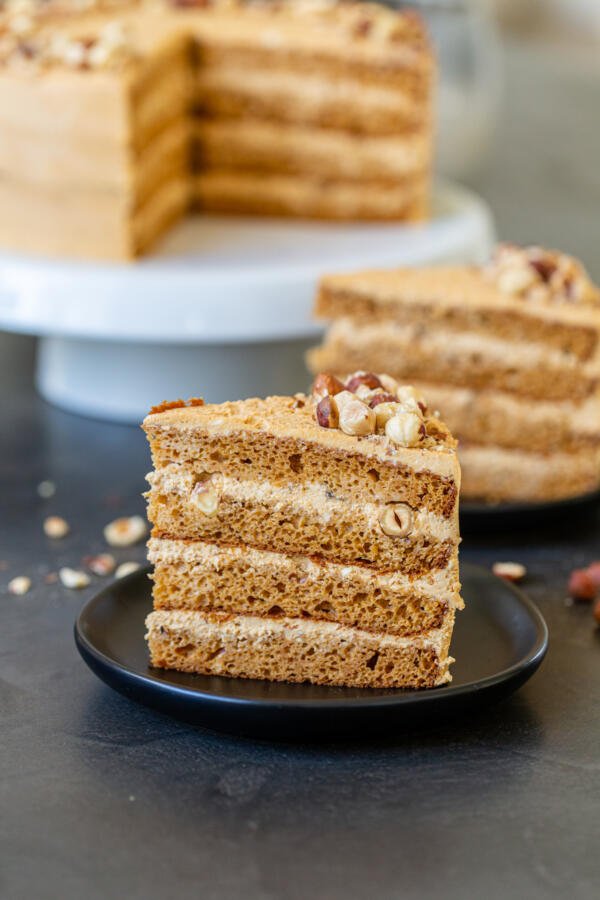 Dulce de Leche Cake and Ferrero Rocher Cake have hands down been my two most popular cake recipes according to you guys. Perhaps it's because Ukrainian-style cakes are known to be some of the most decadent! Read on to learn how to make this classic European cake.
What is Dulce de Leche Cake?
This cake is all around loaded with dulce de leche. Don't know what dulce de leche is? It's basically sweetened condensed milk that has been cooked into a delicious caramel.
Dulce de Leche Cake is made with layers of sponge cake that are soaked in dulce de leche and sour cream. Did I mention that you will separate those cake layers with dulce de leche infused cake cream? Oh yes, this cake is packed with caramel-y goodness!
Wondering why Dulce de Leche Cake is also called "Golden Key Cake"? This cake was inspired by a very popular Russian candy called "Golden Key". These bite-sized morsels are creamy and toffee flavored and impossible not to binge eat. Someone was so obsessed with these morsels that they had the bright idea to make a cake in their image!
Tips for Making Dulce de Leche Cake
Below, I will share all my "golden nuggets" on how to make the perfect Dulce de Leche Cake. You will have your friends and family begging you for the recipe in no time.
Activate the Baking Soda
To make a knock-out sponge cake you are going to want to make sure that you use activated baking soda. Activated baking soda ensures that your cake rises and fluffs. You can purchase pre-activated baking soda, but if you don't have it on hand, add a touch of lemon juice or vinegar to it to activate it yourself. You will know that the baking soda has activated once it begins to make a fizzling sound!
Keep Whipping Cream Very Cold
When it comes to baking, it is typically advised to work with room temperature ingredients. However, to make the perfect caramel cream for this cake you are going to want to work with very cold heavy whipping cream. Why? The fat globules in heavy whipping cream will emulsify faster and stay fluffy longer when they are whipped cold.
Tip: Stick your heavy whipping cream in the freezer for 15-20 minutes before you get to whipping.
Don't Overbeat Heavy Whipping Cream
When you are making the cake cream, make sure you don't overbeat the heavy whipping cream. You will want to stop when the texture becomes soft and billowy. You will know that you have overbeaten the cream if it starts to curdle and separate.
Tip: Fix curdled cream by adding more heavy whipping cream and beating it until it has returned to a soft and billowy texture.
Make Dulce de Leche at Home
You can always find canned dulce de leche in the grocery store. Typically, it hangs out in the Hispanic section. You can also make this delicious sauce super easily in the comfort of your own home using an Instant Pot. All it takes is a couple of cans of sweetened condensed milk and that's it! In Ukrainian and Russian baking, dulce de leche is a star ingredient. I always have some on hand for making desserts or dressing up a cup of coffee.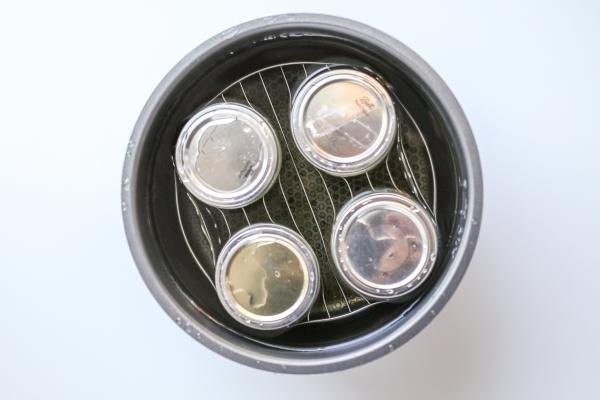 Use Roasted Hazelnuts
Roasted hazelnuts really elevate the flavor of this cake. Purchase them roasted or do it yourself. Simply lay out raw hazelnuts on a lined baking sheet and roast them in the oven for 15 minutes at 350F. Remove any excess skins that fall off the nuts.
Soaking Syrup
Combine whipping cream with sweetened condensed milk to make the syrup for soaking your sponge cake. Generously spread the syrup on each layer of cake to make them super moist. You can use a squeeze bottle to apply the syrup more evenly if necessary.
Using Cool Whip Instead of Whipping Cream
Can I substitute whipping cream with Cool Whip – is one of the most frequently asked questions I receive from readers. I advise to avoid using the Cool Whip, as it provides a slightly artificial tasting. Instead, if you're trying to cut time, use the premade whipped cream, just make sure to go with a high-quality one.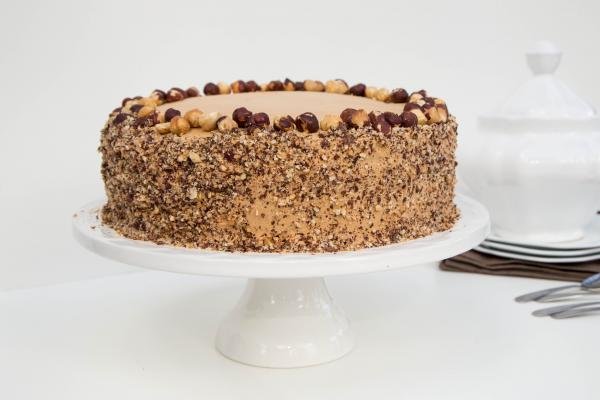 How Long Can You Keep Dulce de Leche Cake Fresh?
You can keep Dulce de Leche cake fresh in an airtight container in the fridge for up to a week.
Note: I wouldn't recommend freezing this cake due to its delicate nature.
Other Similar Cake Recipes to Try:
Recipe
Dulce de Leche Cake will be the "golden key" to your heart! Moist layers of caramel soaked sponge cake are separated by caramel cream and finished with a sprinkling of hazelnuts. YUM.
Ingredients
Instructions
Nutrition Facts
Golden Key Cake
Amount Per Serving
Calories 645
Calories from Fat 441
% Daily Value*
Fat 49g75%
Cholesterol 168mg56%
Sodium 276mg12%
Potassium 363mg10%
Carbohydrates 45g15%
Protein 9g18%
Vitamin A 1391IU28%
Vitamin C 2mg2%
Calcium 176mg18%
Iron 2mg11%
* Percent Daily Values are based on a 2000 calorie diet.