This spongy Honey Cake is filled with layers of cream and jam, each bite is heaven. It is airy, tart, and rich at the same time. The flavor of this honey cake is truly out of this world!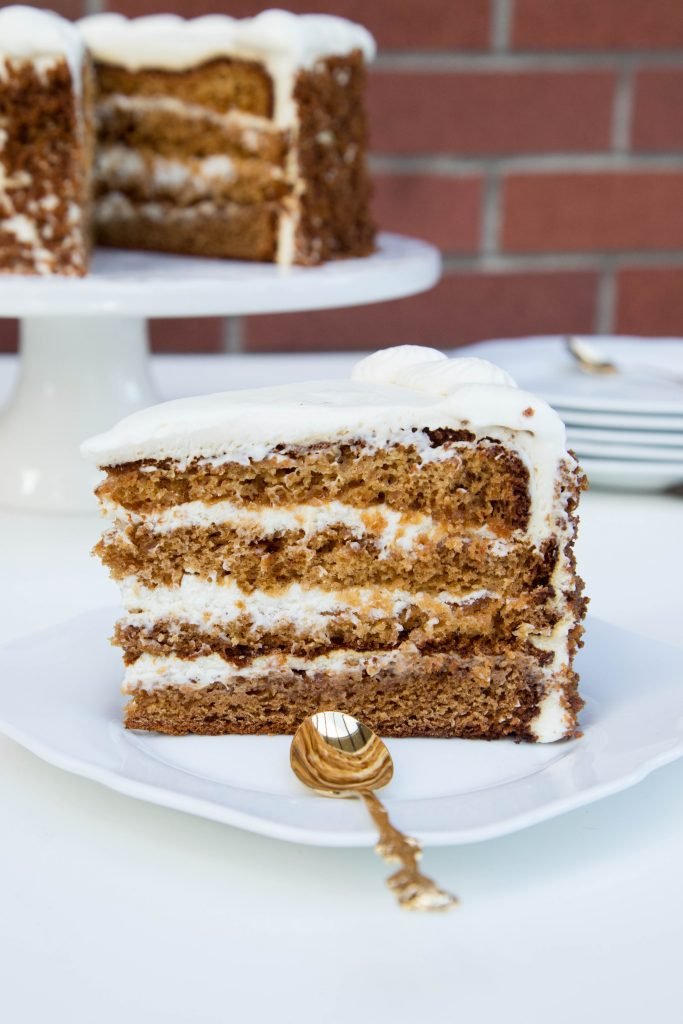 What is Honey Cake
Honey Cakes are very popular in Eastern Europe, specifically former Soviet Union Countries. It is called Medovik in Russia and was invented by a young chef in the 19th century that was trying to impress the Empress. The classic Honey Cake has layers of sponge cake with a cream filling and is covered with nuts or cake crumbs, although there are so many different varieties.
We have a popular Russian Honey Cake recipe that is totally classic. This spongy Honey Cake is different from the classic version with the addition of jam. But this jam layered cake is just as good as the traditional version, if not better.
How to Make Honey Cake with Jam
The first step of making the Jam Layered Honey Cake is making the honey sponge cake layers. While the cake layers are baking, make the cake cream out of cream cheese, powdered sugar, and whipping cream. The cake layers are then sliced in half, stacked, and layered with jam and the cake cream. It is impressive, delicious, yet simple to make.
Making Honey Sponge Cake
Make the cake batter by beating the eggs and sugar first, then beating in the honey. Fold in the lemon juice and baking soda before folding in the flour in thirds. Be gentle with the batter so it keeps its fluffiness. Divide the batter among two cake pans and bake until an inserted toothpick comes out clean.
Making Honey Cake Cream
Make the cake cream by mixing together the cream cheese and powdered sugar until smooth. Beat in the chilled whipping cream until the cake cream is firm.
Putting Together the Honey Cake
Slice each of the cake layers into two and spread the top of each layer with jam. Add the cake cream between each layer and stack together. Spread the rest of the cream on the outside of the cake. Let the cake sit overnight so the cream can soak into the cake layers.
What Jam to Use in A Honey Cake
This cake uses jam to give it that fruity flavor. We have used currant jam or peach jam. You can use your favorite jam and each time that you switch it up it will feel like a different cake. If you want to try making your own homemade jam, try this Raspberry Jam, Strawberry Jam, or Prune Plum Jam.
Preparing Honey Cake In Advance
This honey cake recipe is a great make-ahead option! You can either make just the sponge cake in advance or even the fully prepared layered cake. Here is how you do it:
Sponge Cake – The sponge cake can be made 5 days in advance and refrigerated fully wrapped. You can also make it and freeze it for later. It can be frozen for up to 3 months.
Fully Prepared Cake – The prepared cake is best enjoyed the day after making — giving time for the cream to soak into the cake. But it can be made in advance and refrigerated in a fully sealed container. It will stay fresh for 3-5 days.
FAQ
What are honey cakes?
Honey Cake is an Eastern European layered cake. The sponge cake layers are stacked with a cream filling. There are many variations of honey cake, but honey is always a key ingredient in the sponge cake.
Is baking with honey healthier than sugar?
Baking with honey is a healthier option than regular sugar. Although honey does still contain high fructose levels, it is lower on the glycemic index. Some studies have shown that replacing sugar with honey can lower blood sugar.
What is better for cakes, baking soda or baking powder?
Baking soda is traditionally the choice for baking cakes and breads. While baking soda is traditionally used in cookie recipes, it can be used in cakes. In order to bake cakes with baking soda it needs to be paired with an acidic compound — like lemon juice in this recipe.
More Cakes to Try
Recipe
This spongy Honey Cake is filled with layers of cream and jam, each bite is heaven. It is airy, tart, and rich at the same time. The flavor of this honey cake is truly out of this world!
Ingredients
Cake Cream
16

oz

jam

any tart jam

16

oz

cream cheese

softened

2

cup

powdered sugar

2

cup

whipping cream

very cold
Instructions
Jam Layered Honey Cake Cream
Assembling Jam Layered Honey Cake
Nutrition Facts
Jam Layered Honey Cake
Amount Per Serving
Calories 871
Calories from Fat 324
% Daily Value*
Fat 36g55%
Cholesterol 213mg71%
Sodium 437mg18%
Potassium 223mg6%
Carbohydrates 130g43%
Protein 10g20%
Vitamin A 1452IU29%
Vitamin C 5mg6%
Calcium 107mg11%
Iron 2mg11%
* Percent Daily Values are based on a 2000 calorie diet.