This Napoleon cake recipe is for lovers of texture. Smooth cream, crispy puff pastry, and chewy coconut make this 4 ingredient cake a dream!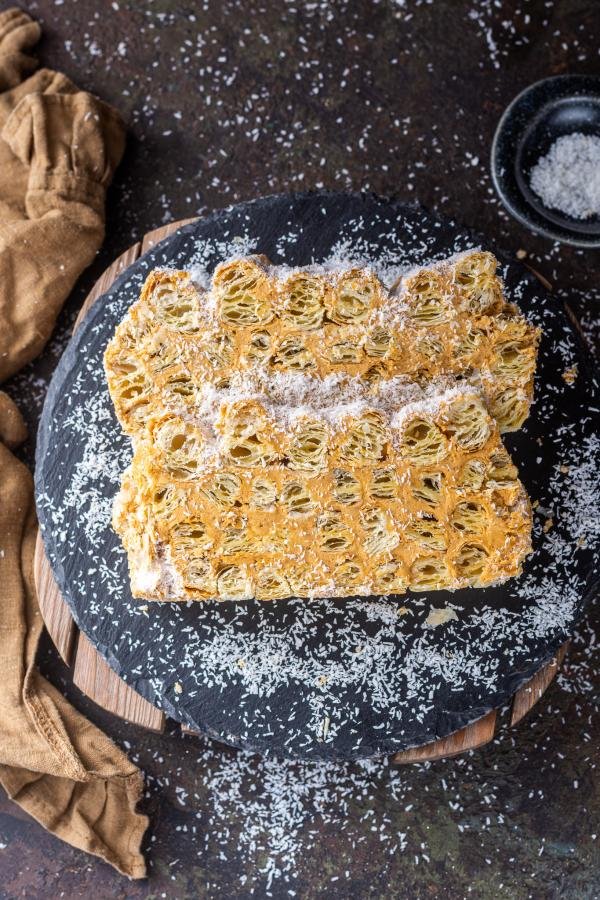 This Napoleon cake recipe is perfect year-round. Topped with snow-white coconut flakes and packed full of rich, dulce de leche cream, it's an absolute show stopper. I am obsessed with the texture and can't get enough of how the crispy puff pastry strips complement the smooth pastry cream. While the cake has origins in France, I was super close to calling it a Russian Napoleon cake due to how popular it is in Slavic culture.
A lot of readers have been loving this recipe for its minimal technique. Despite how beautiful it looks, it's quite simple to pull together – even for the most inexperienced baker. You can use either store-bought puff pastry to make it (cuts down on prep time significantly!), or whip up a batch homemade if you're feeling extra ambitious.
What is Napoleon Cake?
Napoleon cake is a traditional French pastry that dates back centuries. While the origin is hotly debated between France and Italy, most acknowledge the cake's French roots due to it being named after the infamous French emperor Napoleon. Somehow, the cake made its way to Russia, where it's extremely popular and found in most bakeries.
Texture: The texture of the cake is similar to a French mille-feuille. The crunch puff pastry cake layers are alternated with smooth pastry cream, yielding a perfect bite each and every time.
Flavor: The flavor of the cake is centered around the rich, dulce de leche infused pastry cream and earthy puff pastry strips. This is complemented by a topping of coconut flakes and drizzled chocolate.
Time: From start to finish, this cake takes a little over an hour to make. However, you will need to let the cake sit overnight before putting on the final touches when assembling the cake the next day.
How to Make Napoleon Cake
Making Napoleon cake only requires 4 simple ingredients and a bit of simple technique. Below, find a quick overview of the recipe before you get to baking.
Tips & Tricks
Here you'll find a handful of tips and tricks to help you nail this recipe for Napoleon cake.
Use premade puff pastry. While you can always make puff pastry homemade, using premade puff pastry will significantly cut down on your prep time. You can find it in the dessert aisle of the frozen section at most grocery stores these days (Pepperidge Farm and Trader Joe's both have great options). All you need to do is pull a puff pastry sheet out of the box, let it thaw, and cut it into strips.
Let the cake set in the refrigerator overnight. After assembling the cake, let it sit overnight in the fridge. This will help the cake develop more flavor, while also making it more sturdy.
Try making dulce de leche from scratch. If you have an Instant Pot, making dulce de leche homemade is so easy. But if you're not in the mood, you can always pick some up from the canned aisle in the grocery store. Typically, you'll find it in the Mexican section.
Hot Tip: Dip the knife in hot water before you attempt to slice the cake. This will make for a super clean slice and prevent you from damaging the structure of the cake.
Storing Tips
Whether you're storing a couple of leftover slices of cake or freezing it whole, find all the storage tips you need here.
Refrigerator: The best way to store Napoleon cake in the fridge is in an airtight cake container for up to a week. This prevents the cake from absorbing smells lingering in the fridge, while also preventing it from being damaged.
Freezer (Slices): If you only have a little bit of cake leftover that you'd like to store, freeze it in slices. To do so, wrap the cake tightly in plastic wrap and store individual slices. To thaw, place a slice in the fridge for a couple of hours.
Freezer (Whole): Freezing a whole Napoleon cake is a great way to ensure you have a dessert on hand for last-minute guests. To do so, place the entire cake on a baking sheet lined with parchment paper and place it in the freezer uncovered. Once completely frozen, wrap the cake in plastic wrap and store it for up to a month. To thaw, place the cake in the fridge overnight.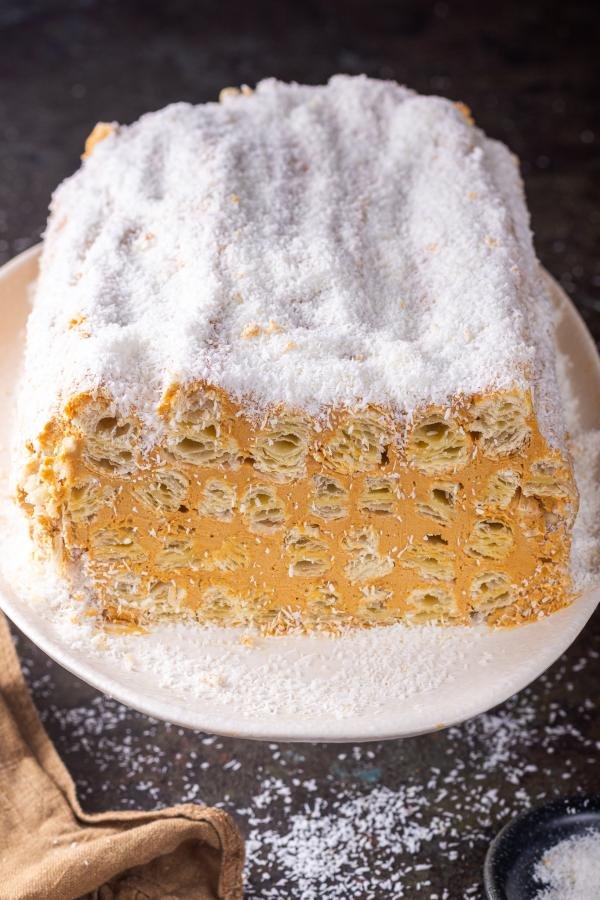 FAQ
Who invented Napoleon Cake?
There is much debate surrounding who created the Napoleon cake. One theory is that it was created by a Danish chef for a state visit by the French emperor, another theory is that it was created by an Italian chef who named it after his hometown of Naples.
Is Napoleon cake French or Italian?
Napoleon cake is widely known as a traditional French dessert. While there is some debate surrounding its true origin, the cake has been around for so long is difficult to trace.
Is mille-feuille same as Napoleon?
Mille-feuille and Napoleon cake have many similarities but they are slightly different cakes. A traditional mille-feuille will feature three layers of pastry alternated with cream, while a Napoleon features baked pastry strips held together by cream.
How long does Napoleon cake last in the fridge?
Napoleon cake will keep for about a week when stored in an airtight container in the fridge.
Can I freeze Napoleon cake?
Napoleon cake is great for freezing. You can store it whole or by the slice for up to a month in the freezer.
More European Cakes
Recipe
This Napoleon cake recipe is for lovers of texture. Smooth cream, crispy puff pastry, and chewy coconut make this 4 ingredient cake a dream!
Ingredients
2

sheets

puff pastry dough

2 1/2

cups

unsalted butter

softened at room temperature

28

oz

dulce de leche

1/2

cup

coconut flakes
Nutrition Facts
Napoleon Log Cake Recipe
Amount Per Serving
Calories 254
Calories from Fat 243
% Daily Value*
Fat 27g42%
Cholesterol 62mg21%
Sodium 10mg0%
Potassium 37mg1%
Carbohydrates 4g1%
Protein 1g2%
Vitamin A 710IU14%
Calcium 20mg2%
Iron 0.1mg1%
* Percent Daily Values are based on a 2000 calorie diet.