These mocha cookies are brownie-like bombshells that have the perfect hint of coffee. You'll love the all-around crust they develop & a lightly chewy center!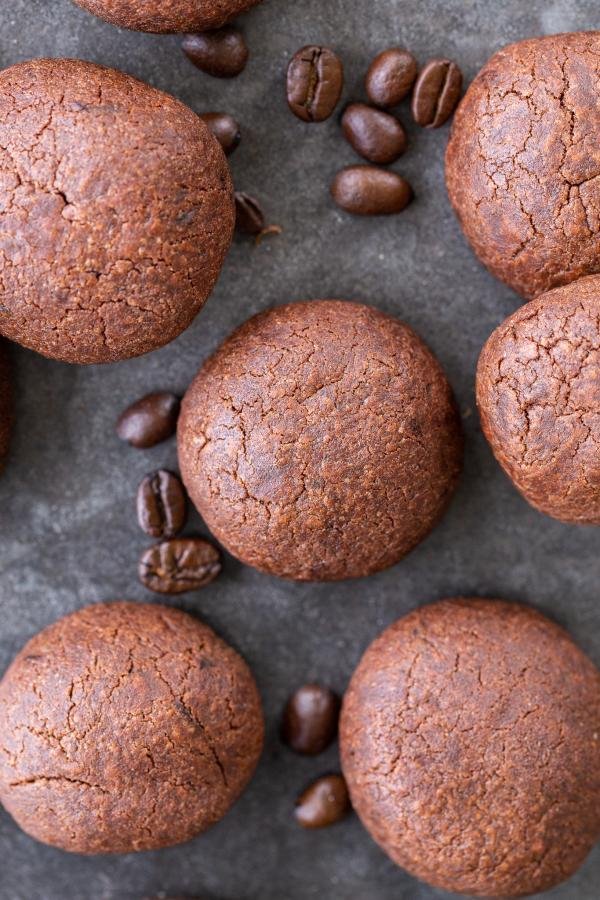 Are you torn between baking gooey brownies or chocolate cookies tonight? These mocha cookies are a happy in-between and the perfect balance of chocolate flavor and mocha flavor. The best part is that you don't even have to bust out your electric mixer to make them and can whip up the dough with just a spatula or spoon!
Note: This recipe makes 80 cookies! If you don't plan on sharing or freezing some, feel free to cut the recipe in half.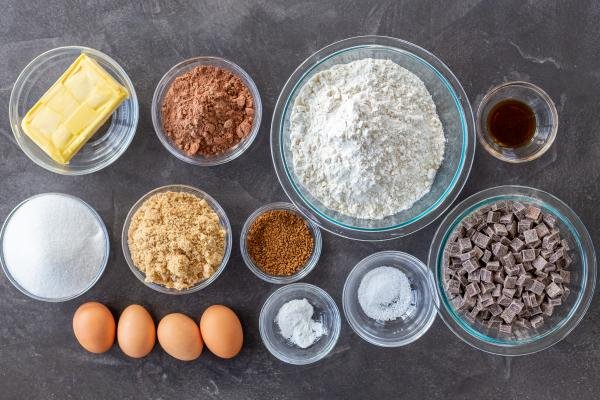 Making these Decadent Mocha Cookies
These mocha cookies only require 30 minutes of prep time and a quick set in the fridge before baking. Before you dive in, check out a summary of the simple instructions…
Mix the Wet Ingredients: In a small pot, melt the unsalted butter with the chocolate chips and stir until smooth. Add in the coffee and let it dissolve. Place the chocolate mixture into a large bowl and stir in the white sugar, brown sugar, vanilla extract, and whisked eggs until well-combined.
Make the Dry Ingredients: In a separate bowl, combine the all-purpose flour, baking powder, salt, and cocoa powder.
Combine the Dry & Wet Ingredients: Mix the flour mixture into the wet ingredients until smooth. Cover the bowl with plastic wrap and refrigerate the dough for 30 minutes.
Shape the Cookies: Form equal-sized balls of the cookie dough and place them on a baking sheet lined with parchment paper.
Bake the Cookies: Bake the cookies at 350°F for 12-15 minutes and allow them to cool on a wire rack. Cookies may be very soft when you remove them form the oven, but they will harden as they sit at room temperature.
A Couple Handy Tips for Along the Way
A couple of handy tips will help you make bakery-worthy chocolate mocha cookies.
Sift the dry ingredients.To get the lumps out of the dry ingredients, use a fine mesh sieve to strain them together. This will help create a smooth and consistent bite to your cookies!
Use a small cookie scoop to make even-sized dough balls. To ensure that your cookies bake evenly, make sure that you divide the balls into even-sized pieces. While you can always eyeball it, a cookie scoop helps to take the guesswork out!
Give the cookies some time to set at room temperature. You know that crispy outer crust we talked about earlier? It's created when you give the cookies a bit of time to set at room temperature after they come out of the oven. 15-20 minutes will do the trick!
Kitchen Tool Spotlight: Silicone baking mats not only reduce waste, but also prevent your cookies from sticking. That's a win-win!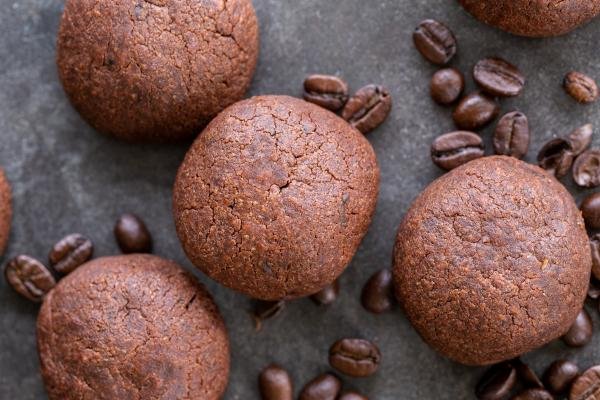 Different Add-Ins for Mocha Cookies
There's a handful of different add-ins you can play around with to make these cookies. Find some ideas to kickstart your creative process here:
Chocolate Chips & Chocolate Chunks: For added texture, mix in your favorite chocolate chips or chocolate chunks to the batter before you toss it in the fridge. You can even use white chocolate for a pop of flavor!
Sprinkles: Stir in your favorite colored sprinkle into the dough. We love rainbow!
Candies: Add crushed candy canes to the cookies during Christmas to turn them into peppermint mocha cookies!
Don't have instant coffee granules? Swap in three tablespoons of finely ground espresso powder instead. If you like a stronger coffee flavor, add a couple of more tablespoons to taste.
Storing & Freezing Mocha Cookies 101
Storing: To keep the cookies on hand for up to 2 weeks, store them in a plastic storage bag on the counter.
Freezing: You can freeze them in a single layer on a baking sheet lined with parchment paper. Once completely frozen, transfer them to a freezer-safe bag. To thaw, pop them in the fridge overnight or leave them on the counter for a couple of hours.
FAQ
What makes chocolate mocha cookies both soft and crispy?
The combination of white sugar and brown sugar helps the cookies become both soft and crispy. You can thank the white sugar for the crust and the brown sugar for the moistness.
What does melted butter do to chocolate mocha cookies?
Melted butter helps turn cookies chewy. On the other hand, softened butter helps turn cookies into a cake-like texture.
Why do chocolate mocha cookies harden a bit at room temperature?
Mocha cookies harden a bit when at room temperature because the butter and fats harden and solidify. This gives them the signature crust on the outside!
Why should you chill the dough for mocha cookies before baking them?
You want to chill the dough to help the butter and fats harden before you bake the cookies. This prevents the cookies from spreading and helps them hold their shape.
More Cookie Recipes to Try
Recipe
These chocolate mocha cookies are little morsels of heaven. The perfect balance of rich chocolate & earthy coffee, you'll find it impossible to just eat one!
Nutrition Facts
Chocolate Mocha Cookies (aka Coffee Brownie)
Amount Per Serving
Calories 118
Calories from Fat 45
% Daily Value*
Fat 5g8%
Cholesterol 15mg5%
Sodium 53mg2%
Potassium 77mg2%
Carbohydrates 17g6%
Protein 2g4%
Vitamin A 86IU2%
Calcium 14mg1%
Iron 1mg6%
* Percent Daily Values are based on a 2000 calorie diet.