This coffee mousse cake dessert is the perfect balance of moist cake and creamy chocolate mousse. You'll love the extra kick of coffee and liqueur!
Looking for a chocolate and berry mousse? Try our raspberry chocolate mousse recipe!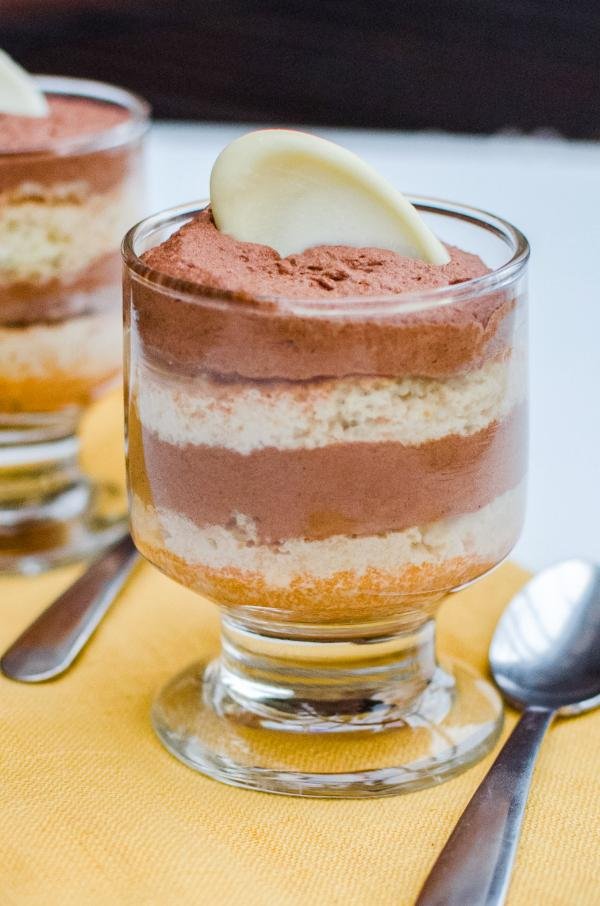 I dreamt up the idea for this chocolate coffee mousse cake dessert while at a party with a close friend. We were both noshing on some mousse when she mentioned how great it would be if there were a layer of spongecake included. I loved the idea and decided to take it back to my kitchen and start demoing. The end result? These adorable little parfaits with layers of rich coffee and liqueur-infused mousse and sweet cream-soaked sponge cake. You're going to just love them!
Note: You're going to need to prepare a sponge cake for this recipe. To cut down on day-of prep, make it a day in advance.
How to Prepare Coffee Mousse Cake Dessert
Preparing this coffee mousse cake dessert requires under 10 ingredients and some light assembly. Below, find a rundown of the recipe instructions before you dive in.
Make a Sponge Cake: Bake a sponge cake on a sheet cake pan in the oven. After it cools, use the rim of your dessert cup to cut out even-sized circular rounds.
Soak the Sponge Cake: Place a sponge cake round in the bottom of each dessert cup. In a large bowl, combine the heavy whipping cream with the Bailey's and pour a spoonful of the sweet cream on top of each round of cake.
Make the Mousse: In a large bowl, combine the chocolate chips, coffee, butter, and second portion of Bailey's. Microwave and whisk until smooth. In a small bowl, combine a bit of heavy cream with the gelatin powder and allow it to sit for 5 minutes. Next, microwave the gelatin mixture for a couple of seconds. Add the gelatin mixture to the chocolate mixture and stir to combine. Finally, beat the remaining heavy whipping cream with an electric mixer on medium speed until you get stiff peaks. Stir half of the whipped cream into the chocolate and fold the other half in with a spatula.
Assemble the Coffee Mousse Cake: Place the mousse in a piping bag and pipe equal amounts on top of each sponge cake round. Optionally, top it with another sponge cake layer, followed by another mousse layer. Garnish the parfaits with chocolate shavings and cocoa powder. Enjoy!
Hot Tip: Instead of brewing an entire batch of coffee for this recipe, use instant coffee or instant espresso powder to make the 3 ounces you need for this recipe.
5 Top Tips for Making Coffee Mousse Cake
Here you'll find our top 5 tips to help you nail this coffee mousse cake dessert on the first try.
Allow the sponge cake to soak. Allowing the sponge cake rounds to soak in the liqueur-infused cream while you prep the mousse is key. This will make the layers ultra-moist, while also adding a punch of flavor.
Don't overmix the whipped cream. If you overmix the whipped cream, it will turn into butter. Once you get stiff peaks, immediately stop mixing to avoid this.
Don't overmix the mousse. Avoid the urge to over incorporate the whipped cream into the melted chocolate mixture. If you stir it too aggressively, you'll lose the fluffiness of the whipped cream and your mousse will fall flat.
Use a piping bag for the best presentation. Instead of spooning the mousse into each dessert cup, pipe it with a pastry bag. This will help aerate the mousse and keep it nice and fluffy.
Swap in your favorite liqueur. if you're not a fan of Bailey's or just don't have any on hand, swap in your favorite liqueur instead. You can't go wrong!
Keep the coffee mousse cake refrigerated before serving. To prevent the mousse from deflating at room temperature, keep the coffee mousse cake dessert cups in the fridge until you're ready to serve them.
Hot Tip: Swap the semi-sweet chocolate chips out for dark chocolate chips or even white chocolate chips depending on your preference.
Making Coffee Mousse Cake Ahead of Time
These coffee mouse cake desserts are perfect to make ahead of time for everything from large get-togethers to a birthday party. If you're hosting and want to cut down on day-of prep, feel free to make these coffee mouse cake desserts up to 2-3 days in advance. That said, you'll want to keep them covered in an airtight container to prevent them from soaking up any lingering smells in your refrigerator.
Hot Tip: Making this dessert for a large party? Opt for clear serving glasses to make all the tasty layers visible to your guests. If you need a good recommendation, check out this 3-ounce option on Amazon.
FAQ
Why is it called mousse?
The word "mousse" is a French word for "froth" or "foam". This references the dessert's super airy and fluffy texture.
Does this coffee mousse cake contain caffeine?
Technically, this coffee mouse cake contains just a bit of caffeine from the added coffee and Bailey's liqueur. That said, it's such a minuscule amount that it's unlikely you'll get a buzz from eating a serving.
Can you make this recipe as a standard cake instead?
If you'd prefer to do a large cake round versus individual parfaits, go for it. Make the sponge cake in a sheet pan and slice it into two evenly-sized square layers. Then, alternate the cake layers with the mousse and allow the cake to set in the refrigerator for a couple of hours before you plan to serve it.
Can you use Kahlua liqueur instead of Bailey's?
Kahlua liqueur is a perfectly acceptable alternative to Bailey's. While it's not creamy like Bailey's, it will add the same kick of coffee flavor to the mousse.
Can you omit the liqueur all together?
Yes, it's acceptable to omit the liqueur all together. To keep the coffee flavor strong, swap in equal parts of more coffee in its place.
More Scrumptious Coffee Desserts
Recipe
This coffee mouse cake dessert is a feast for the eyes. The layers of sponge cake and chocolate mousse are almost too good-looking to eat!
Ingredients
Sponge Cake Layers
3

tbsp

Bailey's Irish Cream Liqueur

1

cup

heavy whipping cream
Chocolate Mousse
3

oz

strong coffee

2

tbsp

Bailey's Irish Cream Liqueur

4

tbsp

Unsalted Butter

1

tsp

gelatine

1 3/4

cup

heavy whipping cream
Instructions
Sponge Cake Layers
Prepare a sponge cake in a 13in. x 18in. sheet cake pan. Using the rim of the dessert cups or a cookie cutter, cut out small circles from the sponge cake.
Make the Chocolate Mousse
Assemble the Dessert Cups
Carefully stuff the chocolate mousse into a piping bag and pipe equal amounts of the mousse on top of each sponge cake layer. Optionally, top the mousse with another sponge cake round, followed by another layer of mousse if you're using taller dessert cups.
Nutrition Facts
Chocolate Coffee Mousse Dessert
Amount Per Serving
Calories 219
Calories from Fat 153
% Daily Value*
Fat 17g26%
Cholesterol 47mg16%
Sodium 84mg4%
Potassium 116mg3%
Carbohydrates 15g5%
Protein 2g4%
Vitamin A 466IU9%
Vitamin C 1mg1%
Calcium 35mg4%
Iron 1mg6%
* Percent Daily Values are based on a 2000 calorie diet.