These vanilla cupcakes will simply melt in your mouth. Despite being made from scratch, they're just as simple to make as a store-bought boxed mix.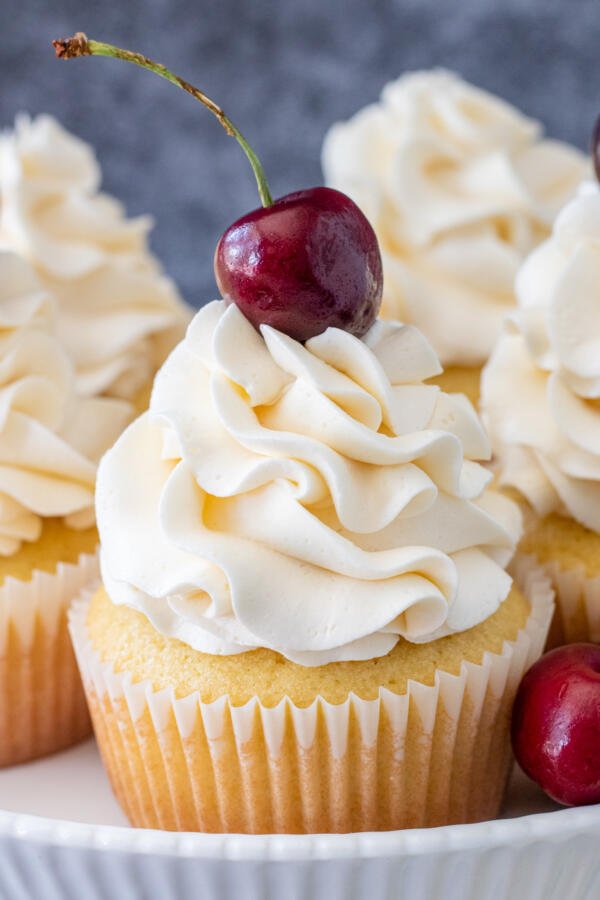 This vanilla cupcakes recipe has been developed after numerous trials and errors. I set out on a mission to crack the code on making moist cupcakes and decided I wouldn't stop until I netted out on the best recipe possible. Why? More often than not, cupcakes are dry and underwhelming. I can't even count how many times I've licked the frosting off off the top and threw the cake away.
The goal was to bring out that essential vanilla flavor while ensuring each bite was just as moist as the last. Additionally, I wanted to create a vanilla buttercream frosting that rivaled the best of bakeries. The secret? Loads of high-quality butter.
Simplifying the baking process was another top priority. Made in just 35 minutes, you'll be able to whip up these cupcakes in the time it would take you to hop into your car, drive to the store, and pick up a boxed mix. Now that's sweet…
How to Make Perfectly Moist Vanilla Cupcakes
Making perfectly moist cupcakes is much simpler than you think. Below, find a quick hitter overview of the recipe before you dive in.
Making Cupcake
Combine the Dry Ingredients: In a medium-size bowl, combine your dry ingredients (flour, baking powder, and salt).
Beat the Butter, Sugar, and Eggs Together: In a stand mixer, beat together butter and sugar. Once evenly combined, beat in the eggs one at a time until smooth.
Add the Flour, Milk, and Vanilla Extract: Alternating in thirds, add a portion of all-purpose flour, followed by a portion of milk. Repeat the process until you run out of both. Add in vanilla extract and beat until distributed.
Fill the Cupcake Tin: Pop a paper liner into each cupcake mold. Fill each mold 2/3 full.
Bake and Cool the Cupcakes: Bake the cupcakes at 360°F for 20 minutes, or until a toothpick inserted in the center of each comes out clean. Allow the cupcakes to cool at room temperature before frosting.
Creating Vanilla Buttercream Frosting
Beat Butter with Powdered Sugar: In the stand mixer, beat butter with one cup of powdered sugar. Continue to add powdered sugar in small portions until you run out. Add in the vanilla extract and milk and beat until combined.
Place Buttercream in Piping Bag: Place the buttercream in a piping bag and decorate your cupcakes!
Hot Tip: Take your cupcakes up a notch by substituting vanilla bean for vanilla extract in the frosting. Cut the vanilla beans in half using a very sharp knife. Then, use the sharp tip of the knife to scrape the seeds into the frosting. One whole bean will be more than enough!
Tips for the Moist Vanilla Cupcakes
Below, find a couple of tips and tricks to help you get the best homemade cupcakes possible.
Use room temperature butter for the batter and frosting. Using room temperature butter is crucial to making fluffy cupcakes. When baking, room temperature butter (and other dairy products) form an emulsion which traps air, resulting in fluffier baked goods.
Fill cupcake liners only 2/3 of the way full. Resist overfilling the muffin liners to prevent spillage and misshapen cupcakes. Leaving a bit of space at the top will allow the cupcakes to form that signature round top.
Use high-quality vanilla extract. Don't skimp on the quality of your vanilla extract. Pure vanilla extract boasts the best flavor and doesn't have a weird chemical aftertaste. It's a bit more expensive but totally worth it!
Sift the dry ingredients. Use a flour sifter for your dry ingredients to get rid of lumps. This is an expert baking tip that goes a long way when it comes to nailing the texture of the cupcake!
Mini-Cupcakes Hack: To make mini cupcakes, only bake them for 10 minutes.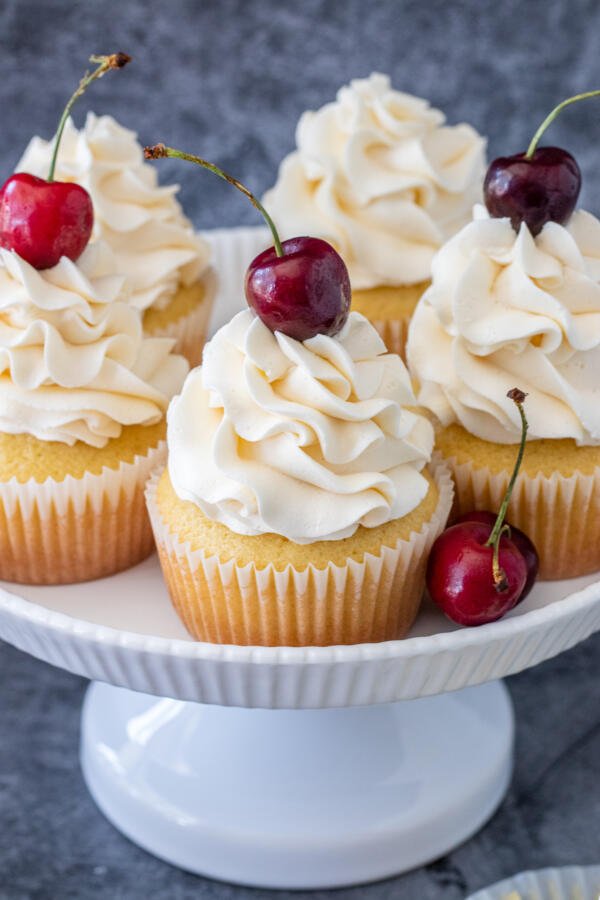 Do you know how to properly measure flour? More often than not, people measure their flour incorrectly and end up putting too much in (dry cupcake alert!). To properly measure flour first, use a fork to fluff up the flour while it's still in the bag. Then, use a spoon to transfer flour into the measuring cup. Whatever you do, do not pack the flour in tightly to the cup! Finally, use the flat end of a knife to lightly scrape off the top.
Storing Perfectly Moist Vanilla Cupcakes
Below, find some advice on how to store your cupcakes for maximum freshness:
Store cupcakes only after they cool completely. If you store hot or warm cupcakes, you will trap steam inside the container causing them to melt, or even worse, mold.
Use an airtight container. If you leave them out in the open air, they will go stale much quicker. Always store your frosted cupcakes in an airtight container in the refrigerator.
Keep unfrosted cupcakes at room temperature. Refrigerating them will affect the taste.
Wrap unfrosted cupcakes tightly in plastic wrap. If you know you will have extra cupcakes, don't frost them until you are ready to serve them. Keeping them wrapped will help them stay moist.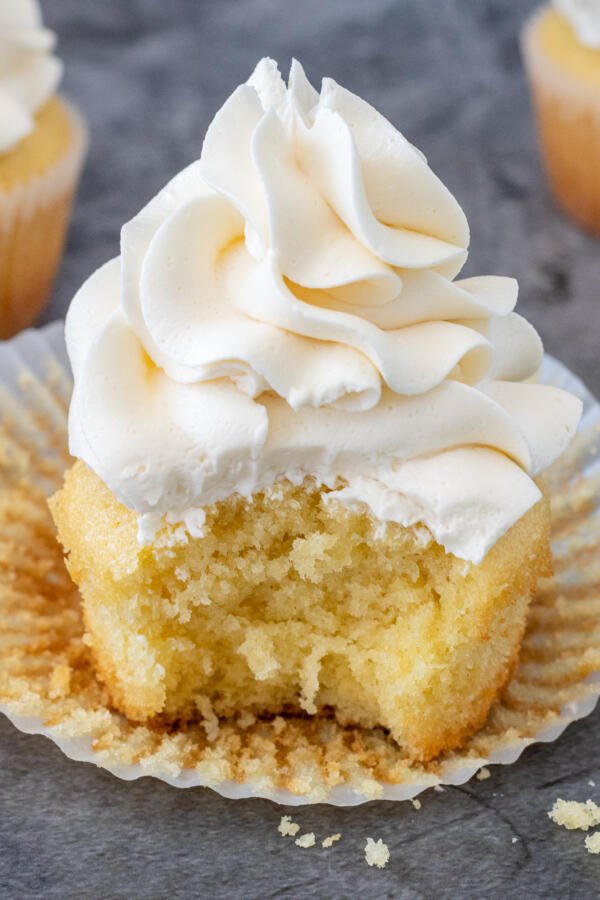 FAQ
What makes a cupcake moist?
What makes cupcakes moist is ensuring you don't add too much flour. See our instructions above for how to properly measure flour.
How do you make dry cupcakes moist?
You can make dry cupcakes moist by spreading some simple syrup on top of them. This will seep into the cake and help doctor the dryness.
Should cupcakes be flat or domed?
Properly baked cupcakes should come out slightly domed. If your cupcakes are flat, that means you overmixed the batter.
What kind of flour should I use for cupcakes?
Basic all-purpose flour is what you should use when baking cupcakes.
Can I cut this recipe down from 24 cupcakes to 12?
Absolutely! Just cut each ingredient in half.
Can I frost the cupcakes the day before serving them?
You can frost the cupcakes ahead of time. Just make sure to store them in an airtight container in the refrigerator.
Other Cupcake Recipes to Try
Recipe
These vanilla cupcakes will simply melt in your mouth. Despite being made from scratch, they're as simple to make as a store-bought boxed mix.
Instructions
Cupcake Frosting
Beat butter with one cup of powdered sugar.

Continuously beating, add the remaining powdered sugar to the butter mixture until you run out. Add vanilla extract and milk. Beat to combine.
Nutrition Facts
Perfectly Moist Vanilla Cupcake Recipe
Amount Per Serving
Calories 409
Calories from Fat 216
% Daily Value*
Fat 24g37%
Cholesterol 103mg34%
Sodium 71mg3%
Potassium 110mg3%
Carbohydrates 45g15%
Protein 3g6%
Vitamin A 775IU16%
Calcium 50mg5%
Iron 1mg6%
* Percent Daily Values are based on a 2000 calorie diet.