These moist, vanilla-flavored cupcakes will melt in your mouth with a light sweetness. This recipe is made from scratch, but is just as simple to make as a boxed mix.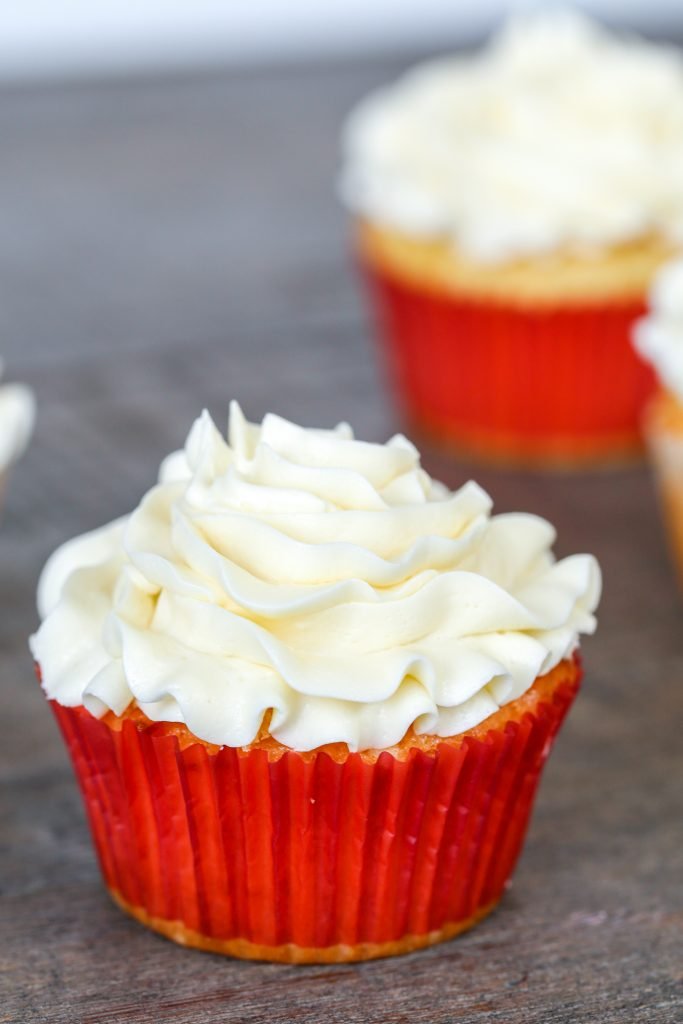 I worked on perfecting this recipe. I wanted to make cupcakes that have a hint of vanilla flavor. And I finally did it! These came out perfectly moist and with an ideal balance of sweetness and light flavor. In fact, these are so delicious, you might want to double the recipe! Everyone will want seconds.
Easy Cupcake Recipe
Cupcakes should be simple, so I made this an easy cupcake recipe. If you're a beginner or baking with your kids, this is a perfect recipe for you!
If you can follow instructions on a boxed mix, then you can make these. The only difference is that there are just a few more ingredients to mix up. Warning, this recipe will make you fall in love with baking!
How to Make Moist Cupcakes from Scratch
We've put together a list of hacks and tips to make your cupcakes turn out amazing.
Tips for the Best Homemade Cupcakes
Here are some tips I learned after making the cupcakes myself.
I discovered a trick to prevent my cupcakes from being too dry and crumbly. It's such a simple hack too. All you need to remember is not to overmix the batter. The air bubbles in the dough is what keeps them from being too dry.
Use room temperature butter
To make mini cupcakes, only bake them for 10 minutes
Fill cupcake liners only half way
Use high-quality vanilla extract for the best flavor
How to Keep Cupcakes Moist and Fresh – Storage Tips
Here are some great ways to keep your cupcakes fresh.
I doubt you'll have many leftover cupcakes after you try the recipe. But, if you do have some leftover, I've prepared a few ways to help you keep them fresh for the next time.
Store cupcakes after they cool completely. If you store hot or warm cupcakes, you will trap steam and moisture in the container.
Use an airtight container. If you leave them out in the open air, they will go stale quicker.
Keep unfrosted cupcakes at room temperature. Refrigerating them will affect the taste.
Wrap unfrosted cupcakes tightly in plastic wrap. If you know you will have extra cupcakes, don't frost them until you are ready to serve them. Keeping them wrapped will help them stay moist.
Other Cupcake Recipes to Try
Recipe
Nutrition Facts
Perfectly Moist Cupcake Recipe
Amount Per Serving
Calories 409
Calories from Fat 216
% Daily Value*
Fat 24g37%
Cholesterol 103mg34%
Sodium 71mg3%
Potassium 110mg3%
Carbohydrates 45g15%
Protein 3g6%
Vitamin A 775IU16%
Calcium 50mg5%
Iron 1mg6%
* Percent Daily Values are based on a 2000 calorie diet.