This blueberry scone recipe comes straight out of our family cookbook. Each scone is packed with fresh blueberries and is melt-in-your-mouth moist!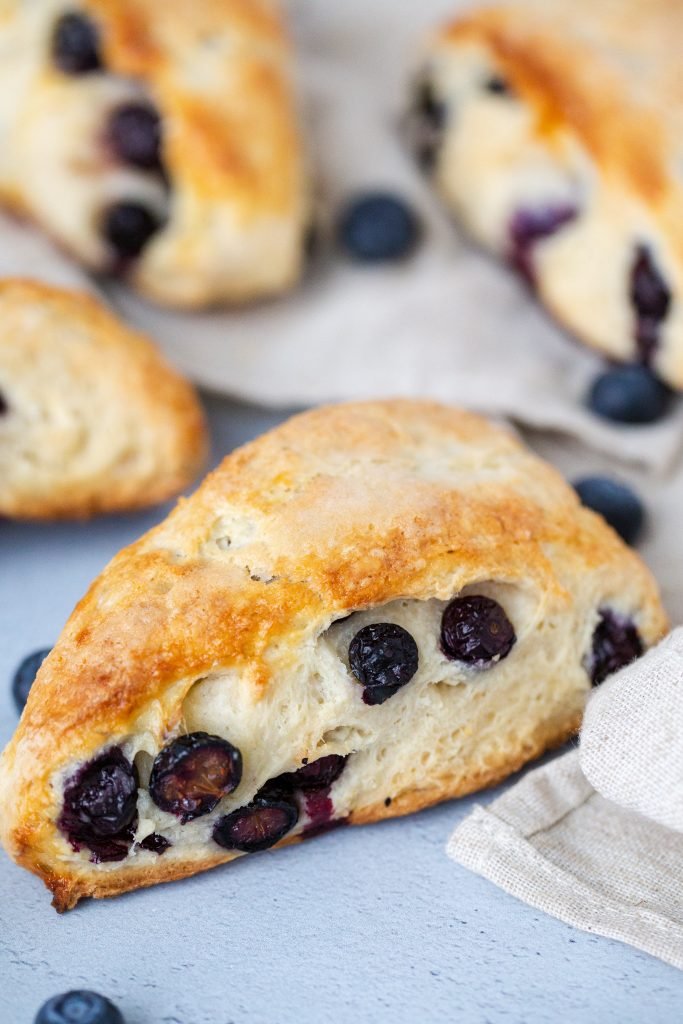 These blueberry scones transport me right back to my childhood. Throughout the blueberry season, my grandma would whip them up and pour me a huge glass of cold milk to enjoy one with. Today, I love making a huge batch of blueberry or raspberry scones and storing them in an airtight container for quick breakfasts on the go and or an afternoon snack. They're the perfect balance of buttery and tart flavors and I know you're going to just LOVE them!
The Secret to Making Good Scones
The secret to making good scones is all in the batter. If you want the flakiest, most melt-in-your-mouth texture it's crucial that you don't overmix the batter. Don't be alarmed when the batter appears lumpy and rustic – this is exactly what you want! By keeping pockets of butter in the batter, you'll create that signature flakey texture attributed to all great scones.
How to Make this Blueberry Scone Recipe
Making this blueberry scone recipe only requires a handful of wholesome ingredients and super simple prep. Below, find an overview of the process before you get to baking.
Combine the Dry Ingredients: In a large bowl, combine the all-purpose flour, sugar, and baking powder. Optionally, add in a cup of sugar if you want your scones to be extra sweet.
Add in the Wet Ingredients: Next, add the softened butter pats and vanilla extract into the flour mixture. Using your hands or a fork, stir the ingredients until you get a crumbly batter. Then, fold the sour cream in just until it's combined.
Shape the Scones: Using your hands, form the dough into a rectangle. Using a rolling pin, flatten the dough. Next, fold the sides of the dough over to form a log. Cut the log into similar-sized triangles.
Bake the Scones: Assemble the scones on a baking sheet lined with parchment paper. Give the tops a brushing of the whisked egg for sheen, followed by a very generous sprinkle of sugar. Bake them in the oven at 350°F for about 30 minutes.
Lemon Glaze Hack: Love a good glaze? Make a simple lemony glaze by mixing 1 cup powdered sugar with 2 tablespoons of milk, a couple of shavings of lemon zest, and a tablespoon of lemon juice. Drizzle the glaze on top of the scones after they've had 10 minutes to cool down out of the oven. Enjoy!
Helpful Kitchen Tools
Although not required, here are a couple of kitchen tools that will make this blueberry scone recipe that much more seamless. We've also included some everyday items you can use in their place!
3 Tips for Super Moist Scones
Here you'll find 3 pro tips to help you make the moistest scones on planet earth.
Swap the sour cream out for greek yogurt. If you want scones that are just as moist but a tad healthier, swap the sour cream for full-fat Greek yogurt. This will also add a punch of tang!
Don't overmix the batter. A clumpy batter will result in super flakey and moist scones. If you overmix the batter, the scones will turn out dry and dense.
Don't overbake the scones. Scones are prone to drying out if they're overbaked. Once they turn golden brown, promptly take them out of the oven.
How to Store Scones
Whether you have a batch of scones you want to store at room temperature or a batch to freeze, find all the best storage tips below.
Room Temperature: To keep scones on hand for up to a week, store them in an airtight container on the counter. This will keep them from drying out and turning stale.
Freezer (Raw or Baked): To freeze raw or baked scones, assemble them on a baking sheet lined with parchment paper and pop the entire sheet in the freezer. Once completely frozen, transfer the scones to a freezer-safe bag for up to 3 months. To bake raw, frozen scones, simply follow the recipe instructions as-is.
Reheating Tip: Reheat scones by popping them in the microwave for 30 seconds. ​​
Video Tutorial for Making Blueberry Scones
FAQ
How do I get my blueberry scones to rise and be fluffy?
The key to getting your scones to rise and be fluffy is to add a couple of tablespoons of baking powder. Additionally, the sour cream will also create a fluffy texture.
Why are my scones hard?
Your scones turned out hard if you over-mixed the batter or let them bake in the oven too long.
How can I make the scones sweeter?
If you'd like your scones to be a bit sweeter, add a cup of white granulated sugar to the batter. You could also increase the amount of sugar you add to the tops.
Can I use dried blueberries instead of fresh ones?
Yes, dried blueberries will work great in this recipe. They tend to be smaller and more compact than fresh blueberries, so add a little less than a cup.
How many scones does this recipe make?
This recipe makes about 20 scones. This will vary depending on how large you slice them.
Other Tasty Pastries to Try
Recipe
Our family has been enjoying this blueberry scone recipe for generations. Always flakey, always moist and perfectly tart!
Ingredients
For the Glaze
1

egg

whisked

1

cup

sugar

(or more)
Nutrition Facts
The Best Blueberry Scones
Amount Per Serving (20 g)
Calories 282
Calories from Fat 126
% Daily Value*
Fat 14g22%
Cholesterol 44mg15%
Sodium 152mg6%
Potassium 216mg6%
Carbohydrates 35g12%
Protein 4g8%
Vitamin A 448IU9%
Vitamin C 2mg2%
Calcium 98mg10%
Iron 2mg11%
* Percent Daily Values are based on a 2000 calorie diet.