If you want perfect cupcakes, look no further! These cupcakes are light, fluffy, and ultra-moist! The secret weapons? Oil and buttermilk. Follow along for a delicious surprise!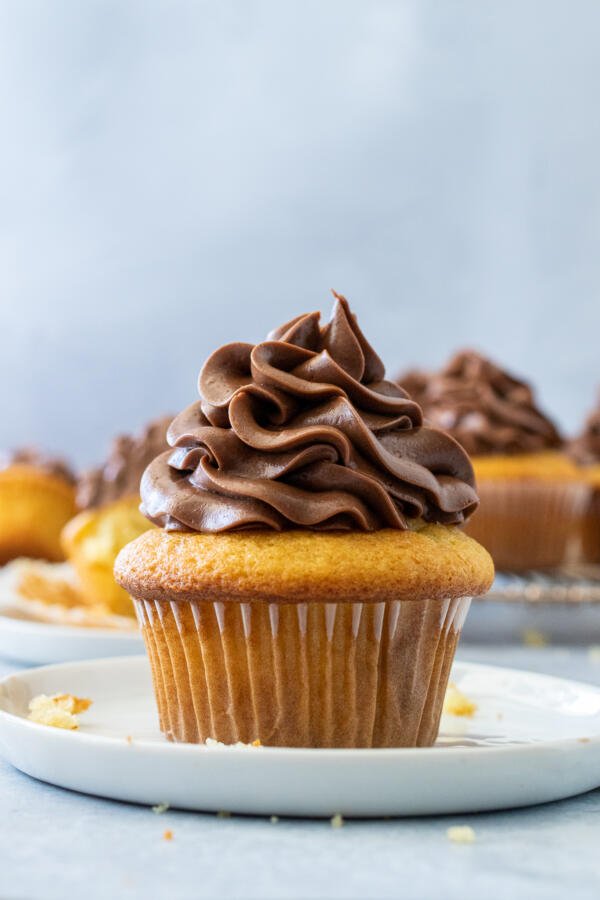 There's nothing worse than biting into a dry cupcake. Too often, you're able to lick the frosting off (which isn't that great either) and discard the cake entirely. What a waste of flour, sugar, and eggs! If you've been looking for the perfect vanilla cupcake recipe, you're in the right place.
This recipe will make even the staunchest cupcake denier a believer. By replacing boring buttercream frosting with chocolate cream cheese frosting and using oil and buttermilk to build the batter, you'll create a cupcake worth binging.
What's more? This recipe calls for simple ingredients you likely already have in your kitchen and comes together in under an hour. Now that's sweet…
How to Make Perfect Cupcake Batter
Making perfect cupcake batter is much easier than you think. With the help of a stand mixer, you'll whip up killer batter in just four, simple steps.
Mix the Wet Ingredients: Crack your eggs into the stand mixer bowl and whisk with sugar. Add in your canola oil and vanilla extract, continuing to whisk until you get a smooth, creamy texture.
Mix the Dry Ingredients: Grab another mixing bowl for your dry ingredients. Sift your flour, baking powder, and baking soda together. Stir to combine. Mix in a third of the dry ingredients to the wet ingredients, and set the rest aside.
Add Buttermilk and Remaining Flour. In thirds, add the rest of the buttermilk and dry flour mixture to the stand mixer bowl.
Bake Cupcakes. In a muffin tin lined with muffin cups, add equal batter to each mold. Pop in the oven at 350°F for about 13 minutes, or until the cupcake tops are a light golden brown and a toothpick comes out clean. Allow cupcakes to cool completely on a wire rack before frosting.
How to Make Chocolate Cream Cheese Frosting
Making chocolate cream cheese frosting only requires four simple ingredients – softened cream cheese, softened butter, vanilla extract, and powdered sugar. Get ready to lick the mixing bowl…
Soften and Mix Cream Cheese and Butter: Soften cream cheese and butter at room temperature and mix on medium speed with vanilla extract.
Add in Powdered Sugar: Mix in powdered sugar slowly, while continuing to run the stand mixer at medium speed.
Tips for Making Perfect Cupcakes
Below find some tips and tricks that with yield perfect cupcakes.
Don't overfill our muffin liners. To get perfectly leveled cupcakes, fill your muffin liners 3/4 of the way full. Always be mindful that cupcakes will rise during the baking process, so be careful not to overload the batter.
Bring all cold ingredients to room temperature. To get velvety smooth batter and frosting, ensure all your cold ingredients (eggs, buttermilk, butter, and cream cheese) are brought to room temperature before you start baking. Cold dairy ingredients are harder to emulsify, resulting in lumpy batter and flat cupcakes.
Sift dry ingredients for consistency. Use a sifter to remove any lumps from your flour, baking soda, and baking powder. Less lumps = better texture.
Allow cupcakes to fully cool before frosting. Resist the urge to immediately frost your cupcakes straight out of the oven. Hot cupcakes with only melt your cream cheese frosting and create a big mess.
Use an ice cream scoop to portion batter. Take the guesswork out of portioning your batter by using an ice cream scoop.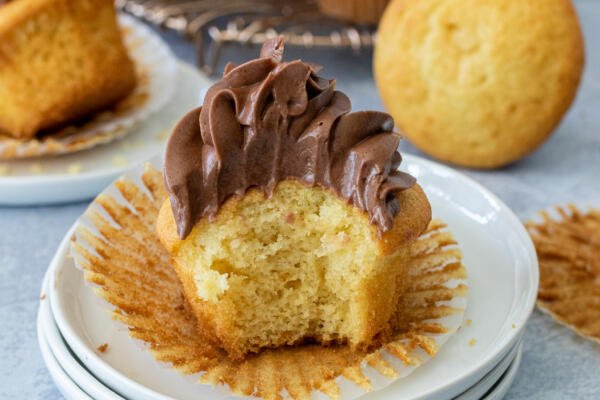 Making Cupcakes In Advance
Refrigerating – Have leftover cupcakes? Place them in an airtight container in the refrigerator for up to a week. Just make sure the container is large enough so that it doesn't smash your frosting.
Freezing – Non-frosted cupcakes are great for freezing. Place completely cooled cupcakes on a lined baking sheet and pop them directly in the freezer. Once frozen, transfer to a freezer-safe plastic bag. Thaw in the refrigerator overnight before frosting and serving.
Hot Tip: Making cupcakes for an event that's a couple of days away? Follow the refrigerating method above, except leave the cupcakes unfrosted. Store your cream cheese frosting separately. Frost cupcakes right before you plan to serve.
FAQ
How do I ensure my cupcakes come out moist?
To ensure moist cupcakes, always use oil for the batter instead of butter and replace buttermilk for regular. Oil can tolerate much higher heat than butter without burning, resulting in a light, fluffy, and moist cupcake. Buttermilk is superior to whole milk because its acidity breaks down the gluten and adds extra fluff. It also adds a nice tangy flavor to baked goods.
Why are my cupcakes rubbery?
Rubbery cupcakes are a result of over mixing. When you beat the batter too long, it aerates and creates excess gluten. Only mix the batter until it's smooth to prevent this from happening.
What oil is best for cupcakes?
Canola oil is best for cupcakes because of its neutral flavor.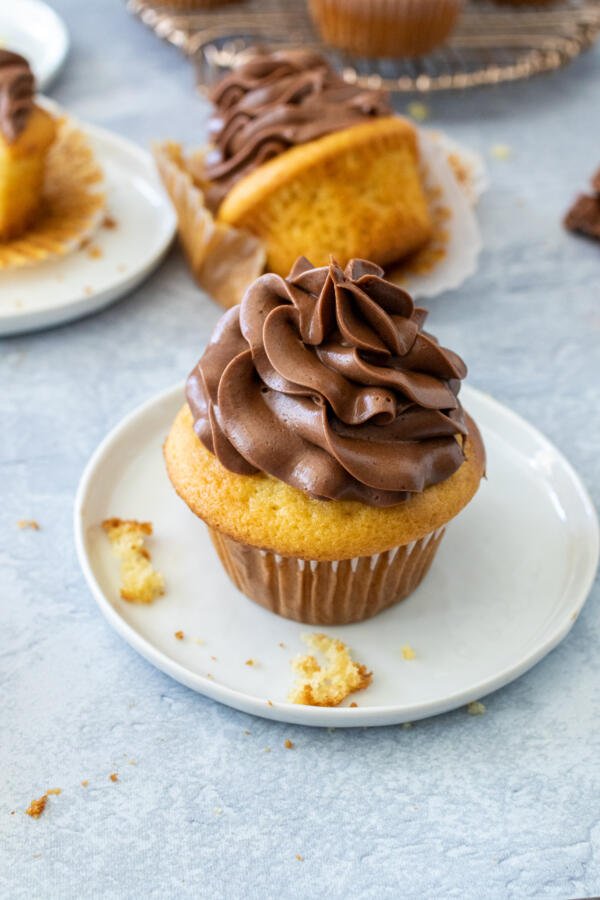 More Cakes and Cupcakes
Recipe
If you want perfect cupcakes, look no further! These cupcakes are light, fluffy, and ultra-moist! The secret weapons? Oil and buttermilk.
Instructions
Cupcake Frosting
Clean out any remaining batter from the stand mixer bowl. Add in softened cream cheese, softened butter, and vanilla extract. Mix on medium speed until smooth.
Nutrition Facts
The Perfect Cupcakes (SO EASY)
Amount Per Serving
Calories 358
Calories from Fat 189
% Daily Value*
Fat 21g32%
Cholesterol 59mg20%
Sodium 162mg7%
Potassium 144mg4%
Carbohydrates 40g13%
Protein 4g8%
Vitamin A 428IU9%
Calcium 61mg6%
Iron 1mg6%
* Percent Daily Values are based on a 2000 calorie diet.