​From making the dough to storing tips, this ultimate guide on how to make cake pops will make you a pro in no time. Foolproof and highly customizable!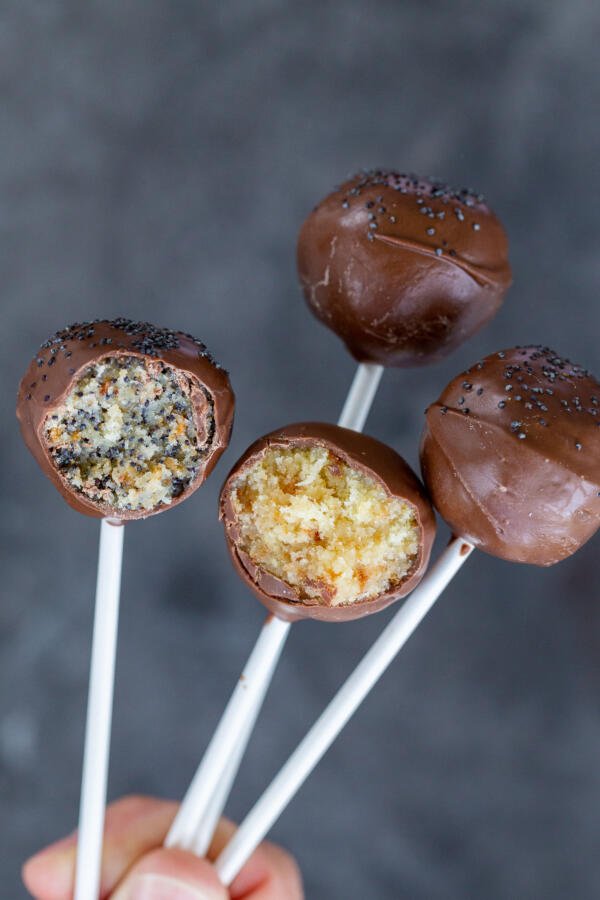 Whether you're in charge of dessert for a party or a self-proclaimed cake pop addict, this guide has all you need. From the right tools to help you nail it to all the proper tips for getting that smooth sheen, we've got you covered. All you need to do? Decide on how you'd like to decorate them!
Note: You'll need to make a sponge cake in the oven for this recipe (chocolate sponge cake or plain sponge cake will work). Our base recipe is super simple and only require all-purpose flour, eggs & sugar. Alternatively, you can use boxed cake mix!
Handy Tools & Ingredients
A couple of tools and ingredients will set you up for success on your cake pop journey.
Gifting Tip: Mini bags with twist ties are so useful if you'll be gifting cake pops. This set on Amazon is my absolute fav.
Instructions on How to Make Cake Pops Like a Pro
Preparing homemade pops like a pro requires a bit of simple technique and refrigeration to ensure they are set properly.
Make the Cake Pop Dough: In a large bowl, break the sponge cake apart into fine cake crumbs. Next, beat the heavy whipping cream in a stand mixer with the sugar until you get stiff peaks. Next, mix the whipped cream and crumbled cake mixture until smooth.
Portion the Cake Balls: Using a cooking scoop, portion out the dough and roll it into balls. Place each ball on to a lined baking sheet with parchment paper.
Pop the Sticks In: Next, melt a small portion of the chocolate melts in a microwave-safe bowl and dip the end of a pop stick into it. Immediately stick it into a cake ball and repeat until all the cake balls have a stick.
Refrigerate the Pops: Place the prepared pan uncovered in the refrigerator for 10 minutes.
Dip the Pops: Next, melt the remaining chocolate melts and dip the pops into the melted chocolate. Immediately transfer each to a stand to keep the cake pop upright.
Refrigerate the Pops: Refrigerate the pops until you're ready to serve them. Dig in and enjoy!
Hot Tip: Don't over beat the heavy whipping cream past stiff peaks. If you beat it too long, it will turn into butter!
5 Pro Tips for How to make Cake Pops
There's always a ton of questions about how to keep these treats in tact. Here's our top 5 tips to nail them.
Roll the cake balls into perfect circles. When you shape each cake ball, make sure there are 0 cracks in it. This will help it to not fall apart when you go to coat it in the melted chocolate.
Use extra cold heavy whipping cream. When you're making the whipped cream, be certain to use extra cold heavy whipping cream. This will result in the fluffiest texture. If you have to, stick the heavy whipping cream in the freezer for 10-15 minutes before you get to whipping.
Use chocolate melts as glue to hold the stick in. Dip the stick into melted candy melts before sticking it into the cake ball. This will act as a "glue" to hold the cake balls on tightly. It's crucial that you make sure the stick is firmly inserted into the cake balls before you try and coat them!
Dip the pops in a circular motion. As you dip each pop, go around in a circular motion to coat all the sides and create that super smooth outer layer.
Don't use too much whipped cream. Make sure to measure whipped cream frosting properly. If the cake pops contain too much frosting, they will come out mushy and fall apart.
Note: This is a very standard cake pop recipe that can and should be tweaked with different sprinkles, decorations and candy coating flavors. Go wild!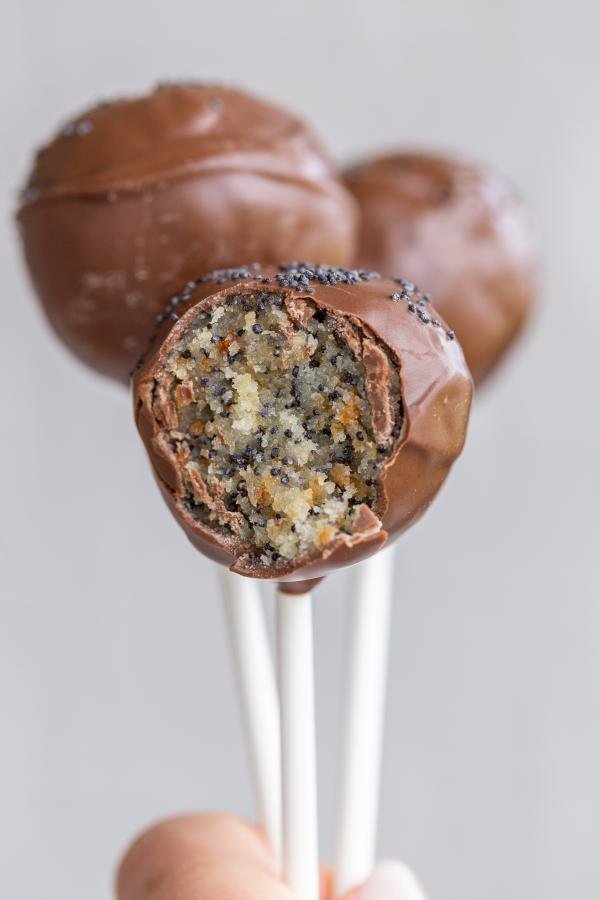 How to Store Cake Pops
There are two different ways you can store your cake pops – in the fridge or in the freezer. Here's how to do both…
Refrigerator: To keep your pops fresh for up to 10 days, store them in the fridge covered tightly with plastic wrap. This will keep them from absorbing any smells lingering around in your fridge.
Freezer: To freeze your pops for up to 3 months, place the entire stand in the freezer for 1-2 hours. Once the individual pops are completely frozen, transfer them to a freezer-safe bag. To thaw, place them in the fridge overnight.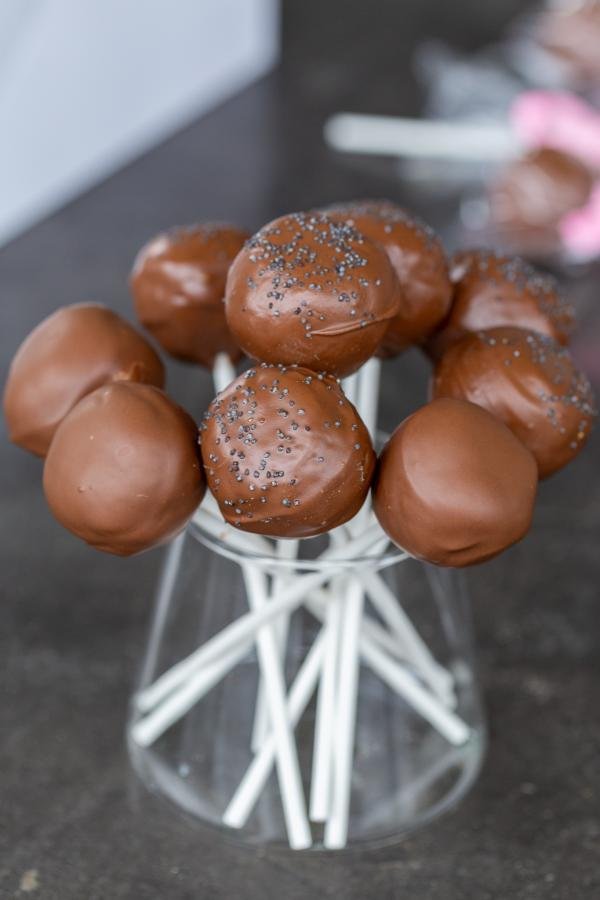 FAQ
How do you get cake pops to stick together?
The key to getting cake pops to stick together is to use a little melted candy melts as a glue between the cake ball and the cake pop stick. Otherwise, the cake ball will ultimately slide down the stick and fall apart.
How many bags of candy melts do you need for cake pops?
You'll need one 24 ounce bag of of candy melts or two 12 ounce bags. It doesn't matter which color you use, so get creative!
How do you make cake pops smooth?
The key to getting smooth cake pops is all in the technique. First, you want to roll the cake balls into perfect balls. Next, you'll want to make sure that you dip them in the chocolate in a circular motion to create that super smooth effect.
What's the best way to melt candy melts for cake pops?
The best way to melt candy is on a steam bath or double-broiler. This will keep the melts liquified as you work. Alternatively, you can keep microwaving them to keep them melted.
How do you make cake pops firmer?
Several different factors are at play when it comes to getting firm cake pops. First off, you'll need to tear the cake apart super finely so you don't have too big of chunks that the cake ball falls apart. Secondly, you'll want to keep the cake pops stored in the refrigerator until you're ready to serve them so they can set.
More Tasty Cake Balls to Try
Recipe
If you have been wondering how to make cake pops without a hitch, this guide is for you. From making the dough to storing tips, you're completely covered!
Nutrition Facts
How to Make Cake Pops (Crazy Easy)
Amount Per Serving
Calories 110
Calories from Fat 45
% Daily Value*
Fat 5g8%
Cholesterol 14mg5%
Sodium 48mg2%
Potassium 11mg0%
Carbohydrates 15g5%
Protein 1g2%
Vitamin A 110IU2%
Vitamin C 1mg1%
Calcium 23mg2%
Iron 1mg6%
* Percent Daily Values are based on a 2000 calorie diet.