These creamed potatoes with herbs are perfectly buttery and packed with bright, colorful herbs. A ridiculously versatile side dish!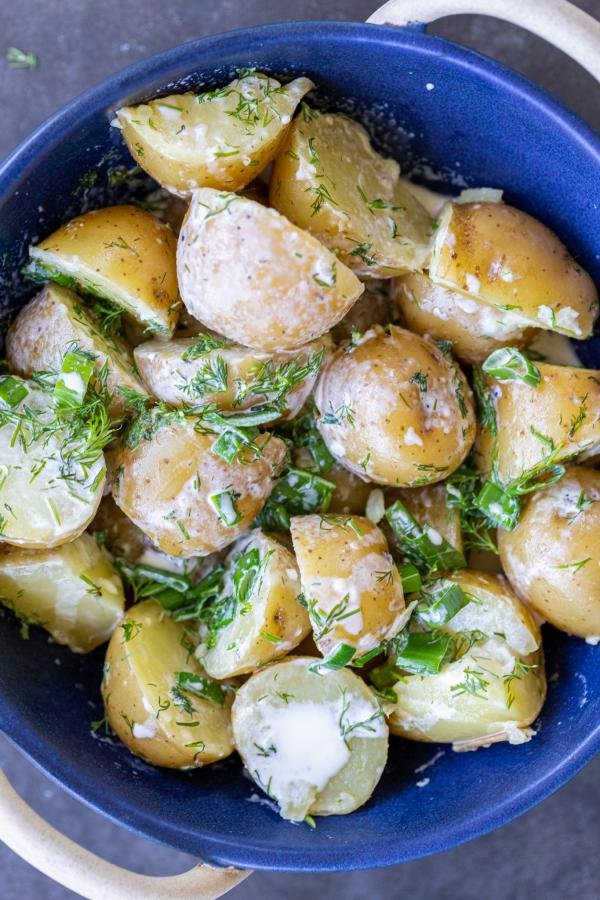 Are you a lover of all-things-potatoes? If you want a departure from your typical roasted or mashed recipe, these creamed new potatoes are the best of both worlds and the definition of comfort food. This recipes is also one of the best potato recipes to lean into year around. You get all the decadence from the butter and heavy whipping cream, while also enjoying the natural texture of the spuds. Add in the bright herbs and it's game over!
A Quick Backgrounder on New Potatoes
If you've never cooked with new potatoes before, you're in for treat. Unlike full grown potatoes, they are plucked from the ground early and tout a much fresher, sweeter flavor. They also have a much thinner skin and keep their texture throughout the cooking process.
Preparing Creamed New Potatoes with Herbs
Making these creamed potatoes is such a simple process, you'll barely break a sweat. Below, find a quickhitter overview of the recipe.
Soak the Potatoes: Fill a bowl with cold water and allow the potatoes to soak for about 5 minutes. Next, use a knife to peel the skins off.
Boil the Potatoes: Slice the potatoes into small pieces. Next, pop them in a large pot of salted water. Bring the pot to a boil and simmer the potatoes until they're fork tender. Drain the potatoes in a colander and set aside.
Dice the Herbs & Garlic: Dice the scallions and dill and mince the garlic.
Boil the Cream: In a small saucepan, boil the heavy whipping cream over medium heat, season it to taste with salt, and pour the mixture over the potatoes. Stir the ingredients together with a wooden spoon and sprinkle the herbs. Enjoy!
Top Tips for the Best Creamed New Potatoes
These quick and easy tips will help you nail this recipe.
Soak the potatoes to loosen the skins. Soaking the potatoes in cold water will not only clean them, but it will also help to loosen the skins and make the potatoes easier to peel.
Pull the potatoes out while they're slightly firm. The potatoes are best served "al dente", or will a little firmness or bite. Once they're easily pierced with a fork, pull them out so they don't turn super mushy.
Use fresh herbs versus dried herbs. Fresh herbs bring an essential earthiness and pop of color to this dish. If you aren't a fan of dill, swap in fresh parsley, chives, cilantro, or basil.
Different Ways to Tweak Creamed Potatoes
Want to make these potatoes fit your specific taste buds? Here's a couple of ways to tweak the recipe.
Add in some bacon. Toss in some bacon bits for extra flavor.
Add in your favorite butter or cream cheese. Melt a bit of your favorite unsalted butter or cream cheese and pour it into the heavy cream for extra creaminess.
Add in your favorite spices. A tablespoon of freshly cracked black pepper or paprika, or a couple spoonfuls of roasted garlic are all great additions.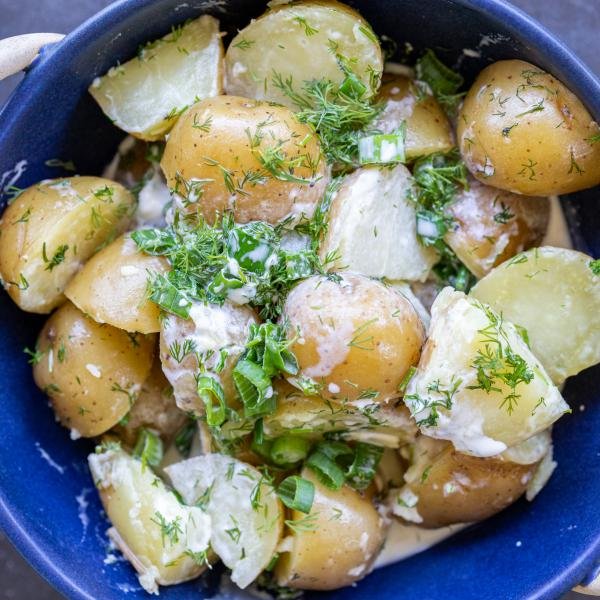 Ideas for Serving
Serve these potatoes as a side dish with a dollop of sour cream on top. They pair perfectly with just about any protein. Cast-iron ribeye and leg of lamb immediately come to mind. If you're serving them for breakfast, pair they with air fryer bacon and eggs.
Storing & Reheating Best Practices
Whether you're prepping the potatoes ahead of time or stowing away some leftovers, find all the tips you need here.
Storing: To keep potatoes on hand for up to a week, store them in an airtight container in the fridge.
Reheating: To reheat the potatoes, pop them in the microwave for 1-2 minutes.
FAQ
What can you substitute for cream?
If you don't have heavy cream, half and half or whole milk will do the trick.
What can you use besides new potatoes?
Use Yukon gold potatoes of fingerlings instead of new potatoes. Avoid russet potatoes, as they are a bit too starchy.
About how long does it take to boil new potatoes?
It takes anywhere from 10-15 minutes to boil new potatoes until fork tender.
Should you remove the skins from the potatoes?
Yes, this recipe works best with peeled new potatoes.
More Tasty Potato Recipes to Try
Recipe
These creamed potatoes make for the perfect side dish to just about any protein. The definition of comfort food and great year around!
Ingredients
3

lbs

new potatoes

1

cup

heavy whipping cream

1/2

cup

dill

1/2

cup

scallions

4

garlic cloves

1

tbsp

salt

adjust to taste
Nutrition Facts
Creamed New Potatoes with Herbs
Amount Per Serving
Calories 317
Calories from Fat 135
% Daily Value*
Fat 15g23%
Cholesterol 45mg15%
Sodium 1191mg50%
Potassium 1053mg30%
Carbohydrates 42g14%
Protein 6g12%
Vitamin A 973IU19%
Vitamin C 50mg61%
Calcium 72mg7%
Iron 2mg11%
* Percent Daily Values are based on a 2000 calorie diet.