These smashed potatoes are crispy on the outside, fluffy on the inside, & so delicious. The perfect side dish to your favorite protein & incredibly kid-friendly!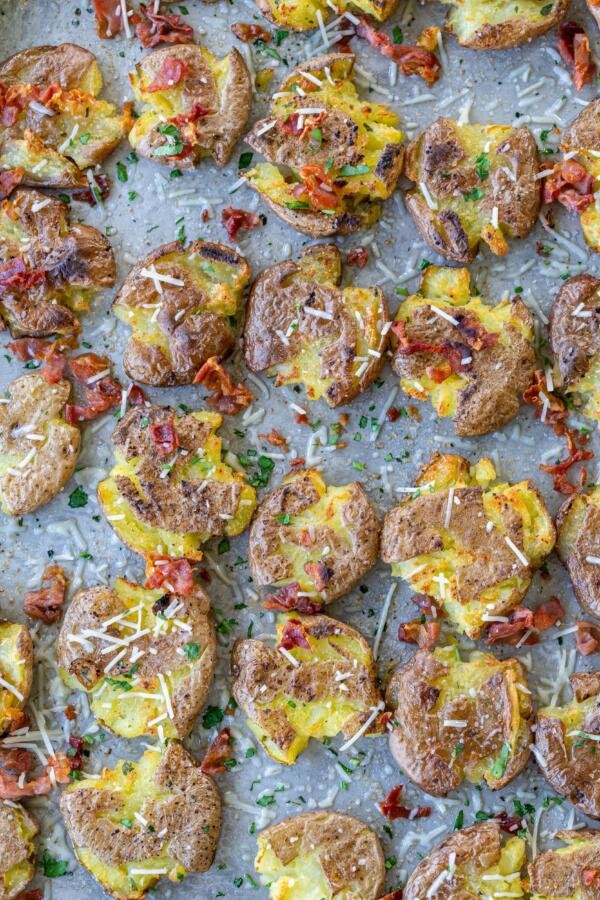 Crispy smashed potatoes are all the rage lately and for good reason – they are a refreshing take on typical oven-roasted potatoes and the texture is unreal. If you are a massive fan of spuds, you need a solid recipe in your rotation. Look no further.
What are Smashed Potatoes?
Smashed potatoes are baby potatoes that have been precooked (boiled), smashed flat, and then broiled. This results in crispy tops and edges while maintaining a soft and fluffy inside. This process gives the illusion that they are deep-fried without all the extra fat and oil – a win-win!
Hot Tip: Smashed potatoes are a great make-ahead side dish. Make a big batch for meal prep throughout the week and simply bake them when you are ready to eat. These potatoes are enough to impress a dinner party.
How to Make Smashed Potatoes
It is so easy to make crispy, smashed potatoes. Just boil, smash, and bake! Here are the simple steps:
Boil Potatoes: Add the small potatoes to a large pot of water and boil the potatoes until they are al dente (fork tender). Drain the potatoes from the water.
Smash Potatoes: Add the cooked potatoes to a parchment paper-lined baking sheet and smash each potato with a potato masher. Brush the potatoes with olive oil and sprinkle them with garlic salt.
Broil Potatoes: Place the sheet pan in a preheated oven and broil the potatoes until golden brown and crispy. Top with bacon, cheese, and herbs (fresh parsley, green onions, and dill are our favorites – stay away from fresh thyme and fresh rosemary and only used dried).
Hot Tip: If you don't have a potato masher, you can also use a glass or bottom of a mug to press down the baby potatoes.
3 Tips for Making the Crispiest Smashed Potatoes
These 3 simple tips will help you make the most knock-out, crispiest potatoes possible.
Using baby yellow potatoes. Baby gold potatoes have a slightly sweet, buttery flavor and soft flesh. They are simply the best kind of potato to use!
Don't over-boil the potatoes. Avoid over boiling the potatoes, as they won't get as crispy if they are too overcooked. The goal is to get them al dente and easily pierced with a fork.
Assemble the potatoes in a single layer on the baking sheet. Avoid stacking the potatoes on top of one another on the baking sheet, or else they won't get even attention from the heat. For best results, assemble them in a single layer. If you have to, bake them in several batches.
In a rush? Air fry the potatoes instead. Pop them into the air fryer basket at 400°F and cook them for about 5 minutes per side.
Recipe Variations
There are so many ways you can customize this recipe. Whether you like them cheesy, herby, or loaded up, here are some ways you can serve this dish:
Loaded Potato – Sprinkle bacon, cheese, and green onions on top of the crispy potatoes.
Garlic Herb Infused – Drizzle on melted butter and sprinkle on some chopped dill and fresh minced garlic.
Cheesy – You can sprinkle on just a little parmesan cheese (or other shredded cheese of choice) or load them up so the cheese melts and forms a crispy, cheesy layer.
Salt and Pepper – Prefer simpler flavors to pair with your meal? Just drizzle them with olive and season them with salt and black pepper. This is a great vegan/dairy-free option.
Hot Tip: You can sprinkle the potatoes with your favorite spices or seasonings. Like spice? Sprinkle with red pepper flakes or your favorite cajun seasoning blend. The options are endless!
Serving Suggestions
These potatoes are the perfect side dish! Serve them alongside your favorite protein such as air fryer chicken thighs or baked steak with vegetables. Or pair with some other sides like quick pickles or a pickled salad. The best part about this potato recipe is that it is so versatile, especially when you make different variations.
Hot Tip: The thinner you smash the baby potatoes, the crispier they will get.
Making Smashed Potatoes Ahead
To make the smashed potatoes ahead of time, you can boil the baby potatoes a day or two in advance and store them in an airtight container in the fridge. When you're ready to eat, just smash the pre-boiled potatoes and bake according to the recipe. You may need to add an extra minute or two since the potatoes are cold.
Hot Tip: You can also prep the toppings in advance. The bacon can be cooked and crumbled a couple of days ahead of time. The fresh herbs can be washed and chopped the day before.
FAQ
Are smashed potatoes the same as mashed potatoes?
No, smashed potatoes are not the same as mashed potatoes. Smashed potatoes are boiled with the skin on, then smashed and baked. On the other hand, mashed potatoes feature boiled potatoes that have been smashed and mixed with butter, salt, and cream.
How do you fix smashed potatoes that aren't crispy?
If your smashed potatoes aren't crispy enough, you can simply pop them back in the oven and broil them longer. Just be careful to watch them closely, as the broiler can crank up in heat pretty quickly and burn them.
Can you make smashed potatoes without boiling the potatoes first?
No, you cannot make smashed potatoes without boiling the potatoes first. This is what gives them their perfectly tender texture before you pop them into the oven to crisp them up.
How long do you boil potatoes before you smash them?
You need to boil the potatoes for about 10-15 minutes before you smash them. That said, every stovetop runs differently and potatoes come in all shapes in sizes. Therefore, you should use the fork test to see if they are tender and easily pierced before removing them.
Can you freeze smashed potatoes?
No, you cannot freeze smashed potatoes. They don't tend to thaw well and will lose their perfectly crispy texture upon reheating.
More Potato Recipes to Try
Recipe
This recipe for crispy smashed potatoes is super fluffy on the inside & crispy on the outside. Sprinkled with parmesan, bacon, & herbs, they are so good!
Nutrition Facts
Crispy Smashed Potatoes (Extra Easy)
Amount Per Serving
Calories 219
Calories from Fat 180
% Daily Value*
Fat 20g31%
Cholesterol 28mg9%
Sodium 1559mg65%
Potassium 73mg2%
Carbohydrates 1g0%
Protein 8g16%
Vitamin A 148IU3%
Vitamin C 1mg1%
Calcium 152mg15%
Iron 1mg6%
* Percent Daily Values are based on a 2000 calorie diet.