These Easy Air Fryer Baked Potatoes turn out perfect every time. Its layer is crispy on the outside, while extra tender on the inside. You'll never use an oven after you try baking potatoes in an Air Fryer.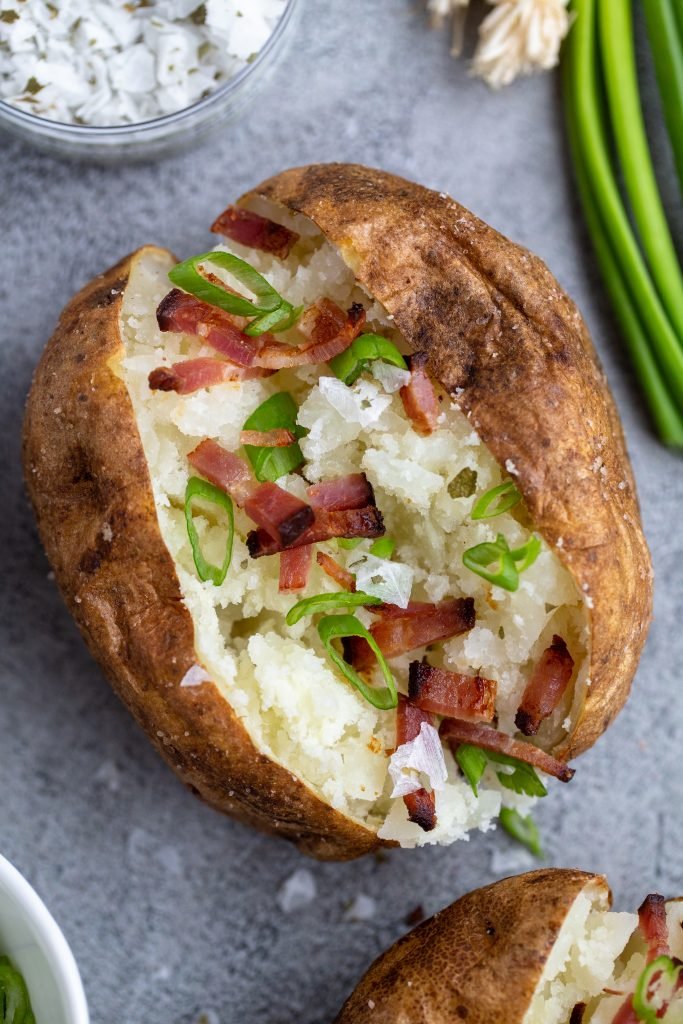 Air Fryer Baked Potatoes are so easy to prepare, it's too hard to call it a recipe. I want to give you some dinner ideas using your Air Fryer.
Baked Potatoes are a quick and easy way to make an impressive dinner. You can do a display of toppings and have each person make their personalized potato. You can serve it with a gain bowl of Caesar Salad.
How to Make Baked Potatoes in an Airfryer?
Wash potatoes, pat dry them with a towel.
Brush potatoes with oil and season them with salt.
Place potatoes in an air fryer basket, leaving space between each potato.
Bake potatoes at 390F for at least 30 minutes. Once the time is up, using a for, check to see if the potatoes are cooked through. Depending on the size of the potatoes, the cooking time will need to be adjusted.
Once the potatoes are done, split them open and break down the inside a bit. Top it off with your favorite toppings. We love some bacon, chives and sour cream.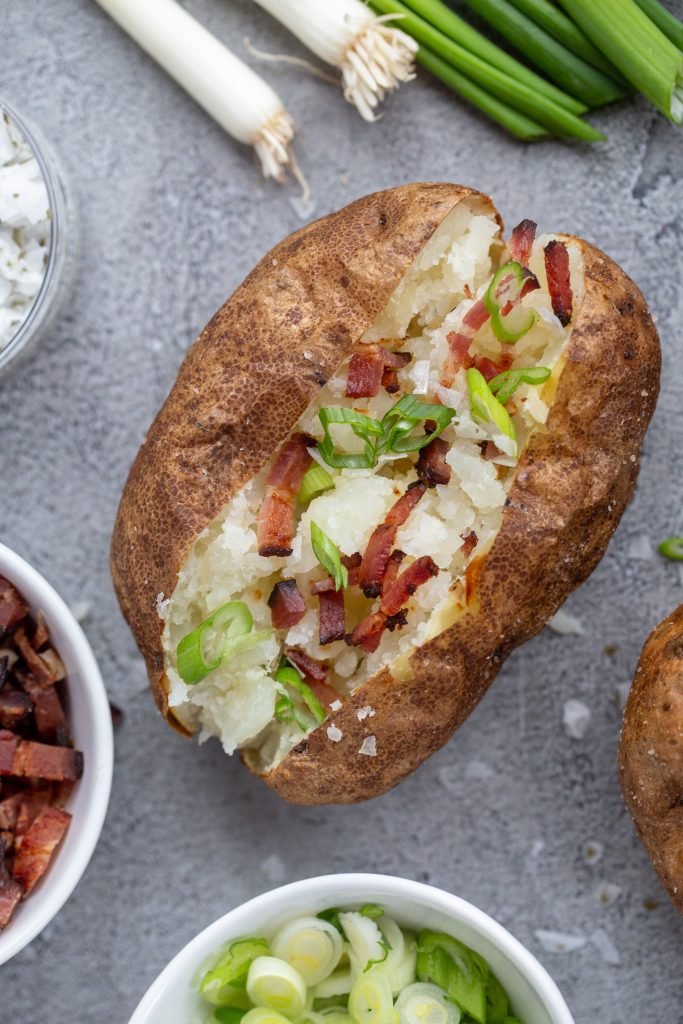 How Long Does it Take to Cook Baked Potatoes in an Air Fryer?
Depending on the potatoes it would take 30 to 45 minute of cooking time in air fryer. Poke with a fork to see readiness of potatoes.
Topping to Serve With Air Fryer Baked Potatoes
Recipe
These air fryer baked potatoes have such a crispy skin and always turn out fork tender. You'll wonder why you ever used the oven!
Instructions
Cover the potatoes with oil and salt. Place them in the air fryer basket, leaving at least an inch of space between each. Air fry them at 390°F for at least 30 minutes, or until you can pierce them easily with a fork.
Nutrition Facts
Easy Air Fryer Baked Potatoes
Amount Per Serving
Calories 292
Calories from Fat 126
% Daily Value*
Fat 14g22%
Sodium 3499mg146%
Potassium 888mg25%
Carbohydrates 38g13%
Protein 5g10%
Vitamin C 12.1mg15%
Calcium 28mg3%
Iron 1.8mg10%
* Percent Daily Values are based on a 2000 calorie diet.