A combination of cucumbers with sour cream, dill, garlic, scallions and a touch of salt makes a refreshing sidekick to any of your favorite meat dishes.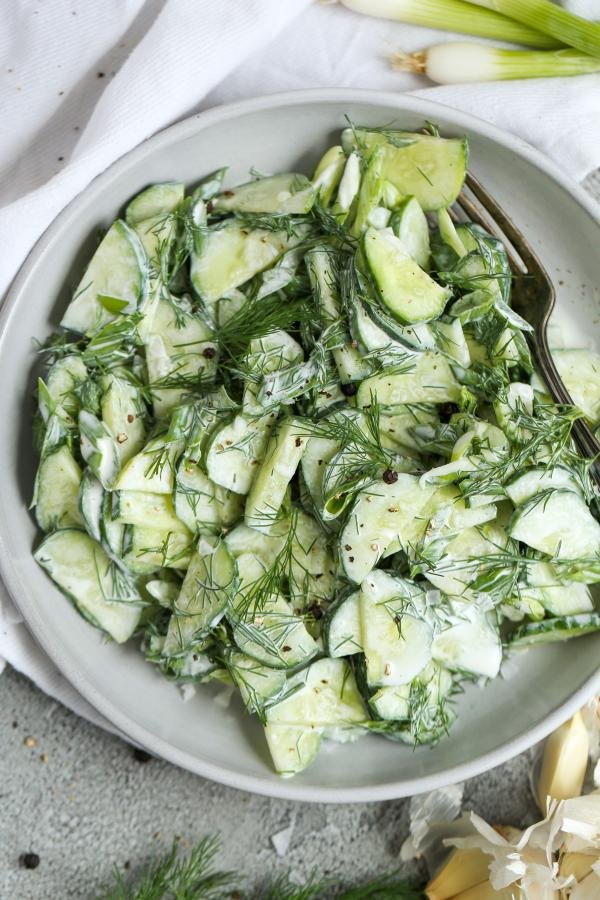 When the temperature is unbearable outside, the last thing you want to do is turn on your oven. Make dinner or Sunday lunch cooler by taking the cooking outside. Fire up your barbecue and pair this quick and healthy salad with my recipe for grilled Johnsonville Beer Bratwursts, Amazing BBQ Ribs or the Perfect 5-Minute Grilled Chicken.
For the Creamy Cucumber Salad recipe, you will use English cucumbers (sometimes referred to as seedless or Hothouse) as the star of the show. This type of cucumber is known for its thin, easy-to-eat skin, sweeter taste and edible seeds.
How Do I Keep Cucumbers from Becoming Soggy?
Cucumbers have extremely high water content. This means that they are prone to becoming soggy as soon as you season them with water. To prevent this, only add dressing and season cucumbers right before serving.
How Long Will Creamy Cucumber Salad Last?
Some things are best eaten super fresh. This salad is one of them. Fully prepared, the Creamy Cucumber Salad should retain its crunchiness for a few hours.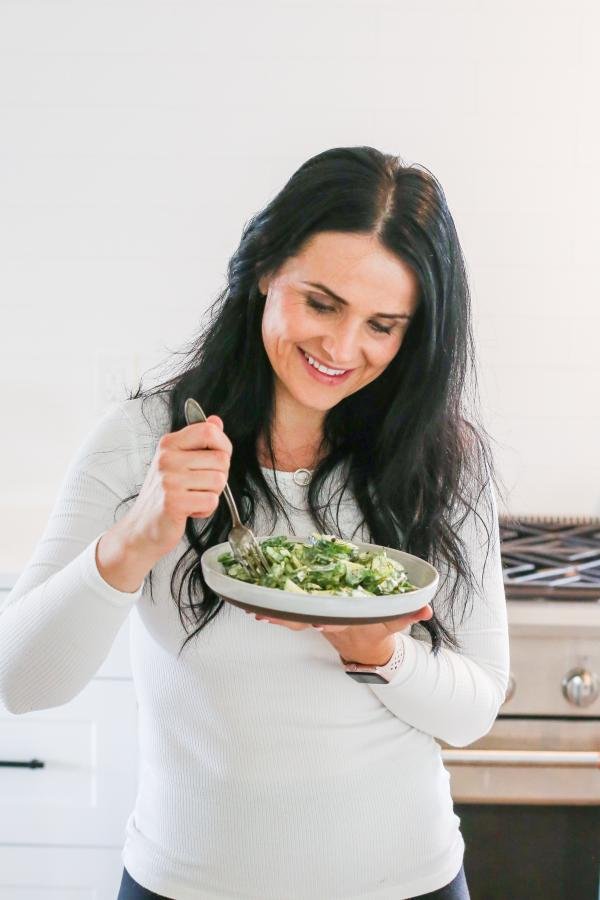 Looking Healthier Dressing Alternative?
Try swapping the sour cream with low or non-fat Greek yogurt for a just-as-creamy, but lower calorie salad. Bonus: Switching to greek yogurt also adds extra protein to make the salad a great and filling weekday lunch!
A Quick Lesson in Different Cucumbers
Even though I recommended English cucumbers for this recipe, don't fret if you have another type on hand! As a busy mom, I know that an extra trip to the store can be a hassle. It's best to be flexible and use what you have. Besides, nothing is more depressing than watching a perfectly good vegetable go to waste!
Here are some of the most common varieties of cucumber and how to alter the Creamy Cucumber Salad recipe for each kind:
American Slicing
This cucumber is the most common. Typically you will see this type of cucumber on a deli sandwich. The outside skin will be covered in a wax to prevent damage. If you decide to use it for the salad, make sure you wash the outside thoroughly to remove the wax. You can also opt to peel off the skin entirely or partially. Slice this cucumber down the middle. Take a spoon and scoop out the seeds and slice into half-moon shaped pieces.
Persian Cucumbers
Besides being absolutely adorable, Persian cucumbers have similar qualities to English cucumbers. They are about 6-inches long at their biggest and have a thin, edible skin and minimal seeds. Chop and prepare them just like their English cousins.
Other Cucumber Salads
Recipe
This creamy cucumber salad recipe is the definition of refreshing and simple. The combination of fresh dill, sliced cucumbers, and sour cream dressing will have you coming back for bowl after bowl.
Ingredients
4

cucumbers

1/2

cup

sour cream

1

bunch

scallions

3

garlic cloves

salt,

to taste
Nutrition Facts
Creamy Cucumber Salad Recipe
Amount Per Serving
Calories 47
Calories from Fat 27
% Daily Value*
Fat 3g5%
Cholesterol 7mg2%
Sodium 15mg1%
Potassium 229mg7%
Carbohydrates 4g1%
Protein 1g2%
Vitamin A 200IU4%
Vitamin C 5.3mg6%
Calcium 39mg4%
Iron 0.4mg2%
* Percent Daily Values are based on a 2000 calorie diet.