These tangy marinated cucumbers with garlic are the perfect sidekick to a sandwich, soup & much more. Easy-to-make, watch these crunchy morsels disappear!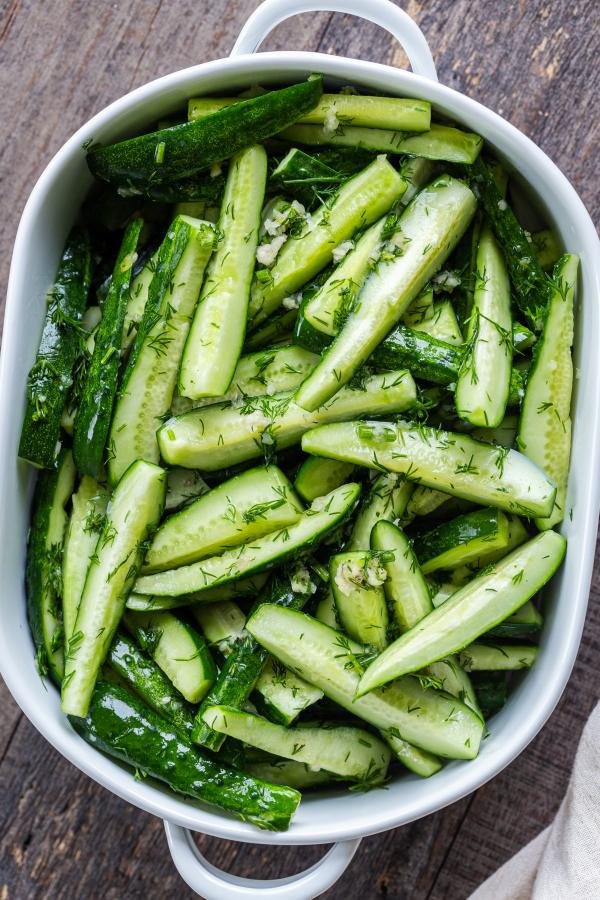 If you have a huge haul of fresh cucumbers from your garden or the farmer's market, this recipe is a great way to put them to good use. Eat them as-is or whip up our very favorite creamy cucumber salad with them. What makes this recipe unique is that it calls for absolutely no vinegar and just relies on the powers of salt, garlic, and fresh dill.
Picking the Right Cucumbers
There are a lot of cucumbers out there, but not all of them are created equally when it comes to making this recipe. We love to use pickling cucumbers because they are crunchy and keep their flavor. In a pinch, you could also use American slicing cucumbers or English cucumbers.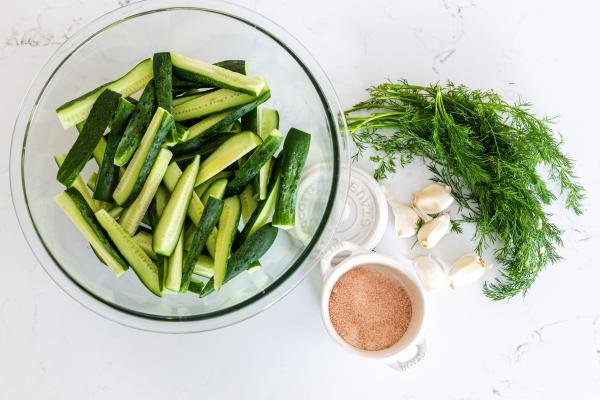 Preparing Marinated Cucumbers at Home
If you can, let these crunchy morsels sit overnight. That said, you can allow them to sit for just 2 hours if you're in a rush. Here's how to do it in just 3 easy steps…
Prepare the Cucumbers: First, wash the cucumbers and slice them into spears.
Season the Cucumbers: Next, sprinkle on the salt, dill, and pressed garlic on the sliced cucumbers and toss the cucumbers to ensure they're evenly coated.
Marinate the Cucumbers: Allow the cucumbers to marinate in the fridge for at least 2 hours. Get to snacking and enjoy!
Hot Tip: Feel free to leave the cucumber peels on. They add extra fiber and texture! If you're not a huge fan of the skin, slice half of it off.
3 Tips for the Tastiest Marinated Cucumbers
While the process couldn't be any simpler, a few simple tips and tricks will help you whip them up better than any jarred variety at the store!
Slice the cucumbers into evenly-sized pieces. To ensure that the cukes marinate evenly, try to slice them in as similar-sized spears as possible.
Tweak the ingredients to your liking. Feel free to tweak the marinade for your cukes according to your particular tastebuds. You can add freshly cracked black pepper, thinly sliced red onions, sesame seeds, or different fresh herbs like parsley or cilantro.
Use fresh dill over dried dill. Fresh dill offers so much more flavor than dried for this recipe. It also adds a wonderful pop of color!
Serving Marinated Cucumbers
These cukes are an awesome summertime side dish. Bring them along with you to your next potluck or serve them alongside whatever protein you have on the grill. From grilled chicken to roasted potatoes to mashed potatoes and beyond, they have a refreshing flavor and crunch that compliments a fatty and rich main course so well. They are also a natural sidekick for sandwiches and burgers. Serve them with a steak sandwich or stuff them into a gyro with tzatziki.
Storing Marinated Cucumbers
Store marinated cucumbers in the refrigerator to keep them nice and crunchy. Typically, they stay fresh for up to five days when stored in an airtight container. You could also store your marinated pickles in a mason jar if you have any on hand.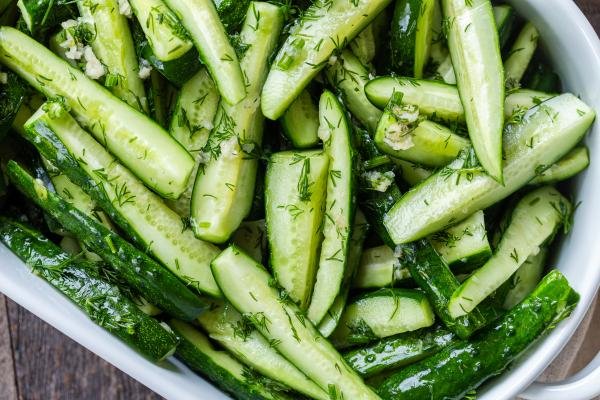 FAQ
How do you store marinated cucumbers long-term?
Unless your marinated cucumbers are pickled and properly canned, they shouldn't be stored long term. After 5 days, they will soften and begin to turn soggy.
How do you keep marinated cucumbers crispy?
The key to keeping your marinated cucumbers crispy is to eat them within 5 days. The longer they sit, the softer they will get.
Are marinated cucumbers good for you?
Yes, marinated cucumbers are super healthy and low in calories and carbohydrates. They also contain calcium, potassium, and vitamin C.
Are pickles and marinated cucumbers the same thing?
Pickles are marinated cucumbers are not always the same thing. Typically, pickles are cucumbers that have been marinated in a tangy vinegar mixture. On the other hand, marinated cucumbers can be made with only dry ingredients.
More Cucumber Salads to Try
Recipe
These marinated cucumbers are made with just 4 ingredients – cucumbers, dill, garlic & salt. After just 2 hours, they taste better than any jarred variety!
Instructions
Nutrition Facts
Marinated Cucumbers
Amount Per Serving
Calories 21
Calories from Fat 9
% Daily Value*
Fat 1g2%
Sodium 1166mg49%
Potassium 214mg6%
Carbohydrates 4g1%
Protein 1g2%
Vitamin A 119IU2%
Vitamin C 5mg6%
Calcium 25mg3%
Iron 1mg6%
* Percent Daily Values are based on a 2000 calorie diet.