This broccoli cucumber salad with tomato is as healthy as it is refreshing. Tossed in a simple dressing of salt and Greek yogurt, it's delicious & crunchy!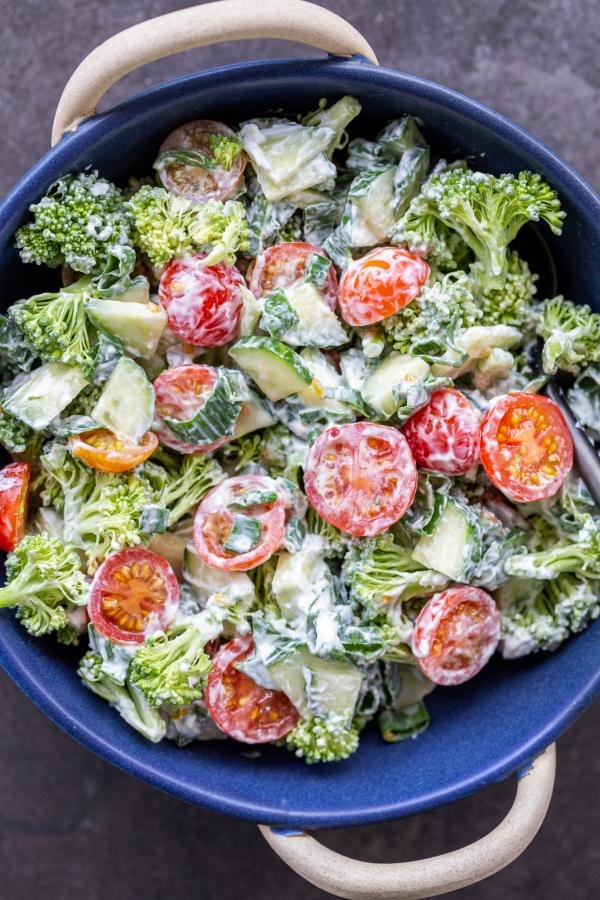 Do you love salads that are full of cruciferous vegetables, texture, and crunch? In just 15 minutes of total time, this creamy salad is an absolute showstopper full of broccoli florets and cucumber slices. What's better? It's crazy good for you, full of fiber, and is made with just 6 ingredients. Add it to your list of healthy recipes that don't taste like they're healthy.
Making this Easy Broccoli Cucumber Salad Recipe
To prepare this easy broccoli salad, all you need to do is chop the veggies and toss them in a simple creamy dressing of Greek yogurt.
Wash the Veggies: Wash the broccoli, cucumber, and tomatoes under cool water and pat them dry.
Dice the Herbs & Veggies: Next, dice the green onions into small pieces. Chop cucumber and tomatoes into equal pieces and broccoli into larger chunks.
Season & Dress the Salad: Lastly, toss all the vegetables in a large bowl and season the salad with salt, and stir in the tangy Greek yogurt dressing. Serve and enjoy!
Hot Tip: If you're not a fan of Greek yogurt, swap it out for sour cream or half sour cream and half mayo.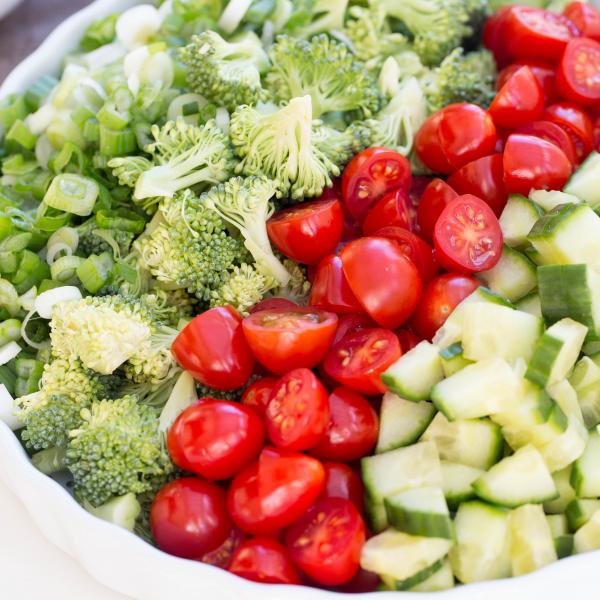 Helpful Tips
A couple of helpful tips and tricks will make your broccoli cucumber salad worthy of any deli case.
Make sure the veggies are sliced similarly. For a consistent texture, make sure the veggies are sliced into somewhat consistent sizes.
Make sure the veggies aren't super wet. After washing your veggies, pat them dry with a paper towel or kitchen towel to remove excess moisture. If they are super wet, they will water down your salad.
Toss the dressing right before serving. For the freshest tasting salad, toss the dressing right before you plan on serving it.
Different Ingredients to Add
Consider this salad a blank slate that you can tweak to fit your specific tastebuds. Here are a couple of ideas to inspire you.
Herbs: Add in fresh chives or dill for an extra pop of flavor.
Cheese: Shredded cheddar or feta cheese are both great additions (feta and Greek yogurt were just made for one another.
Nuts: Pine nuts or almonds add a wonderful crunch.
Bacon Bits: Whip up some air fryer bacon or baked bacon and slice it into bits. Drain the excess grease and toss the bacon right into the salad for a salty and savory kick.
Other Odds & Ends: Some other ingredients we've experimented with include chickpeas, raisins, sliced red onion, lemon juice, mini peppers, and olives.
Ideas for Serving this Broccoli Cucumber Salad
This salad is the perfect side dish to pair with various proteins to cool them down. We love pairing it with a grilled ribeye steak, oven baked chicken kabobs, beef tenderloin, or grilled tilapia. You can also serve it alongside quinoa for a healthy, protein-packed vegetarian meal.
Storing Broccoli Cucumber Salad
To keep your broccoli cucumber salad fresh for up to a day or two, keep the leftovers stored in an airtight container in the fridge. This will prevent the veggies from getting soggy quickly, while also preventing the salad from soaking up any smells in the fridge.
FAQ
How do you keep cucumbers from getting watery in broccoli cucumber salad?
The key to keeping cucumbers less watery in a salad is less about technique and more about choosing the right kind. English cucumber and American slicing cucumbers tend to work best.
Should you leave the skin on the cucumber for a broccoli cucumber salad?
Yes, it's best to leave the skin on the cucumber for broccoli cucumber salad. This helps the veggie retain its texture in storage. If you absolutely can't do the skin, you can peel it off – just make sure to eat the salad within a day.
How far in advance can you make broccoli cucumber salad?
You can make broccoli cucumber salad up to 1 day in advance. Because the veggies are on the firmer side, they won't get too soggy in storage.
What kinds of protein can you add to broccoli cucumber salad?
The best kinds of protein to add to creamy broccoli cucumber salad are light ones like chicken or shrimp. Both complement the flavors of the yogurt and crunchy veggies so nicely.
More Broccoli Salads & Recipes to Try
Recipe
This crunchy broccoli cucumber salad is packed with tasty veggies and tossed with a creamy dressing of Greek yogurt. Refreshing and crazy easy to make!
Ingredients
1

English cucumber

2

cups

cherry tomatoes

3

cups

broccoli

3

green onions

1

cup

Greek yogurt

1

tsp

salt

adjust to taste
Instructions
Nutrition Facts
Broccoli Cucumber and Tomato Salad (15 Minute)
Amount Per Serving
Calories 65
Calories from Fat 9
% Daily Value*
Fat 1g2%
Cholesterol 3mg1%
Sodium 620mg26%
Potassium 427mg12%
Carbohydrates 9g3%
Protein 7g14%
Vitamin A 1321IU26%
Vitamin C 27mg33%
Calcium 115mg12%
Iron 2mg11%
* Percent Daily Values are based on a 2000 calorie diet.