These puff pastry cheese turnovers are slightly sweet, slightly salty, and straight from the heavens. Serve them for dessert or breakfast!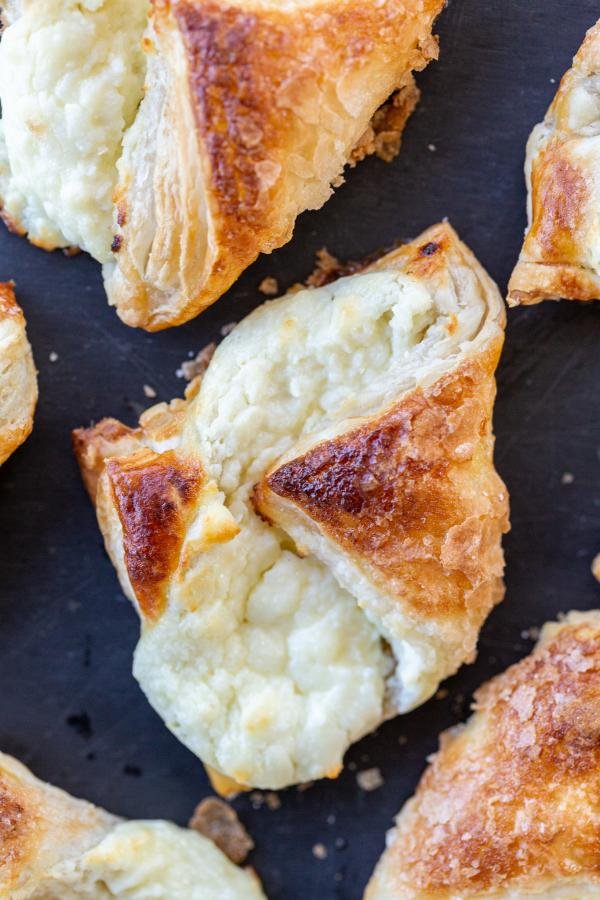 Because these cheese turnovers aren't insanely sweet, they're a perfect snack to nosh on. You can serve them for either breakfast or dessert, and must try with a hot cup of coffee!
What Exactly are Cheese Turnovers?
Cheese turnovers come in many different shapes and sizes. Most consist of some type of dough stuffed with a slightly sweet cheese filling. Below, find an overview of our version of cheese turnovers.
Flavor: The flavor of these cheese features a slightly salty, slightly sweet cheese filling encased in buttery puff pastry.
Texture: The texture of the cheese turnovers is the perfect balance of gooey cheese filling and slightly crispy puff pastry.
Time: These cheese turnovers only take 15 minutes of prep time and 15 minutes of baking to make.
How to Quickly Prepare Cheese Turnovers
To kick of the process, first make the filling by mixing the farmer's cheese, softened cream cheese, sugar, vanilla extract, and egg yolk together.
Prepare the Puff Pastry: Using a rolling pin, roll out the puff pastry sheets into thin layers. Next, cut the dough into 3-inch squares.
Assemble the Turnovers: Add a spoonful of filling into the center of each square and fold over the sides to form tiny triangles. Place the turnovers of baking sheet lined with parchment paper. Next, whisk the egg whites with a fork in a small bowl. Brush the tops with the egg wash and sprinkle on a bit of sugar (this will create a delicious glaze!).
Bake the Turnovers: Bake the cookies at 415°F for 15 minutes. Enjoy!
Tips & Tricks for the Best Cheese Turnovers
Making these turnovers is so easy, you can hardly call it a recipe. That said, a couple of tips and tricks will make the process all the smoother.
Allow the cream cheese to soften at room temperature. The cream cheese will be super easy to work with and incorporate if you let it soften before handling. Pull it out of the fridge 30 minutes before you get to prepping.
Handle the puff pastry while it's super cold. To get the fluffiest turnovers possible, roll out the puff pastry straight out of the freezer. The longer it sits at room temperature, the more the butter will melt and turn the pastry flat.
Don't overstuff the turnovers. Resist the urge to stuff too much filling into each piece of dough or the filling will seep out in the oven. About two tablespoons is more than enough.
Different Filling Variations
Feel like experimenting with your own fillings? Go for it! Below, find a couple of suggestions to inspire you.
Strawberry & Cheese – Add in a dollop of your favorite strawberry jam or a couple thin slices of strawberry.
Apple & Cheese – Swap out the white sugar for brown sugar and add in a dollop of applesauce.
Bacon Turnovers – Skip the farmer's cheese filling and fill the puff pastry with shredded cheddar, gouda, swiss cheese, or gruyere and air fryer bacon bits (great for breakfast on the go!).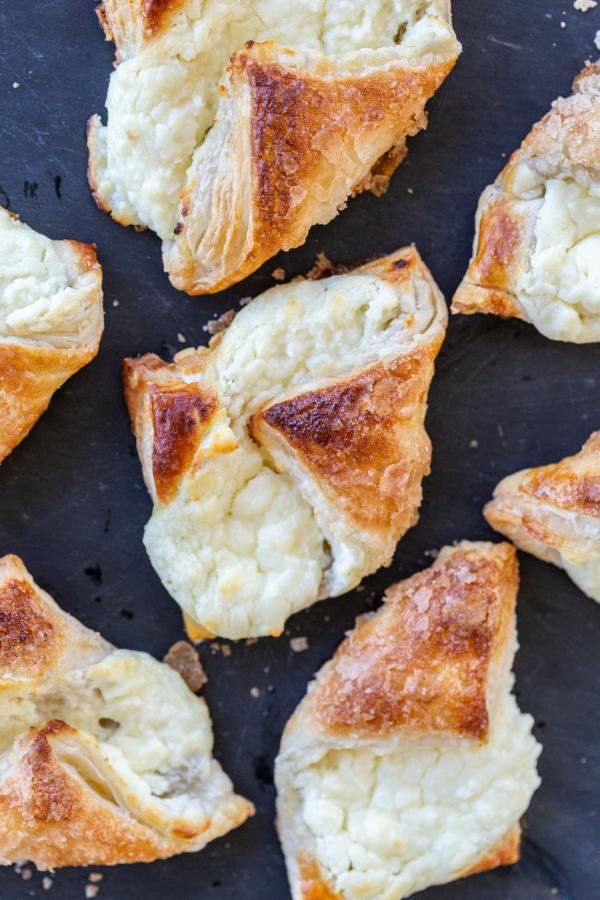 Storing, Freezing, & Reheating Best Practices
If you're lucky enough to have leftovers, find the best practices for storing and reheating here.
Storing: To keep the turnovers on hand for up to a week, store them in an airtight container in the refrigerator.
Freezing: To freeze the turnovers for up to a month, assemble them on a baking sheet lined with parchment paper. Pop the baking sheet into the freezer uncovered. Once completely frozen, transfer the turnovers to a freezer safe bag.
Reheating: To reheat refrigerated or frozen turnovers, pop them in the oven or in an air fryer until warmed through.
FAQ
What is farmer's cheese?
Farmer's cheese is a European staple. It's a simple cheese that is very similar to American-style cottage cheese.
Where can you purchase farmer's cheese?
You can purchase farmer's cheese at most European specialty food stores. It's also starting to trickle into most big box grocery stores, so you might get lucky!
What's a good substitute for farmer's cheese?
Cottage cheese is a good substitute for farmer's cheese. That said, the texture is a bit different and farmer's cheese is recommended.
Can you store these turnovers at room temperature?
You can store the turnovers at room temperature for 1-2 days, but pop them in the refrigerator after that.
Can you freeze the turnovers raw instead of baked?
Yes, you can freeze the turnovers raw and bake them from frozen when you're ready.
More Sweet Cheese Pastries to Try
Recipe
These crazy easy puff pastry cheese turnovers are the perfect balance of sweet and salty. Good luck eating just one – it's impossible!
Nutrition Facts
Puff Pastry Cheese Turnovers (Crazy Easy)
Amount Per Serving
Calories 176
Calories from Fat 99
% Daily Value*
Fat 11g17%
Cholesterol 18mg6%
Sodium 144mg6%
Potassium 22mg1%
Carbohydrates 14g5%
Protein 5g10%
Vitamin A 74IU1%
Calcium 8mg1%
Iron 1mg6%
* Percent Daily Values are based on a 2000 calorie diet.