"Sharlotka" is a classic Russian apple cake. In some parts of the world, it's known as the French Apple cake. The best part? This cake only requires 5 ingredients and around 25 minutes of prep time!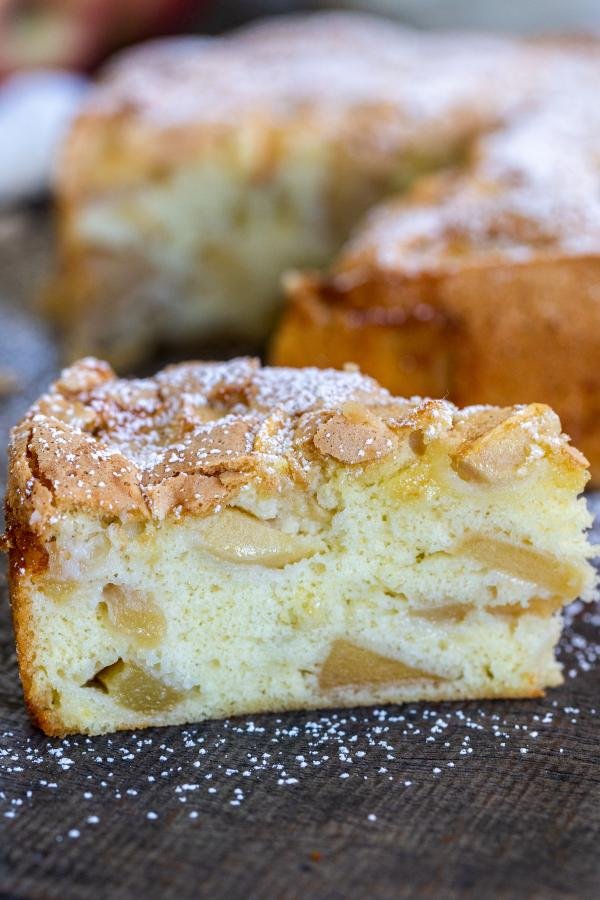 Sharlotka is best described as an apple sponge cake. It's super versatile! Pair it with a cup of coffee for breakfast, or serve it as a dessert with a scoop of vanilla ice cream at your next dinner party.
Sharlotka is PACKED with apples. Unlike traditional apple pie, which is heavy on the crust, this cake makes apples the star of the show. This results in a cake that is airy, soft and beautifully simple. Dusted with powdered sugar at the end, it is an absolute show-stopper.
How to Make Sharlotka
What is Sharlotka?
Most of you already have the ingredients in your cupboard to make this yummy cake. Sharlotka doesn't even require any milk or butter! But, there is a reason for its accessibility. During the Soviet era, money was tight and cooks had to be incredibly frugal. Sharlotka was born out of the need to stretch money, while also wanting to make a dessert that is both delicious and wholesome.
History points to sharlotka being created by French cook Marie-Antoine Careme during her time working for Russian Czar Alexander I. Russian chefs simplified his much more tedious recipe to fit their budgets and resources. Now, this lovely cake is a prime example that "delicious" does not always have to mean expensive!
Apple Cake Recipes
Caramel Apple Cake – Caramelized apples make this delicious cake ultra-moist and decadent.
Banana Apple Bread– A "apple-y" spin on traditional banana bread!
Quick Apple Cake – One of my mother's signature desserts. Made in a bundt pan, it's the perfect dessert to "wow" your dinner guests with.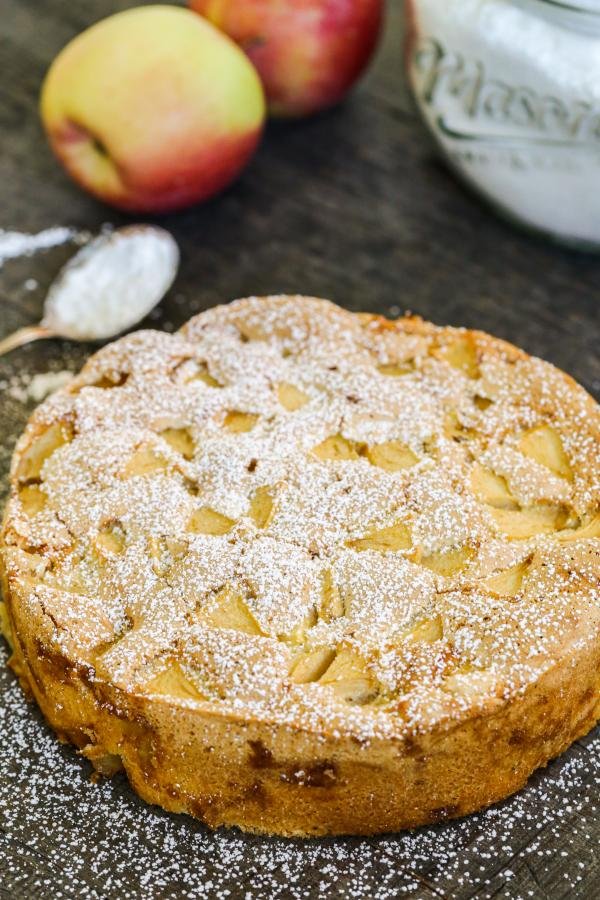 Tips for Making Sharlotka
Use a Springform Pan – Using a springform pan means no tricky flipping! This cake is quite delicate, so using a springform will circumvent any issues with inverting it and losing its shape.
Overmixing is a No-No! – Sharlotka is supposed to be light and airy. Overmixing the batter will make the cake dense and tough. Simply fold the flour in gently to your egg and sugar mixture until it is well incorporated.
Let your Eggs Reach Room Temperature – Pull your eggs out of the fridge about 15 minutes before your start prepping your cake. Room temperature eggs are less viscous than cold ones and beat much better. Cold eggs can also cause your cake to cook unevenly.
Use a Hand Mixer – When beating together your eggs and sugar, speed is key in getting the perfect texture and volume. It's hard to achieve this by hand, so use your hand mixer or Kitchenaid.
Slice Apples Thinly for A Different Texture – If you want your cake to be a bit more uniform, slice your apples thinly. I like to slice them chunky for texture, but either way is fine!
Commonly Asked Questions
What are the Best apples to Use in a Cake?
Feel free to use any apple in this cake. If you like it sweet, use Gala, Honeycrisp, Golden Delicious or Fuji apples. If you like it sour, use Granny Smith, Jonagold or Melrose apples. You can also use an assortment of different types!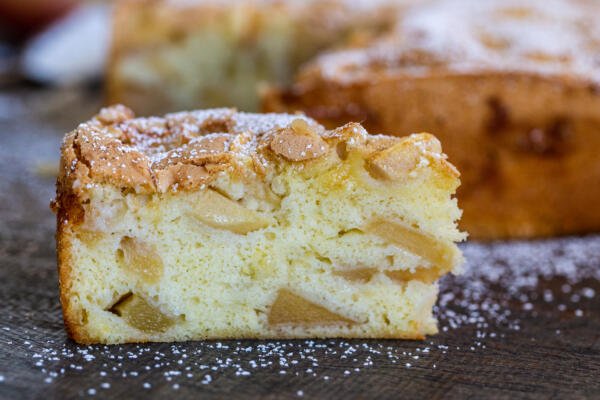 How do I Serve Sharlotka?
Sharlotka can be served warm or chilled. Either way is delicious! Eat it plain, or serve it with a dollop of lightly sweetened sour cream.
Can you Freeze Apple Sponge Cake?
Freeze Sharlotka by wrapping the completely cooled-down cake in plastic wrap. Then, place the cake in a plastic storage bag in the freezer. When you are ready to indulge, remove the cake from the plastic wrap and thaw it in the fridge overnight.
Other Quick Apple Desserts
Recipe
"Sharlotka" is a classic Russian apple cake. In some parts of the world, it's known as the French Apple cake. The best part? This cake only requires 5 ingredients and around 25 minutes of prep time!
Nutrition Facts
Sharlotka Apple Cake Recipe
Amount Per Serving
Calories 225
Calories from Fat 18
% Daily Value*
Fat 2g3%
Cholesterol 61mg20%
Sodium 25mg1%
Potassium 137mg4%
Carbohydrates 50g17%
Protein 4g8%
Vitamin A 138IU3%
Vitamin C 4mg5%
Calcium 17mg2%
Iron 1mg6%
* Percent Daily Values are based on a 2000 calorie diet.