Think you can make puff pastry at home? With this puff pastry dough recipe, you can have fresh homemade puff pastry anytime.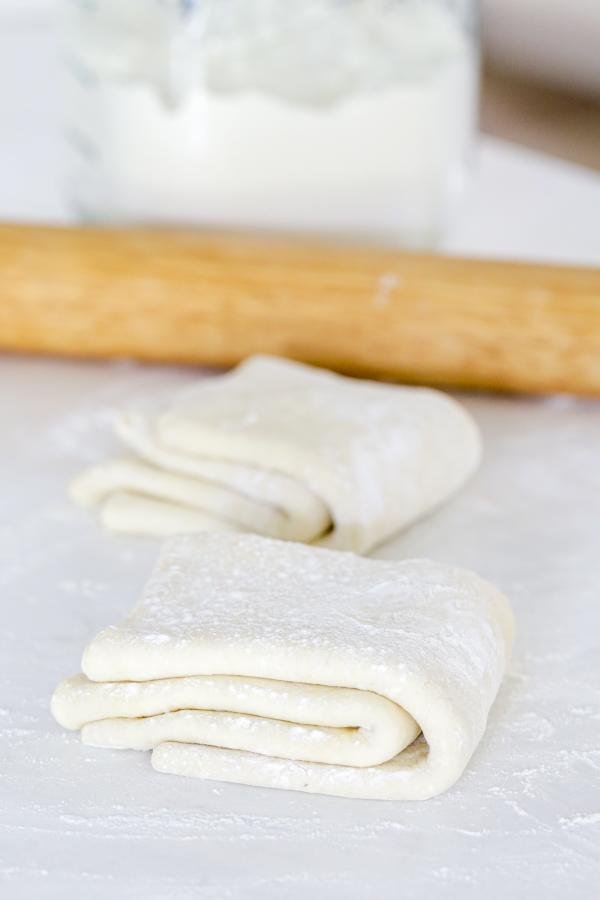 Homemade Puff Pastry
Contrary to popular belief, Puff Pastry Dough can be quite easy to prepare at home. I use to look at it as something beyond the kitchen. After digging through recipes, I came up with a simple, yet a complete success at the end.
Here it goes, step by step instructions for such an easy recipe. I would highly recommend for everyone to try. I will also be posting recipes on how to make a use of this dough.
Tips for Making this Puff Pastry Dough Recipe
As you grate the frozen butter, continually mix it with flour to prevent the butter pieces from sticking together.
The two most important rules to follow when making puff pastry dough are to work with FROZEN butter and ICE COLD water.
Do not over handle puff pastry. Try to minimize how much you shape the dough to prevent over mixing and flattening.
Be sure to refrigerate your dough for at least 30 minutes before using it (an hour is preferred).
If you decide to freeze your puff pastry, do not unfold it until it has completely thawed. This will cause cracks and breaks.
When you are ready to bake with your puff pastry, flour the service you are working on so the dough doesn't stick.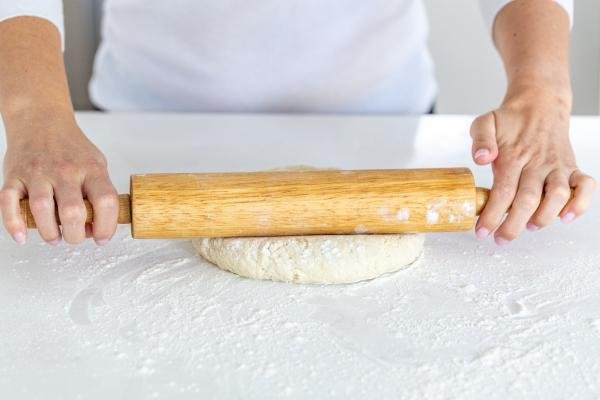 Recipes Using Puff Pastry
There are SO MANY ways to use Puff Pastry. You can cheat by purchasing it already made in the freezer aisle of your local grocery store, but, why buy it when you can make it homemade?
Here are a few of my favorite Puff Pastry Dessert Recipes using this puff pastry dough recipe!
Ingredients for Puff Patry Dough Recipe
How to Make Puff Pastry Dough
Following the printable directions below, you will sift and combine your dry ingredients. You will grate fresh butter into this mixture and combine as directed to form the dough. Frozen butter is easier to work with when grating in a recipe such as this.
Once the dough has been refrigerated as directed, you will knead and form the dough into a rectangle. Continue the process of folding as directed before chilling until ready to use.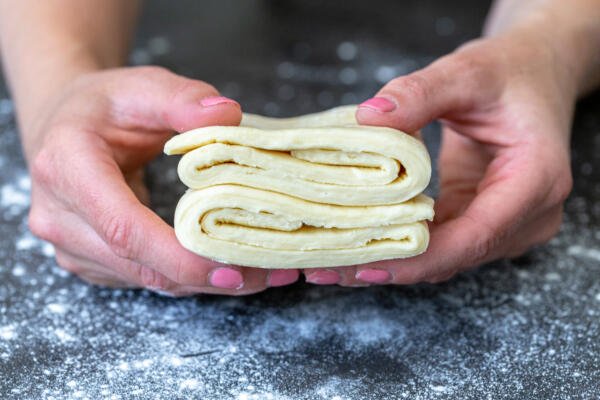 Should Puff Pastry be Baked Cold?
Refrigerating your puff pastry before baking it is oh so important. Baking puff pastry at room temperature will cause the dough to become floppy and flat. This makes the delicate layers stick together, causing the dough to be especially hard to work with. Cold puff pastry will take longer to melt in the oven, allowing the dough to rise beautifully and form light, pretty layers.
Can I Make Puff Pastry the Day Before?
You can make puff pastry a day or weeks ahead! You can store the dough in the refrigerator for 2-3 days or in the freezer for up to two months as long as you seal it in an airtight container.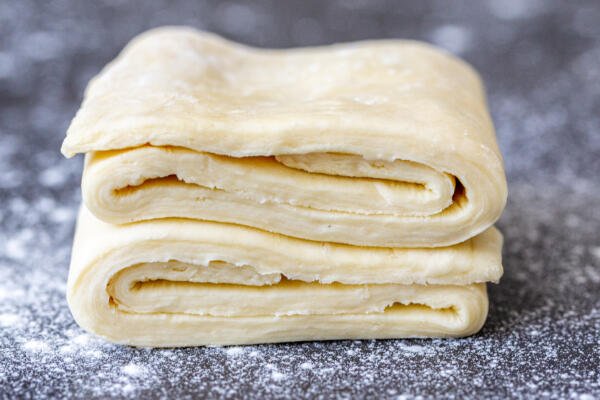 How do you Keep Puff Pastry from Getting Soggy?
Puff pastry can become soggy in the middle for many reasons. Primarily, it becomes soggy when it is frozen and allowed to thaw on the countertop for too long. While some chefs approve this method, I think it is best to allow your frozen dough to thaw in the refrigerator overnight. It takes longer, but it saves you the stress of soggy dough!
Recipe
Think you can make puff pastry at home? With this puff pastry dough recipe, you can have a fresh homemade puff pastry anytime.
Nutrition Facts
Quick Puff Pastry Dough
Amount Per Serving
Calories 2702
Calories from Fat 1845
% Daily Value*
Fat 205g315%
Cholesterol 537mg179%
Sodium 4123mg172%
Potassium 327mg9%
Carbohydrates 190g63%
Protein 27g54%
Vitamin A 6250IU125%
Calcium 98mg10%
Iron 11.6mg64%
* Percent Daily Values are based on a 2000 calorie diet.