This decadent tortellini soup is packed with plump pasta and a creamy broth of spicy sausage and wilted spinach. The definition of simple, one-pot comfort food!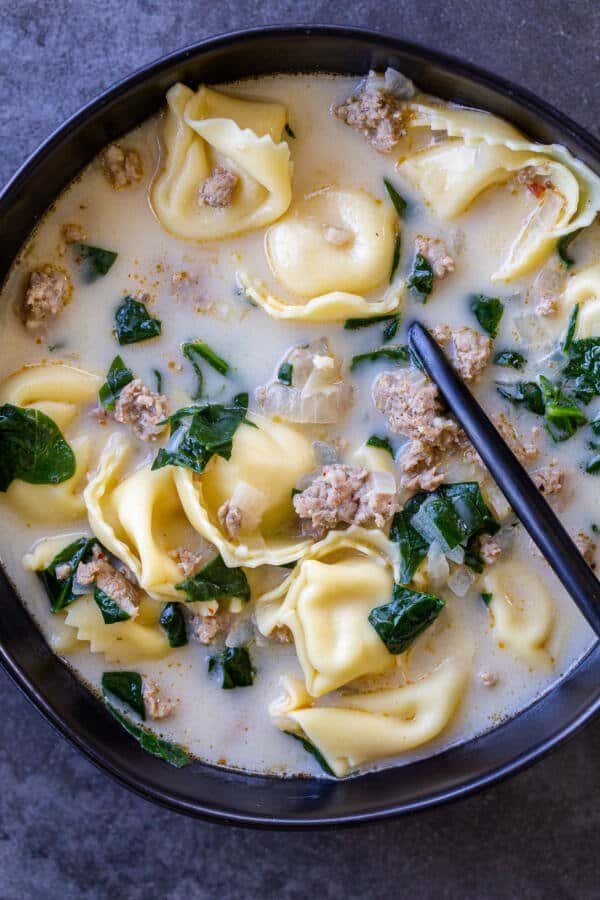 This creamy spinach tortellini soup isn't just super easy to make, but it's also always a crowd-pleaser. The way the spicy Italian sausage elevates the creamy broth and tender tortellini is unexplainably good. We often make a big batch when our family comes over and literally never have any leftovers to spare. In so many ways, it reminds me of my favorite soup at Olive Garden called Zuppa Toscana.
If you're a fan of one-pot dinners and fewer dishes, you're going to love this soup. It's the perfect candidate for a lazy, laid-back weekend or weeknight dinner. You barely have to fuss with it, yet it tastes as it came straight from your favorite the kitchen of your favorite Italian restaurant.
What is Tortellini Soup Made of?
This creamy spinach tortellini soup is made with under 10 ingredients, with the tortellini and spicy Italian sausage likely being the only ones you don't already have on hand. Below, find a rundown of the flavor, texture, and cooking time.
Flavor: This soup has a delicate cream-based broth that's elevated by the punch of spice from the Italian sausage, earthiness of the tortellini, and salty cheese-stuffed tortellini.
Texture: The silky-smooth broth is complemented by the ground sausage, tender tortellini, and fresh spinach.
Time: From prep to table, this soup takes just under an hour and a half to make.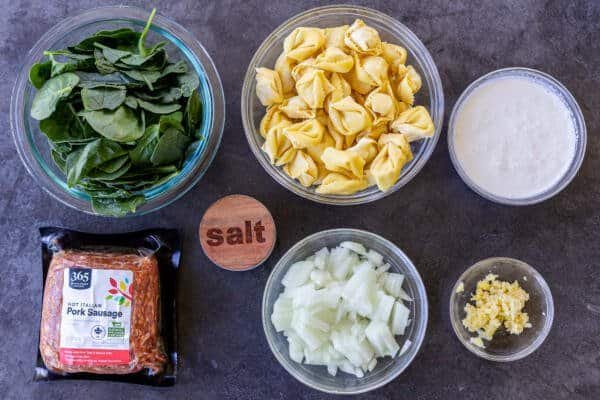 How to Make Creamy Spinach Tortellini Soup
Making this tortellini soup only requires a handful of ingredients and one pot. Below, find a quick overview of the recipe before you dive in.
Prep the Veggies: Using a sharp knife, dice the onion and press the garlic.
Build the Soup Base: In a large soup pot or Dutch oven preheated with oil, cook the ground Italian sausage over medium heat. Next, add in the diced onion and pressed garlic, sautéing until softened. Cover the meat mixture with water and let it all simmer for 20 minutes, stirring occasionally.
Add the Tortellini & Heavy Whipping Cream: Pop the tortellini in and let the soup simmer until it's cooked through. Next, pour in the heavy whipping cream and bring it to a simmer once more.
Tips & Tricks
Below, find a short collection of pro tips and tricks to help you make the best tortellini soup.
Cook the soup at a simmer. To prevent yourself from overcooking the ingredients, cook the soup on a simmer.
Don't preboil the tortellini. To get the perfect al dente texture, don't preboil the tortellini and pop them into the broth raw.
Add red pepper flakes. If you really like it spicy, add in some crushed red pepper flakes (or cracked black pepper for more mild spice) for an extra punch of flavor and color.
Remove the soup from heat. Always remove the soup from heat when it's finished to prevent the cream from curdling.
Top the soup with parmesan cheese and/or fresh basil. For an extra pop of flavor, top the soup with freshly grated parmesan cheese or fresh basil.
What Does Tortellini Soup Go With?
Creamy tortellini soup is filling on its own. However, if you want to whip up a more well-rounded meal, pair it with a homemade caesar salad or roasted beet salad with goat cheese. Also, don't forget the crusty bread! There's nothing like dunking some homemade focaccia or garlic knots into the broth. Yum!
How Long is Tortellini Soup Good For?
This tortellini soup should last for up to five days in the refrigerator. Make sure to store it in an airtight container so it doesn't absorb any lingering smells in your refrigerator. The kicker? It gets more flavorful as it marinates in itself, making for some pretty amazing leftovers throughout the week.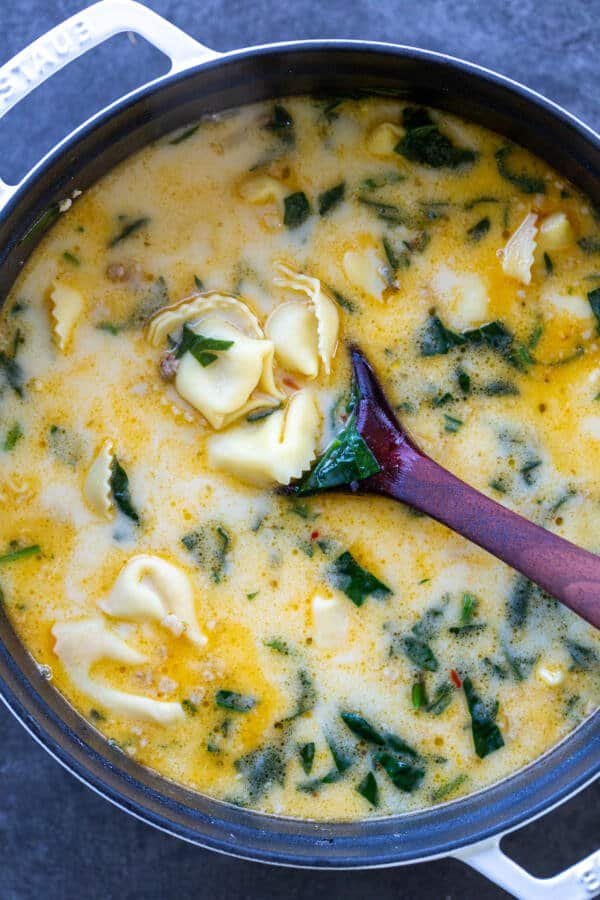 FAQ
How long is tortellini soup good for?
Tortellini soup should stay fresh for up to a week. Make sure to store it in an airtight container in your fridge.
How are tortellini traditionally served?
Tortellini are traditionally served tossed in pasta sauce, butter and herbs, or soups.
Do you have to cook the tortellini before adding it to soup?
You do not have to cook the tortellini before adding it to your soup. In fact, it's better to add the raw or frozen tortellini directly into the broth to prevent them from turning mushy.
What are tortellini typically filled with?
Tortellini typically come filled with different cheeses or a seasoned ground meat mixture.
What are some good side dishes for tortellini soup?
You can serve tortellini alongside a handful side dishes. Caesar salad is a great option, but feel free to whip up any salad you love most. Bread is also an obvious option to sop up the broth.
Other Italian Soup Recipes
Recipe
This decadent tortellini soup is packed with plump pasta and a creamy broth of spicy sausage and wilted spinach. The definition of simple, one-pot comfort food!
Ingredients
1

lb

cheese tortellini

1

lb

hot Italian sausage

1

small onion

4

garlic cloves

1

tsp

salt

adjust to taste

1

cup

heavy whipping cream

2

cups

spinach
Nutrition Facts
Creamy Spinach Tortellini Soup
Amount Per Serving
Calories 242
Calories from Fat 153
% Daily Value*
Fat 17g26%
Cholesterol 53mg18%
Sodium 485mg20%
Potassium 117mg3%
Carbohydrates 14g5%
Protein 9g18%
Vitamin A 571IU11%
Vitamin C 2mg2%
Calcium 62mg6%
Iron 1mg6%
* Percent Daily Values are based on a 2000 calorie diet.