This sausage gnocchi soup recipe is so comforting and takes less than 30 minutes to prepare. You'll love the creamy broth, soft gnocchi, and tender kale!
This soup is a blend of two of our fav soup recipes – the Olive Garden Zuppa Toscana Soup and Olive Garden Chicken Gnocchi Soup. Hello, best of both worlds!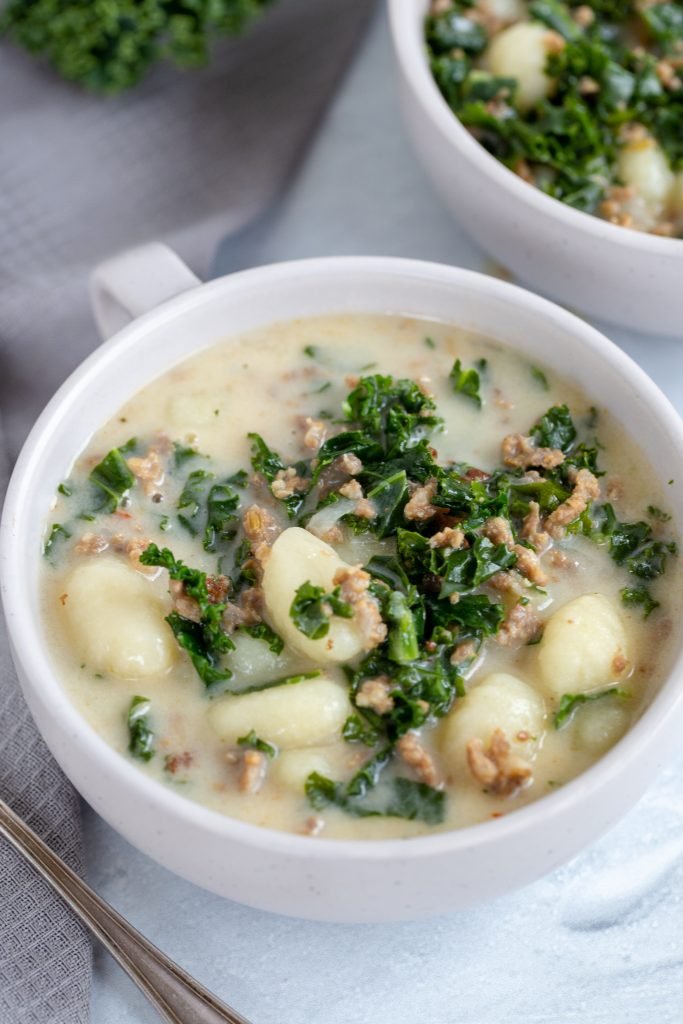 There's nothing like tender potato gnocchi swimming in a cream-based broth with spicy Italian sausage. This soup is the epitome of comfort food and is great for hectic weeknights when you don't wanna fuss around with a ton of ingredients or dishes.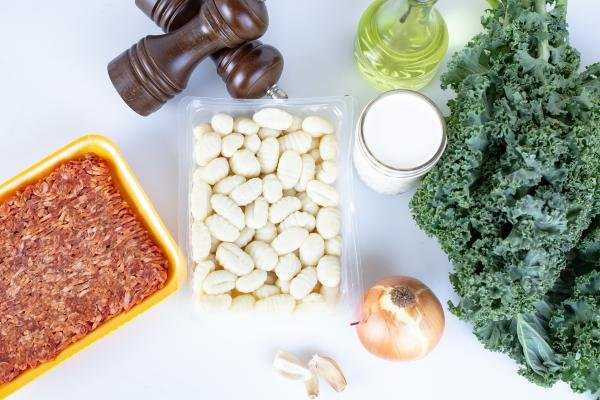 Preparing this Olive Garden Inspired Sausage Gnocchi Soup
This super easy soup only takes 30 minutes total time and is made in just one pot.
Dice the Veggies: First, dice the yellow onion into small pieces and rough chop the kale.
Brown the Sausage: Next, brown the spicy Italian sausage in a large soup pot over medium heat until cooked through. Next, add in the diced onion and press in the garlic cloves. Sauté the onions until golden brown.
Add in the Liquid: Add water or broth to the pot and simmer the soup for 15 minutes.
Build the Soup: Next, add in the chopped kale, half & half, and gnocchi to the soup. Let the broth boil for a couple of minutes.
Finish the Soup: Season the soup to taste with salt and black pepper. Remove the pot from heat and let the soup sit for about 5 minutes before serving it. Enjoy!
3 Helpful Tips for Sausage Gnocchi Soup
Making this soup isn't rocket science, but a couple foolproof tips will help you nail it.
Cook the soup in a Dutch oven if you have one. Making soups in a Dutch oven is a game changer. The pot holds such an even heat and locks in a ton of moisture. We love our Staub Dutch oven if you're in need of a recommendation.
Brown the sausage in the same pot you will prepare the soup. All the juices that get released from the sausage add so much flavor to the soup. Instead of throwing them out, build your soup right on top of them!
Use chicken broth for a richer soup flavor. If you want to add an extra depth of flavor to the soup, swap the water out for homemade chicken broth.
Different Variations
If you want to get creative, play around with some variations to this easy 30 minute soup.
Swap in different proteins. Use turkey sausage, pork sausage, or even ground beef with Italian seasoning. You can also adjust the spice level of the sausage by choosing mild, medium, or hot varieties.
Swap the kale for spinach. If you're not a huge fan of kale, swap in spinach instead (remember: spinach cooks down significantly, so you'll need double or triple the amount of spinach).
Add in different veggies. Make this soup more veggie-forward by adding in your favorite vegetables. Carrots, celery, red bell pepper, and diced tomatoes are all great options.
Add in different spices. Add in your favorite herbs for an early pop of flavor. Basil, thyme, and rosemary are all great options. Or, add in some red pepper flakes for a kick of spice.
Ideas for Serving Sausage Gnocchi Soup
This soup is more than filling eaten as-is, but there are a couple of great sides to pair it with if you want a more well-rounded meal.
Serving Tip: Top the soup with freshly grated parmesan cheese for a punch of nutty flavor!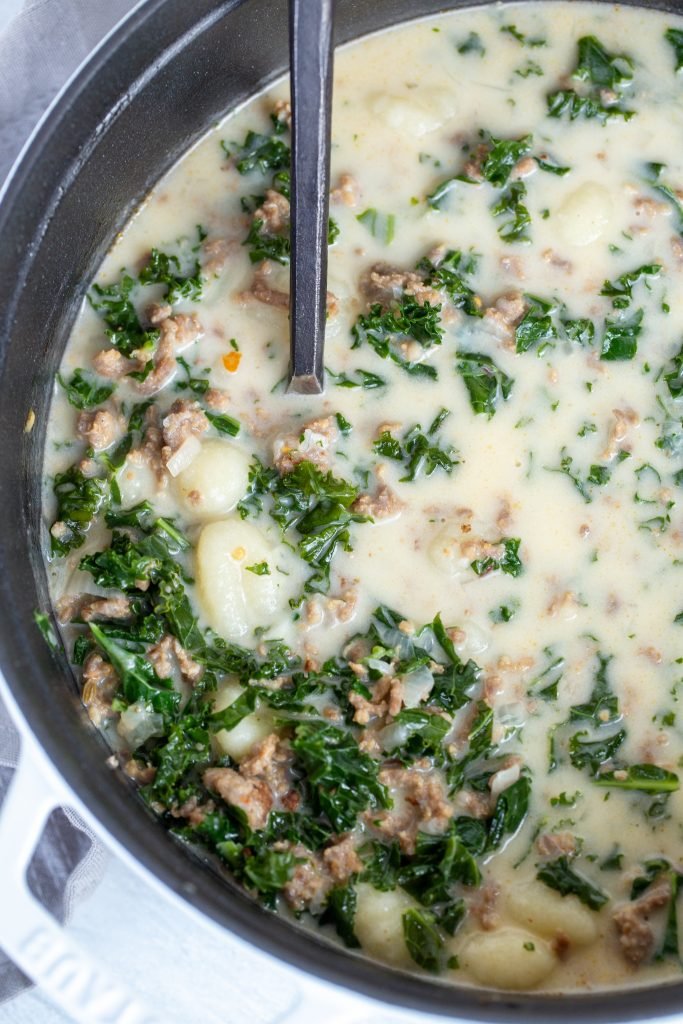 Best Practices for Storing
To keep the soup on hand for up to a week, store it in an airtight container in the fridge. The best part? IT will continue to develop its flavors as it marinates in the fridge. Hello, delicious leftovers!
Reheating Tip: The best way to reheat soup is in a saucepan over low heat until warmed through.
FAQ
Is the gnocchi prone to falling apart in sausage gnocchi soup?
The gnocchi will absorb the broth the longer it sits (which might require you to add some additional broth and cream to leftovers), but it won't fall apart. The dumplings tend to be quite dense and firm.
Can you freeze sausage gnocchi soup?
Soups that are made with dairy don't tend to freeze well. Upon thawing, the cream separates and the texture turns unappetizing. Some things are best eaten fresh!
Can you use frozen gnocchi for sausage gnocchi soup?
Yes! You can drop frozen gnocchi directly into the soup. Just a make sure to give them a bit of extra time on simmer to make sure they cook all the way through.
Does the kale add a strong flavor sausage gnocchi soup?
The kale doesn't add too much of a strong flavor to sausage gnocchi soup. It's well-balanced by the spicy sausage and cream-based broth.
More Tasty Soup Recipes
Recipe
This sausage gnocchi soup recipe will become your new favorite meal. The tender gnocchi, spicy Italian sausage, kale, & creamy broth will have you addicted!
Nutrition Facts
Gnocchi Zuppa Toscana Recipe
Amount Per Serving
Calories 99
% Daily Value*
Sodium 192mg8%
Potassium 24mg1%
Carbohydrates 21g7%
Protein 2g4%
Vitamin A 15IU0%
Vitamin C 1.5mg2%
Calcium 17mg2%
Iron 2.1mg12%
* Percent Daily Values are based on a 2000 calorie diet.